Why Execution Of Key Projects Are Still Ongoing In Rivers State – Governor Wike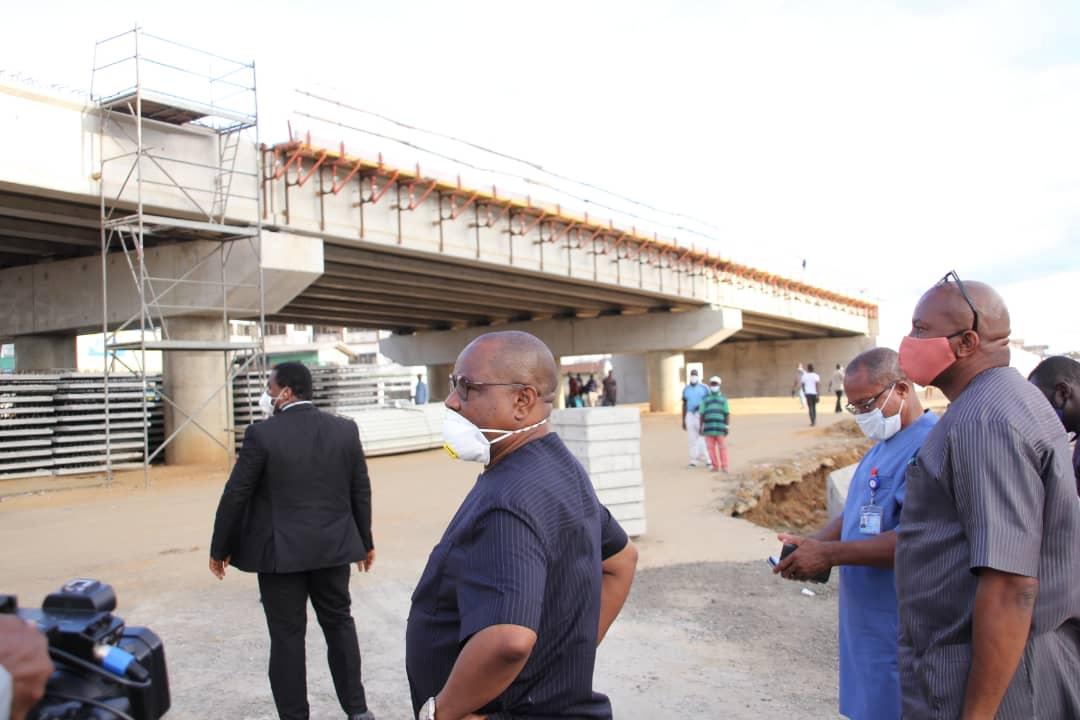 Rivers State Governor,  Chief Nyesom  Wike has declared that his administration has sustained the execution of key projects,  because after coronavirus pandemic,  Rivers people will require infrastructure to continue with life.
He spoke on Tuesday after inspecting the execution of Flyover Bridges at  Rebisi , Rumuogba and Okoro-nu-odo. The Governor also inspected the urban renewal programme.
He said: "It is important that as we fight COVID-19,  we should not abandon very important infrastructure. People will still be alive after COVID-19,  so we need to develop basic infrastructure.
Our fight against coronavirus is very serious,  but we have to continue to deliver projects to our people.
"We must also know that other works are ongoing,  like those engaged in essential services. We gave approval to Julius Berger to make sure that they don't come out with flimsy excuses. "
Governor Wike expressed satisfaction with the level and pace of work at the project sites visited.
He said: "We are very happy with the level of work by Julius Berger and other construction companies. People are happy with what is going on.
"Leadership for me is to ensure that Rivers people are happy. Whether you like it or not, people will criticize from time to time,  but this administration will continue to provide the best for the people.
"What is important overall,  are you doing what people really want. People want you to provide basic infrastructure and things that will aid them to survive. "
Governor Wike also arrested some persons who refused to wear masks during his Tuesday outing.
He said: "Nigeria is a difficult place,  very difficult country.  That is why when I see some social media lawyers and lawyers who practice on pages of Newspaper, criticize,  I am not surprised.
"We have signed an executive order that you must wear your mask. Some people don't want to obey it . They don't believe that coronavirus is a reality.
"On monitoring today,  some people complied with the order by wearing the mask . Some others, even security personnel were not wearing the masks."
The Governor said that the State Government is committed to safety of Rivers people,  no matter the criticism.
"All we are doing is to keep ourselves safe and keep our people protected. Those who are not wearing their masks,  we have to arrest them. Nobody is above the law.
"You will see people come up tomorrow to say you would have taken them to court first before you arrest them.
"If you don't support  Government to succeed in this fight against coronavirus,  everyone will suffer . As a Governor,  I can stay inside Government House and not come out.
"But look at every day,  I am virtually out, which is a risk for me. But I took oath to protect my people and I will always protect my people. If it turns around tomorrow , this what I will face, I have no apologies," he said.
He said that the criticisms against the State Government are being sponsored by failed governorship aspirants who are determined to mislead the country.
He said: "Those who want to be Governor , but don't have the opportunity can continue to pay people to write against the state . At the end of the day,  history will vindicate us.
"Remember,  it was Rivers State that started the Closure of borders. At the time, they criticized and asked if I am the President. I am not a President and I have never claimed to be. I never purchased form to be a President.  But I felt that protecting Rivers people is paramount. Now everybody is following suit. When you take action,  not everyone will love it. At the end of the day, they will find out that it is in the best interest of the people. "
Wike Bemoans Lack Of Effective Wike Bemoans Lack Of Effective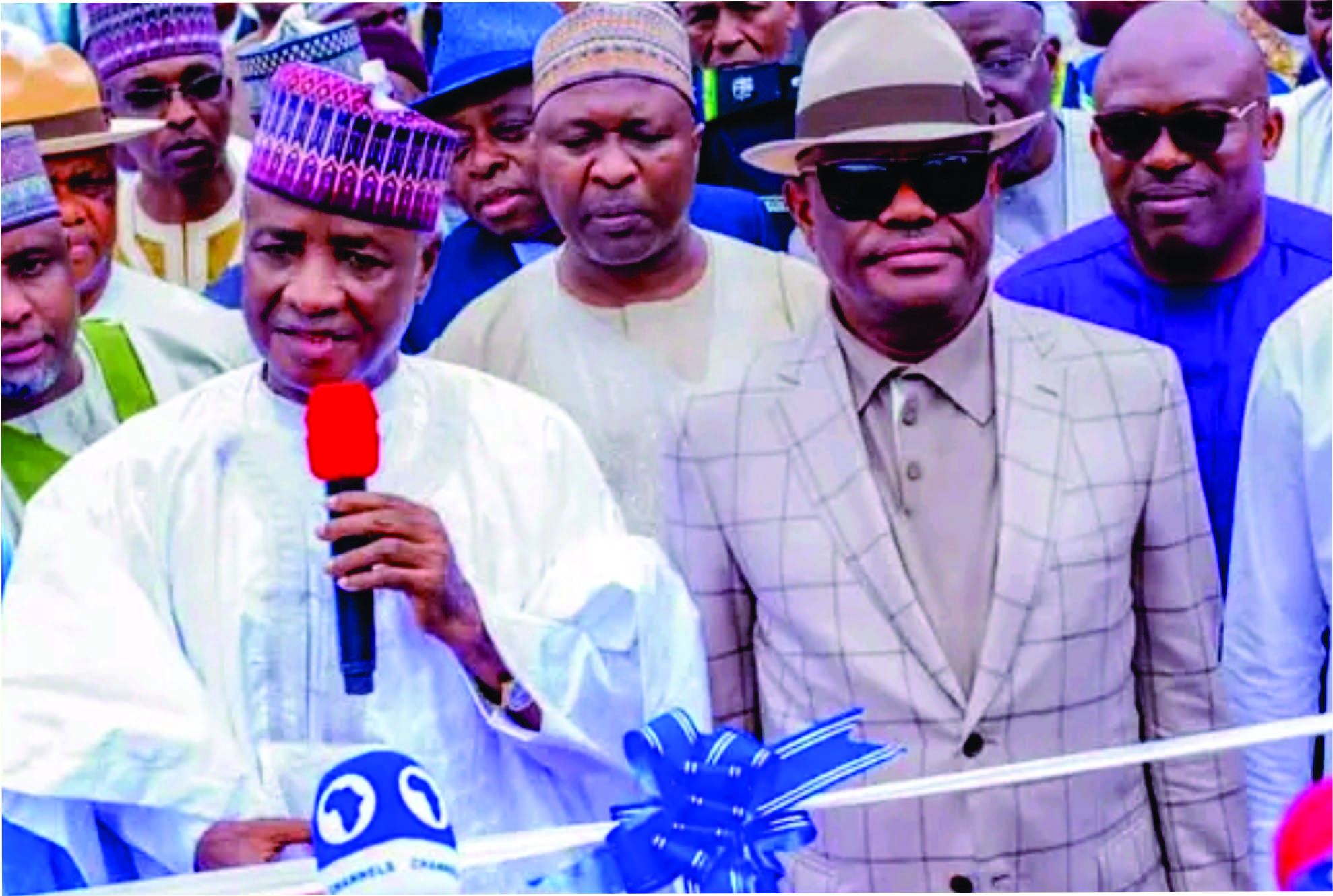 Rivers State Governor, Chief Nyesom Wike, has again decried the dearth of effective political leadership in Nigeria.
Such effective leadership, when identified, Wike said, should place service above self and work to secure enduring development for the people and the country.
Wike made the observation at the inauguration of the dualised Ogbunuabali-Eastern Bypass Road that was performed by the former Governor of Sokoto State, Senator Aliyu Wamakko, yesterday.
The governor noted how wrong it is for people to think that leadership is a function of political party, when it is actually about the mind-set of the individual.
"Leadership is not about party, leadership is about individual. Party is only a vehicle to actualise your ambition, to be able to tell your people I have this capacity, I have this quality to render services to you. If take me away today from PDP to another party, I will still perform. So, it is not because I'm in PDP that I'm performing.
"It is because I have that passion for my people. It is because I have the commitment to serve my people. Take me to YPP, allow me to become whatever I will become there, I will perform. Take me to any party, I will perform. So, it is not party that makes you to perform."
Wike stated that his undying love, passion and commitment to render effective service to Rivers people have sufficiently differentiated him from other politicians.
That is why, he asserted, there was a sustained commitment to add value to life, impact change with the infrastructure revolution and make the state better.
Wike said while others had used the economic hardship as excuse not to render leadership and service to their people, he found a more rewarding way to sustain the delivery of projects in Rivers.
He took a swipe at certain misguided politicians of the state extraction who misconceived his assertion on Monday that he was in charge of the state.
"Because some people went to school late, they don't understand when somebody says I am in charge of this state. I never said I am in charge of votes in this state. But I know I can talk to my people and my people will listen to me. Some people say, I have only one vote, I agree. I can't vote two times. I will only vote once. But because of the services I have rendered to the people of this state, the state will listen to me.
"Someone called me last night and said people are complaining that Nigerian economy is dying, the hardship is becoming too much, but every day we are commissioning projects and flagging-off new ones in Rivers State, am I not in this same Nigeria? I told him that the amount of money you have is not important, what is important is your passion to serve and your love for your people because leadership is about the passion to serve your people.
"If you are committed to the job and you love your people, no matter the small money you are getting, you would be able to do something for people to see and appreciate.
The governor took a swipe at some politicians in Rivers State who he described as scavengers for their inability to use their closeness to the seat of power to attract government projects and programmes to their people.
"Some people claimed that they are close to those in government, there is nothing wrong in being close those in authority, but the question is, what have your people benefited from your closeness to those in government? Let them tell us.
"May God forgive me that I will be close to a president or vice president and my people cannot boast of anything to show for it, I don't want to be close to any president or vice president that my people would not benefit from," the governor stated.
The governor stated that he had remained a consistent politician, not playing double game, and urged Rivers people to be happy that they have a governor who will always defend the state.
Wike thanked the people of Ogbunuabali for their cooperation while the project lasted even if they had initially rejected it.
He used the occasion to lift the ban on youths' activities in Ogbunuabali community, and announced the release of N2billion he promised the community.
In inaugurating the Ogbunuabali-Eastern Bypass Road, former Governor of Sokoto State, Senator Aliyu Wamakko noted with delight the leadership capacity that Wike has demonstrated in serving Rivers people.
Wamakko said any well-meaning government should serve to satisfy the yearnings and aspirations of the governed.
"I want to thank you for giving me the honour to be part of your success story, may God encourage you to do more.
"When you asked me to come and commission this project, it was really a welcome development for my community and the people I represent because to me, leadership is about meeting the yearnings and aspirations of the people you govern, and that you have done very well, I commend you for that," the senator said.
He noted that as a talk and do governor, Wike has done adequately well for his people.
On his part, Rivers State Commissioner for Works, Dr Dakorinama George-Kelly said the Ogbunuabali-Eastern Bypass Road was a single carriage way of 7.3meters wide but it was totally scarified and completely rebuilt.
Today, he noted, the 2.19km long road which has been dualised, has 4.38km width on each side of the lane, 650meters median on the Ogbunuabali axis, 1.5meters median on the Eastern By-pass axis and has 4.38km of drainage length.
"The total length of Ogbunabali dualized road with extension to Eastern Bypass is 2.19km with drainages on both sides up to 4.38km.
"On the Ogbunabali axis, we have median stripe of 750m and at the Eastern Bypass axis we have median strip of 1.5m.
"Sub-structurally, this road was a single carriageway, it was totally rebuilt. 6mm thickness of sand-filling was done, 150mm thickness of cement soil stabilisation was done, and 150mm thickness of stone base was done.
"This road project was completed within the specified time and quality", the commissioner said.
In his address, the South-South Regional Manager of Julius Berger Nigeria Plc, Juergen Fischer, said they started with the first project of the Wike's administration, operation zero potholes which culminated into the ongoing urban renewal programme.
According to him, they were delighted working with Wike to achieve his development dreams for Rivers, and thanked him for the opportunity.
Be Obedient To God's Instructions, Oyedepo Tells Congregants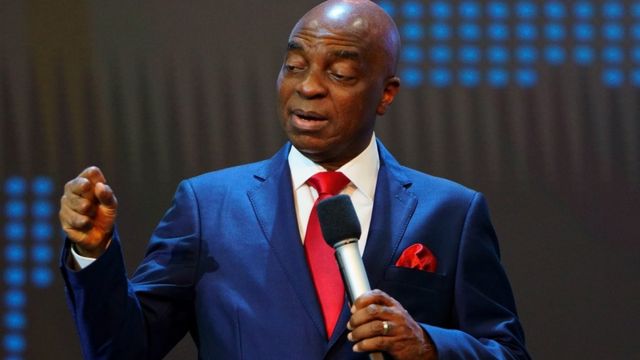 Wife of the Presiding Bishop of Living Faith Church (LFC) Worldwide, Pastor Faith Oyedepo, has urged winners to be obedient in the affairs of the Kingdom (of God).
On his part, the husband, Bishop David Oyedepo, said obedience was better than sacrifice.
The couple spoke at this at the church's monthly leadership conference at the weekend.
Oyedepo's wife, while citing Isaiah 1:19-20, stressed the need for Christians to be obedient to spiritual instructions to enjoy the good of the land.
She said: "If ye be willing and obedient, ye shall eat the good of the land: But if ye refuse and rebel, ye shall be devoured with the sword: for the mouth of the Lord hath spoken it" (Isa. 1:19-20).
She urged the church to pray for God's Spirit to serve and be obedient.
In his sermon, Bishop David Oyedepo, while unravelling the mystery of the covenant of obedience, said: "To be obedient is better than sacrifice. Obedience may be costly but the end result is always priceless.
"When you live your life as a seed, its impact lives for generations after you".
RSG Unveils, Flags Off 15 Key Projects In 15 Days …Kick-Starts Two New Flyovers, Azikiwe-Illoabuchi Road Dualisation …Opens Orochiri-Worukwo Flyover, Ogbunabali-Eastern Bypass Road, Two Others For Use
Port Harcourt, the Rivers State capital and other urban centres will witness major activities from today, as the state government begins another round of strategic infrastructure projects' commissioning and flag off across the state, with the unveiling for public use of the Orochiri/Worukwo (Waterlines) Flyover in Port Harcourt City Local Government Area by the Lagos State Governor, Babajide Sanwo-Olu at 11am.
Similarly, the Governor Nyesom Wike-led government will inaugurate the Ogbunabali-Eastern Bypass Road, also in Port Harcourt City Local Government Area, tomorrow.
According to a schedule of events made available to The Tide by the government, last Friday, the former Sokoto State Governor, Senator Aliyu Wamakko will perform the ceremony at Ogbunabali Junction.
Also to be commissioned on August 11, by the Director-General of NYSC, Brig.-Gen. M.K, Fadah, is the 5,000-capacity NYSC Auditorium; while the new State House of Assembly Quarters will be inaugurated by the Speaker, House of Representatives, Rt. Hon. Femi Gbajabiamila on August 12.
However, on Wednesday, August 10, the former Ondo State Governor, Dr Olusegun Mimiko, will flag off the dualisation of Azikiwe-Iloabuchi Road in Port Harcourt City Local Government Area.
Between August 16 and 26, 10 more projects would either be commissioned or inaugurated across the state.
These include the Government VIP Lounge at the Port Harcourt International Airport, Omagwa, in Ikwerre Local Government Area on August 16; unveiling of the remodelled Waterlines Building on Port Harcourt/Aba Express Road by Waterlines Junction in Port Harcourt City Local Government Area on Wednesday, August 17; flag off of the construction of the 11th flyover at Ikwerre Road by Rumuokwuta/Rumuola Junctions in Obio/Akpor LGA on Thursday, August 18; and the flag off of the 12th flyover at Mgbuoba-Ozuoba/Ada-George Road by Location Junction in Obio/Akpor LGA on Friday, August 19.
Other landmark projects lined up for special commissioning or flag off are the construction of Omagwa internal roads on Saturday, August 20; and flag off of Igwuruta internal roads on Monday, August 22, both in Ikwerre Local Government Area; as well as unveiling of land reclamation, shore protection, road network, drains, power station and water reticulation, and housing complex at Ogbum-Nu-Abali sandfill, Port Harcourt City Local Government Area on Tuesday, August 23.
The rest are the unveiling of a police station at Ogum-Nu-Abali sandfill-Eastern Bye-pass area on Wednesday, August 24; Eneka internal roads in Obio/Akpor on Thursday, August 25; as well as Community Secondary School, Obuama (Harry's Town) in Degema Local Government Area, Friday, August 26.
Meanwhile, a statement by the Special Assistant (Media and Documentation) to the state Commissioner for Works, Dornubari Kiinee, last Saturday, indicated that following plans to commission the Orochiri/Worukwo (Waterlines) Flyover, both ends of the flyover had been consequently closed on Saturday, August 6, 2022 at 12 noon to enable the ministry prepare for the commissioning ceremony.
The statement explained that "Vehicular movement from Garrison will be diverted through Oroworukwo; traffic from Hotel Presidential Junction will be diverted through GRA Junction. The flyover will be opened for use immediately after the ceremony on Monday".
The statement further said that "The Ogbunuabali axis will be temporarily closed and traffic diverted accordingly until after the ceremony" on Tuesday.
Kiinee said that, "Furthermore, the dualisation of Azikiwe-Iloabuchi Road will be flagged-off on Wednesday, 10 August, 2022 by former Ondo State Governor, Dr Olusegun Mimiko. That road will be closed also and traffic diverted to neighbouring streets for the period of six months".
According to the statement, "As preparation for the commencement of the construction of the 11th and 12th flyovers reaches its final stage, the Commissioner for Works, Rivers State, Dr. George-Kelly Dax Alabo, wishes to use this medium to inform residents of Rivers State, particularly motorists plying Ikwerre Road and NTA Road that there will be road closures around the axis of Rumuokwuta/Rumuola Junction, and Location Junction by Ada-George, where these projects are to be sited.
"This new development will last for the period of 10 months, which is the stipulated duration of the construction work.
"Motorists are kindly advised to use alternative routes to be outlined thus: Vehicles coming from NTA axis will pass through Farm Road to Ben Wosley along Ada-George Road, or through Ohakwe Street.
"As for Rumuokwuta/Rumuola flyover project, traffic will be diverted to Psychiatric Road; those coming from Wimpy Junction will be diverted to Road 1 through Kala Police Station".
The commissioner appealed to the people of Rivers State to show understanding and patience with the state government, whilst the meaningful projects are flagged-off and commissioned in record time for traffic decongestion in the metropolis.
By: Nelson Chukwudi