Incessant Accidents On Waterways Worry NIWA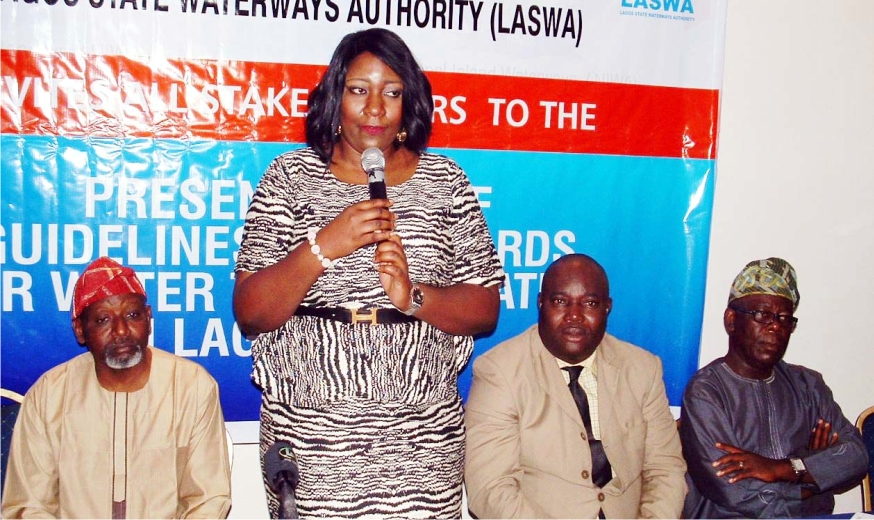 The National Inland Waterways Authority (NIWA) has expressed worries over incessant accidents on waterways across the nation.
NIWA said it would not fold its arms and allow unlicensed boat drivers to continue to operate on waterways.
The Managing Director of NIWA, George Moghalu, disclosed this to newsmen during the sensitisation programme organised in Abeokuta, Ogun State.
"It is very important for the agency to perform its responsibility of saving people's lives on waterways.
"We are so worried over accidents that occur on our waterways and we acknowledge the fact that the lives of people are so essential to us at NIWA. That is why we are going to ensure we play in full terms our regulatory responsibility.
"Very soon, we will distribute life jackets in all water fronts. We have just finished signing the MoU that before you can board a boat, you have to wear the jacket.
"We are also not going to take it easy with unlicensed boat drivers who are operating on waterways.
"Whoever is caught will be sanctioned. We are not also going to allow leakable boats and vessels who are not permitted to operate on waterways.
"Those who are carrying passengers inappropriately will be stopped. We are talking about human lives and they mean a lot to us", Moghalu said.
Moghalu, however, said the authority needed more revenue as it was operating on limited resources.
Navy To Acquire Nine Boats From France
In a bid to boost maritime activities in the West African sub-region and tackle all forms of piracy and criminalities, the Nigerian Navy has awarded a contract to French shipbuilding firm, Ocea SSM, for the construction of nine vessels of different size categories. The Nigerian Navy plans to integrate the new platforms into its Falcon Eye Maritime Domain Awareness system. A statement issued by the Service to newsmen said on July 2022, the Chief of Naval Staff, Vice Admiral A.Z Gambo, inspected one of the two 32 meters FPB 98 Mk1 vessels under construction at Ocea shipyard in France. The list of new vessels includes three 46 meters OPV 190, two 32m FPB 96, and four 15m interceptors.
Ocea SSM has a long history of business dealings with Nigeria. Since 2013, as it had delivered 18 vessels to the Nigerian Navy including patrol boats of several kinds.The two vessels and the additional Offshore Survey Vessel (OSV 95) on order will bring the number of Ocea boats in NN inventory to a total of 21. The Vessels include three FPB 98 MK1 (NNS Dorina), eight FPB 72 MKII, four FPB 110 MKII, a OSV 190 SC-WB (NNS Lana), a 35 meter OSV 95 and four C-FALCON Interceptors. OCEA has previously delivered seven units of the FPB 72 MK II boats in three batches: three in 2012, one FPB 98 in 2013, two in 2017 and two this year.
LASWA Trains 50 Children In Water Safety
In order to  instill water confidence in the lives of young Nigerians, especially Children, the Lagos State Waterways Authority (LASWA) has trained over 50 school children on water safety and swimming towards perfecting water safety
LASWA said the week-long training drew participants from selected schools within the state.
A statement issued by LASWA said the advocacy programme was organised in partnership with the Lagos State Universal Basic Education Board and Dolphin Swim School.
"To catch them young and reduce water phobia among Lagosians, the LASWA commenced a week-long water safety class and swimming Training for pupils in the riverine communities of Epe Local Government Area".
"The swimming training is the third edition of one of LASWA's advocacy programmes tagged, "The Lagos water savvy kids programme.
"Together, LASWA, SUBEB, and DSS aim to instil water confidence in school pupils by teaching them theoretical and practical knowledge on waterways safety, swimming skills, and basic survival techniques in an emergency.
"About 50 students from five public schools in riverine communities at the Epe axis of Lagos were selected to participate in this year's edition
"With this training, school children using the waterways will be more confident, be conscious of their safety, and be self reliant in an emergency," the agency said.
Lekki Seaport To Boost Non-Oil Revenue – NEPC
Following the commissioning of the World Class Lekki Seaport in Lagos, Nigerian Export Promotion Council (NEPC) says the Deep Seaport would boost Nigeria's non-oil export.
Executive Director and Chief Executive officer, NEPC, Dr Ezra Yakusak, said the development came on the heels of tremendous performance recorded in the non-oil export sector in 2022.
A statement signed by the Head, Corporate Communications, NEPC, Ndubueze Okeke, quoted Yakusak as saying that the seaport would further ease the perennial congestion at the Apapa Ports.
"This development comes on the heels of the tremendous performance recorded in the non-oil export sector in 2022 in which the sector recorded a significant result of 4.820 billion dollars in 2022, representing an increase of 39.91 per cent over 2021.
"The Lekki Deep Sea Port will not only provide jobs, directly and indirectly along the value chain, but will further ease the perennial congestion at the Apapa Ports and thereby enhance the export drive of the country".
"It will also guarantee seamless trade facilitation in West Africa".
"Having been designated a Customs port, all is now set for commercial vessels to berth and clear cargo at the port, which is reported to be the country's first Deep Sea Port and first fully automated as well,'' Yakusak said.
He explained that the Lekki sea port, domiciled within the Lekki Free Trade Zone (LFTZ), would further create an enabling environment for business and commercial activities to thrive.
According to Yakusak, this is particularly for the export of Nigerian products as it will play a strategic role in promoting international trade and sustainable economic growth for the country.
"The commissioning of the Lekki Deep Seaport is strategic and very key to the development and promotion of export trade.
"Indeed, it will ease the supply chain constraints and enhance logistics given the vital role of logistics in facilitating the transportation of goods to the international market.
"It is also a major source of foreign exchange earnings," he said.
Yakusak said further that about 214 different products ranging from manufactured, semi-processed, solid minerals to raw agricultural products were exported in 2022.
He also said 19 exit points were used, with Apapa Port recording the highest tonnage of exports.
Yakusak commended President Muhammadu Buhari for providing the political will to execute the project in collaboration with other stakeholders.
The CEO, NEPC, said the project was expected to add about 361 billion dollars to the economy.
The LEKKI seaport, he said, is a joint venture between the Nigerian Ports Authority (NPA) and the Lagos State Government, Tolarams Group (owners of the Lagos Free Zone), and China Harbour Engineering Company.
BY: Stories by Chinedu Wosu