Karate Federation Rolls Out 26 Events For 2020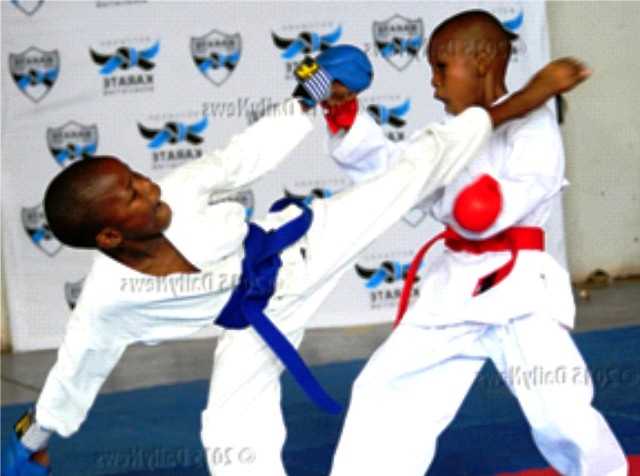 No fewer than 26 programmes have been rolled out by the Karate Federation of Nigeria (KFN) to be carried out in 2020.
The events calendar signed by the Secretary General of the federation, Libata Abdullahi, was made available to newsmen in Lagos, yesterday.
According to the calendar, the Federation will have about 16 events under national programmes which include National Open Technical/Officiating Course for Coaches/Referees at the National Sports Festival in Edo from February 19 to February 21.
Other events are the National Sports Festival in Edo between March 20 and April 3; and KFN National School Junior Karate Championship (Cadet, Junior and U-21 Categories taking place in Lagos on July 7).
Tidesports source reports that, in August, the Federation plans to have Nigeria University Games Association (NUGA) Karate Championship at yet to be mentioned venue, while having the Armed Forces/Paramilitary Inter-Service Karate Championship in Kaduna on October 1 to October 3.
It plans to have the 24th Nigerian Karate Association (NKA) National Black Belt College Workshop/Championship in Asaba, Delta and 7th Hajia Zainab Saleh International Female Championship in November in Lagos.
Menawhile, the 3rd Rivers National Open Karate Championship in Port Harcourt comes up 2 to 5 December, while its last National event would be KFN full Council Meeting (General Congress) in Abuja on December 12.
The calendar also revealed the regional African programmes, which include 1st and 2nd UFAK West African Zonal Karate Championship in Bamako, Mali from January. 7 to January 12, and Lagos May 12 to May 19, respectively.
On the continental programmes, UFAK African Junior/Senior Karate Championships held in Morocco from February 4 to February 10 while Commonwealth Karate Championship in Birmingham UK holds from September 1 to September 7.
According to the calendar, World programme include, Premier League at Rabat, Morocco, March 13 to March 15; Tokyo 2020 Qualification Tournament in Paris May 6 to May 11; and Karate 1, Series A at Istanbul Turkey June 8 to June 21.
It said the World Karate Federation (WKF) would have its Youth Camp/League in Croatia from June 28 to July 5; and the Tokyo 2020 Olympics Games (Karate Championship) from August 6 to August11.
The Federation added that WKF Senior World Championship will hold in Dubai from November 17 to November 22.
A Board Member of the KFN, Zainab Saleh, said in Lagos that the Federation needed the assistance of individuals and organisations to be able to carry out the events planned for the year.
"We will continue to call on well-meaning Nigerians and corporate organisations to support the Karate Federation of Nigeria.
"The lack of funding to execute our national programmes, to attend continental and world championships is a huge hindrance to our development in karate," she said.
Organisers Explain 2021 NSF Postponement
The 21st edition of National Sports Festival earlier scheduled for November 2 to 15, 2022, in Asaba, Delta State, will now hold from November 28 to December 10, 2022.
According to a statement by the Festival Secretary, Peter Nelson, and addressed to all Commissioners of Sports and Directors of Sports, the postponement was at the request of the host, Delta State.
"I wish to convey the request of Delta State Government to shift the date of the 21st National Sports Festival earlier scheduled to hold from November 2 to 15, 2022.
"It is now shifted to start on November 28 to December 10, 2022.
"The reason for the postponement is to give Delta State more time to complete some of the facilities needed for the festival," the statement reads.
It will be recalled that the 20th edition of the National Sports Festival held in Benin City, Edo State, which was tagged: "Edo 2020," also suffered several postponements until it finally held from April 2 to 14.
Nigeria Must Embrace Grassroots Sports Dev – Amusan
Women'S 100 metres hurdles world record holder, Tobi Amusan, believes that grassroots development programmes and top-notch training will help the country discover more athletics world champions.
Speaking in Lagos at a dinner organised in her honour by The Plug, an entertainment firm, tagged 'Tobi Amusan's Homecoming,' she blamed the exodus of the Nigeria's top athletes to other countries to what such nations offer the athletes.
"Grassroots sports development is something we lack here and the reason we often lose our top athletes to other countries of the world.
"From my experience training in the United States, if we can have such development here, we can groom young talents and unearth more Tobi Amusans," she said.
On the recent ratification of her record by World Athletics, Amusan said: "That my world record was ratified by the world body means that I am drug free and that I am clean. I feel great about it. Every time I am on the track, my eyes are always set on how to win and I execute it by winning."
She also spoke on the recent reception by the Federal Government, saying, "It is great feeling that we were recognised by the president of the Federal Republic of Nigeria. In as much as we did the work, it was an honour that they took into account and they recognised the fact that we did the nation proud. It is such a great feeling getting the national honour."
She acknowledged the support she got after her world record feat, with her followers on Twitter rising from 3000 to 150,000 under 24 hours, saying it showed that people appreciate what she is doing.
On the criticism by men's 400 metres world record holder, Michael Johnson, after her record breaking race in Oregon, U.S, Amusan said she was not bothered. "Honestly, I kept doing my thing because after the World Championships, I had other competitions to attend. I don't dwell on negativity… I look on the bright side of the sport."
At the event, Flutterwave, which used the occasion to declare it has signed a multi-year partnership deal with Amusan, said: "It is very difficult to find athletes who embody our core values the way Tobi does."
YSFON : Academy Coach Begs For Assistance
The Head coach of the De Kings International Football Academy (DKIFA) of Port Harcourt Okpaleke Chika King is begging the Rivers State ministry of Sports,  private and corporate individuals and all lovers of football for financial support to assist his team represent the state in Youth Sports Federation Of Nigeria (YSFON) competition.
He said that his team was representing Rivers state at the ongoing Chief of Naval Staff National (YSFON) Competition in Ilorin, Kwara State. He said he had written a letter to the Ministry of Sports and also to some private individuals for assistance.
King made the assertion on Saturday in an exclusive interview with Tidesports in Port Harcourt before leaving for Kwara state.
According to him he had nothing to do than to borrow money for the journey believing that when the State's Commissioner for Sports sees the letter he would not fail to respond to it.
" As you can see, my boys are ready for the competition but we lack support.
" I have written to the Ministry of Sports and also to some private individuals to assist us  but I have not gotten any reply, yet.
By: Kiadum Edookor