UNICEF Cash Transfer: What Next?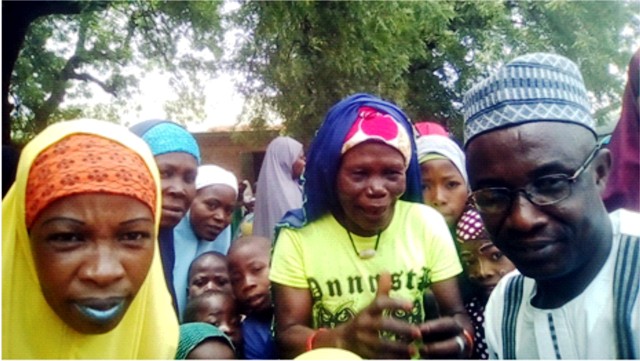 Quintessentially, United Nations Children's Fund (UNICEF) which was created by the UN-General Assembly on 11 December, 1946 to provide succour to underprivileged children and mothers originally in countries devastated by World War II, is extensively, in its characteristic interventions making headway, touching more lives. A two-day media dialogue on Educate-A-Child (EAC) Cash Transfer Programme in Birnin-Kebbi, Kebbi State on 8-9 April, 2019 unwittingly, exposed extreme wickedness, exploitation and egotism of the ruling class against the people. Steve J. Stowell notably said, "Great leaders find ways to connect with their people and help them fulfill their potential."
An exploratory field-trip by about 40 journalists representing a diverse range of frontline media outlets in the country alongside related government agencies particularly Federal Ministry of Information and Culture, and Federal Ministry of Education, which climaxed the summit compellingly, raised critical questions for political leaders vis-à-vis future of the society. In brief, is democracy pragmatically, a representative government or abysmally, survival-of-the-fittest scheme?
However, a question that may curiously, reasonably come from officious bystanders is; why the Cash Transfer Programme (CTP)? Could an arm of the UN still be dishing out cash in 21st century for effectual economic empowerment? And if affirmative, to what extent can such initiative go considering that in a society like Nigeria, majority lives below average? And how much can the global agency afford for a significant impact to its beneficiaries? Remember, in 2018, a report by Brookings Institution had pigeonholed Nigeria as the nation with the highest number of extremely poor people. Factual or otherwise; a story for another day. However, the bottom line is – the polity direly calls for strategic synergic interventions.
An American labour leader, attorney and President of the 1.7 million-member American Federation of Teachers, AFL-CIO, which represents teachers; paraprofessionals and school-related personnel, Randi Weingarten, once said, "A rich, robust, well-resourced public education is one of the best routes out of poverty and a pathway to prosperity". Then again, former UN scribe, Kofi Annan on one occasion said, "Extreme poverty anywhere is a threat to human security everywhere". By these remarks, the concept of UNICEF-CTP is largely buttressed.
Thus, the CTP is strategically aimed at decisively fighting poverty by means of promoting child-education in the society. By this, UNICEF provides stipends primarily to encourage underprivileged mothers to enroll their children in schools. As designed, mothers are encouraged to utilize the funds for petty businesses, and then cater for their children's needs from the proceeds. In other words, UNICEF sagaciously, conscientiously targets killing two birds with a stone; boosting child-education and then, family empowerment by making idle and underprivileged mothers become economically active for family's sustenance.
Arguably, President Muhammadu Buhari's innovative policy on child-education synchronically complements the UNICEF Educate-A-Child initiative. For example, while UNICEF-CTP encourages mothers to enroll their children in schools alongside provides supports for basic school needs, Buhari's School-Feeding-Programme on the other hand, convivially boosts pupils' interests vis-à-vis attendance in school. These strategically designed mechanisms are therefore, phenomenally compatible. Any meaningful fight against poverty demands multi-dimensional tactics and collective responsibility.
The cheering account of the field-trip to Kawara-Manu Model Primary School, in Maiyama LGA, Birnin-Kebbi; a beneficiary-school of the UNICEF CTP is; Cash-Transfer-Programme is significantly, exponentially yielding the target goals; promoting child-education with pupils' population multiplying in triples. The bad news, on the other hand – the positive result is tragically metamorphosing to a secondary crisis which requires a state of emergency.
To be straightforward, the classrooms and teachers are consequently, insufficient to meet the upsurges. A classroom that designedly, accommodates maximum of 30 pupils presently disgustingly squeezes over 100 pupils sitting on the floor as chairs impede available spaces. Imagine a breakout of infectious disease; apparently, no child will escape infections due to their proximities. Parenthetically, how would a teacher effectively control such a high number of pupils? Thus, the goals invariably, may be defeated if not complementarily remedied. Nevertheless, the momentum should be sustained.
These quagmires bring us to; "What next after CTP?" UNICEF target is clearly to inculcate the idea to policy-makers, and never to takeover governments' responsibilities. Indisputably, UNICEF cannot fund the programme eternally but as presently operative; a timeframe of two years for an area due to financial implications. Similarly, Buhari's Feeding programme is yet to spread to the entire nation; hence, if left for federal government alone, it may realistically suffer defects. Thus, for sustainability, a pragmatic remedial mechanism points to Section 14(2)(b) of the 1999 Constitution of the Federal Republic of Nigeria, as amended – "the security and welfare of the people shall be the primary purpose of government".
Philosophically, in-depth sense of security hasn't been effusively figured out by leaders. Security etymologically includes social security which is synonymous with welfare. English Dictionary defines security as "the condition of not being threatened, especially physically, psychologically, emotionally or financially". In other words, the Constitution understandingly, circumspectly used 'security and welfare of the people' simultaneously. Unfortunately, leaders often negligently limit insecurity to hostilities with guns, bows and arrows. And where it didn't occur, diversion of security votes mischievously to private accounts and for luxury property abroad eccentrically follows suit. Security votes, noteworthily, is distinctly accountable public funds for general security and cannot be misconstrued as 'unaccountable' funds for leaders in power. Even in Freetown, there is no free lunch, they say.
Emphatically, Article 26 of the UN Convention on Child's Rights (CRC) provides, "Every child has the right to benefit from social security. Governments must provide social security, including financial support and other benefits, to families in need of assistance." Thus, exclusion of children's development in the security votes is fundamentally, a gaffe. Loudly! Security vote isn't only for physical security; social security is prominently inclusive. Possibly, state governments could, in addition judiciously constitute Security Trust Fund particularly to replicate UNICEF-EAC policy as a proactive security strategy. Knowledge is power.
Umegboro, is a public affairs analyst.
Carl Umegboro
Gender Equality And Path To Sustainable Development Goals
Disparities between women and men with regards to access to and control of economic resources and political power constitute a hindrance to bridging gender equality gaps.
As the gender variable enters the sustainable development equation, attention is now drawn to creating a better understanding of the role of gender equality and equity in poverty alleviation and achievement of Sustainable Development Goals (SDGs).
It is pertinent to advance that gender equality agitation does not ignore the biological differences between men and women especially as regards reproductive roles.
Rather, it helps to appreciate the uniqueness of each gender group and the importance of bringing the different needs and priorities of both women and men into development plans.
According to the Gender Snapshot 2022 Report by UN women and the UN Department of Economic and Social Affairs (UN DESA), at the current rate it will take close to 300 years to achieve full gender equality, one of the 17 Sustainable Development Goals (SDGs).
The report further reveals how gender disparities are worsening due to COVID-19 pandemic, violence, climate change and backlash against women's sexual and reproductive health rights.
It said these factors will make it difficult for many countries to meet SDG number 5 by 2030 deadline. SDG number 5 seeks to achieve gender equity and empowerment of women and girls.
The report highlighted the need for cooperation, partnership and investment to put the world back on track towards achieving the goal.
"Without swift action, legal systems that do not ban violence against women, or protect their rights in marriage and family, may continue to exist for generations to come", it said.
Some stakeholders have advocated increased gender response in budgeting to promote awareness, equity and equality as part of the measures to close the widening gaps.
They said there is the need to ensure that women and men are free to develop their full potential and are able to make choices without restrictive gender roles.
Mrs Felicia Onibun, National Coordinator, 100 Women Lobby Group, at a workshop on Gender Responsive Budgeting Framework in Abuja, highlighted the need for a gender budgeting that is inclusive and captures women, Persons with Disabilities (PWDs) and all vulnerable people.
"Budgeting for gender response is important because women's needs are different from men's need. What a woman needs to achieve her goal is different from what a man needs", she said.
Similarly Mrs Tayo Erinle, Executive Director, Talitha Cumi Foundation, said increased gender budgeting and budget performance will address discrimination, bias and other forms of violence against women and children.
Therefore, women and men's need and interests are to be equally valued and protected if any nation is to achieve sustainable development.
Countries with wide gender gaps are found to exhibit poor indicators of growth like poor nutrition, high maternal and infant mortality rates, poverty, low life expectancy, low level of education and high prevalence of HIV/AIDS.
A major concern in many African countries is the continued low representation of women at all levels of governance and economic negotiations, especially at grassroots level.
A gender activist, Chinonso Okechukwu, at a recent media forum in Lagos said this anomaly must be addressed for any meaningful development to take place.
Okechukwu, the Focal Person of Nigerian Feminist Forum (NFF), decried the low female representation and participation in the public service and politics in Nigeria.
According to her the national average of women's political participation has remained at 6.7 per cent in elective and appointive positions, a figure she said was not good enough
Women and men's voices must be heard in all areas of development, including climate change, poverty and drafting of strategies and programmes for sustainable development.
Experts say governance must be gender-sensitive for it to be equitable, sustainable and effective.
Prof. Joy Ezeilo, the Founder of Women of Aid Collective (WACOL), an NGO, also frowns at the dismal participation of women in politics, saying many of them have continued to be disenfranchised.
"And there is no way we can make claims to sustainable development without full participation of women in governance and indeed in all sectors including economy,'' she was quoted by the media as saying.
According to her because of the 'mercantile politics' practiced in Nigeria most women cannot afford to venture into politics and be part of decision making and implementation processes.
"Sometimes women economic status also affects their political careers,'' she said.
The Church And A New Hope For Nigeria
When a famous French statesman and writer,Alexis de Tocqueville,visited the United States of America not too long after its revolutionary independence from the colonial English power, he discovered a pleasant serenity that was present all over the vast land. He said he sought the answer everywhere, schools, offices, government institutions etc. After a diligent search, he got nowhere near resolving the puzzle.
Finally, the European wrote: ''I sought for the greatness of the United States in her commodious harbours, her ample rivers, her fertile fields and boundless forests and it was not there. I sought for it in her rich higher learning and it was not there. I looked for it in her democratic congress and her matchless constitution and it was not there. Not until I went to the Churches of America did I understand the secret of her genius and power.'' Tocqueville said the prosperity of the United States at the time of his trip in the first half of the 19thCentury was due to the reliance of the citizens and their leaders on the messages of their Church leaders.
He was not speaking of a US version of Christian theocracy. He was simply saying that although the Americans ran a secular system with human beings and their business, administrative, educational and economic organs fully in place, they still allowed room for the messengers of God to guide them. In other words, the people were not overwhelmed and distracted by physical pursuits to satisfy physical needs. They sought the balance commanded by Jesus Christ: man must not live by bread alone, but by every word that flows from God.
Man is in grave danger if he dwells on materialism to the utter neglect of the spiritual. This is the point repeatedly made by Pastor William FolorunsoKumuyi, the General Superintendent (GS) of Deeper Christian Life Ministry, DCLM, as he mounts the rostrum to preach at his now well-received world-wide revival programmes called Global Crusade with Kumuyi, GCK. Being an unrepentant servant of Heaven determined to heed the call of God to preach only the truth that frees man from bondage, Kumuyi has been noted to do just that over the decades.
So, when in October 2021, Kumuyi's GCK train arrived in Port Harcourt, capital of Nigeria's South-South Rivers State, no one doubted that he brought a message amounting to a full-orbed teaching to humanity. Like the Frenchman Tocqueville, Kumuyi showed that true and lasting prosperity goes beyond material wealth and riches, plenty of which Rivers State, through its oil resources could boast of. But the point is not to trust in the gift of this abundance. Instead, the Lord wants man to honour the Giver of these riches more. That, according to Kumuyi, is the non-negotiable demand from Heaven to trigger more blessings.
So, coming with the theme, Showers of Blessingsthrough Christ, the cleric said that all humanity was truly promised the goodness of their Creator. Starting with God's famous proclamation in the Bible in Ezekiel 34:26 where He prophesizes ''showers of blessing'', Kumuyi said man should go deeper than thinking of these showers only in terms of material possessions. He spoke of a transcendent possession, namely salvation of the soul, which, according to him, opens up fuller and more meaningful relationship with Heaven, the headquarters and home of all good and lasting riches.
In effect, the revered evangelist was taking his audience back to the spiritual grundnorm enunciated by Jesus Christ in Matthew 6:33: Seek ye first the kingdom of God and his righteousness; and all these things shall be added unto you.
This is the message the whole materialistic world needs. But let's start with Port Harcourt, capital of wealthy oil-soaked Rivers State. Its people must not be spiritually complacent, feeling self-sufficient, not conscious of a missing factor, because they have some showers of blessings already. Pastor Kumuyi said he brought the crusade to Port Harcourt to open the eyes of the people to see more depths of blessings. He told them that without first embracing Jesus as their Lord and Saviour, they would not only lose those blessings, but also they would be bereaved of joy here in the world and in the life after death. Kumuyi said "all humanity comprising all races, tribes and peoples have sinned and stand condemned before God,'' no matter the level of their prosperity. The General Superintendent of Deeper Christian Life Ministry said the only solution is Christ's Salvation, not a rat race for more riches or acquisition of property.
This applies to a world ensnared in the fever of explosive scientific and technological inventions and discoveries. Of course, all these are leading man to an unprecedented age of material blessings, threatening to ostracize God altogether from his world. This, argues Kumuyi, is the path of destruction, self-immolation. He called on the people to step away from the tip overlooking the consuming valley.What will follow such a wise decision to renounce worldliness and opt for the counsel of God?
Kumuyi said man will be positioned for unspeakable bliss as he settles for Christ. He proved this at the Port Harcourt crusade as he led thousands of sinners to salvation. Thereafter, following breakthrough prayers byKumuyi, God brought down miracles, healings, deliverances and signs with wonders to the people.
A man afflicted with prostate enlargement and high blood pressure was delivered. Another who was a member of a cultic society said after Pastor appeared to him in a dream he was saved from the demonic affiliation. There was the case of one who was freed from the unbearable pain after 13 years' dislocation of his right arm. There was also the great miracle of a woman who was born with two navels. She lived with that condition for 21 years, until Kumuyi prayed and one of the navels disappeared. Incredible!
Pastor Kumuyi says the lesson from all these supernatural miracles from Heaven is that there is hope for lost man with room for more blessings than the relatively meagre showers we are celebrating at the moment. But first, he pleads, we must forsake the waywardness that separates us from God and prevents us from enjoying Him full length.
That is how Nigeria and its people can also be delivered from the challenges besetting us, the same way the United States of America was in the first half of the 19th Century.
By: Israel Mkpaoro
Dr. Mkpaoro is the Coordinator of the International Friendship League (IFL), Port Harcourt, Rivers State.
Hostilities And Seamless Democratic Transition (II)
This is the concluding part of the above headline featured on wednesday, January 18, 2023.
According to reports, "the attack was likened to warfare with booming explosive devices and a massive exchange of gunfire between the hoodlums and security agencies, came on a day the INEC started the distribution of Permanent Voters Cards, PVCs, to people, who registered, recently. "The INEC raised the alarm over what it described as systematic and targeted attacks on its facilities nationwide, ahead of the 2023 general elections. "A policeman was killed in the attack, while another suffered a severe injury in the gun duel during the gunmen's attack at the Imo State Headquarters of the INEC, Port Harcourt Road, Owerri. "This brings to three, the number of INEC offices in the state, attacked by the hoodlums since December I, 2022. The incident followed the earlier attacks on INEC's Orlu LGA office on December 1, 2022, and the Oru West LGA office on December 4, 2022.
"Part of the INEC office was razed by the hoodlums, who used IEDs to completely burn the Election and Party Monitoring, EPM, building". Addressing newsmen at the State Police Command's Headquarters, Owerri, where the lifeless bodies of the hoodlums were displayed, the Police Public Relations Officer, PPRO, Mr. Michael Abattam, said: "The gunmen killed one policeman and injured another one in the gun duel that lasted for about an hour. "Five riffles, two vehicles, charms, locally made bombs, phones and money were recovered from the slain gunmen." Governor Uzodimma, of Imo State who visited the scene blamed desperate politicians for the attack, saying that security would be adequately provided for the INEC for the distribution of the PVCs in the state. Uzodimma said: "You can see why INEC is the target
I have continuously said that what is happening in Imo State is politically inclined and that they want to make Imo State ungovernable and ensure there will be no election in Imo State. "However, security agencies are prepared. INEC is prepared and there will be an election in Nigeria. I was told the majority of them who came on this journey are lying critically ill, some are neutralised and others fled with gunshot injuries. The police are ever committed. The other sister agencies are also committed to ensuring security in the state. "My assurance is that we will have a very beautiful environment for Christmas God willing. We urge our people to come out and collect their PVCs, there will be security agencies from the ward, local government areas to the state level. It will be a fruitful exercise." Bemoaning the attack, Dr. Festus Okoye, INEC's National Commissioner and Chairman of its Information and Voter Education Committee, said: "Our Imo State headquarters is located in the centre of Owerri, between a court and the state secretariat. This is, therefore, yet another systematic attack targeted at the commission's assets across the country, more so on the day that the collection of PVCs commences nationwide ahead of the 2023 general elections.
The Atiku-Okowa Presidential Campaign Organisation of the, PDP also expressed disappointment over attacks on INEC's offices and called on Nigerians across party lines to support security services and INEC in their quest to ensure credible elections. Also, the Presidential Campaign Council of the Labour Party described the attacks as part of a larger plot to derail the 2023 general elections. Chief Spokesperson of the LP PCC, Dr. Yunusa Tanko, told Vanguard in a telephone interview that the attacks on INEC offices have been particularly high in the South-East and described the trend as worrisome. Tanko said: "It is worrisome no doubt but we will not be deterred. We see this as an attempt to give the South-East a bad name to give the impression that the people of the area don't want elections to hold. "This is a lie. We will continue to support INEC an4epher Imumolen said: "The South-East has been agitating for too long because they feel neglected. The South-East has been marginalized and the President must wade in and ensure the region gets what it needs. "I believe that the South-East has been marginalized for too long. Nigeria is at war if we must truly say the truth but we need to unite our people but if we fail to do that, we will be seeing more attacks. "I condemn the burning of INEC officers, especially in the South-East, it is a condemnable act but we must look at the root cause and tackle it."For us, we believe the security forces will live up to expectations to ensure that things that are needed to curb incidents like that should be totally eradicated.
In December, 2022 another INEC office was attacked in Oru West Local Government Area, three days after another INEC office was attacked in Orlu Local Government Area of Imo State. The Chairman of Information and Voter Education Committee of INEC, Festus Okoye, confirmed the attack in a statement made available to journalists. "The Resident Electoral Commissioner (REC) for Imo State, Professor Sylvia Uchenna Agu, has reported that our office in Oru West Local Government Area was attacked at about 4.00am today Sunday 4th December 2022," Mr Okoye wrote. "The attack affected the Conference Room where office furniture and fittings were destroyed," he added. "However, other critical facilities were not affected."Mr Okoye said the latest attack was the seventh on INEC facilities in the last four months. 'It would be recalled that on Thursday 1st December 2022, our office in Orlu Local Government Area of Imo State was also attacked. Overall, this is the 7th attack on our facilities in five States of the Federation in the last four months."Mr Okoye expressed concern about the systematic attack on the commission's facilities across the country as it prepares to conduct the 2023 general elections. "Once again, the Commission expresses its concern on the consequences of what appears to be a systematic attack on its facilities across the country on the conduct of elections in particular and electoral activities in general. The attention of the security agencies has been drawn to this latest incident for investigation and prosecution" Mr Okoye said.
Four months ago, some suspected arsonists razed an INEC office in Igbo-Eze North Local Government Area of Enugu State. Also, two offices of INEC, in May 2021, were set ablaze by gunmen in Ebonyi State. The offices are located at Ezza North and Izzi local government areas of the state. Again, in September 2021, the commission's office was set ablaze in Awgu Local Government Area office in Enugu State. The attacks on INEC facilities around the South-east and the South-south regions, as well as on security agencies, have been attributed to the outlawed Indigenous People of Biafra (IPOB). But the group has repeatedly denied any involvement in the attacks. The Independent National Electoral Commission, INEC office in Awgu, Enugu State was also not left out by the suspected hoodlums. It was gathered that the hoodlums carried out the dastard act, burning down a section of office. With combined efforts from security operatives, the fire was brought under control. Reacting to the development, National Commissioner and Chairman, Information and Voter Education, Festus Okoye revealed that the incident was being investigated. Resident Electoral Commissioner for Enugu State, Mr. Emeka Ononamadu, who reported the attack on the INEC office in Awgu Local Government Area of the State, noted that the section of the building where the electoral materials are kept, was completely burnt down. "Fortunately, all movable election materials were evacuated and there were no casualties", he said.
Considering the destruction of INEC offices, it is pertinent to say that politicians, their allies and the hoodlums are yet to learn from the past. There is need for politicians to cultivate political maturity in carrying out electioneering campaigns. The cases of attacks and counter attacks are very unnecessary and dents the credibility of a process that will produce national and state leaders. "Politics Without Bitterness" was the political mantra of the founder and presidential candidate of Great Nigeria Peoples Party (GNPP), Alhaji Ibrahim Waziri. It behoves everyone to imbibe this guiding light. All political stakeholders should ensure a smooth transition to another democratic governance. Nigeria needs free, fair, peaceful and credible elections.
By: Igbiki Benibo