PDP Links Suicide, Vices To Buhari …Says Aisha's N500bn Fraud Claim On SIP Vindicates Party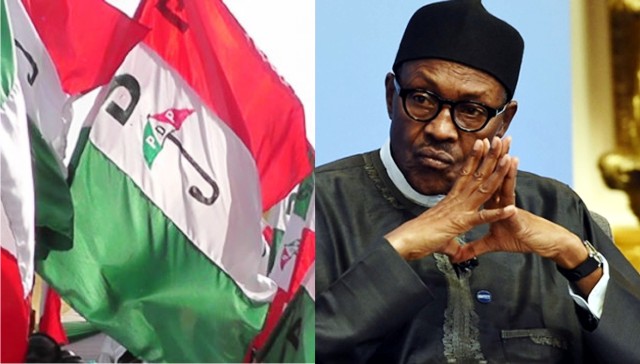 The Peoples Democratic Party, PDP, yesterday lamented what it identified as the escalated despondency, depression and misery in the country since the rigging of the 2019 presidential election.
The party stated this in reaction to the increase in the rate of suicide, youths' desperation to travel abroad and other social vices since the conclusion of the 2019 presidential election.
In a statement by its spokesperson, Kola Ologbondiyan, the former ruling party charged Nigerians to "uphold and support one another in love, at this trying time to check the rising social degeneration in our nation, particularly acts of suicide."
PDP described as a "national tragedy, the rising spate of suicides, slavery mission abroad, divorces, child abandonment and other social degeneration occasioned by the worsening economic hardship, poverty, hunger and rising insecurity under the incompetent, corrupt, divisive and manipulative All Progressives Congress (APC) administration.
"Such social ills, which is a direct response to bad governance, occurs when citizens are overwhelmed by gloom, with no hope in sight, particularly after their majority vote for a new, purposeful and result-oriented President in the PDP candidate AtikuAbubakar, as expressed in the February 23 Presidential election, was subverted with brazen impunity.
"In the last few months, the news media has been awash with horrible reports of teenage suicide in our country.
"Banditry, insurgency, marauding, bloodletting and kidnapping with unmentionable ransoms, have almost become daily occurrences. Our citizenry is now battling with the worst kind of siege mentality.
"Constitutional violations, human rights abuses, arbitrary arrests, extra-judicial killings, assault on perceived dissenting voices and attempt at annexation of our institutions of democracy, particularly the judiciary, signposts a nation in dire strait.
"Misery has set in. This is evident in the shrinking of our nation's Gross Domestic Produce (GDP) to 2.1percent in the first quarter of 2019.
"It is saddening that at the time Nigerians ought to be celebrating, they are rather forlorn, committing suicide and exiting the country in droves.
"Most Nigerians have become downhearted in the face of an administration that wrecked our once robust economy and divided our people; in the face of worsening joblessness, piling bills, hunger and diseases; in the face of incompetence, lies, and unfulfilled promises of free homes, monthly allowance to unemployed youth and the poor, bringing the naira to the same value as the US Dollar, creating of 5 million new jobs, ending of insurgency in three months and myriad of other false promises.
"Instead, what our nation has witnessed is an official entrenchment and elevation of incompetence, deceit, propaganda, failure and cabal mentality on the corridors of power; a situation where the only achievement is the foisting of economic recession and mortgaging of the future of our nation with the accumulation of N24.39 trillion debt, with no tangible project to show.
"It is instructive to state that the President Muhammadu Buhari-led APC administration has obstinately refused to allow any scrutiny of its books, knowing that they are catalogues of corruption, treasury looting, violations, impunity and acts that have brought our nation to its knees."
The PDP however called on Nigerians not to despair but "stand firm in their collective determination to retrieve the stolen Presidential mandate at the tribunal, so they can have an administration that truly cares for them and which has the competence to return our nation on her deserved path of peace, national cohesion and economic prosperity."
Meanwhile, President Muhammadu Buhari's wife, Aisha, has rubbished the N500billion Social Investment Programme of her husband's administration, saying that it failed "woefully" in the North in particular.
Aisha, who hails from Adamawa State, said the situation in her home state, as far as the implementation was concerned, was pathetic.
She also cited Kano, a highly-populated northern state, as another example where she believed the programme failed, despite the huge funds the Federal Government budgeted for it.
The SIP is domiciled in the Office of Vice-President Yemi Osinbajo, but its direct implementation is done by the Senior Special Assistant to the President on Social Investment, Mrs Maryam Uwais.
Mrs Buhari bared her feelings, last Saturday in Abuja during an interactive programme she organised for women at the Presidential Villa.
For instance, she disclosed that though Uwais informed her that 30,000 women would be beneficiaries in Adamawa State, four years had passed and there was no evidence that the SA kept her word.
The President's wife spoke in detail, expressing her disappointment.
She went on, "Concerning the N500bn voted for SIP, that was part of 2015 campaigns where they promised to give out N10,000, feed pupils in primary schools and give N5,000 to the poorest of the poor.
"The SSA to the President on Social Investment is a lady from Kano and I am sure that my husband decided to put somebody from Kano because of the population and political impact it made. I have never asked how the money is being used or is being given out.
"I met Barrister (one of the President's aides on SIP) once, and he promised me that for my state (Adamawa), we should get 30,000 women to be given N10,000. Up till now, I haven't heard from him.
"I don't want to raise the alarm that my state does not benefit from it, where the SGF (Secretary to the Government of the Federation) came from; I kept quiet because I don't want people to say that I talk too much. Recently, I saw a 74-year-old man selling petty things in Kano, I asked him how much is his capital, he told me between N3,000 and N4,000. Don't forget that we have campaigned to give the poorest of the poor N5,000 every month.
"So, I don't know where is the social investment… Maybe, it worked out in some states. In my own state, only a local government benefited out of the 22. I didn't ask what happened and I don't want to know, but it failed woefully in Kano, it's not a good sign and it's not a good thing.
"We have a lot of women that do business locally due to the cultural thing in the North; they are at home doing their business. Some are millionaires, some have thousands of naira, they need the assistance but they do not get it. Most northern women do not belong to any market association.
"I was expecting the N500billion to be utilised in different methods in the North for the aim to be achieved. I don't know the method they used, but most of the northern states do not get it. My state does not get it.
"How many of you (women in the hall) get it in your state? My state did not benefit from it."
The women responded by saying that they got nothing in the past four years.
She argued that the method employed in implementing the programme in the North was faulty, a reason she believed it failed there.
"It worked out well in a situation whereby they have market associations but I was thinking different methods should be used in the North", the President's wife stated.
Amid applause from women in the hall, Mrs Buhari also criticised the $16million counterpart fund said to have been used so far on procurement of mosquito nets.
She noted, "I have heard about mosquito nets, Nigeria paid its counterpart fund, $16million. I asked them to give my own share of the net to send it to my village people. I didn't get it.
"They have spent $16million in buying mosquito nets, I did not get it, maybe some people have got it. But I feel that, that's my personal opinion, $16million is enough to fumigate mosquitoes in Nigeria. That's my opinion."
However, she commended the SGF, Mr Boss Mustapha, for the initiative to include women in the inauguration programme of her husband for his second term on May 29.
She stated further, "I will also like to use the opportunity to thank the SGF for including women in the inaugural activities of Mr President; this is what is called next level. They didn't allow us to participate in politics but now they have started giving us hope that we can be involved in certain things."
On the anti-drug committee chaired by a former Military Administrator of Lagos State, Buba Marwa, President's wife recalled how she practically made herself a member to ensure that things went well.
She added, "I also managed to put myself as member of the committee and the wife of the Vice-President. The wife of the Vice-President (Dolapo Osinbajo) has worked very well; it took her one year to go round schools in Abuja because of the level of abuse. Many girls don't go to school because they are afraid of being raped while returning from school or when their parents are away.
"You know most of their parents are farmers. The revelation is beyond comment. I asked her to publicise her discovery but she didn't; if she had done so, it would have served as a lesson.
"Over N12billion has been released by the President to take care of trauma cases across the country. Can you please monitor the money? The ministers are going very soon and the money is being released."
On the 2019 polls, she called on the All Progressives Congress to refund the money female contestants spent to purchase nomination forms since the women ended up being marginalised.
Submit Name Of Apiti's Successor In Two Weeks, Wike Tells Rumueme Community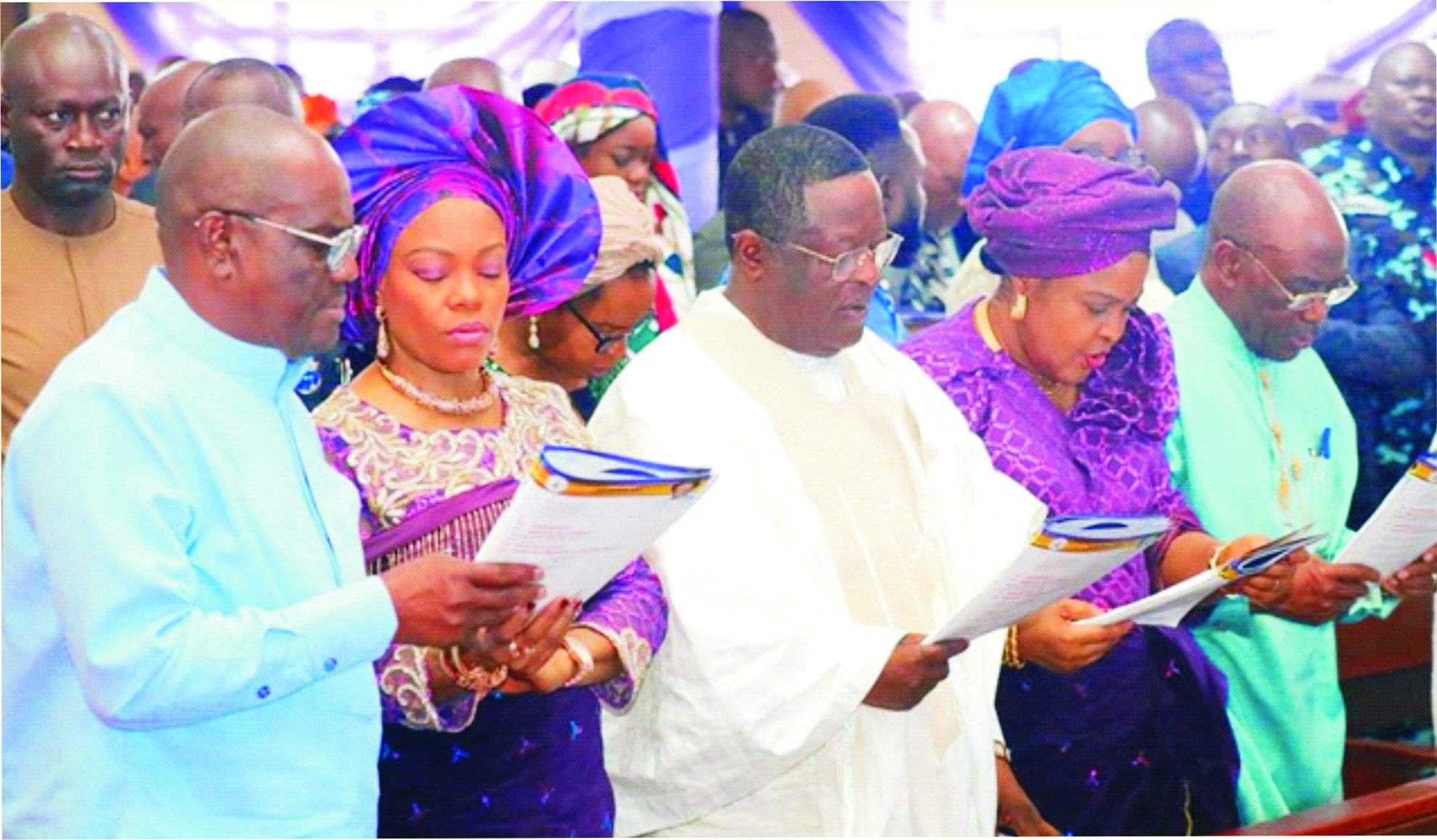 Rivers State governor, Chief Nyesom Wike, has given the Rumueme community in Obio-Akpor Local Government Area, two weeks to submit to government the name of the successor of the late Apiti of Rumueme, His Royal Majesty, Nyenwe Eli, Omunakwe Nyeche Nsirim.
The governor urged the kingmakers and those entitled to the vacant stool in Rumueme community to ensure a rancour-free selection process.
Wike gave the charge during the funeral service of the late Apiti of Rumueme, His Royal Majesty, Nyenwe Eli, Omunakwe Nyeche Nsirim at St. John's Anglican Church, Rumueme on Saturday.
He said Rumueme people should be happy that the monarch's political activism brought the community to political limelight of the State.
"He brought recognition to Rumueme kingdom. Whether you like it or not, he brought you recognition. There was a time in this local government, nobody could talk about Rumueme, even to come out as a councillor was a problem.
"I know when we decided that a Rumueme man should be chairman of local government, it was a problem. But some of us stood firm and said we can't continue this way. This man has fought, he was one of those who stood firm and fought for the creation of Obio-Akpor local government.
"That was what led to two Rumueme sons becoming chairmen of Obio-Akpor; Dr Amadi and Timothy Nsirim. He was alive when his son because chairman of the local government he fought for."
Wike, who described the late Nyenwe Eli as an ardent defender of Rumueme's interest, noted that prior his recognition by the Rivers State government as a first class traditional ruler, the community never had even a third class king.
The governor explained that the government decided to honour the Apiti of Rumueme with a state burial in recognition of his immense contributions to the socio-political development of Rivers State.
"Late Nsirim had contributed so much as far as Rivers State is concerned. Late Nsirim had contributed to the political development of this State and persons in this state, one of them is me standing before you. And so, he deserves to have a state burial", he said.
Governor Wike said the late monarch was a man of strong character and highly opinionated. And because on this, those who were unable to forge intimacy with him had often misconstrued his actions and disposition.
"Strong men are not liked easily, strong characters are not liked easily, those who are not yes members are not liked easily. Those who are highly opinionated, those who can say their mind for what is right are not easily liked, and that is the person you are seeing here."
In his sermon, the Rector St. John's Anglican Church, Venerable Gabriel S.B. Omoleye, who preached on the topic; " A time for everything and purpose" admonished the congregation to conduct their life in manners that pleased God.
Venerable Omoleye declared that anyone who is unable to fulfil God's purpose for his life, will in the end be reckoned as someone who wasted his time here on earth.
Dignitaries present at the funeral service were the governor of Ebonyi State, David Umahi; the wife of the Rivers State governor, Hon. Justice Eberechi Suzzette Nyesom-Wike, former Rivers State governor, Dr. Peter Odili and his wife, Justice Mary Odili; Rivers State governor-elect, Sir Siminalayi Fubara and his deputy, Prof. Ngozi Odu, and former Senate President, Senator John Azuta-Mbata.
The Chief Judge of Rivers State, Simeon Chibuzor Amadi; the Speaker, Rivers State House of Assembly, Rt. Hon. Ikuinyi-Owaji Ibani; National Vice Chairman of the Peoples Democratic Party (PDP) South-south, Chief Dan Orbih; Rivers State chairman of PDP, Ambassador Desmond Akawor were also among other dignitaries that attended the funeral service.
Wike Mocks Amaechi, Abe, Debunks Allegations Of INEC Chairman Working Under Him …Urges Security Agencies To Invite Amaechi For Questioning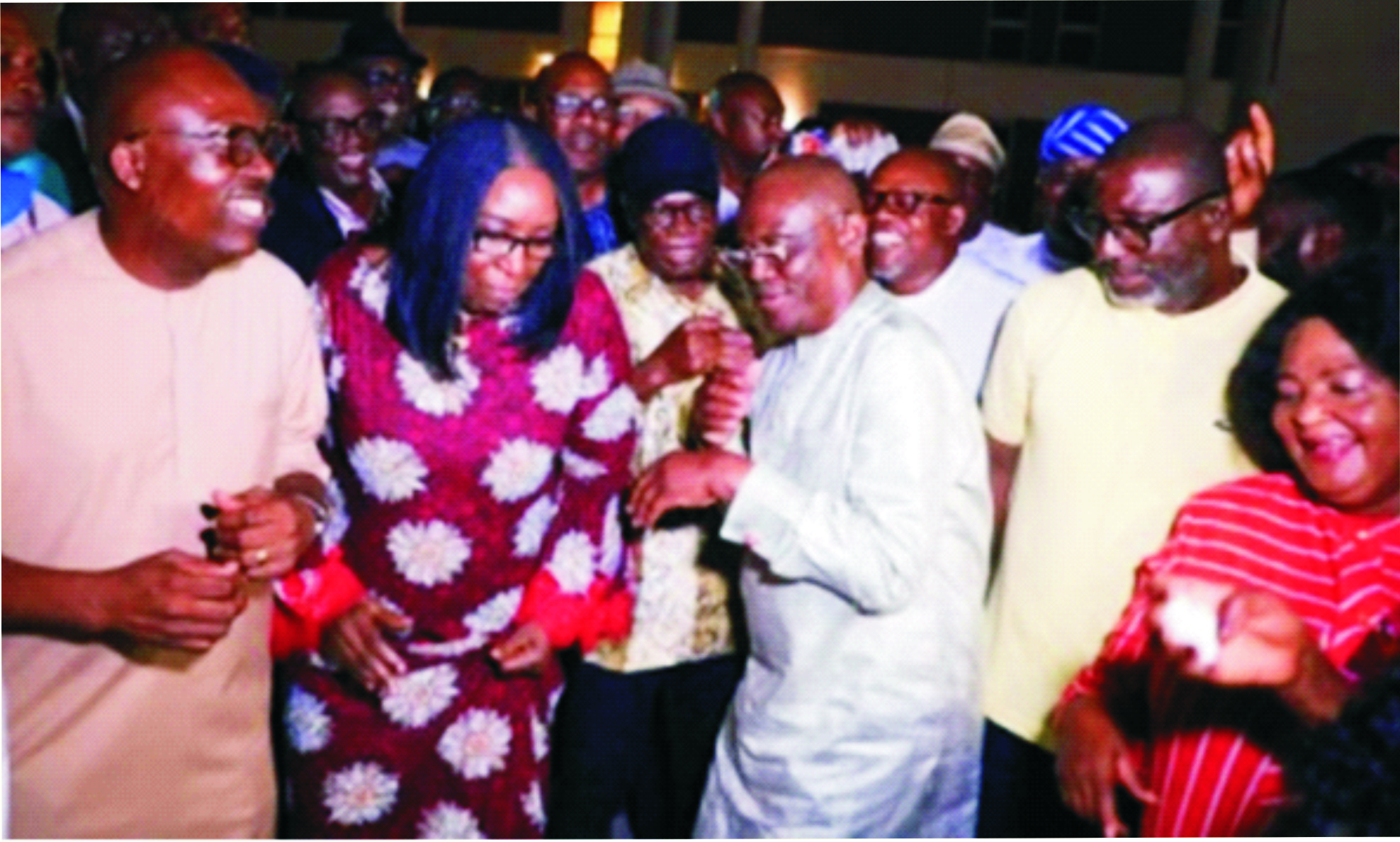 Rivers State Governor, Chief Nyesom Wike, has refuted allegation by former Minister of Transportation, Chibuike Amaechi that the Chairman of the Independent National Electoral Commission (INEC), Professor Mahmood Yakubu, once worked under him as a minister.
The governor noted that Amaechi's spurious claim that Yakubu was nominated by someone in the President-elect, Asiwaju Bola Tinubu's camp of the All Progressives Congress (APC) was tantamount to public incitement and a threat to national security.
Wike, in a state broadcast on the outcome of the March 18th, 2023, governorship/National Assembly elections in the State, yesterday, said Amaechi's outburst that the just conducted general elections by INEC was the worst in Nigeria's history, is ludicrous.
He said, "The truth was that Mahmood Yakubu never worked under me. Both of us worked in the Federal Ministry of Education. He was the Executive Secretary of the Tertiary Education Trust Fund, supervised by the Minister of Education, while I was the Minister of State for Education.
"At any rate, was Mahmood Yakubu INEC's chairman in the 2015 general elections in Rivers State when we defeated him and his political party as a sitting Governor and Director-General of Muhammadu Buhari's Presidential Campaign?
"Was it not the same Mahmood Yakubu that conducted the 2019 general election, which the APC and President Muhammadu Buhari won? Was he working for Atiku Abubakar of the PDP when, as a sitting super Minister of Transportation, he could not win 25% for President Buhari in Rivers State in the 2019 general election?"
Wike wondered why it took this long for Amaechi , who served as a minister for over seven years under President Buhari to speak out about his opposition to Mahmood Yakubu's reappointment.
He observed that in his frustration, Amaechi had publicly denounced and claimed to know so much bad things about the Federal Government that he served for seven year, but, regrettably, lacked the courage to tell Nigerians what he claimed to know about Buhari's government, which he alleged had totally failed.
"In saner climes, law enforcement agencies should have invited such a devious and malignant character for hate speech, public incitement and threat to national security, public safety and order. By his mischievous statements, Rotimi Amaechi attempted to attribute, locate and blame his infamous political failures and frustrations in Rivers State on the INEC's chairman.
"In the 2015 general elections, we defeated him as a sitting Governor and Director-General of the Buhari campaign in Rivers State. In the 2019 general elections, we beat him as President Buhari's super Minister and Director-General of the APC Presidential Campaign.
"He could not even influence 25% of the votes for his party, even after using the Army to cause mayhem and attempt to rig the election. In 2023, we defeated him as an ordinary person. This shows that Rotimi Amaechi cannot win any electoral contest with us in Rivers State", the governor said.
Wike stressed that the outcome of the 2023 general elections in Rivers State has again exposed Amaechi, the APC governorship candidate, Tonye Cole and his Social Democratic Party counterpart, Senator Magnus Abe, as political paperweights and rejects.
"The APC gubernatorial candidate, Tonye Cole, lost in his Ward and Local Government Area. He lost in almost all electoral units, wards and Local Government Areas of the State. Tonye Cole never ran any effective political campaigns. His party was fractured beyond redemption. He was literarily waiting for his godfather and business partner, Rt. Hon. Rotimi Amaechi to magically make him governor.
"Rotimi Amaechi also lost to the PDP in his community, Ubima, his Ward and the Local Government Area. Both forgot that Rivers people knew them as an evil partnership that diverted the State's $50,000,000.00 and declined overwhelmingly to vote for them", Wike alleged.
The governor further said that the electoral fate of the SDP candidate, Senator Abe, who lost woefully in 15 out of 17 wards in his native Gokana Local Government Area, was also not better.
"Magnus's vaunting ambition was to have a chance to be named on the ballot as a gubernatorial candidate of any party, having twice been denied the APC by his former friend, political leader and associate, Rotimi Amaechi. He achieved this limited and useless ambition when he hurriedly decamped from the APC to the SDP."
Wike challenged Abe to explain to the world his relationship with the INEC Director of Security, Lebara Nduh, who allegedly availed him and his supporters with fake INEC security tags.
The governor thanked Rivers people for voting Fubara as the next governor, adding that the results already announced by the INEC show that the PDP won 31 of the 32 State House of Assembly constituencies.
He, however, extended olive branch to the opposition to join in moving the State forward.
According to him, he has received assurance from the governor-elect of his willingness to work with the opposition to advance the interests of the State.
The governor also appreciated the security agencies' professionalism throughout the elections and promised that the State Government would defray the medical expenses of any security personnel injured during the elections.
Wike congratulated all PDP governors-elects nationwide for their electoral victories.
He said now that the elections are over, PDP members desperately need to close ranks and work together to reclaim, rebuild, and reposition the party based on equity, fairness and justice to serve and advance the country's unity, security and progress.
Petrol Price Increased By 54.76% Per Litre, NBS Confirms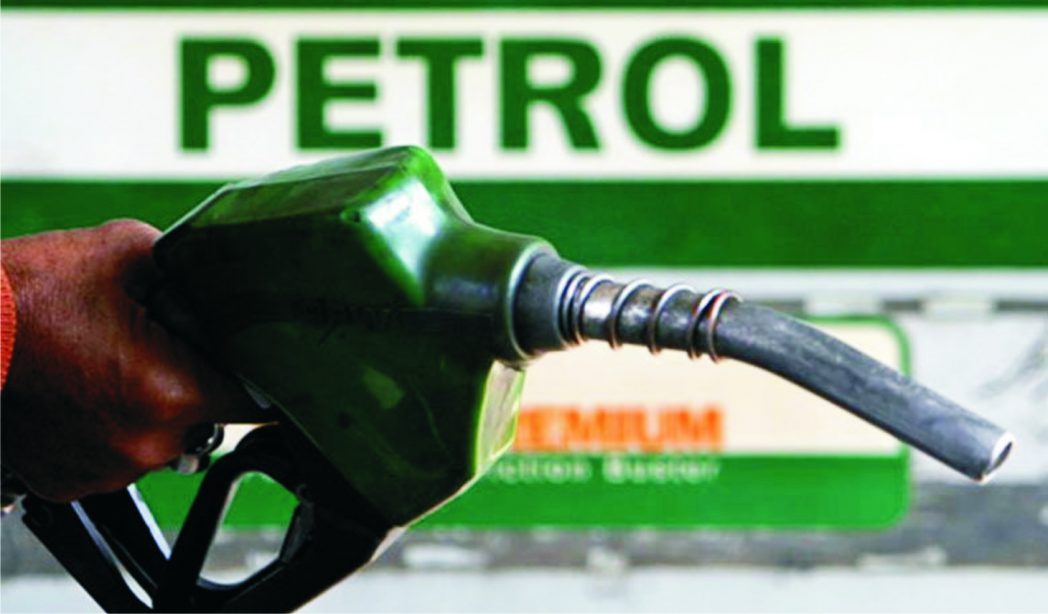 The National Bureau of Statistics (NBS), has said that the average retail price of a litre of Petrol increased from N170.42 in February 2022 to N263.76 in February 2023.
It made the declaration in its Petrol Price Watch for February 2023 released in Abuja, yesterday.
It stated that the February 2023 price of N263.76 represented a 54.76 per cent increase over the price of N170.42 recorded in February 2022.
"Comparing the average price value with the previous month of January 2023, the average retail price increased by 24.58 per cent from N257.12.
"On states profiles analysis, Jigawa paid the highest average retail price of N329.17 per litre, followed by Rivers and Ebonyi at N323.33 and N317.14, respectively.
"Conversely, Niger paid the lowest average retail prices of N198.50 per litre, followed by Plateau at N198.71 and Abuja at N200,'' it stated.
Analysis by zone showed that the South-East recorded the highest average retail price in February 2023 at N306.86 per litre, while the North Central recorded the lowest at N215.01 per litre.
The NBS also stated in its Diesel Price Watch Report for February 2023 that the average retail price was N836.91 per litre.
It explained that the February 2023 price of N836.91 per litre amounted to a 168.26 per cent increase over the N311.98 per litre paid in February 2022.
"On a month-on-month basis, the price increased by 0.98 per cent from the N828.82 per litre recorded in January 2023,'' it added.
On states profiles analysis, the report said the highest average price of diesel in February 2023 was recorded in Bauchi at N904.33 per litre, followed by Abuja at N885 per litre and Adamawa at N873.33 per litre.
On the other hand, the lowest price was recorded in Bayelsa at N767.14 per litre, followed by Katsina State at N778.75 per litre and Edo at N789.43 per litre.
In addition, the analysis by zone showed that the North Central had the highest price at N850.65 per litre, while the South-South recorded the lowest price at N814.63 per litre.