Adeleke's Certificate Saga: School Principal Laments Victimisation
The principal of Ede Muslim High School 1, Ede, Osun State, Mr Khalid Abbas, who was said to have issued a statement of the result of Senior Secondary School Examination and testimonial to Senator Ademola Adeleke, has fallen sick and is receiving treatment in a hospital in Ede, Osun State.
Reports said that Abbas lamented on his hospital bed on Tuesday that he had been subjected to incarceration by the police and some law enforcement agents for issuing the senator the credentials.
He added that a team of policemen came to his office on July 24 last year and harassed him for issuing Senator Ademola the statement of result and testimonial and later put him in detention after which he was granted bail.
He added that some people he never knew their identities had been calling him on phone and sending text messages to him, threatening to kill him if he failed to cooperate.
The principal lamented that due to the pressure, he had fallen sick and now suffering from high blood pressure, headache, cough, and joint pains.
He disclosed that there were records that Senator Adeleke enrolled into the school in 1976 and finished in 1981.
He added that he acted on the record he met when he became the principal and issued the statement of result and the testimonial.
Abass said that although there was an error by the registrar in the testimonial in terms of date and the WAEC number, it did not warrant his incarceration since the error could still be corrected.
He said that unknown identities had been looking for him.
"They are after my life and I don't know them," he lamented.
"I did not collect money from anybody. I did my job without fear or favour. If anybody feels that I have done anything wrong, let them take me to court. I am ready to face the court," he said.
His family members, in a statement in Ede on Tuesday, alleged that in August last year, Mr Ambass was incarcerated by law enforcement agents for ten days and had been falling sick incessantly since then.
Yiaga Africa Blames Govt For Voters' Apathy
Independent election observer group, Yiaga Africa, has expressed worry that increasing voters' apathy as witnessed in the Anambra governorship election may not have been caused by insecurity but increasing loss of confidence in government.
A board member of the group, Ezenwa Nwagwu held the view in Awka during a post-election reflection meeting with leaders of Civil Society Organizations.
Nwagwu reiterated that the ugly trend was not necessarily occasioned by insecurity that had always heralded elections in the past, but growing disconnect between the government and the masses, saying it is time populace held government to account to bridge the gap.
He said: "Election is over. Now we have to watch governance and the only way to do that is to clearly design pathways through which we can hold the government accountable.
"One of the ways is for the citizens to engage the government with budget process. Government every year estimates what it uses the people's resources to do for them.
"Unfortunately, the people involved don't show any interest, and four years later, the same people will start complaining that government has failed, even when there was nothing to track.
"We need to see how the Media and Civil Society groups can collaborate and produce what I call a citizen charter demand that they can hand over to the new Governor-elect.
"They can liaise with other professional bodies to conduct infrastructural assessment in the state and use that as a document to organize a town-hall meeting to engage government officials."
Nwagwu also identified what he termed "fear and complaint industries" as major impediments to the growth and development of the state, insisting that the two factors must be shut to enable people of the state enjoy democracy dividends.
He added: "We need to close up the two industries of fear and complaint that have gripped the state, especially after the election so people can leverage the benefits of governance.
"If we continue with this scare-mongering and complaints, we will only succeed in having few persons taking over the government and dictating the pace."
CVR: Fresh Registrations Hit 4.2m
The Independent National Electoral Commission (INEC) said that fresh registration in the ongoing Continuous Voter Registration (CVR) has hit 4,297,494.
The commission disclosed this in the second quarter, week seven, weekly update released by the commission in Abuja recently.
The commission said that as at 7 a.m. on Monday, November 22, 1,856,771 persons have completed their online and physical registration.
According to statistics provided by the commission, 1,856,771 persons who completed their registration, include 941,098 males, 915,673 females.
It also added that 741,183 persons completed their registration online, while 1,115,588 completed it through physical registration.
Saraki Visits Benue Over Presidential Ambition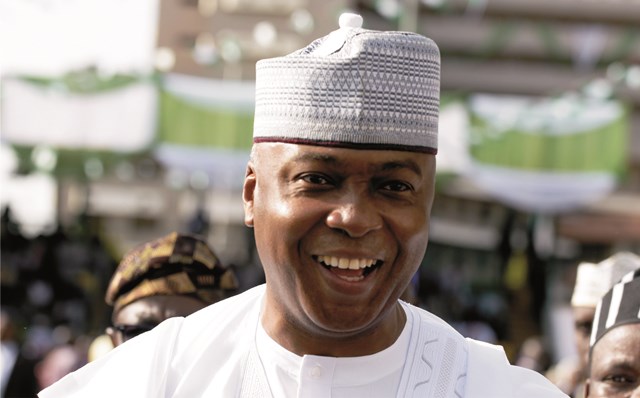 A former President of the Senate, Dr Bukola Saraki, has visited Governor Samuel Ortom of Benue State over his ambition to vie for President in 2023.
Saraki, after a close door meeting with Governor Ortom, also met with the State Working Committee members of the Peoples Democratic Party (PDP) to familiarise them with his intention to kick start consultations for his ambition to rule the country.
He said that the nationwide defection of party loyalists from the All Progressives Congress (APC) to the PDP was an indication that there might not be anyone left in the party before the next election.
"A party that cannot organise its affairs has no business leading this country. A party that has organised its affairs is ready in leading this country and that is the PDP," he said.
Saraki added that the North Central Zone has paid its dues by working so hard in keeping the country together as one united entity just as he pointed out that, "this time we must stand for our own and charity begins at home."
The ex -senate president, who was accompanied on the visit by former Governor of Kogi State, Idris Wada, former National Chairman of the PDP, Kawu Baraje, Senator Suleiman Adokwe and Prof Iyorwuese Hagher, Chairman of Council, Saraki for President Campaign, thanked the Benue governor for standing out for the zone.
Earlier, Governor Ortom, eulogised Saraki for being one of those Nigerians that had contributed immensely to the development of democracy.
Ortom said it was time to rescue the country from bottom, a position it was placed by the APC government, to the top, adding that Saraki deserves the presidential seat to enable him salvage the country from its current mess.
On his part, the State Chairman of the PDP, Sir John Ngbede, represented by his deputy, Isaac Mfo, said the party in the state had remained intact even as he assured the presidential hopeful that they would back his ambition to rule the country.