Why I Am Not Yet Married – Don Jazzy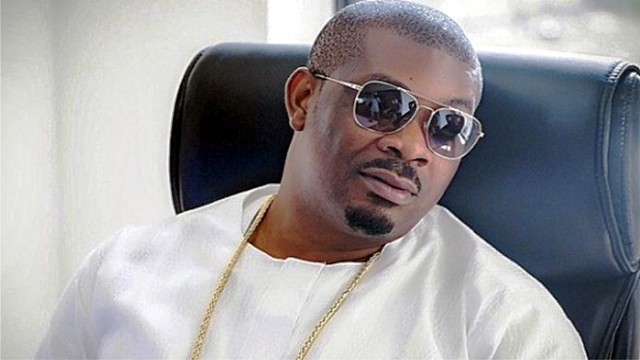 Popular musician-cum producer, Don Jazzy has been frequently mocked for still being single even at the age of 36, but the Mavin Records boss never bats an eyelid because he knows what is best for him.
Don Jazzy however, in an interview with Hip TV's street hop with Victoria Eze popularly known as MzVic, the singer who recently teased on social media that he now has a girl friend finally explained why he's yet to get married.
"There are lot of amazing people that is why I can't pick one, it doesn't have anything to do with my status, I have trust issues, but I feel like even if I wasn't Don Jazzy, I probably would have been the same", he said.
Meanwhile, fast rising Nollywood actress, Sussan Frederick has offered to lose her virginity to him if he eventually decides to get married before 2019 runs out. "I will still keep my virginity intact, even N20 million won't make it happen soon – Uncle Don Jazz, my crush you can have it any time if that will make you marry this year", she wrote on her instagram page while celebrating her birthday.
Speaking further, Don Jazzy shared his opinion on artistes who breach contracts they signed with their record labels. "The Nigeria music industry has come a long way, we used to get sentimental about these things and some still are. Unlike when it used to take everyone unawares, people have gotten used to it. I've been through almost every scenario you can think of in the music industry.
"It is not the end of the world. You get to realize that these things happen. If you get to a point where you feel you can do it by yourself then why not. I don't really want to be with any one that doesn't want to be with me. My contract is the only contract in the world that has the clause, the moment you are tired, you can go", he said.
Ray'Em Releases New EP, Nostalgia
Raymond Okoro, better known as Ray'Em, a budding musician has released another EP, titled "Nostalgia", which is a follow up to his previous EP, "In No Particular Order".
Ray'Em, in a chat with newsmen last Sunday in Abuja, said he wanted to release music that would evoke a nostalgic feeling in his fans and listeners.
The singer who also goes by the moniker, "Ovie Reezy, said "while we all have different life experiences, music is something that places timestamps on those experiences.
He stated that it was possible to travel back in time to those fond memories through music that was made in that time, noting however that it was not the conventional style of making music to feel like old times.
"Where it is obvious that the artist is sampling old sounds, rather the songs on the EP have made use of various elements of music of times past in a subtle and inconspicuous manner.
"From the beats to the chants, the vocalisations, and of course, the lyrics. The feeling is meant to be subconscious," he stated.
He said that the main idea that drove the project was that he worked with beatsbyMayor, his producer, to make the songs in that way.
"We even used some current trending sounds selections and styles to bring the past to the present. So that what we are doing is not immediately apparent," he said.
On the importance of this particular "EP", the Musician said it was important because for the first time "I am boldly claiming my roots as an Ughelli-born artist, and to mark this significance, on one of the songs.
He stated that the subjects of the song are very relatable as they have to do with ambition, individual personality, and money.
"On this project, I truly embraced my personal experiences, my roots and identity, on one of the songs I did a creative rendition of Wizkid's "Holla at Your Boy" because it's one of the songs that inspired me to start making music.
"And I wanted to remind myself of that. I am excited to share this project with the world and I do hope people find ways to connect and relate with these songs even beyond the sound," he said.
Spotify Launches Ad Studio In Nigeria, Jamaica, Ghana, Kenya, Tanzania, Uganda
Spotify, a music streaming service provider, has launched a self-serve advertising platform, Ad Studio, in Jamaica, Nigeria, Ghana, Kenya, Tanzania and Uganda.
The innovative advertising medium has been made available to even more artists around the globe.
Christopher Li, Director of Digital Planning and Products at Live Nation and Spotify Ad Studio, disclosed this in a statement on Wednesday.
Li said Ad Studio is a tool on the Spotify platform that allows artistes, brands and businesses to easily run audio and video adverts.
He said advertisers can create a campaign within minutes, and the platform provides flexibility and control to set up and manage campaigns in real time.
" Never made an audio ad? Spotify makes it easy, you can build a custom audio ad for free, right in Ad Studio, in as little as 24 hours," he said.
Li said Spotify had already launched Ad Studio in other markets, including America and Europe, and looked forward to the impact this will have in emerging markets like Sub-Saharan Africa, where audio streaming is on the rise.
He noted that in order to advertise with this tool, advertisers needed to spend a minimum of N100,000.
According to him, Ad Studio provides advertisers with free audio creation tools including background music mixing, voiceover talent, audience targeting and real-time reporting.
" Reaching audiences with Spotify Ad Studio is efficient and easy, you can decide to target listeners by genre preferences, interests, and context.
"It only takes us a few minutes to create a campaign, and the free voiceover service saves a lot of effort too," he said.
As the world leader in audio streaming, Spotify brings music and podcasts to nearly 365 million users in 184 markets, across hundreds of devices.
This is where young people are — and where young people go, marketers follow, 71 per cent of Spotify free listeners are under 35 and the median age of podcast listeners is 27.
In Nigeria alone, over 100 million citizens are active internet users. Of this number, 57.9 per cent use music apps- up from 54 per cent last year.
The median age in this market is 18, meaning that the majority of smartphone users are Gen-Z.
Similar to Ghana and Kenya, the Gen-Z market is increasing, and many young people are streaming audio.
The launch of Ad Studio is another way Spotify is leading the way in audio innovation globally, and providing advertisers with the opportunity to grow their audiences in these emerging markets.
Ebenezer Obey, Shina Peters To Grace 2021 National Festival
The organisers of the National Festival of Unity on Friday said eminent Nigerian musicians such as Chief Ebenezer Obey, Sir Shina Peters, Mike Okri and Yinka Davies would grace its 2021 edition.
The host and General Manager of the National Theatre, Prof. Sunday Ododo, named other musicians to be on stage to include Stella Monye, Kola Ogunkoya and Dayo Kujore.
He said the musicians would be on hand to mentor and give guidance on live band entertainment.
Ododo said the Festival of Unity tagged "Thrillerbandz@theater" with the theme entitled: "Enduring Optimism" is a collaboration between the National Theatre and Evergreen Music Company and would be held from December 10th to 12th.
"The second National Festival of Unity is particularly apt this period of time for us as management of this place, for Nigerians and indeed the entire world.
"We have remained optimistic and that is why we have seen (opportunities) where others might have seen insurmountable challenges.
"We have kept the theatre alive so much that a lot of people wonder at the paradox of the National Theatre being busier now that the complex is locked for renovations than before.
"We have held a series of programmes such as staff trainings, round table engagements with industry stakeholders and corporate partners and other activities," he said.
Ododo maintained that not minding the challenges confronting the complex, the management had put up courage to forge on and accomplish its mandate.
"This year's National Festival of Unity will be bigger, bolder, and richer, as we have more time to crystalise the vision, engage more people from the entertainment space and got positive feedbacks.
"There are state art councils are awaiting our invites, while Lagos State Council of Arts and Culture has volunteered to come in as a principal partner.
"On the menu for the grand event, we have music exhibition, dance, drama, comedy, street carnival and more," he said.
The Special Adviser on Arts and Culture to the Lagos State Governor, Mr Solomon Bonu, said the state saw the need to support the event given its mandate as an avenue to engage the youth.
"Lagos State Government will always identify with things that will have positive impact on its youths hence we are proud to be associated with this event.
"We will always support things that will be beneficial to the youth and help them grow, we have seen many positives in this programme," he said.
One of the main partners, Evergreen Musical Company, through its Managing Director, Bimbo Esho, noted that the National Festival of Unity was important to the music industry.
"The primary objective of the programme is to showcase the important aspect of our musical heritage for development into a viable cultural product.
"It is to ginger our local musicians who perform gigs at several entertainment rendezvous that dot the national landscape to up their ante.
"The initiative is to boost the composition of meaningful lyrics and lively songs, quality dance styles, stage appeal as well as excellent performance to delight music patrons even beyond Nigeria.
"It is a fact that the entertainment industry is one of sub-groups of our economy defying the recession and meltdown," he said.
Esho disclosed that the 2021 edition of the National Festival of Unity would be laced with several side attractions that would delight Nigerians.
"As major stakeholders in the development of Nigerian culture, we are duty bound to inspire the expansion and improvement and grow our burgeoning music and entertainment industry, as well as the economy.
"With the competition, where outstanding performers shall win laurel, fantastic cash prizes and musical instruments, many talents shall also be exposed to the record labels.
"No fewer than 50 live bands are expected to showcase their talents to thrill and dazzle the audience and African music aficionados in a relaxed environment.
"We promise an enchanting 12 hours back-to-back session of delights to the audience on the days of the event," he said.
Event Compere Yinka Davies said she was delighted to be back in the public space after the unfortunate death of her son.
"My fans all over the world should expect something big coming out from me this time after a long period of inactivity," she said