Why Are Some Nigerians Eager To Migrate?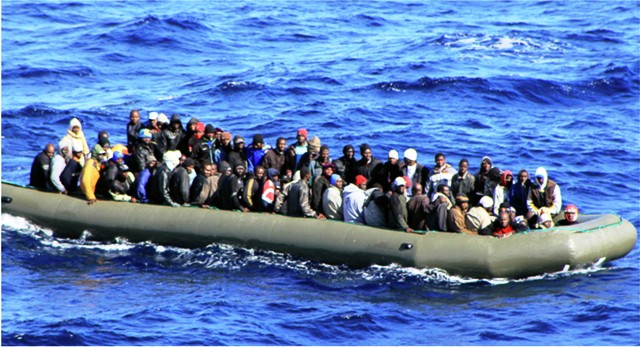 Joyce Esosa, 29, is from Edo but finds herself roaming the streets of Abuja after an attempt to migrate to another country without valid documents failed.
Earlier, she had also made frantic efforts to study medicine in one of the nation's universities but she was not lucky and she believes something ought to be done quickly because she is ageing.
She finally got involved in discussions with some friends on how Nigerians move to other countries to seek job and comfort in most of European countries, especially, Spain, via crossing the Mediterranean Sea in Libya coasts to the country.
Migrants preparing to cross to Europe through the Mediterranean Sea
Telling her story to justify her decision to travel out, she says "each day in Nigeria feels like hell for me and all I want is an opportunity to travel abroad and make a better living.
"I have nine siblings and I am the third; my father died years back and my mother is a petty plantain trader; life has been very difficult for the family.
"Two of my siblings died due to lack of money; the first one died in an accident where she hawked sachet water.
"Eight months after, I lost the second to a sickness that required blood transfusion and because the family did not have money to buy blood, he had to die.
"I decided to seek a better life for both myself and family at all cost, I ran away from home four years ago.
"I made several attempts to travel out of the country but it never worked out when a friend took me up in Abuja, promising to help me to get a job, only for her to introduce me to different men.''
Similarly, 34-year old Musa Ahmed, a commercial motorcycle operator from Zamfara believes that people are willing to do anything to improve their living standard, attributing the development to level of poverty in the country.
"That is why the crime is high in Nigeria because it hurts a lot to see your loved ones suffering and you can't help or do much.
"I live in an uncompleted building with my family; I was a farmer back in Zamfara now in Cross River. I relocated because I wanted a better life for myself and for my family.
"Life is not getting better here either for me and my family, I ride motorcycle in which each drop is N50 and I make at least N1, 500 per day, but it is usually not enough.
"If government can create opportunities and bring down the cost of living, things will get better and Nigerians will not waste time in seeking comfort elsewhere,'' he said.
Observers, therefore, note that poverty, lack of job opportunities and uncertainty about life, somewhat, contribute to the desire of some Nigerians to flee the country.
The note that although government authorities and other stakeholders have been warning against illegal migration on many occasions, some people are bent on such mission that, in most cases, can end in regret.
Yet, statistics from European Union show that Nigeria has the fifth highest number of citizens illegally migrating to Europe in the search for illusive greener pastures.
Worried by the development, the Chief Executive Officer of a non-governmental organisation, Connected Development, Mr Hamzat Lawal, called on the youth to leverage on the climate change to create sustainable job opportunities using emerging technology instead of travelling overseas.
Lawal noted that climate change was a 21st century problem which could also have its advantages to check illegal migration.
He said as much as climate change was viewed as a problem, it was also an opportunity for the country to manage its limited and scare resources.
"We can generate electricity from solar energy or sunlight. We can use new and emerging technology to cook and reduce greenhouse gas; this is how it can become an opportunity.
"Climate change has affected our economy negatively; also our forest cover has been depleted over time by people cutting down trees for fire or furniture.
"The Lake Chad region which used to be a business hub for Nigeria and even other African countries, where they have fishermen and women doing businesses, is no longer so.
"This means that the young energetic people have now migrated and left the region in search of greener pasture whereas they can use new and emerging technology created by climate change to develop in their own country,'' he said.
Lawal said migration of Nigerians had also increased because of the economic crisis in the country, observing that there were still hope and opportunities.
"We are losing talents and young minds that are supposed to build our growing economy because people are leaving the country because of lack of opportunities,'' he said.
"Government needs to look at how we can thrive by tapping into new and emerging technologies such as the clean cooking stoves that emit lesser greenhouse gas to engage the youth.
"If we can invest more in solar technology, build capacity and also reduce taxes to businesses, it will create value and jobs.
"If there is an enabling environment where there is hope of prosperity, people will not want to travel out of the country.
"People will not want to leave their comfort zone to undertake the risk of travelling for days and putting their lives in danger.
"But, because things are not the way they should be, that is why people are willing to take all manner of risks to better their lives; simply because they believe that there is hope and prosperity on the other side,'' he observed.
In the light of this, Mr Nnimmo Bassey, an environmentalist, advised the Federal Government to implement existing expert research findings to recharge the Lake Chad basin.
Bassey, the Executive Director, Environmental Rights Action, an environmental rights advocacy group, observed that it was a good development that Germany offered to pump 18 billion Euros to recharge the Lake Chad Basin.
He said implementing the research findings, already analysed by experts, would contribute to the success of the project.
The environmentalist, who attributed the shrinking of the lake largely to climate change, said that research had been conducted over the years on ways to tackle the problem.
Bassey, therefore, commended Nigerian and German governments for their efforts to revive the lake, noting that vibrant Lake Chad business communities would, to some extent, check illegal migration among Nigerian youths.
"We do not have details of what the assistance from Germany will be directed to, but we hope it addresses the research findings of appropriate bodies that have worked on the challenge.
"There is the need to rebuild the overall environment but this must be phased with short, medium and long term outlays.
"Efforts must be made holistically with all countries in the Lake Chad basin playing their roles.
"There is urgent need for us to step up our watershed management because sometimes, we tend to think that water supply is inexhaustible,'' he said.
Bassey suggested intensive planting of indigenous trees and crops that were well adapted to the region to protect watersheds and the environment.
All the same, concerned citizens believe that implementation of good policies and making the governance process more citizen-friendly, are some of the methods of discouraging more Nigerians from travelling abroad illegally.
Onyegbula writes for News Agency of Nigeria.
Jessica Onyegbula
Buhari Harps On Use Of Technology For 2023 Census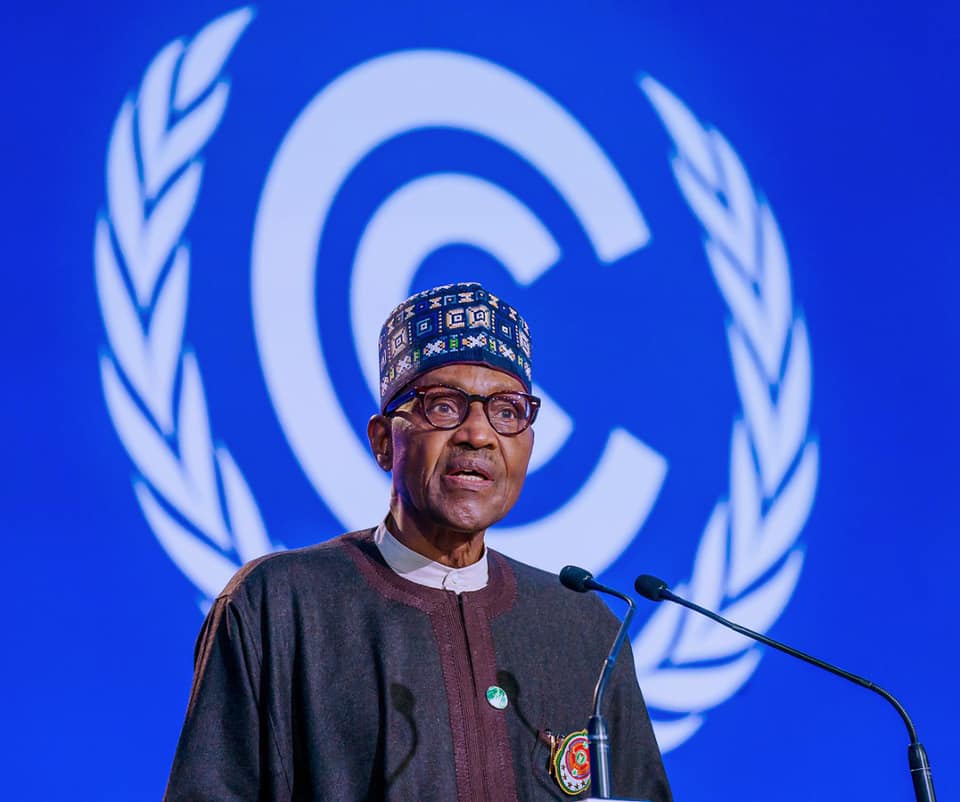 President Muhammadu Buhari, yesterday, said the deployment of digital technology in the 2023 National Population and Housing Census would ensure effectiveness and more accuracy in the figures.
Buhari said Nigeria could rank third largest globally by 2050, after China and India with such a technology.
He spoke at the national stakeholders' summit on the 2023 Population and Housing Census held at the State House.
Femi Adesina, the President's spokesman disclosed this in a statement he signed.
Buhari said a "reliable, credible, acceptable and successful census" will help the government in planning for development, especially in bolstering the social security programme that targets more vulnerable Nigerians.
He said: "The country's inability to conduct a population census in the last 16 years has created an information vacuum as the data from the last census conducted in 2006 has been rendered out of date for planning purposes. It has therefore become imperative for the nation to conduct another national census to produce a new set of demographic and socio-economic data that will provide the basis for national planning and sustainable development.
"Population is a critical factor in a nation's efforts toward achieving sustainable development. People are both the agents and beneficiaries of the development process. Knowledge of the national population in terms of size, distribution and socio-economic characteristics is required for planning purposes. This, therefore, makes the conduct of the census an essential governance activity.
"With a projected population of 216,783,381, Nigeria is the sixth most populous country in the world and the most populous country on the African continent. Due to the rapidly growing nature of the population and large proportion of the youthful population, Nigeria is also projected to be the third most populous country in the World by the year 2050 after India and China," he said.
Despite Nigeria's high-ranking position on the global demographic map, the President said its population censuses had been conducted irregularly and at intervals, longer than the United Nations recommended 10 years.
"This irregular and long interval of census taking in Nigeria has denied the nation the huge benefits of comprehensive baseline data for evidence-based decision-making.
"The nation requires a new data set to drive the implementation of the recently launched revised National Policy on Population for Sustainable Development and other government policies. The 2023 Census data is also needed to tackle the security challenges bedevilling the country as it will give an overview of the population, where we are and who we are.
"Ordinarily, conducting a population census is a routine national event that is the ultimate responsibility of every national government. Census taking cannot be left to the National Population Commission alone.
"Our administration is convinced that the National Population Commission has the commitment and capacity to deliver to the nation a reliable, credible, acceptable and successful census. We are also satisfied with the deployment of technology by the commission to ensure the conduct of the first fully digital census in Nigeria as the census methodology will enhance the data quality, inspire the confidence of the Nigerian people and acceptability of the census results."
Our Support To NYSC, Token Of Appreciation -Wike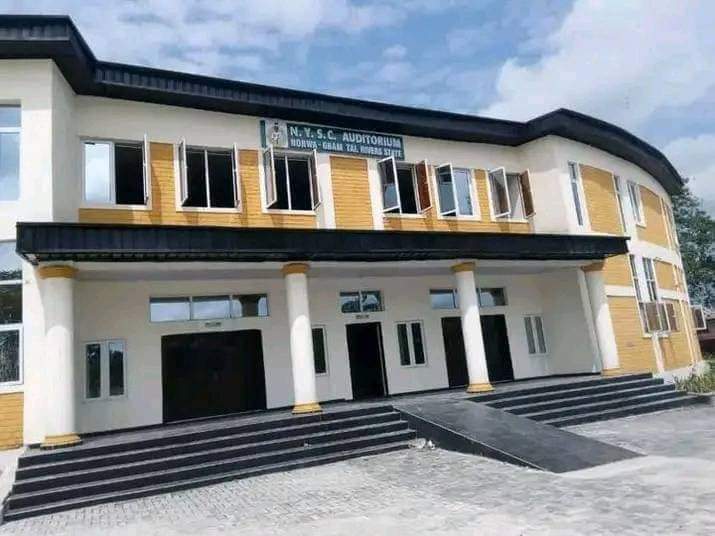 Rivers State Governor, Chief Nyesom Wike, has said that his administration was delighted at improving the poor condition of facilities used by members of the National Youth Service Corps (NYSC) in their camp in Nonwa-Gbam in Tai Local Government Area of the state.
The governor observed that members of NYSC, who are humans do not need to be subjected to facilities that dehumanise them while serving in the state.
He spoke, yesterday at the formal inauguration ceremony and hand over of the 5-000-capacity Ultra-Modern Auditorium at the NYSC camp, built by his administration.
"The first day I came here and saw the poor state of facilities in the camp here, I said, how can we allow graduates; those of them who have first degrees, second degrees, even PhDs, to be camped in an area that is not worthy for humans to stay.
"We tried, starting by building hostels for them. We built a kitchen for them but it was vandalised by criminals. I had to send people to rebuild the kitchen for them. Look at the landscaping. We have done all the internal roads here."
Wike noted that some people had said that NYSC is a federal agency, but he had asked to know who the members of NYSC posted to the state are serving.
"Therefore, it doesn't matter whether they're federal government agency or not. What matters to us is the services they render and those services are render to the people of the state. Therefore, we would do everything we can to make them comfortable."
Wike informed that the plan was conceived to build an auditorium for the NYSC since they do not have such facility within the camp.
Without such auditorium, Wike noted how difficult it could be for corps and officials of NYSC to have comfortable meeting whenever their coordinator or the director general would choose to address the member collectively.
"So, we decided to build a 5,000-capacity auditorium for them. This project would have been completed before now, but the contractor ran away with the money. But I said nothing will deter us, we must complete it.
"We awarded it to the second person and to the glory of God, today, we are commissioning the ultra-modern auditorium.
"For us, whether they're from here or not, as long as they render services to the state, we need to acknowledge and appreciate it."
Performing the inauguration of the 5,000-capacity Ultra-Modern Auditorium, Director-General of NYSC, Brigadier General Mohammed Fadah, thanked the governor for his magnanimity and named the facility, His Excellency, Nyesom Wike Hall.
Fadah informed that there is no NYSC camp across the country that has such auditorium that has been provided by Wike to the camp in Rivers State.
"Governor Wike had done a lot for us. This occasion offers us a unique opportunity for appreciating your numerous people-oriented projects. It is also heartwarming to note that the State government, under your able leadership, has done a lot for NYSC.
"You renovated corps' hostel and official residences and the multipurpose hall. You constructed drainages, you reconstructed the burnt dining hall, you restored the payment of monthly allowances of corps members to Rivers State. You restored payment of running cost to the secretariat among other support."
Providing a description of the project, Rivers State Commissioner for Special Projects, Deinma Iyalla, said the 5,000-capacity Ultra-Modern Auditorium has a seating arrangement with the gallery taking 2,500 and the ground level taking 2500.
He stated that there are four multimedia screens, computerised PA system, nine offices, two boardrooms, and two changing rooms in the facility.
$418m Paris Club Refund Deductions: Govs Objection Baseless, Malami Insists
The Attorney General of the Federation (AGF) and Minister of Justice, Abubakar Malami, yesterday, declared that state governors have no basis to complain about deductions from the Paris Club refund paid to consultants they hired.
The AGF said that the noise making arising from the Governors' Forum was not only unjustified, but a clear case of absence of defense.
Speaking when he featured on the Ministerial Media Briefing organized by the Presidential Communications Team at the Presidential Villa, Abuja, the minister reminded the governors that they created the liability whose payment they have also indemnified.
Fielding question on why despite a presidential directive to suspend the deduction from the Paris Club refund, he has not deemed it fit to enforce the directive as some deductions were been said to be made, he affirmed that when the Nigeria Governors Forum (NGF) made a request for the refund, one of the component was the settlement of the consultants who were engaged by the forum.
Malami recalled that when the refund was paid to the states, the governors initially made to states, part payment was also made to the consultants..
However, he said the governors later decided to stop payment while asking for an out of court settlement.
The minister said this resulted to request to the president to make the payment, a request he said, was then passed on to the Office of the AGF for legal opinion.
Malami noted that after being subjected to necessary checks; it was found out that there was no element of fraud involved.
According to him, the indemnity of the governors was also sought and received.
He said, "On the issue of Paris Club that is raised. You mentioned that there exists a presidential directive that payments should not be made, and then, in breach of that position directive, payments were perhaps made, maybe arising from the conspiracy between the Attorney General of the Federation and Minister of Justice payments have been made.
"I think you need to be informed first, as to the antecedents, prevailing circumstances and how the liability arose but one thing I'm happy to state, which I want to reiterate having stated same earlier, is the fact that the Office of the Attorney General and the government of President Muhammadu Buhari has not indeed incurred any major judgment debt for the period of seven years it has been on.
"Now, coming to the antecedent background of the Paris Club. The liability or judgement debts related to Paris Club was indeed a liability created by the governor's forum in their own right."
Continuing, he explained, "The Governor's Forum comprising of all the governors sat down commonly agreed on the engagement of consultant to provide certain services for them relating to the recovery of the Paris Club. So, it was the governor's forum under the federal government in the first place that engaged the consultant.
"Two, when eventually, successes were recorded associated with the refund, associated with Paris Club, the governors collectively and individually presented a request to the Federal Government for the fund. And among the components of the claim presented for the consideration of the Federal Government was a component related to the payment of these consultants that are now constituting the subject of contention. So, the implication of that is that the governors in their own right recognized the consultant, recognised their claim and presented such claim to the Federal Government.
"Three, when the claims were eventually processed and paid to the governor's forum. They indeed on their own, without the intervention of the Federal Government took steps to make part payments to the consultants, acknowledging their liability over same.
"And then four, when eventually they made such payments at a point they took a decision to stop the payment. The consultants instituted is an action in court against the governors forum. And what happened in court? They submitted to consent judgement. They asked and urged the court to allow them settle out of court.
"The court granted them an opportunity to settle. They commit terms of settlement in writing, they signed the terms of settlement, agreeing and conceding that such payments be made to the consultant.
"And then five, thereafter, the Federal Government under the administration of President Muhammadu Buhari was requested to comply with the judgement and effect payment.
"The President passed all the requests of the governors to the Office of the Attorney General for consideration. I suggested to the President on the face value of the judgement and the undertones associated with the consultancy services.
"It was my opinion, the same treatment we meted to P&ID, that let us subject this claim, the consent judgement to investigation by the agencies of the government. Mr. President approved, I directed the EFCC and DSS to look into these claims and report back to the office of the Attorney General.
"And these agencies reported and concluded that there are no problem undertone associated with it. The government may continue to sanction the payment dependent. Now, that was the background.
"Even at that, we took further steps after receiving these reports from the EFCC, among others, to demand for indemnity from the governors. You, as a forum, you incurred this liability, as a forum you submitted to consent judgement. We have subjected this claim to investigation and we have a report, but even at that, we need independent indemnity from you, establishing that it is with your consent and understanding that these payments should be made, in writing.
"And I'm happy to report to you that the governors individually and collectively provided the desired indemnity to the Office of the Attorney General, conceding, agreeing and submitting that the payment should be made.
"Yes, and that was the ground and the basis on which we eventually took a decision by advising the president that the payment should be made. And then along the line, there was a change of leadership of the governors' forum. And all the noise making that is now being generated arising from the governors forum is not only unjustified, but indeed, a clear case of absence of defense.
"But one other point of interest you may wish to note is the fact that the new leadership of the governors' forum instituted an action, even when the Federal Government was indeed acting on the basis of the judgement of the Supreme Court. They now embarked on a fresh legal suit, challenging the payment, challenging the previous agreement, challenging the indemnity and the court dismissed the application. Their case was dismissed by the Federal High Court.
"So, that is the foundation and I'm happy to report one, that the judgement and contention was a judgement that was obtained long before the Attorney General, Abubakar Malami came into office, long before the administration of President Muhammadu Buhari came into office.
"It was a product of their own doing and they had it is submitted to judicial proceeding, judgement was entered against them. They have committed to the payment of the money, they have on their own indeed effected part payment. I closed my case and I will not like to answer any further question on that."