Smugglers Kill Customs Officer In Ogun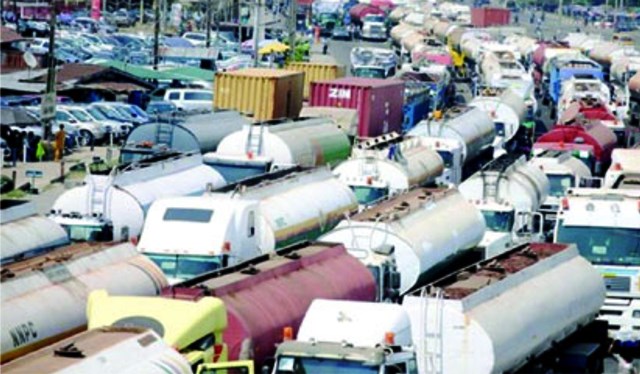 Rampaging smugglers terrorising the borders of Ogun State have killed a customs officer at Sango area of Ota and injured another during an encounter.
This is as some group of smugglers kidnapped and killed an officer of Nigeria Customs Service some months ago, also in Ogun State, with the security agents perfecting an arrest of the killers.
In a press statement made available to The Tide last Wednesday by the Public Relations Officer of the command, Abdullahi Maiwada, the Customs Area Controller, Michael Agbara said the officer was killed after an encounter with smugglers.
Maiwada who gave the name of the deceased officer as Hamisu Sani said another officer, Tijani John Michael was injured but was responding to treatment.
He said: "Officers of Nigeria Customs Service Ogun Command on routine patrol, based on credible information at about 02:30 hours intercepted eight reconstructed vehicles fully loaded with smuggled rice and kept in a hideout at Asero Community.
"In an attempt to lawfully secure the said items, the smugglers and their accomplice ambushed the Officers in a deadly like manner.
"Unfortunately during the encounter, one of the Officers, a Customs Assistant I, Hamisu Sani, sustained grievous injuries and paid the supreme price (died) in active Service. He has since been buried according to Islamic rites. Also, an Inspector of Customs, Tijani John Michel, sustained serious machete cut but is responding to treatment in the hospital."
Although the NCS PRO said that two suspects in connection with the crime have been arrested by the police .
"Two suspects have been arrested by police and eight vehicles fully loaded with smuggled rice have been secured in connection with the incident at Customs House, Abeokuta for further investigation.
"While we commend the patriotic role of our sister agencies and law abiding citizens, we wish to categorically state that we will deploy all necessary apparatus to ensure that the perpetrators of this devilish act are brought to book to face the full wrath of the law.
"Finally, the reoccurrence of such form of hostilities and intimidation by smugglers and their accomplice on our officers and men will never distract us from vigorously discharging our statutory functions," the statement said.
It would be recalled that a customs officer, Rasheed Abdulsalam, attached to the Federal Operations Unit, Zone A, Lagos was also kidnapped recently after a fierce clash with notorious smugglers.
Some of his colleagues also sustained varying degrees of injuries in the bloody anti-smuggling operation that occurred at night around Gateway Hotel, Ota, Ogun State.
Stories by Chinedu Wosu
BOAN Begins Pilot Operations From Lekki Deep Seaport
Barge operators in the nation's maritime industry say they ready to begin pilot operations of cargo movement from the Lekki Deep Seaport, ahead of the planned commercial take-off of operations at the port in September 2022.
President, Barge Operators Association of Nigeria (BOAN), Mr Bunmi Olumekun, disclosed this to newsmen in Lagos.
He noted that the group will begin pilot operations to determine the kind of vessels that will operate at the port when it begins commercial operations.
Olumekun said members of the Association have visited the deep seaport and are ready to carry out pilot operations to avoid casualty or losses when commercial operations finally begin at the port.
"We have done our visiting and we have seen it by ourselves. So, the next step we are taking is to see how we're going to do a pilot test.
"We want to do the pilot test before then, so that we can know exactly what we're talking about.
"We are working in collaboration with the Nigeria Ports Authority (NPA) to see how the project is going to be a success", he said.
On the condition of barges for the operation,Olumekun said two types of barges would be required, the sea going barges, and creek going barges
"We have two type of barges. We have sea-going barges and creek barges. So, when we are talking about Lekki operations, it is going to be sea going barges and those barges are what we will examine.
"We are going to be fully involved so that we will monitor all those barges that will come there in order to avoid any casualty or any loss of goods. We are going to make sure that at stage one, we are going to inspect and regulate it ourselves and see exactly the type of barges coming to load.
"We are going to synergise with Customs and NPA, to see how that operation will be a success, but I can tell you, we are fully ready", he added.
NIWA Cautions MWUN Against Hooliganism In Waterways
The Management of the National Inland Waterways Authority (NIWA) has cautioned members of the Maritime Workers Union of Nigeria (MWUN) not to bring act of hooliganism and other forms of unholy behaviours into the  operations of the Inland Waterways.
Lagos, Area Manager, NIWA, Engineer Sarat Braimah, gave this warning while receiving the leadership of the Waterfront Boat Owners and Transporters Association of Nigeria (WABOTAN) in her office.
She questioned why MWUN wants to be collecting money from boat operators through the use of force.
"In recent weeks, members of the MWUN have been harassing boat operators for levies, threatening to replicate what happens in motor park garages on the waterways. We won't accept that.
"MWUN (members) have said they want to see me, but I told them I cannot sit with them for now because of the way they are going about collection of levies from boat operators.
"MWUN should not bring hooliganism to the waterways. If they cannot go about collection of levies peacefully and professionally, then NIWA won't have anything to do with them.
"That's why NIWA needs to know the members of this new association. Who are they? Are they related to water? Where do they operate from? This and many more need answers.
"It is important that as a new Association, WABOTAN ensures the use of modern boats in the carriage of passengers across the waterways.
"We expect WABOTAN to improve waterways navigation, and not worsen it. I know the President of WABOTAN, Babatope Fajemirokun, and I know his passion for waterways development. I know he operates from Badagry.
"I hope other members of WABOTAN share this passion for improvement in waterways development.
"Why I am asking about this is because we wouldn't want this association to be about just forming a new association.
"We want to know your objectives and challenges that made you think a new association needs to come up.
"We need to know, so that we know we are on the same page. Waterways Operations is developing every year. That's why I keep telling operators to embrace technology. Two-Stroke engine is no longer fashionable for boat operations globally, and we won't want to have people promoting such on our waterways.
"We know it's not easy economically as of today, but we have to be striving to ensure we attain perfection on our inland waterways.
"Again, we at NIWA, will like to know your membership strength and where your members operate from so that when issues arise, I can easily know who is involved", she explained.
Earlier, President, WABOTAN, Babatope Fajemirokun, said the Association has members across the littoral states of Nigeria.
"As you are looking at us, we are all boat owners. We are ready to work with NIWA in all areas.
"Our objectives include safety and security on our waterways. We will also be training and re-training our members to develop and build manpower for the transport sector.
"We will also be creating a database and assist NIWA in collecting revenue.
NSCDC Impounds Three Boats With AGO, Nabs 19 Suspects 
In a bid to end criminality and all forms of economic sabotage in the country, the Nigeria Security and Civil Defence Corps (NSCDC) Rivers State Command, has impounded three wooden boats used by criminals to steal petroleum products in communities in the State.
The Command also arrested 19 suspects  involved in Oil theft and illegal dealings in petroleum products.
This was contained in a statement by the Public Relations Officer, NSCDC, Rivers Command, Olufemi Ayodele to newsmen
The statement noted that the State Commandant, Michael Ogar, decried the defiant attitude of oil thieves and those engaging in illegal bunkering activities.
He siad in spite of the continuous sensitisation and relentless war against economic sabotage in the nation, those milking the nation's wealth through illegal oil dealings have blatantly refused to change their ways.
Ogar stated that sequel to the reconstitution of a new Anti-vandal NSCDC team, the Marine and land Patrol operatives "have commenced full operations with a renewed vigour, professionalism and tactics in wagging war against the menace of vandalism of oil pipelines and oil theft in Rivers State.
"As directed by the NSCDC Commandant General, Dr Ahmed Abubakar Audi, marching order was given to the Marine and land operatives to massively arrest pipeline vandals and illegal oil dealers in the State, and this has enhanced our doggedness in the series of arrests made by the Command", he said.
The Marine and land Patrol team arrested 19 suspects at different locations in the State
"To serve as deterrent to those still getting involved in this unscrupulous and illegitimate business, all the arrested suspects would be charged to court of competent jurisdiction while the Command would do everything possible to unravel, chase and apprehend their sponsors", he stated further.
The Command, Ogar continued, "will approach the court with application for forfeitures of both the contents and the mode of conveyance, and the proceeds would definitely be remitted in the Federal Government coffers.