IITA Develops New Potato Variety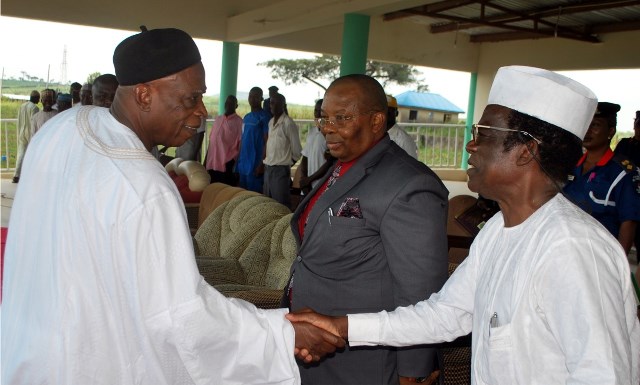 Empowering, Novel, Agri-Business Led, Employment, Technologies for African Agricultural Transformation (ENABLE TAAT) has recently developed Orange Fleshed Sweet Potato (OFSP) species to tackle malnutrition and reduce diabetes in Africa.
The ENABLE TAAT Field Trainer of the International Institute of Tropical Agriculture (IITA),  Mr Murtalab Adedamola, made this known in Ibadan yesterday.
He said that the development of the potato species was one of the plans of IITA, aimed at combating malnutrition and attaining food security in Africa.  Adedamola said that OFSP was different from the Irish potato, adding that it contained a lot of water, Vitamin A, high carotene and low level of sugar. "It has two varieties – King J and Mothers' Delight, and it can be used for baking cake, snacks and bread.
"It is stress-free, its cultivation cycle is within three months; it is not a tuber but a root and it does not go deep into the soil like cassava.
"The growth continues even after harvesting, it is good for children and diabetic patients because of its low level of sugar. Farmers can plant a hectare with just 500kg. vines of OFSP, which multiplies.
"They should cut the vines together, bundle them together, weigh them and then plant them. Farmers can plant at a depth of 20 or 25 cm and at an angle of 45 degrees because the spacing can determine the yield," he said.  Adedamola advised farmers to always apply MPK fertiliser to the crop after two weeks of planting, as the exercise would go a long way to improve the yield if the crop had access to water.  The field trainer said that the maintenance of an OFSP farm would not require much weeding, adding that the soil would crack while its flowers would shoot out to signal the appropriate time for harvesting.  He, however, warned that the King J variety of OFSP was better grown in the northern parts of the country, while the cultivation of the Mothers' Delight type would thrive in the South.
"In Cameroon, we have four varieties of OFSP and in Cote d'Ivoire, there are six varieties. Farmers are planting it already but the produce lacks market because people are not aware of its numerous benefits. "When people learn about its benefits, they will start patronising the farmers well; we will definitely have more varieties of it in Nigeria because it is a crop that can transform the livelihood of potato farmers perfectly,'' he added.
NGO Seeks Govt, Investors' Support To Boost Fish, Poultry Farming
A Non-governmental
Organisation (NGO), Pechar Integrated Services Limted, an Agro-Allied Feed Manufacturing Company, says it requires the support of government and other well meaning investors to establish a fish and animal feed production factory in Rivers-State.
The Chairman/Chief Executive Officer (CEO) of the NGO, Charles Pepple, who made the call in an exclusive interview stated that when established, the company will produce feeds for fish, shrimp, chicken, pig, dog and cow.
According to him, his organisation has purchased advance multi-feed technology machine for the production of fish and animal feeds, which will enable farmers get the feeds at highly subsidized prices.
The native of Bonny Kingdom stayed informed that he acquired necessary training in abroad, and went on to purchase Advance Technology Multi-Feed Machinery from China on Agro-Allied Feed Manufacturing.
"Due to the huge cost of setting up the project, I'm seeking for extra funding or support from the Rivers State Government, and prospective investors in order to set up the Fish and Animal feed Production Factory in Rivers-State.
"With the available merchinery, we can start producing 1mm floating fish and shrimp feed for early stage fish and shrimp fingerling development and growth in Nigeria and other sizes of feeds too", he said.
He explained that as experts and consultant in Feed Manufacturing Technology, the company would be able to offer support and training of Rivers State indigenes on Hi-Tech Animal and fish feed production.
"The Machine also produces palletise feed for chicken, the latest technology in chicken feed production.
"Subsequently, we would start producing feed for cow, goat and sheep, soon after we commence operations.
"It is a good news for farmers because they will be able to afford subsidised feed as compared to the imported brand that is sold at very exorbitant prices," Pepple said.
By: Susan Serekara-Nwikhana
LASUBUB Holds Agric Exhibition For Pupils
Lagos State Universal Basic Education Board (LASUBEB) has organised a pupils' agriculture exhibition to boost farming in the state.
According to LASUBEB Executive Chairman, Wahab Alawiye King, the initiative is intended to promote agriculture in the state and also encourage farming among pupils.
The event, which was held at LASUBEB Multi-Purpose hall, Maryland, Ikeja, was attended by the Commissioner of the Ministry of Agriculture, Ms Abisola Olusanya.
Speaking at the gathering, Olusanya stated that agriculture is an effective tool against hunger and poverty, adding that it is very essential to major industries such as manufacturing, pharmaceuticals, plastic, etc.
She stated that agriculture is the catalyst of development in the country and also a bedrock of every profession, stating that no nation can survive without food.
She added that the domestic production of livestock and farm produce is far below national demand, which is leaving room for the importation of livestock with inflation, urging the pupils to continue to engage themselves in farming.
She urged teachers to introduce scientific methods of farming such as mechanised farming and other technical models in agriculture to EKOEXCEL pupils.
Speaking further, the LASUBEB Executive Chairman disclosed that 51 schools from 11 local government education authorities benefited from the agricultural training programme funded by Universal Basic Education Commission (UBEC), adding that the project is to foster agricultural skills in the pupils.
"Today shows that education is holistic. It is better to catch them young, over-reliance on oil and related products has to be discouraged. Agriculture is the most important sector and we are naturally endowed in this part of the world and as such, we need to take advantage of it.
"This is the harvest period; this is the second series and as you can see, it is a bumper harvest. It is to encourage the pupils into agriculture and to also show that it contributes to our economy", he said.
At the exhibition, the pupils joyfully displayed various farm produce and livestock such as yam, plantain, cassava, chickens, pigs and many more.
EKOEXCEL pupils now attend and participate in such exhibitions with much-improved dramatisation and execution of their play-acting with an eagerness to showcase their development in school.
Before the introduction of EKOEXCEL, pupil attendance, pupil learning outcomes, teacher content knowledge, teacher motivation as well as pupil optimism were below par.
With EKOEXCEL, these drawbacks have been addressed by a technology-based platform that provides teachers with all the necessary tools and support that they need to help their pupils learn.
Africa Processes Less Than 10%  Cashew Production- ACA President
President of the African Cashew Alliance (ACA), Babatola Faseru, has stated that processing factories in Africa are still faced with challenges that limit their production.
Such challenges, he said, include issues of inadequate access to finance, lack of processing equipment, technical knowledge and skills, storage systems, etc, resulting in Africa processing less than 10 percent of its total production.
Speaking during the fourth Ordinary Session of the Consultative International Cashew Council (CICC), in Cameroon, Faseru said the circumference of these challenges is the key issue of quality-enabling environment for a sustainable industry.
He said the future is bright for cashew production in Africa, but that there are many loopholes along the line.
"Starting from the base root-production, as much as we are number one in the world, our cashew trees are producing less than expected.
"There is not enough diverse research and technologies to improve seed varieties and breeding. Can we arguably say that our farmers are following the appropriate post-harvest practices to minimize losses and wastage?
"Talking about processing, we witnessed especially in 2020 the impact of the COVID-19 pandemic on the processing sector. To a large extent, however, the resilience and increasing global demand for cashews, particularly in the US, Europe, China and the Middle East, kept the cashew industry strong and stable with the net export of cashew kernels increasing by about 10 percent over that of the previous year", he sad.
Speaking on the ways that ACA has been working in the cashew sector which at several levels resonate with the objectives of the CICC, he said ACA prides itself as the knowledge hub and this the Alliance has over the years harnessed.
"We have developed diverse learning and information sharing platforms for cashew stakeholders. Following the outbreak of the COVID-19 pandemic, we moved most activities online and predominately have two of such being held every month.
Faseru said that next year, ACA will introduce the ACA Quarterly Policy Roundtable (QPR). The purpose of the forum, he explained, is to develop sustainable and inclusive policies for the African cashew industry by offering an opportunity to improve the literature and strategic plan of cashew stakeholders through cashew industry information.
"Through this forum, we will address issues around price mechanism, value chain analysis and sustainability, capacity building and access to finance.
"Also, there is the ACA Annual Conference held every September in cashew producing countries. The ACA conference continues to be a great place to learn and network in the cashew business world. It also allows stakeholders to promote their brand, products, and services", he said.
In the same vein, the ACA boss said with the CICC coming up strong, galvanising the efforts of all governments of member-countries and working side-by-side with the private sector industry and the various development and finance partners, he sees Africa rising and becoming a giant in the global cashew landscape, creating jobs for the teeming youths.