Buhari Said A Lot Of Nigerian Youths, Not All, Are Lazy – Presidency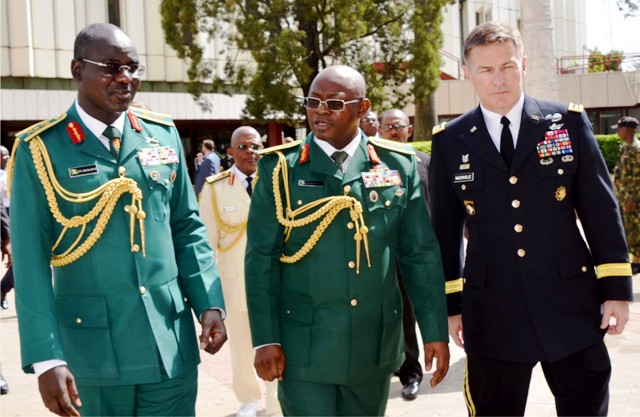 The Presidency yesterday explained that President Muhammadu Buhari did not refer to all Nigerian youths as lazy in a statement he made on Wednesday during the question and answer session of the Commonwealth Business Forum in London.
Rather, it said Buhari only made reference to "a lot of" Nigerian youths and not all of them.
The Special Adviser to the President on Media and Publicity, Mr Femi Adesina, made the clarification in a statement made available to journalists.
Adesina attributed the outrage that trailed the President's comment to those he described as "manipulators and twisters" of Buhari's statements.
He said, "Typical of their stock in trade, manipulators and twisters of statements of Mr President, who lie in wait to make mischief, interpreted the comment to mean that President Buhari had taken all Nigerian youths to the cleaners.
"But elementary English recognises a wide gulf between 'a lot of' and the word 'all.' How can 'a lot of them,' suddenly transmogrify to mean 'all of them?' Mischievous and unconscionable!
"There is no way President Buhari, father of the Nigerian nation in every sense of the word, who equally has biological children of his own in the youths age bracket, pass a vote of no confidence on all youths.
"It can only exist in the imagination of those who play what the President has described as 'irresponsible politics' with everything."
The presidential spokesman said Buhari had always applauded and celebrated Nigerian youths who excel in different areas of endeavour, from sports, to academia, and other realms.
He said the President would continue to do so, because he values the youth, and knows that they are the fulcrum on which the future of the country rests.
"Indeed, every country has its share of idle population, and it is the bounden duty of government at all levels, to create an enabling environment for them to actualise their potential. That is what President Buhari is committed to doing.
Stakeholders Seek Improved Commitment To  Neglected Tropical Diseases' Treatment
The need for improved zeal for political commitment, through high-level advocacy and awareness creation for Neglected Tropical Diseases (NTDs) visibility has been stressed.
The  Zonal Coordinator, Neglected Tropical Diseases (NTDs), Federal Ministry of Health, Department of Public Health, NTDs Control/Elimination Programme, North East Zone, Hauwa Abubakar, made the call in a keynote address to mark the 2023 World NTD Day with the theme: Invest in Neglected Tropical Disease #ACT NOW #ACT TOGETHER held at Dajin village in Tafawa Balewa LGA, Bauchi State.
Abubakar stated that in a bid to pay attention to the Neglected Tropical Diseases, there  is need for solicitation for counterpart support, through resource mobilization.
She said there should be a strengthening integration and inter-sectoral collaboration between NTDs- WASH by active involvement of Line Ministries such as Environment, Water Resources, Education, Information, National Home Grown School Feeding (NHGSF) and others.
According to her, concerned agencies should strive for an there should be an all-inclusive agenda including Persons with Disabilities in implementation while calling for the release of more funds by Funders and Government in order to scale up MMDP interventions to other endemic LGAs.
She added that there should be sensitization of Communities for Behavioral change communication (BCC) across the LGAs in the state for Hygiene sustainability.
"It is important to mention that NTDs activities in Bauchi State had recorded tremendous achievements ranging from Trachoma elimination in Trachoma endemic LGAs, Passed several Pre- Transmission assessment surveys conducted over the years, in Lymphatic filariasis interventions, Conducted Epidemiological surveys for Onchocerciasis interventions," Hauwa stated.
"Akl endemic LGAs for Schistosomiasis has migrated to ward level in terms of treatment, to enhance Schistosomiasis paradigm shift for elimination as recommended by World Health Organization.
"And more interestingly, the state had scaled up to MMDP interventions, and these included, TT surgeries in all endemic LGAs, Hydrocele surgeries and Lymphoedema Management in some LGAs, Snakebite awareness creation and Management and Yaw's identification and Management, all with support from Mission to Save the Helpless (MITOSATH) and Health and Development Support (HANDS)", she said.
Abubakar congratulated all the stakeholders and Partner NGOs particularly the MITOSATH and HANDS for their continued campaign and support towards NTDs elimination in Bauchi State and in Nigeria at large.
She also appreciated the NTDs control team in the state for not only taking charge of ownership but its tireless effort in NTDs elimination processes.
In her remarks, the Programme Manager, MITOSATH, Esther Ijeoma, lamented that NTDs have continued to suffer from a lack of attention from the government and other agencies saying that her NGO would continue to lend a helping hand in giving attention to the NTDs.
Ijeoma commended Bauchi State Government through the BASPHCDA for its support in making drugs available for victims in all PHCs across the state.
Minister Tasks NIS Officers On Maintenance Culture
Minister of Interior, Rauf Aregbesola, has charged officers and men of the Nigeria Immigration Service (NIS), Lagos Command, to embrace high maintenance culture, serene work environment and transparent service delivery to persons seeking their services.
Aregbesola gave the charge  during the commissioning of the new Alimosho Front Desk Passport Office, in Lagos, Monday.
Describing the complex as one of the massive edifices of the NIS, Aregbesola said the event was part of government's commitment to providing conducive environment for the workforce to enhance productivity.
The Minister urged the officers and men of the Service to show gratitude by improving in their service to Nigerians.
He said, "there can be no alternative to motivating workers. If you want good service, efficiency and quality performance, the work environment must be attractive and motivating.
"Whoever leaves his house to such work environment that motivates his spirit, no matter his personal challenges, the ambiance of the work environment can motivate him to do more than expected of him."
Governor of Lagos State, Babajide Sanwo-Olu, who was represented by his Chief of Staff, Tayo Ayinde, commended the Minister for coming to commission the complex, describing the gesture as a demonstration of strong commitment and leadership of the President Muhammadu Buhari-led administration.
In his address, the Comptroller General of NIS, Isah Idris, noted that the complex used to be the Headquarters of NIS until 1990 when the Federal Government directed all Ministries, Departments and Agencies (MDAs) to move to the Federal Capital Territory (FCT), while the space served as the Zonal headquarters for Zone 'A' before same was relocated to Ikeja.
Idris described the new front desk office as timely in the largest local council in the country adding that it would help to decongest traffic in Ikoyi, Alausa and FESTAC passport offices.
Also Speaking, Chairman of Alimosho Local Council, Jelili Sulaimon,  described the complex as a laudable project and a game-changer for the residents.
Enugu CSOs Hail INEC Over PVC Collection Extension
Some Civil Society Organisations (CSOs) in Enugu State have lauded the Independent National Electoral Commission (INEC) for listening to the cry of Nigerians to extend the distribution of the ongoing Permanent Voters Cards (PVCs) nationwide.
The CSOs gave the commendation in separate interviews with newsmen  on the numerous benefits of the extension in Enugu, Monday.
Chairman of Civil Liberty Organisation (CLO), Anambra,  Vincent Ezekwueme, said the extension was more beneficial to those in the Southeast due to the numerous sit-at-home orders by agitating groups.
He said INEC officials should address all the complaints, difficulties, predicaments and lamentations encountered by prospective voters, especially those in the Southeast.
Ezekwueme urged Nigerians to utilise this unique opportunity provided by the extension to collect their PVCs and be alive to their civic rights and responsibilities.
He further called on Nigerians to report to security agents anyone demanding monetary inducements or gratifications before PVC collections.
In his words, "the Federal Government and INEC have made it clear that registration and collection of PVC is free throughout the country without exception.
"It is incumbent upon the citizens to help the government in this regard by reporting those violating government directives to the appropriate authorities.
"Remember your vote is your power; your complaints about bad leadership can only be corrected with your vote, not with destructive criticisms".
On his part, the Executive Director, Daniel Ukwu Leadership Foundation, Comrade Daniel Ukwu described the extension of the PVC collection as a positive development, which should be lauded by all.
Ukwu, however, stressed  the need for more publicity on the PVCs collection points as some registrants might not know where to collect their PVCs since the initial locations had changed.
While commending INEC for the extension, the Executive Director, Women Centre for Self-Empowerment and Development (WOCSED), Mrs Onyeka Obi, said the development was a positive one for most Nigerian women.
Obi said: "You know most times, women do multi-tasking to ensure that they meet up with their daily demands and responsibilities.
"So you see that it is not really easy for women to spend hours waiting in queue for PVC collection without attending to other families, personal, and business demands".
INEC extended the PVC collection to February 5 to enable more prospective voters to get their cards to vote during the elections.