Killings: Blaming Gaddafi, Embarrassment To Nigeria -Fayose …Bishop Tells Buhari To Confess His Sins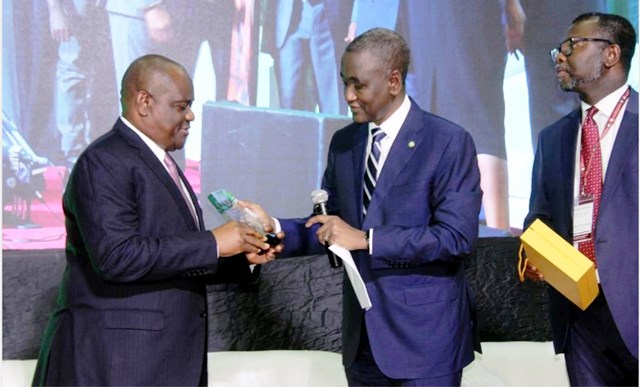 Governor Ayodele Fayose has said that President Muhammadu Buhari should be made to read speeches, saying his speaking extempore was "becoming an embarrassment to Nigerians."
Governor Fayose said in a statement, yesterday that President Buhari's claim that former Libyan leader Muammar Gaddafi, should be blamed for the ongoing herdsmen killings across the North Central of Nigeria was indeed a national embarrassment .
Fayose in the statement by his special assistant on Public Communications and New Media, Lere Olayinka, said: "It is embarrassingly shameful that the President has taken his blame game to the international level by blaming the dead for his cluelessness."
Fayose said: "Very soon, President Buhari will blame those who elected him for his failure."
While meeting with the Archbishop of Canterbury Justin Welby in London Wednesday, President Buhari had said that the arms Gaddafi, who was killed seven years ago provided to his supporters had filtered into Nigeria where they are now being used to fuel killings across the North-Central.
Governor Fayose, who described the President's statement as embarrassing, asked how many Libyans were killed by herdsmen in the last three years.
"Nigerians are accusing President Buhari and his government of complicity in the herdsmen killings and all that the President could do in response is to blame Gaddafi, who became history seven years ago? This is no doubt another international embarrassment from a President who knows nothing other than to blame people for his own failure.
"He thinks those handling the President should see to it that he is prevented from speaking outside Nigeria without a prepared speech.
"The other time, he went to Germany to embarrass Nigeria by referring to the chancellor of Germany, Angela Merkel, as 'President Michelle of West Germany."
Governor Fayose said President Buhari should rather face the reality of his government's failure to secure the lives and properties of Nigerians as well as its seeming culpability in the herdsmen killings instead of going to foreign lands to advertise his cluelessness by blaming the dead.
Meanwhile, General Overseer of Christian Central Chapel International, Bishop Emma Gospel Isong has called on President Muhammadu Buhari to confess his sins to Nigerians and pray for forgiveness if he wants to win his second terms bid in the 2019 presidential election.
Isong stated that the President has committed so many sins against Nigerians but admitted that to seek a second term in office was Buhari's constitutional right.
The cleric however maintained that there are many hurdles for the President to cross, including the confession of sins to Nigerians.
Bishop Isong, who was spoke with newsmen in a telephone interview said, stated that Buhari will be taking Nigerians for a ride if between now and May 2019, he cannot convince citizens that he is risking his life and risking the chances of his party to remain in power.
According to him, "But if Mr President sit back and look at his record and be honest to himself and come out, it is not late to confess, the Bible says whoever confesses his sins shall be forgiven, if Mr President can come back and confess and say 90 per cent of security chiefs are Fulanis.
"If he can come back and say the economy is hitting the bottom rock, people are losing jobs, like in our churches, people are packing out to their villages, they are leaving town, they are resigning, if Mr President can come out and confess that I have not been fair to South-South, I have not been fair to South-East.
"Even in the Middle Belt, in terms of Taraba State, Nassarawa State and of course Benue State, I have not come out with strong government policy to stop Fulani herdsmen from killing innocent Nigerians, if Mr President can come out and confess and repent of course, I will cast my vote for him to be President for second term" he stated.
Bishop Isong said that if President Buhari cannot do this, then he is taking his party as well as its electoral chances for granted, he is making a mockery of democracy and risking his name and integrity which he had built for more than 40 years.
"President Jonathan did not perform this badly after his first term, he lost the election and if he want to go by that record, Buhari government is worse than Jonathan and therefore he cannot be given second term chance if Nigerians' vote is to be counted," he stressed.
Speaking further, the cleric stated that declaring intention to re-contest does not automatically amount to winning the elections all things being equal and votes count.
Vote Against Candidates In Support Of Naira Redesign Policy Implementation -Wike …Challenges Sekibo To Disclose Why Obasanjo Sacked Him As Minister
Rivers State Governor, Chief Nyesom Wike, has urged Nigerians not to vote for any candidate that supports the way the currency redesign policy is being implemented, in the forthcoming election.
Governor Wike spoke at Opobo Town Sandfield during the Rivers State Peoples Democratic Party (PDP) campaign flag-off rally for Opobo/Nkoro Local Government Area at the weekend.
The governor, in a statement by his Special Assistant on Media, Kelvin Ebiri, explained that such candidate is an enemy of Nigerians, who are already plunged into inexplicable economic hardship with nonavailability of both the old and new Naira notes to enable them buy food for their households and fuel for their cars.
Governor Wike said he is convinced that President Muhammadu Buhari, who may not have been properly briefed on the hardship the Naira swap is causing Nigerians, is already getting feedback on the ill advised policy and will review the implementation.
"Anybody who claims he loves Nigeria and is contesting election but is supporting this CBN policy. Will you people vote for such person? It is only the enemies of Nigeria that are supporting this anti-people policy. I believe President Muhammadu Buhari was not properly briefed about this policy", he said.
Governor Wike insisted that the policy is being implemented to provoke the civil populace into embarking on public protests that could be used as an excuse to postpone the forthcoming election.
The governor pointed out that there is a cabal behind the policy implementation who are pushing to install an interim government, thereby prevent Nigerians from using their Permanent Voters Cards to determine their next leaders.
"The primary target of this policy is to provoke Nigerians to embark on civil disturbance which they will capitalise on to say they cannot conduct election and push for enthronement of an interim government. No matter the provocation, I urge everyone to be calm. This election must hold because nothing will stop an Opobo man to become governor", he vowed.
Wike challenged the former Minister of Transport, Dr Abiye Sekibo, to explain why former President Olusegun Obasanjo sacked him from his cabinet.
The governor described himself as a man of integrity who served as minister under President Goodluck Jonathan and later resigned honourably to contest governorship election and won.
He also asserted that he is not among those who had caused crisis in their local governments and has blood on their hands, daring Sekibo to also make similar assertion.
Canvassing votes for the PDP governorship candidate in the state, Sir Siminialayi Fubara, Governor Wike enjoined Opobo people not to undermine the opportunity they have now to produce the next governor of the State.
He assured of signing the contract for the construction of Opobo Ring-Road, which will be completed by Fubara when he wins the election and assumes office as governor.
Governor Wike also told the electorate to deliver their votes for all PDP candidates in the state and await instructions from their leaders on the presidential candidate to cast votes for.
Sir Fubara, in his speech, restated his promise to the leadership of the party to never disappoint the confidence reposed in him to fly the party's gubernatorial flag.
Fubara urged Opobo people to deliver their votes as an appreciation of the opportunity given to their son to become the next governor of the State.
He acknowledged the benevolence of Governor Wike in delivering road infrastructure and land reclamation projects in Opobo town, and assured that they would benefit more when he wins.
Presenting flags to PDP candidates, Chairman of the party in Rivers State, Ambassador Desmond Akawor, enjoined Opobo people to ensure that they deliver winning votes for their son and all the candidates of the party.
In his speech, Senator Adawari Pepple, expressed gratitude to Governor Wike for deeming it necessary to support their son to emerge PDP governorship candidate in the state.
Senator Pepple asserted that a true Opobo citizen is a loyal person and that Fubara will not disappoint the confidence reposed in him.
He assured that the entire Opobo people would follow Governor Wike wherever he goes and vote as he directs.
Dr. Sam Jaja acknowledged that Governor Wike has used his position to give prominence to an Ijaw son of Ibani extraction.
According to him, they have resolved that their votes will be wholesomely delivered for the PDP governorship candidate and the entire consolidation team.
Speaking on behalf of the candidates, Senator Barinada Mpegi, said the entire Rivers South East Senatorial District is fully ready to vote massively for all PDP candidates in the state.
Earlier, Governor Wike, Fubara and other PDP leaders had paid a courtesy visit to the palace of His Majesty, King (Dr.) Dandeson Douglas Jaja, Jeki V, Amanyanabo of Opobo Kingdom.
The King, in appreciation of the governor's benevolence to the Opobo kingdom, conferred on him 'Amafurotuo' which means son of Opobo.
Implementation Of New Naira Policy Is Anti-People, Wike Tells Buhari …Insists Cabal In Presidency Backing Atiku
Rivers State Governor, Chief Nyesom Wike, has advised President Muhammadu Buhari to reconsider the manner with which the currency redesign policy is being implemented because it is anti-people.
Governor Wike maintained that those who recommended this apparently anti-people monetary policy do not love the President and are bent on tarnishing his legacies.
The governor stated this at the Comprehensive Secondary School field, Ibaka Town, Okrika Island, during the Rivers State Peoples Democratic Party (PDP) Campaign Flag-off Rally for Okrika Local Government Area, last Friday.
Governor Wike, in a statement by his Special Assistant on Media, Kelvin Ebiri, urged President Buhari to take a critical look at the socio-economic chaos and hardship that the exercise has caused, and revisit the policy in order to curb the pains of Nigerians.
According to him, "This policy is anti-people. The new Naira note is not there. Even though I have money in my account, I cannot get N10,000. I cannot go and buy fuel. Who is losing? Is it not the masses? Is it not the people?"
He advised the President to stop listening to those who advise him on this monetary policy under the guise that it will curb vote buying, saying those advisors do not mean well for Nigerians and cannot feel their sufferings.
Governor Wike also dismissed the claim that the policy is being implemented to fight politicians and corruption, and wondered if such goals can be achieved within the remaining three months of President Buhari's administration.
"You're merely fighting against the poor people. Mr President, I know the pressure, but please since two of us are going the same time, this policy, it has nothing to fight corruption at all. It has nothing to fight politicians.
"This policy is aimed to suffer the people who elected us to govern over them. Our business is not to make the people to suffer. We all know how to fight corruption. We all know how to fight politicians. This particular one, it does not come in at all", he insisted.
Governor Wike expressed dismay that people were prevented from accessing money lodged in their bank accounts while small scale commercial activities were grounded for lack of cash.
According to him, there is reduced cash flow in circulation and even the redesigned Naira notes are hardly available to the citizenry.
"I know Mr President has good intention, but there are these people who believe they know more than everybody, they go and put the country in total chaos and that is what we are suffering now", Wike said.
He stressed the futility of presenting credit cards to pay for food items bought from an elderly woman who depends on daily sales to raise money in the rural areas with prevailing illiteracy.
According to the governor, there is no where in the world where such currency change has been done conclusively within six months.
He said, "I have never seen anywhere in this world where you change money within six months and say no more use of old money. It doesn't work. It takes time and you have to prepare. Look at our economy, look at the rural areas, the level of illiteracy in the country."
Governor Wike urged President Buhari to avert aggravating the security challenge across the country and pushing Nigerians deeper into economic hardship.
"Can you imagine the problem you're causing for us. As we are here, the level of insecurity will increase. We can't get security agencies money any longer for them to use and pay those who are in the field. Even the CIA they carry cash for operation. Even NIA, they carry cash for operation. But here, we can't even give our security One Million Naira."
Speaking further, Governor Wike said recent events had vindicated him over his initial public statement that the PDP presidential candidate and his supporters boasted that they do not need the G-5 governors to win election because they had been assured of victory by a cabal in the presidency.
"I said they have been given assurance, but this election is not going to be based on that cabal assurance. It is on the people's assurance", he said.
Governor Wike, however, insisted that any party that does not need Rivers State will lose the election.
According to him, "whether you like it or not, you must need Rivers State. If you don't need Rivers State you must fail. If you say you don't want us, you'll fail. There is no two ways about it."
Soliciting votes for the PDP governorship candidate in the state, Sir Siminialayi Fubara and other PDP candidates, Governor Wike urged the people to vote overwhelmingly for the PDP.
He disclosed that the contract for the Okrika sandfilling project has been re-awarded because the former contractor who is their son has failed to finish the project.
Governor Wike also announced the upgrading to first class traditional stool status, confirmation and recognition of King Nelson Atubo Oputibeya as the Amanyanabo of Koniju.
Sir Fubara, in his address, said his administration, when elected as governor, would work to sustain the existing peace in Okrika, complete any ongoing project it may inherit, and provide more development projects to them.
Rivers State Chairman of the PDP, Ambassador Desmond Akawor, who presented the party's flags to the various candidates in the area, urged Okrika people to vote massively for the party's candidates.
Speaking on behalf of other candidates, the Rivers East Senatorial candidate, Chief Allwell Onyesoh, thanked the leadership and members of the party for the privilege given to them to fly the party's flag, pledging that they will provide quality representation when elected.
Earlier, Governor Wike had inaugurated a 100-Bed Mother and Child Hospital in Okrika, which was built under the auspices of the Sustainable Development Goals (SDGs) in the office of the presidency.
The project was nominated and attracted to the area by Hon. Bright Gogo, the House of Representatives member for Okrika and Ogu/Bolo federal constituency.
While commending Princess Adejoke Adefulire, the Senior Special Assistants on SDGs to President Buhari, for ensuring the building and equipping of the hospital, Governor Wike noted that Hon. Gogo has distinguished himself for attracting and realising the project in his constituency unlike other federal lawmakers from the state who attracted no projects.
Rivers Electorate'll Punish PDP National Leadership -Wike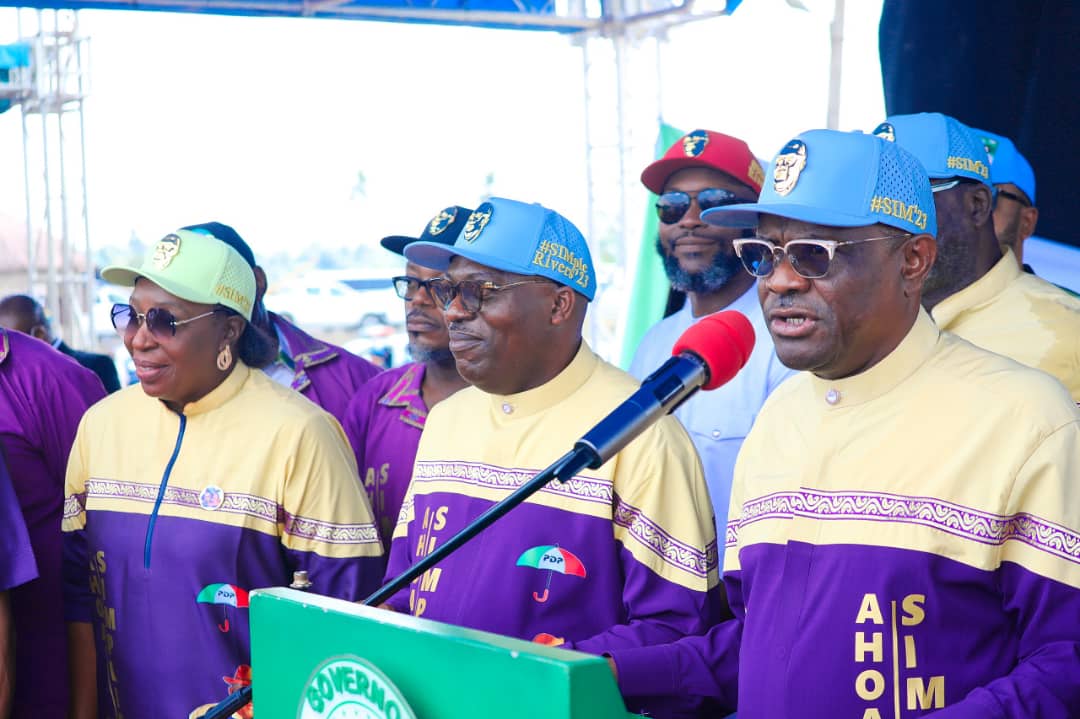 Rivers State governor, Nyesom Ezenwo Wike says Rivers electorates will use the forthcoming election to punish the national leadership of the Peoples Democratic Party (PDP) for abandoning them during the October and November 2022 flooding incidence.
Governor Wike made the remark yesterday at the Community Secondary School in Akinima Town during the Rivers State PDP Campaign Flag-off Rally at Ahoada West Local Government Area.
The governor explained that the flooding situation was devastating in some communities of Abua/ Odual, Ahoada West and Ahoada East Local Government Areas with houses submerged, the people displaced, and their socioeconomic life disrupted.
Wike recalled that while the period lasted, the national leadership of PDP refused to visit those communities as a way of identifying with Rivers people when it mattered most.
Governor Wike emphasised that even though the PDP national leadership refused to identify with Rivers communities, they gladly visited flood impacted communities in other States, and identified with them, which can now be interpreted that they hate Rivers State.
He said in retaliation of the hatred, and the mindset that Rivers State does not matter, the electorates will use the power of their permanent voters cards (PVCs) to "pepper" the PDP national leadership in the forthcoming election.
"You had a problem, a major problem. Ahoada West, Ahoada East, Abua-Odual, had a major flooding problem. After they'll say we are in the same party. Is there anybody from the national of our party that came to visit Ahoada West, Ahoada East, and Abua?
"But they went to other states, which means that they don't like us. If somebody says he doesn't like you, will you force yourself on them?"
Speaking further, Governor Wike reassured the people of Ahoada West Local Government that his administration would deliver to them a fully reconstructed Government Secondary School, Okarki.
Governor Wike told them that the contract for the project was awarded long time ago and paid for in full, but their sons who got the contract failed to deliver on schedule.
He assured that the contract would be re-awarded and completed before his tenure ends on May 29.
Governor Wike urged the people not to allow ballot box snatchers in the area to outsmart them anymore particularly, now that the elections will be conducted electronically.
He harped on the need for massive mobilisation of the people per electoral unit, so that the voters will be aware of who to cast their votes for, and to make sure that PDP wins all the election for governorship, Senate, House of Representatives and State House of Assembly.
"What I want to advise you this time is, don't allow those ballot box snatchers in APC to try it again. Luckily, this election is not election of snatching ballot boxes or paper. It is election that will be done electronically and transmitted electronically. All we need from you is to mobilise your people unit to unit."
In his address, Rivers State governorship candidate of the PDP, Sir Siminialayi Fubara, noted that because of the massive development projects delivered in the area by the PDP controlled State government, the party has first right of winning the election.
Fubara, therefore, urged the people to go and collect the remainder of their PVCs at the Independent National Electoral Commission (INEC).
He said with the PVCs, they can confidently vote into power the PDP consolidation team that will continue to deliver to them more development projects, education infrastructure and to sustain the security experienced in the area.
Chairman, Peoples Democratic Party (PDP) in Rivers State, Ambassador Desmond Akawor, who presented party's flags to candidates contesting for the various elective positions, charged the people to ensure bulk delivery of winning votes to PDP.
Rivers State Deputy governor, Dr. Ipalibo Harry Banigo, who is contesting for Rivers West Senatorial District slot, spoke on behalf of the candidates and said sequel to excellent performance of Governor Wike in office, it is given that Ahoada West is faithful supporter of PDP.
She promised that when elected, they would commit to upholding the interest of their constituents and the State at large.
Before going to the campaign venue, Governor Wike had paid a courtesy visit to the Ahoada West Local Government Traditional Rulers Council under the chairmanship of Chief Moore Maclean Ubuo, the king of Engenni kingdom, to first introduce and secure royal blessings for Sir Siminialayi Fubara, as the incoming governor of the State.