Kidnapping:Upata To Demolish Culprit Houses …Police To Shoot At Sight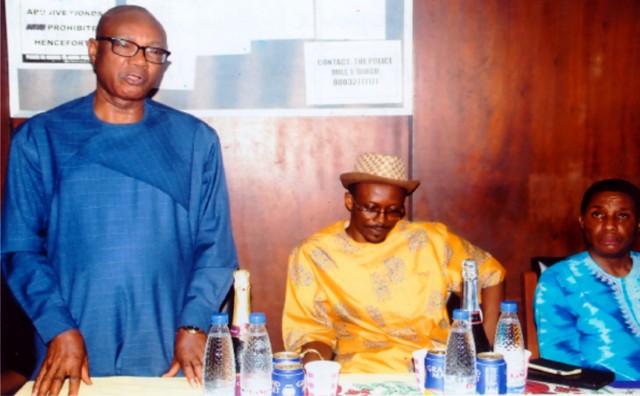 The Igbu Upata Council of Traditional Rulers and Chiefs, in Ahoada East Local Government Area in Rivers State has vowed that from henceforth they will resort to demolishing of houses used or owned by kidnappers and armed robbers.
The Council also said parents and landlords, including Community Head Chiefs and youth leaders who fail to report criminal activities will be arrested and prosecuted.
Eze Felix Otuwarikpo, Eze Igbu Upata III, disclosed this at a security meeting held with the youths of Udebu Community at the Community's Town Hall. He was accompanied by Nye Udu Ede Upata, HRH Eze Kelvin Ngozi Anugwo , Divisional Police Officer, Ahoada Police Division, CSP Job Simeon and other Chiefs and aides.
The CSP, who spoke at the meeting said the decision to demolish houses was in compliance with relevant laws that say kidnappers and armed robbers must not benefit from the proceeds of the crime.  He also added that demolition of houses would dissuade people from harbouring criminals and would assist to reduce crime.
Eze Otuwarikpo, who was livid with anger, urged the  youths to mobilise against crime, stressing that "we cannot continue this way as a people, where criminals use this village as hideout".
Warning against acting in cohort,Eze Otuwarikpo informed that "those who harbour kidnappers and armed robbers will be arrested and their houses demolished. Youth leaders, landlords, community Chiefs and parents who fail to report the activities of these criminals will be arrested and prosecuted.
"I have the primary responsibility to defend Upata. Criminality cannot be allowed and it doesn't promote development. I have to end this in clear collaboration with security agencies. We mean business to sanitise our communities using every resource at our disposal to fight crime and we must be united".
On the coming local government elections, the monarch warned politicians not to resort to desperation as a means, because those who engage in thuggery, according to him, will be sanctioned.
'Police Didn't Authorise Vigilantes To Carry Arms In Rivers'
Worried by the alarming concern by members of the public over the manner vigilante groups are bearing arms across the state, the Rivers State Police Command has restated its earlier stand that vigilante groups are not mandated to bear arms in the state .
Spokesperson of the Command, SP Grace Iringe-Koko, made this clarification while speaking to journalists in Port Harcourt, recently.
She said the state Commissioner of Police (CP) had not approved arms bearing by the vigilante groups across the state .
According to her, " they are not licensed to bear arms. The CP has directed the Divisional Police Officers (DPOs) within every jurisdiction to arrest anyone seen with arms. They do not have such powers to detain".
She stated that anyone found bearing arms in the name of vigilante would be arrested and prosecuted .
"This clarification is coming as a result of public concern and worries. Of late, it's been observed that some vigilante group members in Port Harcourt, particularly in Diobu axis, are bearing arms.
"For instance, some are seen at Oando Filing station, at Mile 3, Ikwerre Road, parading with pump action riffles. Some also bear the arms while on patrol in full glare of public. It was also reported that they detain suspects", she said.
By; Akujobi Amadi
Indigenous Oil Company Reaffirms Commitment To Host Community's Development
All Grace Energy Limited (AGEL), an indigenous oil company operating (OML17) in Rivers State, has reaffirmed commitment to the development of its host community in compliance with the Petroleum Industry Act (PIA).
The Executive Director, Corporate Affairs and Development, AGEL, Prof.Adeola Adenikinju, gave the assurance recently during the inauguration of the Board of Host Community Development Trust (HCDT) in Port Harcourt.
Adenikinju noted that the inauguration of the seven-member board would provide a unique opportunity to begin a new era in the development of the community.
According to him, since the signing of the PIA in 2021, the company has ensured commitment to advancing understanding of the act, with regard to establishment of the HCDT.
Adenikinju said that compliance with the PIA would deepen the existing mutual relationship and trust-building between the company and the host community.
He said: "The PIA contains relevant provisions which form the basis of strong governance and management structure for the host communities' development trust.
"Consequently, we have ensured that our sustainable development initiative is geared towards direct social investment programmes to address development deficits through providing empowerment of women and youths."
He said this would be done through skill acquisition, scholarships, health outreach, direct community contracts, infrastructure, and a lot of other sustainable development initiatives.
Adenikinju commended the Nigerian Upstream Petroleum Regulatory Commission (NUPRC), and Rivers State Government for their continued support to foster positive development outcomes in the host community.
The Commissioner for Chieftaincy and Community Affairs in Rivers, Engr. Charles Amadi, said that implementation of the act, would enable All Grace Energy Limited and the host community to operate in a mutually beneficial way.
He urged the host community to work together with the company to ensure peaceful coexistence.
Similarly, the Chairman of the Board of Trustee(BOT), Mr Dandyson Onigah, said that implementation of the PIA marked a new dawn where there would be no bickerings between oil companies and host communities,
Onigah said with the operation of the PIA, the community could make plans toward sustainable development, knowing that there would be funds for that purpose.
He said that the newly inaugurated board would work in synergy with the company to ensure peace and achieve success in their operations.
The BoT chairman gave the assurance that every misunderstanding or complaint would be properly addressed to ensure free flow of business in the area.
Also, the Chairman of Ogbakor-Ubima, Mr Emmanuel Azubuike, lauded the company for steps taken to implement the act, saying that the community would continue to sustain the existing mutual relationship with the company.
Engineers Blame Building Collapses On Quackery
The National Chairman of the Nigerian Institution of Civil Engineers (NICE), Engr. Chukwudi Ezugu, has blamed the incessant building collapses in the country on quacks.
Ezugu, who said this during his investiture in Port Harcourt, recently, advised members of the public to stop patronising quacks and employ the services of professional engineers in their building projects.
Ezugu assured that his administration would improve on the practice of engineering in the country, saying continuous professional development and welfare of members will be given top priority.
"Improving the skills and competence of our members is a priority to this administration. Good professional practice demands that civil engineers will continually be updated with latest technologies which enhance our practice through seminars, workshops and trainings.
"We shall, therefore, collaborate with competent training firms which will update our engineers with latest operating softwares, techniques, materials, processes and procedures," he said.
Engr. Ezugu said the society would also collaborate with relevant organisations to improve the competence of its members.
"It is our plan to organise a conference in the next few weeks to bring together our universities, research institutions and industry practitioners to start creating an enduring relationship that is key to solving our infrastructural needs.
"It is common knowledge that civil infrastructures in Nigeria are grossly inadequate from urban and rural roads to rail lines transportation systems, housing to potable water supply," he said.
The NICE chairman said his administration would engage policy makers and government to prioritise development in the country with a view to tackling the ones with higher socio-economic values.
According to him, the present situation where many trunk A roads are in disrepair is counterproductive with the resultant collossal loses to the country GDP and economy at large.
Chairman of the occasion and former Acting Director, Niger Delta Development Commission (NDDC), Engr. Emmanuel Audu-Ohwavborua, urged Nigerian engineers to up their game to enable them compete with their foreign counterparts.
He called on the government to patronise local engineers, stressing that continuous patronage of multinational construction companies at the detriment of their Nigerian counterparts is not in the interest of the country.
By: John Bibor