UNIPORT VC Tasks Fresh Students On Hardwork …As Varsity Matriculates 8,205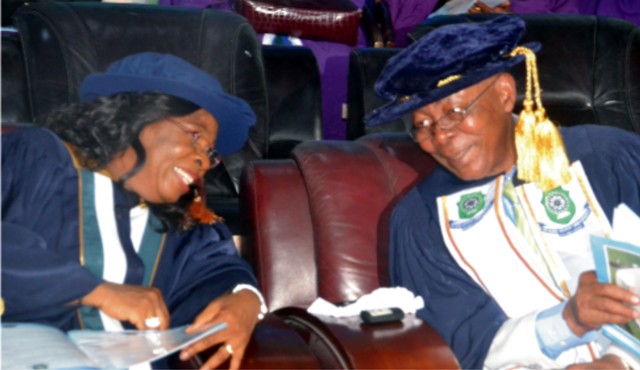 The Vice Chancellor of the University of Port Harcourt, Prof Adowa Lale has urged newly admitted students of the university to be studious while undergoing their academic career in the university.
He made this call in his speech during the 39th matriculation ceremony of the university at the university convocation arena held in Port Harcourt.
He disclosed that the admission was based on the procedures stipulated by the Joint Admission and Matriculation Board (JAMB), adding that the school admitted 8,205 out of 39,175 candidates that applied for admission in the university and advised them to commit themselves to abide by the rules and regulations of the university.
According to him "their academic journey had just begun and there was no short-cut to achieve success in the university and urged them to engage in reading as they are expected to prove themselves in the global world".
He encouraged all the successful newly admitted students to ensure they signed their matriculation register and added that without such, they would not be recognised as students of the institution.
Lale further advised them to be self-disciplined and not to engage themselves in examination malpractise, cultism, fighting, prostitution and all illegal activities in the school and warned that anyone caught would be dismissed from the university.
The Uniport VC encouraged them to affect each other positively and be up and doing in order to be good ambassadors of the institution and the society at large.
Boma Ikiriko
Scholars Adjudge Poetry As Therapy For Societal Problems 
Poetry has been adjudged to be therapy for solving societal challenges as scholars at the first Professor Kontein Trinya International Symposium at Ignatius Ajuru University of Education, expressed.
The symposium which had its theme as "Therapoetics: Affective Literature", was organised with the Department of English and Communication Art in honour of Kontein Trinya, a Professor of Poetry at the university, was held at the school premises, recently.
The keynote speaker, Professor Onyemaechi Udumuku, posited that in a nation like Nigeria that desire positive change, that poetry has the capacity to reduce the numerous challenges confronting the country , if applied effectively.
Udumuku attributed the effectiveness of poetry in this regard to its ability to stimulate creative and critical thinking that make society better.
Similarly, the lead paper presenter, Dr. Psalms Chinaka, while admitting that it would be difficult to have a perfect social, economic, and political system in Nigeria, noted that poetry could stimulate better policies that would guide the system of governance to improve the well-being of citizens.
In the same vein, the chairman of the symposium organizing committee, Dr. Progress Umor, disclosed that the event was organised "to honour a perfect gentleman who is down to earth.
Umor also pointed out that the symposium would become an annual event where scholars would "further expand the ideas and research focus of Professor Kontein Trinya."
By: King Onunwor
'Poor Leadership Responsible For Nigeria's Under-Development'
Nigerians have been told that it is impossible to develope under the conditions of poor quality leadership as well as living over the years with misconceptions of what constitutes development of a nation.
Speaking during the 41st Inaugural Lecture of Ignatius Ajuru University of Education, Port Harcourt, last Thursday, the Inaugural Guest Lecturer, a Professor of Development and Economics, Prof. Good Wilson, while delivering his lecture titled: 'Nigeria's Quest For Development: A Journey Without A Roadmap,  at the university, maintained that Nigeria instead of progressing alongside countries like Malaysia and Singapore was retrogressing.
Wilson attributed retrogression and underdevelopment of Nigeria to corrupt leadership that has bedeviled the country few years back, noting that this is the reason why the country is where it is today.
He stressed that if Nigerians don't take a drastic action by choosing quality leaders, who meant well for the economic development and well being of the people, the country and her people will continue to remain poor, underdeveloped and impoverished.
He expressed dissatisfaction towards the conditions affecting the growth and development of Nigeria, adding that to confront the condition that perpetrates hardship and sufferings in Nigeria squarely, requires stronger self determination, the will power and sacrifices by all well meaning individuals to change all the bad leaders and enemies of Nigeria comes the 2023 General Elections.
He added that this was possible if all can muster courage, determination strong will and desire for positive change given the present circumstances that is confronting the country.
He opined that choosing quality leader, will encourage the emergence of a developmental state as well as applying the virtues of a road map that can help to achieve development and improve the living condition of her people.
Prof. Wilson stated further that if asked what he sees about Nigeria attainment of development and improvement in the life of the people years to come, he will say all he sees is a herculean task.
He defined development as the achievement of yearly increases in both the total and per Capita output of goods and services, noting that a country is said to be developing if the country is able to achieve on sustained basis, an annual increase in it's gross national product (GNP) at a rate of between 5 to 7 percent.
He added that another economic indicator of development that featured prominently in the past was a rising level of industrialization, noting that if the share of industrial output in the total domestic output was rising as well then there was hope development.
Wilson stressed that in a normal setting where things are working development is seen as an economic phenomenon in which the increase in the overall and per-capita GNP would bring about more jobs for the people and a wilder distribution of the economic and social benefits of growth.
"It was believed that growth would lead to improvement in the living conditions of the people which is what development is all about. It was this kind of thinking that informed the United Nations' declaration of the period 1960-1970 as it's 'First Development Decade', in which it stipulated and advised that all less-developed countries should strive to grow at an annual rate of 5 per cent during the period", Prof Wilson added.  Added.
He emphasised that a Road map is important to every development without which one cannot move to anywhere, saying that: "Development and road map changes can only be sustained on a basis and thus attain development.
"Looking at the various development levels in Nigeria attainment of Development and attendant improvement in the living condition of the people is a herculean task.
"We can achieve development by choosing quality leaders, encouraging the emergence of a development state as well as applying the virtues of a road map", he added.
The Professor, who is also the Dean, Post Graduate School in the university, cited that Singapore and Malaysia started together with Nigeria, but regretted that today, these two countries have taken over Nigeria, pointing out that Nigeria lacks direction and good leaders, hence the reason why the country is still underdeveloped.
"In Singapore and Malaysia there has been consistency in their political calendar in which their governments were concerned and involved in the growth and development of their countries, but in our own case we are still borrowing, which is not a good practice for a developing country, like ours.
On his part, the Vice Chancellor, Prof. Okechuku Onuchuku said:, "Just as we have rightly heard from the inaugural lecturer, the only way towards development is choosing a good leader and that will only be possible if we vote wisely in the upcoming 2023 General elections".
Onuchuku commended the guest Lecturer for the lecture put up as well as his efforts in X-raying Nigeria and the quest for development, adding that one basic solution is that Nigeria should adopt the paradigm of developmental states, where the states will lead the quest for development in the country.
The Vice Chancellor frown at the state of development in Nigeria, attributing it to corruption, which Nigeria leaders now called borrowing, remarking that basically corruption has shifted from oil to borrowing as seen ordinarily that there is nothing wrong with borrowing.
"Originally the essence why someone borrowed is as a result of lack of needed finance to needed to do something significant, but today people and leaders of this country, Nigeria have turned borrowing to stealing and mortgaged the future of Nigerians which will take the country so many years to develop.
"When we borrowed we put the money in our individual pockets instead of using it to address the general issue plaguing the country and it's people, so it's high time for our people to open their eyes next year as they choose their leaders during the 2023 General Elections that would ensure the economic of the country grows as well as the welfare of it's citizens", Prof. Onuchuku added.
By: Susan Serekara-Nwikhana & Adline Humhrey
RSU Organises 2021/2022 Orientation Programme For New Entrants
Students of the Post Graduate School, Rivers State University, Oroworukwo, Port Harcourt have been charged on hard work, diligence and commitment to their educational pursuit in life.
Vice Chancellor, Rivers State University, Prof. Nlerum Okogbule gave the charge during the 2021/2022 Post Graduate School Academic Session held recently at the school Convocation Arena, Port Harcourt.
He stressed on important issues that would help to give sense of direction and belonging to the new entrants, listing some of them to be hard work and commitment as well as paying their school fees as at when needed for them to have their Matriculation numbers which is their identity in any test or examination that they would write in the institution
The Vice-Chancellor noted that these requirements were necessary so that the students does not have any issue after writing examination, adding that there was need for them to realise that they were no longer undergraduate students, but rather, matured women and men as such it is expected of them to comport themselves and do only the needful as long as they remain students of the institution.
The VC charged them to take their studies seriously as matured men and women. Quoting Matthew 6: 33saying: " Seek ye first the Kingdom of God and its righteousness and all other things will be added unto you". It is only when you sincerely seek that everything good in the university will fall at the pleasant places for you, so you must be prepared so that when those opportunities come you can benefit."
Okogbule remarked that RSU is a university of choice for all, adding that they were lucky to be admitted into the university as such it is expected that they take their studies seriously. The school has zero tolerance for any act of indiscipline, warning that they should be guided at all times to avoid been rusticated on grounds of misconduct.
The VC reiterated his commitment to ensured that no loophole was created in the institution and instructed the Dean PG School to ensure all issues concerning admission was resolved before the start of students' examination.
He announced that the university is moving higher, adding that several campuses of the institution will be completed soon, noting that it is an indication that the university is expanding by leaps and bounds, while appreciating PG School Dean for what he has been doing to ensure the PG School is up and running.
He expressed joy taking care of some issues that posed a challenge to the PG School.
By: Susan Serekara-Nwikhana