Expert Wants Transparency In Routine Immunisation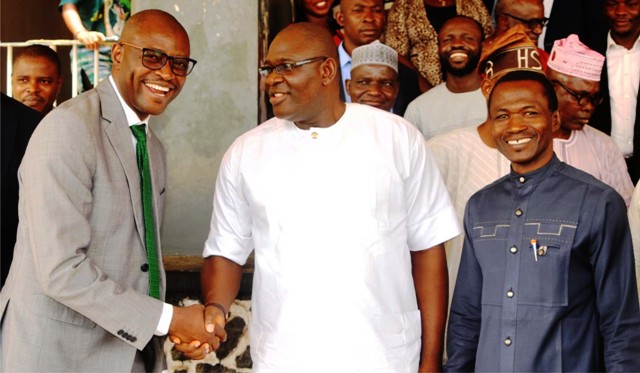 Renowned pharmacy Technician in Rivers State, Mrs Edith Bapakaye has urged the authorities of National Primary Health Care Development Agency (NPHCDA) and its partners on routine immunisation not to compromise on transparency, due process and merit as the overriding criteria for the engagement of consultants to improve routine immunisation in low performing states in Nigeria.
Bapakaye who gave the advice in Port Harcourt recently while speaking with The Tide on immunisation and other health related issues, revealed that although over 200 persons applied for the job, about 270 of them were shortlisted for the competency based test (CBT) while only 97 were invited for interview.
She explained that as parts of efforts to guarantee transparency and due process, development partners on routine immunisation, such as, World Health Organisation (WHO), United Nations International Children Education Fund (UNICEF), European Union (EU) and United States Centre for Disease Control, among others should actively participate in the process which leads to the final selection of the successful candidates, stressing that there should be no room for apathy, sectionalism and nepotism.
She further emphasised on the role of the technical assistants, pointing out that they were being recruited essentially to facilitate delivery on the global target of the routine immunisation, which is put at 85 per cent, instead of the current unacceptable 40 per cent coverage as obtained in 2016 MICS/NICS surveys.
She said that the technical assistants who are expected to deploy innovative strategy, experience and expertise to improve on R1 in their states of posting should be evaluated quarterly based on specific performance indicators.
On the project funding, she appealed to World Bank, Global Alliance For Vaccine and Immunisation (GAVI) and other donor agencies to provide additional funding which would cover the cost of construction and renovation of cold chain facilities in these low poorly immunised states, such as, Lagos, Rivers, Kano and the Federal Capital Territory, Abuja.
Bapakaye expressed happiness with the backing the development, partners are giving to Nigeria to improve on the various child survival interventions for the Nigerian child and implored the international community not to leave any stone unturned to justify the confidence reposed in the present administration of NPHCDA.
Bethel Toby
Sickle Cell Drug Set To Be Released 
England's National Health Service (NHS) has announced a new "life-saving drug, Crizanlizumab to help people suffering from sickle cell disease (SCD).
Crizanlizumab is expected to be delivered through transfusion drip and "works by binding to a protein in the blood cells to prevent the restriction of blood and oxygen supply that lead to a sickle cell crisis," NHS said in a statement.
About 5,000 people living in England will be treated with the drug in the next three years.
SCD is common in Africa, where up to 40 percent of a country's population can carry the mutated gene, though most never get sick, AFP said in a report.
The disease causes episodes of debilitating pain known as vaso-occlusive crises. It could also cause infection, organ damage, acute chest syndrome and stroke.
Nigeria is considered the epicentre of the disease in the world.
The chairman of the Sickle Cell Foundation, Professor Olu Akinyanju, said in a paper published on the foundation's website that "in sheer numbers, Nigeria has the largest burden of sickle cell disorder (SCD) in the whole world."
"Although countries around Nigeria also have an S gene carrier frequency of about one in four of their populations, Nigeria's large population has ensured that over 40 million Nigerians are healthy carriers of the S gene," Professor Akinyanju said.
"This number of carriers far exceeds the total population of every other affected African country and indeed, of several of them put together. Consequently, about 150,000 Nigerian children are born each year with sickle cell anaemia (HbSS), the prevailing type of sickle cell disorder (SCD) in this region."
Crizanlizumab is expected to reduce the number of times a sickle cell patient needs to go to A&E (Accident and Emergency Unit of a hospital) by two fifths.
United States's Centre for Disease Control (CDC) said "the only cure for SCD is bone marrow or stem cell transplant."
But for many sufferers of the disease in Nigeria, accessing curative treatment is extremely prohibitive.
Moreover, CDC said bone marrow is "very risky, and can have serious side effects, including death."
WHO Raises Alarm Over Mental Health Of Pregnant Women
Almost one in five women will experience a mental health condition during pregnancy or in the year after giving birth the World Health Organisation (WHO) has said.
The apex world body on health had released the statistics Monday, as part of its report on improving Early Child Health and Development.
Among women with perinatal mental health conditions, 20 percent will experience suicidal thoughts or undertake acts of self-harm.
Ignoring mental health not only risks women's overall health and well-being, but also impacts infants' physical and emotional development.
The importance of screening, diagnosis and management of PMH conditions into Maternal and Child Health (MCH) services has been highlighted in the Nurturing Care Framework, the WHO recommendations on maternal and newborn care for a positive postnatal experience and the WHO guideline on improving Early Childhood Development.
This new WHO guide for integration of perinatal mental health in maternal and child health services provides the best available information aimed at supporting MCH providers in identifying symptoms of mental health problems and responding in a way that is adapted to their local and cultural context.
The guide provides an evidence-informed approach for  planning integration of perinatal mental healthcare into MCH services and assessing its impact. Effective integration requires for example a core team responsible for overseeing the integration, a situation analysis and needs assessment to identify a feasible package of interventions that meet women's needs during the perinatal period, and adequate training and supervision of workforce to deliver services.
MCH services during the perinatal period represent a unique opportunity to support women in a respectful and stigma-free environment, leading to increased attendance and better engagement in care for women and their babies and to greater well-being and advancement of society.
By: Kevin Nengia
Health Benefits Of Eating Walnuts
Now is the season of walnuts, the black cranky round nuts common to most rainforests in Nigeria.
Though walnuts are seasonal, it is packed with huge phytonutrients that help to improve health and vitality.
Scientists have found that the nut reduces lipid per oxidation, a process that can damage sperm cells. This form of cell damage harms sperm membranes, which are primarily made up of polysaturated fatty acids.
Walnuts are the only tree nut that are predominantly comprised of these fatty acids- meaning they are uniquely powerful for replenishing sperm cells.
Just one ounce of walnuts contain 13 grams of polyunsaturated fatty acids(PUFAs),out of 18 grams of total fat.
The study, conducted at the University of Delaware, gave two groups of mice either a walnut- enriched diet or a control diet for nine to 11 weeks.
One group was made up of healthy male mice and the other was male mice that were genetically predetermined to be infertile.
Researchers found significant improvements in sperm motility and morphology in mice who were consuming 20 per cent of their daily calories from walnuts tequila lent to 2.5 ounces a day for humans.
Even the infertile mice saw an improvement in sperm morphology and both groups experienced a notable reduction in peroxidative damage.
Sperm motility, and form are markers of semen quality, which is a predictor of male fertility.
"What is fascinating is we found that eating walnuts can actually help improve sperm quality likely by reducing peroxidarive damage in sperm cells", said lead researcher, Dr. Patricia Martin-DeLeon of the University of Delaware, United States of America.
The researchers hope to conduct larger and longer term studies, as well as studies in more diverse male populations, to confirm the mechanism that makes walnuts improve sperm quality.
A couple is said to be infertile if there is no pregnancy after one year of normal sexual activity without contraceptives.
In approximately 40 per cent of infertile couples, the male partner is either the sole cause or a contributing cause of infertility.