RSG Rejects Ranking On AIDS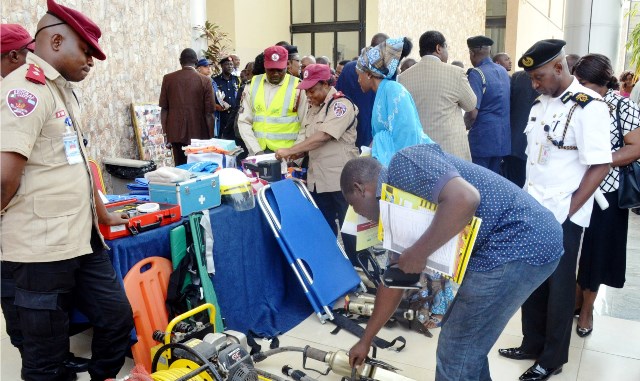 The Rivers State Government has rejected a data released by the National Agency for the Control of AIDS (NACA) ranking Rivers State as the highest in terms of HIV in Nigeria.
The Commissioner for Health, Prof Prince Chike made the rejection yesterday when the team of NACA visited him in Port Harcourt.
Chike queried the criteria used in conducting the survey 2012 which place Rivers State as the state with the highest prevalent rate.
"In medical scientist there are no medical politics for somebody to say Rivers State then had so and so percentage was not fair to the people hence NACA.
"There are parts of Rivers State that you will be on boat for two or three hours before you get there and those collating these data don't go to those remote areas, so how do they get their data and access the people? The outside world believes it is river of blood, but did you see any dead bodies or see people who are beheaded as you are in Rivers State? I think I am one of those favoured to be a commissioner under Chief Nyesom Wike, who is committed to the Health Sector," Chike added.
The Head of Public Relations and Protocol of the NACA in Nigeria, Toyin Aderebigwe appealed to the Rivers State Government to invest more in the campaign of HIV/AIDS.
"Different states have different, they have different languages which they speak and slogan that would touch the people to react to the message we are sending. We know that only about 17 per cent of youth know their HIV/AIDS status. Personal account is the gateway to prevention and that is not good enough and we want people to know their HIV status and the services available.
"We have just two prayers. Sir, we want you to talk to the commissioner for information, to help us in getting a discounted rate for NACA and SACA when we want to place jingles.
Hypertension Treatment To Cut Down Death,WHO Assures
The World Health Organisation(WHO) yeasterday released its first report on the global impact of high blood pressure, assuring that with treatment improvement life expectancy may rise in 2050.
The dangerous effects of high blood pressure are highlighted in a new report by the World Health Organisation that identifies the condition as one of the world's leading risk factors for death and disability.
WHO's first report on the global impact of high blood pressure, also known as hypertension, offers recommendations on ways to combat the "silent killer."
Hypertension, categorized as a blood pressure reading of 140/90 mmHg or higher, affects 1 in 3 adults worldwide, according to the report. It commonly leads to a number of other health problems including stroke, heart attack, heart failure and kidney damage.
Aspirin can help reduce risk of second heart attack, but study finds less than half of eligible adults take it
"Hypertension can be controlled effectively with simple, low-cost medication regimens, and yet only about one in five people with hypertension have controlled it," Dr. Tedros Adhanom Ghebreyesus, the WHO director-general, said in a news release.
High-performing countries like Canada and South Korea have delivered comprehensive national hypertension treatment programs, according to WHO, and both nations have surpassed the 50 per cent mark for blood pressure control in adults with hypertension.
"An increase in the number of people effectively treated for hypertension to levels observed in high-performing countries could prevent 76 million deaths between 2023 and 2050", the WHO said.
Neuropsychiatric Hospital Staff Dissociate Selves From Protest
Members of staff of the Federal Neuropsychiatric Hospital, Enugu have dissociated themselves from a recent protest staged at the hospital.
The protest was organised by a coalition of civil society organisations.
However, addressing journalists yesterday, the workers' unions in the hospital said no member of staff took part in the said protest, but fingered touts who were hired to protest.
They include the Joint Health Sector Union, JOHESU, National Association of Nigeria Nurses and Midwives, NANNM, Association of Resident Doctors, ARD, and Medical and Dental Consultants Association of Nigeria, MDCAN, of the Federal Neuropsychiatric Hospital, Enugu.
Dr. Jane Nnabuchi of MDCAN, Dr Mbachu Ferguson of ARD, and Comrade Obinna Eze of JOHESU addressed the media on the issues.
The workers said touts were rather recruited by some persons to destabilise the hospital.
In a joint press statement issued by the workers, they debunked what they called "the stage-managed protest by a group of hired thugs that called themselves Civil Society Organisation (CSO) members, alleging that there is no peace in the hospital and that the workers are unhappy alongside other allegations levelled against the Medical Director, Prof. Monday Igwe.
"We hereby state categorically that the piece of information are not only false, but were made to mislead the general public and to cause confusion."
The workers declared that: "there is no crisis in our hospital, Federal Neuropsychiatric Hospital, Enugu.
"That our hospital is peaceful and workers are happy with the administration of the Medical Director, Prof. Monday Igwe.
"That the stage-managed protest on 30th August, 2023 was done by thugs hired to discredit and destabilise the Medical Director and our hospital's activity.
"We want to challenge anybody on that protest video circulating around to provide any proof of identity as staff of Federal Neuropsychiatric Hospital, Enugu or student of the School of Post Basic Psychiatric and Mental Health Nursing of our Hospital".
"Ordinarily, we would have ignored the publication and the perpetrators of this dastardly and worthless act, but we are issuing a rejoinder to stop them from misleading the general public and most importantly, to put the information in the proper perspective."
While making reference to a recent incident in the hospital, they called for an end to further harassment of the Medical Director.
"The situation created a scene and disrupted the activities of the hospital Community and would have escalated to an uglier scenario if not for the intervention of Enugu State Police Command.
"The members of Staff have been enjoying peace, infrastructural and human capacity development since the inception of Prof Monday Igwe's leadership in 2019.
"We, the members of Joint Health Sector Union (JOHESU), National Association of Nigeria Nurses and Midwives (NANNM), Association of Resident Doctors (ARD), and Medical and Dental Consultants Association of Nigeria (MDCAN) of the Federal Neuropsychiatric Hospital, Enugu therefore, distance ourselves from and condemn that stage-managed protest of 30th August 2023 as well as the attempted abduction "arrest" of our Medical Director on Thursday, 14th September, 2023," the workers further stated.
How Soft Drinks Affect Male Fertility -Research
DIET indeed has a significant influence on our health, a fact that cannot be denied. What we eat and drink greatly affect not only our physical health but also the ability to conceive. Consumption of soft drinks has a marked effect on fertility in both males and females.
Researchers, following a study in animals, even extrapolated that prolonged consumption of soft drinks is bad for male fertility. Its prolonged consumption has a stimulating effect on weight, with corresponding adverse effects on sperm production.
A global decline in total sperm counts, especially among men in western countries, continues to spark doomsday predictions. From chemicals in packaging to tight trousers, the decline in total sperm counts and quality has been attributed to multiple factors. High sugar intake as part of unhealthy modern lifestyles is also on the risk list.
It is well noticed in society today that people consume drinks without giving due consideration to the quantity taken, contents, the amount required by the body and the possible implications associated with excessive consumption.
The study, titled: 'Adverse Effects of Excessive Soft Drinks Consumption on Male Fertility in Wistar Rat Models' was in the March edition of the International Journal of Health and Medical Research.
Thirty-five male wistar rats were divided into five groups with the control groups administered with distilled water only and four other test groups administered with single dose (1.2ml) Coca-Cola, double dose (2.4ml) Coca-Cola (Cocacolax2), 0.6ml bullet drinks and 1.2ml sugar solution. Aside from the administered samples, food and water were regularly kept at their disposals.
Bullet drink is a caffeinated energy drink. The absence of regulatory supervision has resulted in over indulgence in the marketing of energy drinks. The effect of caffeine from natural coffee, tea, cocoa and foods that contain these ingredients has not been fully elucidated.
The rationale behind the use of albino wistar rats for human studies is that they are physiologically similar to humans and are small, sociable and easy to handle.
The weights of albino wistar rats before and after administration were measured to ascertain the effects of the test samples on the mean weight difference as well as their mean relative weight difference.
In addition, sperm parameters like the sperm count, motility, viability and morphology were taken to ascertain the effects of the test samples on fertility in the study which lasted 40 days.
After 40 days of administration of the test substances, there was an increase in the average body weights in all soft drink administered test groups, compared to how it was in the control group.
In relative terms, there were elevations in all relative body weights by 40.0 percent, 40.0 percent, 63.33 percent and 23.33 percent in single dose Coca Cola group, double dose group, bullet drink group and sugar solution group
respectively, compared to the control.
In the study, soft drinks administration insignificantly decreased the motility, count and viability with corresponding increase in percentage of sperm with abnormal morphology.
According to the researchers, the increase in mean weight difference and their corresponding relative weight differences noted among the test groups suggest the premise that all test substances generally and the bullet drink specifically, contain ingredients that cause voracious feeding resulting in increased obesity and marked weight gain.
They stated that the deleterious effects of the soft drinks on the sperm characteristics could be attributed to decreased and unfavourable sperm production activities in the testis.