NUJ Hails Wike's Silverbird, The Sun Awards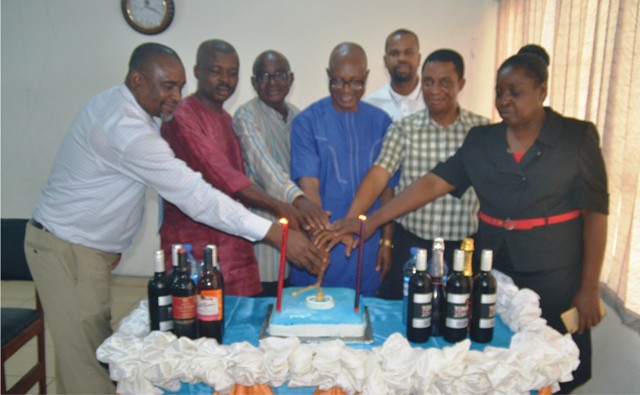 The Nigeria Union of Journalists (NUJ), Rivers State Council has congratulated the Executive Governor of Rivers State, Chief Nyesom Wike on the two awards, "Silverbird Man of the Year 2017" and "The Sun Newspaper Governor of the Year 2017", conferred on him by Silverbird Communications and The Sun Newspaper respectively.
In a statement issued in Port Harcourt by its Acting Chairman, Uche Agbam and Acting Secretary, Anayo Onukwugha, the union described the two awards as well-deserved, saying that they were good testimonies of the governor's sterling performance in office for the past two and half years.
The statement praised the governor for his achievements in the area of infrastructural development and improvement in security of lives and property of the people of the state.
It reads in part, "We congratulate Governor Nyesom Wike on the recent awards he received as 'Silverbird Man of the Year' and 'The Sun Newspaper Governor of the Year,' respectively. These well-deserved awards are eloquent testimonies that your performance in Rivers State is being closely monitored by the media".
"We commend you for your achievements in the area of infrastructure development, especially construction of roads in parts of the state, and the rehabilitation and remodeling of decaying and abandoned public institutions in and around Port Harcourt, the state capital.
"We strongly believe that your great achievements, which attracted these two awards, will certainly attract more accolades in the nearest future," the union added.
Nigeria Loses $26bn Annually To Gender Inequality
The Nigerian Economic Summit Group (NESG) has revealed that Nigeria loses about $26billion every year to the prevalent gender discrimination.
According to the group, the figures disclosed that on a per capita basis, gender inequality in earnings could lead to a wealth loss of $23,620 per person globally.
This could lead to a projected global forfeiture of about $160trillion in human capital wealth.
Chief Executive Officer at NESG, Laoye Jaiyeola, disclosed this in Abuja at a press briefing on the Policy Innovation Centre (PIC) gender and inclusion summit, yesterday.
He said Nigeria is placed at 139th position among 149 countries on the global gender index rank advocating the need for cooperative efforts toward abating gender-inequality-related losses.
Jaiyeola said, "Although Nigeria remains the largest Joon (Joon means life, spirit or soul) in Africa, every Nigerian will acknowledge that there is still much work to be done as we strive to attain regional and global competitiveness.
"Data show that on a per capita basis, gender inequality in earnings could lead to a wealth loss of $23,620 per person globally, with an estimated global loss of about $160.2trillion in the human capital wealth of which $26billion of this could be recovered if Nigeria is able to close her existing gender inequality gap.
"According to the World Economic Forum 2021, Nigeria ranks 139 of 149 countries on the global gender index ranking pointing to the need for joint efforts toward abating gender-inequality-related losses. The COVID-19 pandemic exacerbated the impact of gender inequalities.
"Women are disproportionately affected by unequal treatment on the basis of gender; men are, however, not left out. A recent analysis by the United Nations (UN) reported that by 2030, for every 100 men living in poverty, there will be 121 women if deliberate steps are not taken to counter the adverse impact of the COVID-19 pandemic.
"The World Bank reports that about 14.9per cent of Nigerians live with some spectrum of disability and a substantial proportion of persons with disability lack access to essential services; with attitudinal barriers representing a significant impediment to their socioeconomic inclusion."
PSC Appoints 2 DIGs, Promotes 12 CPs To AIGs, Elevates 417 Officers
The Police Service Commission (PSC) has approved the appointment of Bello Sadiq, who is currently the AIG, Zone 1, Kano, and Dandaura Mustapha, AIG, Zone 4, Makurdi, to the substantive rank of Deputy Inspector General of Police (DIG).
Sadiq was also appointed to fill the vacant position of DIG, Force Intelligence Bureau (FIB), while Mustapha whose appointment takes effect from October 20, 2022, would be replacing DIG Sadiq, who is expected to retire from the service on the said date.
This was contained in a statement, yesterday, by the PSC spokesperson, Ikechukwu Ani.
Ani stated that the PSC also approved the promotion of 12 commissioners of police to the next rank of assistant inspector general of police (AIG).
According to him, the new AIGs are CP Egbetokun Olukayode Adeolu, Admin Medical, Falamo, Lagos; CP Emienbo Tony Tuesday Assayomo, Kwara State Command; CP Christiana Ibiso Cookey, Welfare, Force Headquarters; CP Evelyn Tamunoimi Peterside, Eastern Port; and CP Eboka Friday, Rivers State Command.
Others are CP Adesina Musbau Soyemi, Nasarawa State Command; CP Asafa Adekunle, CMOT, FCT; CP Edward Chuka Egbuka, Kogi State Command; CP Janet Agbede, Abia State Command; CP Oruebo Josiah Daso, Research and Development, FHQ; CP Olokode Taoheed Olawale, Osun State Command; and CP Abutu Yaro, Edo State Command.
He noted that 57 assistant commissioners of police (ACPs) were also promoted to Deputy Commissioners of Police (DCPs).
They include ACP Suel Yerima Gimba; ACP Alhaji Mohammed Danladi; ACP Richard BalaGara; ACP Lasis Titilola; ACP Obuagbaka John; and ACP Aliko Mohammed Dankoli.
Others include ACP Silas BamideleAremu; ACP Sylvester OnyieUzoefuna; ACP Shaq Ismail Salihu; ACP MagajiIsmaila; ACP Ali GarbaSarbi; ACP Theodore ChukwuemekaObasi and ACP Sarah IdowuEhindero, among others.
Ani added that the PSC also promoted 60 Chief Superintendents of Police to the rank of Assistant Commissioners of Police.
Those promoted are CSP Odion Benedict Aire; CSP GarbaSuleyaro; CSP AbayomiAkinpelu Oni; CSP Badamasi Musa, former DPO 9th Mile Division, Enugu; CSP Rabiu Musa; and CSP BamideleAwoniyi.
The PSC spokesman further stated that the commission approved the promotion of 286 Superintendents of Police to Chief Superintendents, noting that it also approved the promotion of 417 senior police officers.
He added that the PSC, at its 15th plenary meeting holding in Abuja and presided over by the acting chairman of the commission, Justice Clara Bata Ogunbiyi (rtd), also approved promotion examinations for officers scheduled to start from next year 2023 in line with the Public Service Rules.
"The commission had earlier approved the commencement of promotion examinations for police officers from 2023. The commission took notice of the Public Service Rules 020701, 020702, 020703 and 160304 which prescribed examinations as one of the conditions for promotions in the public service, and approved that henceforth promotion examination will be a pre-requisite for promotions in the Nigeria Police Force.
"The commission also approved the setting up of the Police Promotion Examination Board. The 11-Member Board will have a representative of the Nigeria Police Force who must not be below the rank of a Deputy Inspector General of Police.
"The on-going I5th Plenary Meeting of the commission will resume on Thursday, October 6, 2022, with an interactive meeting with Deputy Commissioners of Police recommended for promotion to the rank of Commissioners of Police," Ani stated.
Flood Engulfs Communities In ONELGA …As Ubie Monarch Cries For Help
No fewer than six communities, including some government primary and secondary schools have been engulfed by a surging flood in Ogba/Egbema/Ndoni Local Government Area of Rivers State.
This is even as the Eze Igbu Ubie of Ubie Kingdom of Ahoada West Local Government Area, Eze Okpokiri Augustine Maxwell, has cried out for help to salvage his people from being completely submerged, and blamed the Federal Government for failing to do the necessary things to check the perennial flooding in his kingdom.
According to the reports, the affected communities are Obiofu, Utu-Umuoriji, Ase-Azaga, Ogbeogene Utuechi and Agwe, among others.
All the communities are said to be within the Ndoni axis of the local government.
Though details of the incident are still sketchy as at press time, sources within the affected communities said that residents were having hard timessalvaging their properties and farm produce as the surging flood water is speedily overrunning most parts of the area.
However, in an interview, an Environmentalist, Ikechukwu Ojoba, said some other communities were also being threatened, and may be submerged soon.
He mentioned the communities being threatened toinclude: Kriegani, Aligwu, Idu-Obosiukwu, Idu-Osobile, Agbogwe, Usomini-Omoku, Obieti 1 and Ebeocha, respectively.
According to him, a fact-finding mission,which was carried out last Monday, revealed that farmlands and crops worth millions of Naira had been badly affected by the flood.
The affected residents were said to have been confused as a lot of them donot have any alternative place to relocate to.
Attempts to reach officials of Ogba/Egbema/Ndoni Local Government Area were not successful as at press time, yesterday.
Meanwhile, the Eze Igbu Ubie of Ubie Kingdom of Ahoada West Local Government Area,Eze Okpokiri Augustine Maxwell, has blamed the Federal Government for failing to do the necessary things to check the perennial flooding in his kingdom.
Okpokiri, who said this in an exclusive interview with The Tide in Port Harcourt, said his people were helpless in the face of the surging flood water.
He said, "The flooding issue is a very sympathetic situation as far as Ubie Kingdom is concerned
"They said we should move to higher grounds.How do we move?Who will help us? As far as I am concerned, our people are helpless", he said.
The royal father regretted that Ubie Kingdom had not received any assistance from any quarters as far as flooding was concerned, adding that the kingdom had lost properties, including human lives to flooding.
"Ubie has lost buildings, farmlands, including lives in the last three years to flooding, and there is no assistance from anybody", he said.
He said farmers in his kingdom were now in panic, adding that some of them have started harvesting crops to avoid being destroyed by the coming flood waters.
"Our farmers have started harvesting crops that have just been planted".
He also said the last flooding rendered many of his people homeless, stressing that those affected were yet to recover.
Okpokiri faulted claims by the National Emergency Management Agency (NEMA) that relief materials were donated to victims in previous years, stressing that none of his people received relief materials from any Federal Government agency.
According to him, as the king of the Ubie Kingdom, his palace ought to be aware of any agency or company bringing relief materials to his people, alleging that the relief materials, if any,may not have been given to the right people.
The king blamed the Federal Government for not doing enough, stressing that proper attention were not being given to the issue in the Orashi region.
The National Emergency Management Agency (NEMA) had recently directed communities in the Orashi part of the state to begin to move to higher grounds as the region may be affected by massive flooding this year.
Some residents of Ubie and Engenni kingdoms, who also spoke on the issue, said government did not help them during previous flood incidents.
They called on the government to dredge the Orashi River to facilitate the free flow of water into the Atlantic Ocean.
By: John Bibor & Oreoluwa Adigun