A Night With A Music Legend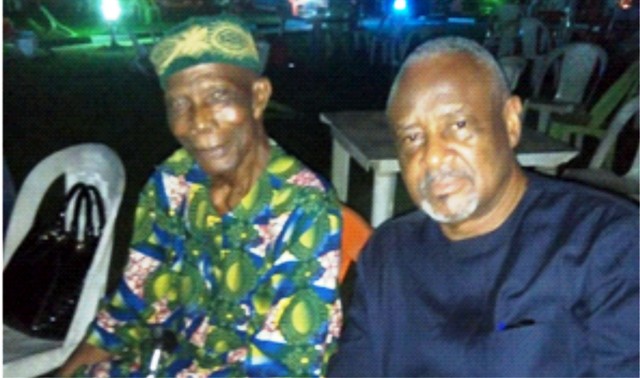 Rising from the South-South seminar of Real Estate Developers' Association of Nigeria (REDAN) in Calabar on Thursday, February 15, 2018, a seven-man team of the Rivers State contingent decided to spend the night in Abak for the dual purpose of early arrival in Port Harcourt the next day and a musical pilgrimage to meet the legendary Emmanuel Ntia whose Solo Hit smashed the highlife charts in1962 and has remained one of the all-time greatest hits of the highlife genre. I was excited to be part of the team.
When we turned left at Itu junction, I called Goddy Oku (ex-postmen, silhouettes and hygrades) and confirmed the phone number of Emmanuel Ntia. A second call got him on the line and the direction to his abode was given. Our expectations were, indeed, high.
Eventually, we arrived at the home of the legend who, incidentally, was hosting two of his daughters and grandchildren. Igwebuike Francis Ifi, Emmanuel Ikata, Edmund Amaranjo, Israel Okenwa, Otuekong Goddy Jacobs, Barinua Zitte and I introduced ourselves. Ntia, on his part, introduced his daughters (Glory and Mabel), his son, Pastor Israel and Okuku Saaforo, his music "son" who is expectedly dexterous on the saxophone.
By 9.30pm, the impressive crowd had taken over a corner at the Tilapia Island Resort, which is only a yodel away from the Ntia residence.The presence of Ntia, who at 92 still reads without glasses, with eyes that still twinkle youthfully, and still struts with the rebellious arrogance of the swinging sixties, attracted many patrons of the Tilapia Resort to the corner where the music legend sat. This attests to his indisputable status as a living legend.
All settled in, I narrated the essence of the pilgrimage thus:In 1964, Emmanuel Ntia came to Omoku, in the present Ogba/Egbema/Ndoni Local Government of Rivers State with his Eastern Stars Dance Band to promote Solo Hit. The song commenced with a feverish and compelling guitar riff that forced people to the dance floor. At the commencement of the guitar interlude of Solo Hit, I sneaked through the palm frond fence that secured the venue, jumped on the dance floor and danced in the then popular highlife choreography known as ajasco.
Following the conclusion of Ntia's saxophone segment of the interlude, I joined him on stage and sang Solo Hit with some dexterity and the appropriate body moves. After the performance, which was the grand finale of the show, Ntia tapped me on the shoulder and said: "Ol'boy, you'll be a good musician."
That casual comment struck me and stuck to my teenage mind as I read the word "Ol'boy" as peer approval:"Emmanuel Ntia says I will be a good musician,WOW!" I soliloquized. I was on cloud nine.
While the audacious act with Ntia made me talk of the town and the acclaimed hero of the youths, it thoroughly embarrassed my devout Christian parents. Again, the fact that there was an amatory innuendo associated with Solo Hit was a great outrage to the parson and laity of St. Michael's Church, Omoku. Solo Hit was sung in what Ntia branded as "fish language," which is a musical mumbo-jumbo coined as igenyem nwancholonwu in Igbo language by Mazi Ukonu, Nigeria's pioneer TV impresario and comedian of blessed memories.
The Ukonu coinage translates as "would you give me nwancholonwu?" and Nwancholonwu, another formulation in Igbo, was mischievously inferred as the female genitals; this implicit erotism was the source of the controversy and, incidentally, the song's success.
Furthermore, on the heels of the success of Solo Hit, a mischievously ingenious manufacturer produced an oval-shaped plastic purse that opened like the female organ and named it "nwancholonwu purse."So, the song and the purse were very successful in the music and commodity markets, respectively. At this stage of my narrative, IgwebuikeIfi interjected with the confession that he bought the purse for numerous damsels who took the bait.
One year after the freak performance with Ntia, I was arraigned before the historic juvenile court sitting in Omoku for singing a love song to the numerouno Princess of Ogbaland. Discharged and acquitted at the court, I bought my first guitar the next year, at 16.
The following year, I co-founded the Hardnuts in Port Harcourt. Thereafter, I co-founded the Silhouettes (with Goddy Oku, Justus Nnakwe and Donatus Nwadike) and jammed with Osita Osadebe and Sunny Nwamama during the civil war. At the end of the war, I did a couple of gigs as a solo artiste, formed JP Duet with Peter OC Adiuku-Brown and flirted musically with Rex Lawson, Sony Brown and David Bull before JP Duet morphed into the Blackstones Band. During the Blackstones years, I jammed with the Strangers, Funkees, Hygrades, Geraldo Pino, Erasmus Jenewari, Founders 15, Aktions and Burstic Kingsley Bassey before family leashed me back to school.
Today, while I've found incomparable fulfillment professing development studies in a university, I still play the guitar every day conscious of the fact that music is my primary constituency. Doubtlessly, a major element of my mission on this leg of the eternal journey of atonement (at-one-ment) with the Divine is to make people happy through music. Will I still do that? My children insist and I intend to oblige them and, therefore, fulfill the Ntia prophesy. After all, life begins when you wake up! Yes it does.
Finally, in a previous newspaper article titled "Song for Unsung Sons of Songs," I eulogized, Erasmus Jenewari, King Sony Brown and George Iboroma and bitterly lamented the fact that these worthy ambassadors of Rivers State were not accorded the recognition they deserved by the people and government of the State before their demise.
It is, therefore, my humble submission that Emmanuel Ntia, who effectively projected the language, culture and image of the area now known as AkwaIbom and Cross River States through his songs and won the Golden Gong at the 1977 Festival of Arts and Culture (FESTAC), should be treated as the living legend he is.
Therefore, I suggest that since Ntia is still very strong and still plays his saxophone, a tour of AkwaIbom and Cross River States should be organised by the Ministries of Culture and Tourism (or by whatever name) and the radio, television and newspaper corporations of both States. I hereby offer to bring along my guitar on the tour and I am certain the idea will tickle the fancy of the two state governments. Incidentally, there is a brand that will naturally sponsor the tour if it is captioned Weekend With A Legend.
Osai is of the Institute of Foundation Studies (IFS), Rivers State University, Port Harcourt.
Jason Osai
That Drowning Dino Melaye's Outburst Against Wike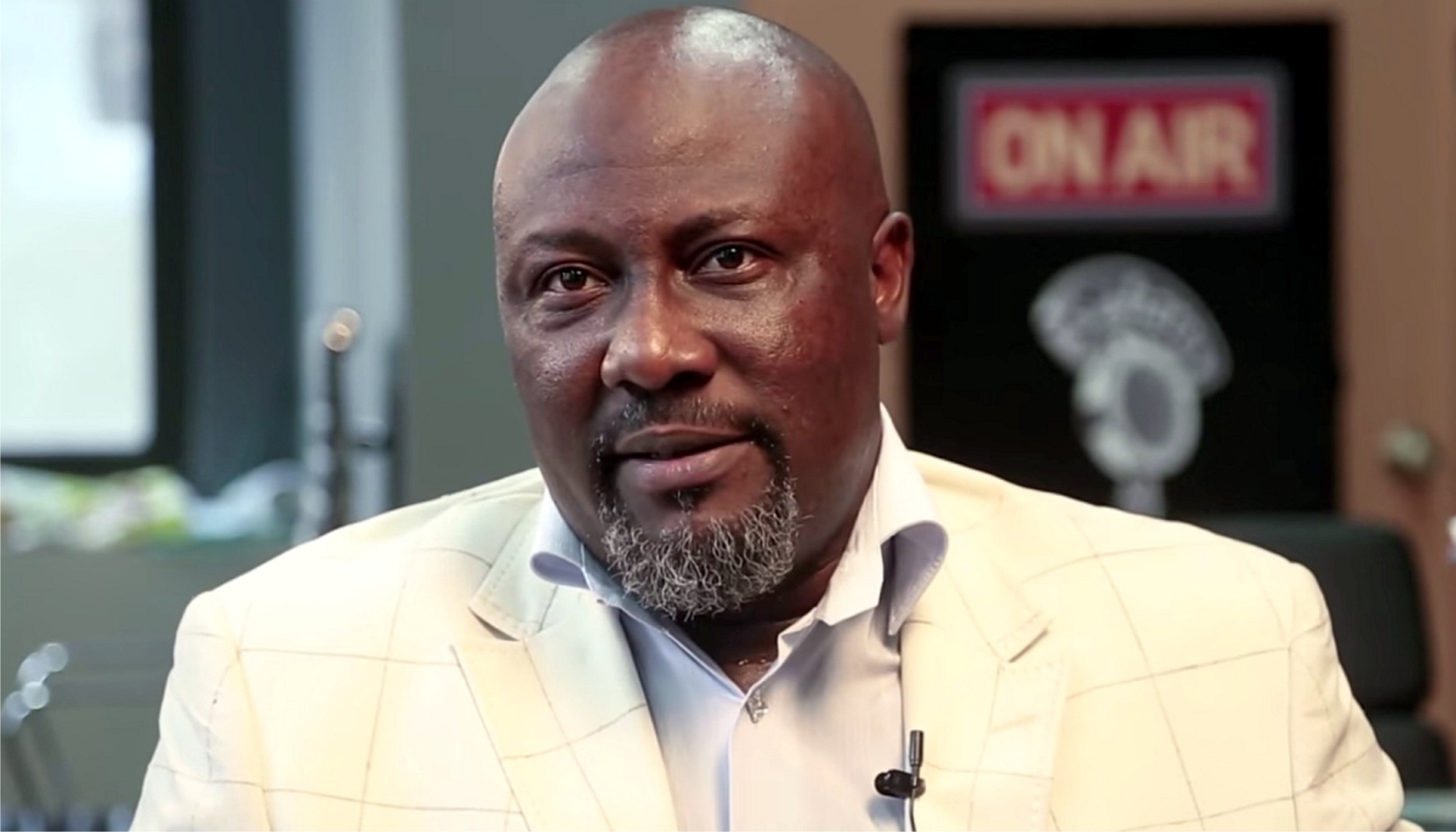 Spewing from the cesspit of imaginary invincibility and bubbling with the arrogance of ignorance and like a nattering nitwit, in his usual juvenile fulminations, verbal diarrhea and audacious mendacity, the silver-tongued Dino Melaye who has been hovering around the skylines of political failures threw a java with such intensity as to make a gravy silence impossible. He was casting aspersions in a most vile and vituperative language and in such depraved light to a man who has been adjudged as a metaphor for promises made and kept, a performance personified, a manifesto copied, a social contract executed and in the legal profession, a life bencher.
Amongst his counterparts "Mr. Project" and further embellished as "Mr. Quality Project". In the Northern political hemisphere "Sarki Yarki" a sobriquet for political warlord. The man at the center of Dino's tantrums is Governor Nyesom Wike of Rivers state.
Dino granted an interview with the ambassadors of the fourth realm estate in his bid to play to the gallery but ended up reaffirming the invigorating words of Dr. Burns that "it is better to keep silent and be thought a fool than to speak and remove all doubts". In that verbal show of shame, he admitted that Governor Wike supported him in hard currency and otherwise in 2019 in his fruitless political journey to captain the ship of Lugard House because Governor Wike saw capacity and competence in him, but today he has withdrawn his support to show Wike's unstable character. Wrong Dino! Even the Bible said that Satan was perfect in all things until iniquity was found in him – Ezekiel 28:15. Yes! Dino failed to tell the world that Governor Wike later discovered that he was a native cymbal loud in noise but empty in content which translated him to be a very bad political investment.
Who in his right senses will reinvest in an unprofitable venture? He listed out Governor Wike's failed political investments in Sandi Olu of Cross River, Albert in Akwa Ibom but mischievously and surreptitiously omitted Dino Melaye of Kogi state. What an incomplete trinity! What a despicable irony of intellectual hypocrisy. Little wonder with his nine acclaimed degrees, a former member of the House of Representatives, a two-time senator and a former aid to the president of the federal republic of Nigeria, the good people of Kogi state saw the word "meretricious" in Dino, meaning: seemingly attractive but without value, and they did not hesitate to throw his vaulting ambition to the trash bin in 2019. Instead of Dino to go back to the drawing board, have a sober reflection and reinvent himself and reintegrate himself to the society, he is busy with a matchet clearing shrubs and bushes for his political Golgotha. That was where Governor Wike was drawing his allusions from when he posited that it is not about presenting a candidate but a candidate that can win election.
It is on record that Dino Melaye is reputed for his hollow mindedness in dishing out noxious vituperations, venomous invectives and narrow parochial attack on elders and champions in giant strides and track records in Nigerian political firmament to foist his voice on unwilling audience. He did that to former President Goodluck Jonathan, to the (president elect) Bola Ahmed Tinubu and now to Governor Wike. Many Nigerians are wondering the efficacious potency of Peter Orubebe's serum on Dino by his toutish, disgusting display of dishonor at the Abuja collation center in his failed attempt to disrupt the 2023 general election process. Today, Goodluck Jonathan is much celebrated as an ambassador of peace. Political events have shown that a Tinubu in the wheelbarrow is more competent than Dino's preferred presidential candidate. Governor Wike's preferred successor has emerged as the Governor-elect of Rivers state. Ayu has been shown the way out. Tambuwal has summersaulted from the highest rung of respect. Sanwo Olu made it in Lagos state. The unsuccessful G-5 Governors have realized that they were the architect of their own fate. They lit the candle and allowed it to burn with the unfortunate end. In political investment like other business investments, you win some and loose some.
Again, Dino Melaye threatened to open his can of worms and maggots on Governor Wike and by extension would make a skit, sing and release album on him. He forgot he was addressing a character and personality that is not too docile to dare. Governor Wike is not perturbed because he has gained freedom from fear tailored by the likes of Dino because Wike is ever ready to face him in any style of the macabre dance that may arise from such conspiracy of cheap blackmail. Worse still, in Dino's unscrupulous attempt to throw dust on intellectuality, he ended up loading a full cartridge riffle and started shooting himself on the leg by accusing Governor Wike of stealing Rivers state money. Is the intellectually mobile fine boy Dino telling the world that he was actually cladded to look boisterous and attractive to gain acceptability and credibility from Kogi state people with Rivers state stolen money? Is Dino guilty of receiving stolen money? It then follows that if events are properly evaluated, the psychotic disorderliness, mental fatigue and problem upstairs was a direct result obtained from Dino's personal medical physician.
The self-obfuscating Dino prided himself of being more qualified to be a Governor than Governor Wike. He further asserted that "the territory which Governor Wike is trying to practice is his own primary constituency". One wonders the logic in such utterance. Has Dino Melaye ever tasted Executive power? Governor Wike is brandished with an unquestionable and robust political pedigree and personality spanning from a two-term Local Government Chairman, Chief of Staff to former Governor Rotimi Amaechi, Minister for state Education, Supervisory Minister of State and by May 29th 2023 he would've concluded his two-term tenure as Governor of Rivers state. If the linguistic summersault is anything to go by, who is laboring to practice in the other's primary constituency? A sheer case of "if you want to talk, don't drink. And if you drink, don't talk".
As a party chieftain in PDP, Governor Wike has been as consistent and constant as the Nothern star, yet political prostitutes like Dino Melaye had the temerity to use such foul language as zero-integrity character on Governor Wike. As someone grounded in Yoruba language, Dino Melaye chose to identify himself with a pariah status and a tag identification of treacherous people (gbegboron) when he said "my primary business is other people's businesses". This invariably includes knowing the type of clothes people wear, knowing the time the speaker of the House of Representatives arrives, knowing who was smiling, frowning, when a bill was mentioned in the Senate, who called him and how many times. This is the height of pettiness. See him at his lowest ebb, shame!
Let us burst Dino Melaye's bubble as to whether Governor Wike is preparing to leave the Brick House come May 29th 2023. Governor Wike is the only Governor in Rivers state who has chosen to leave the government house two years before the expiration of his tenure and has been receiving all manner of political candidates cutting across political divides in his own residence. And he is not intellectually impotent as not to know his last day in office, he also reiterated these facts in his address at the dinner party held in his honor for receiving the Award for Infrastructural delivery by President Muhammadu Buhari.
Cynics may cheer and congratulate Dino for his pyrrhic victory at the just concluded PDP primaries in Kogi state but one is tempted to add that there are some victories that are worse than defeat. Dino by his earlier vituperation have succeeded in turning the incumbent Governor against himself, the president elect who he has been derogating in a most uncharitable manner during PDP campaign rallies and now to the political juggernauts in PDP. All political amoury is now let loose against Dino Melaye. If one is given the option to choose between laughing first and to laugh last, one would rather opt to laugh last.
By: Nkem Oputa
May 29: Where Next Nigeria?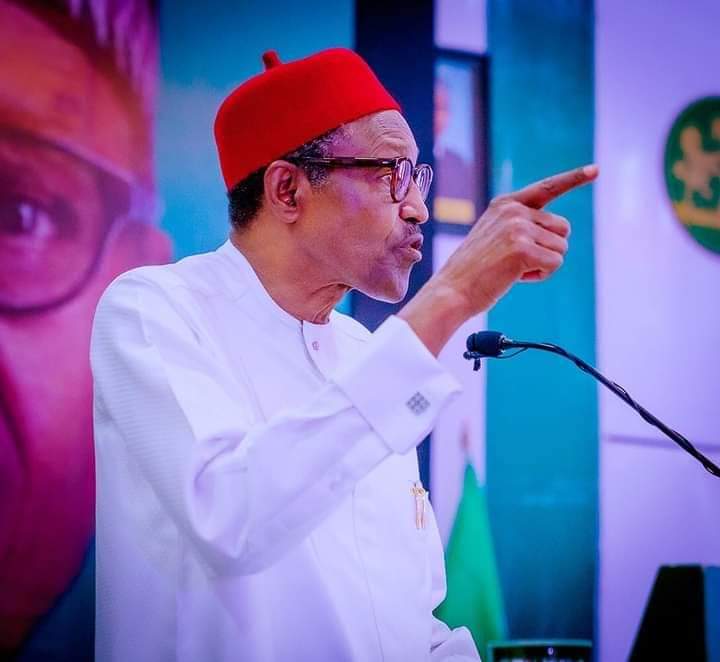 Now, Nigeria is without form and void. Darkness covers the face of the deep and the unquiet Spirit is hovering over the land. Africa's most populous country is at a fresh dangerous crossroads. At the beginning when darkness covered the earth, God said: ''Let there be Light,'' and there was light. Now, Nigeria needs a leader who will command light to outshine the country's darkness and exorcise the unquiet spirit. Once a country returns to factory-reset mode or Hobbes's state of nature: Optimism, Peace and Hope disappear, none of our important human needs is reliably realizable in such a milieu.
Indeed, the perfect storm is already gathering, killer herdsmen have since cut short their vacation, they visited an IDP camp in Benue state and massacred over 128 internally displaced people mostly pregnant women and children recently, before zooming off to Sokoto, they had a stopover in Kaduna where reckless kidnapping and killings took place. The DSS came out publicly to declare that the State of the Union is fragile as some VIPs are scheming for something strange to the constitution, threatening that the price of holding the May 29th change of baton event amounts to the death of democracy! Those calling for an interim government seem to be suffering from amnesia, I believe. How productive and stable was Nigeria in 1993 under Chief Ernest Shonekan as Head of ING? Even though protest is part of democracy but due to our peculiarities, unbridled protests at this perilous time can snowball into an uncontrollable disaster. Political protests in a nation-state can bring about a positive change or in some cases, revolution: France, Russia, and Sri Lanka as case studies. However, in a fragile heterogeneous society like Nigeria, political protests often lead to civil war: Ivory Coast, Syria, Rwanda and Fiji as case studies. The youths are fragmented along the nation's fault lines, which is why the elites must be circumspect in their utterances. Somalia began like this before it became a failed state bereft of a central authority. The court remains the last hope of all aggrieved politicians.
No doubt, Nigerians are hurting for various reasons, how long can we run away from discussing the Nigeria Question?  To achieve a peaceful, prosperous and stable Nigeria (PPSN), we need to balance the national equation by either allowing: (a) credible, free and fair elections, or (b) equitable sharing of power among the nationalities, regions and religions in an unadulterated federation, (America model) or (C) considerable autonomy for each nationality in a loose confederation, (Switzerland spec) or (d) self-determination through a referendum for nationalities that desire to exit the union (Czechoslovakia option). Therefore, PPSN= A or B. But where A & B are unavailable or impossible, C or D may become inevitable.
Nigeria faces four possibilities today: Breakout, Breakeven, Bronze or Breakdown. Differently put, Nigeria can become a Gold Medallist (i.e. become Great) or a Silver Medallist (i.e. Good) or Bronze Medallist (3rd world) or Grounded (failed State, CKD- Completely Knocked Down) depending on the choices we make today. To achieve a breakout requires abundant decentralization with a new people's constitution that contains a referendum clause. This will put an end to the do-or-die struggle for power at the Centre, reduce corruption and wastage, and enthrone accountability and healthy competition among the federating regions. There is no heterogeneous society anywhere or at any time in history that is governed centrally the way Nigeria is, that escaped circular crises, retrogression and eventual disintegration. The lifespan of severely mismanaged countries is about 70 years! The early bird civilization, Europe, fought themselves to a standstill for 100 years before they embraced restructuring, which begot relative peace and unprecedented prosperity. China, South Korea, Singapore, Norway, UAE etc. are new gold medalists.
The second possibility is breakeven (Silver medal). Through a comprehensive reconstruction of the economy's architecture, running a lean government (e.g. sales of all government assets starting with NNPC, etc. This will reduce corruption by 80% as governance would depend solely on an effective taxation regime. Square pegs would go inside square holes when the government exits the business. Businesses in Scandinavian countries pay up to 50% tax on net profit which enables them to build an egalitarian society with the lowest crime rate in the world. Thailand, India, Turkey etc. are silver medalists.
To win the bronze medal, Nigeria needs to strengthen her institutions, deepen the rule of law, modernize her infrastructure and build harmonious bridges across various nationalities and boost productivity, tame corruption. Rwanda,  Bulgaria, and Indonesia are some examples bronze medalists.
The fourth possibility is CKDN – Completely Knocked Down Nigeria, i.e.  Breakdown/ Grounded, enmeshed in unwinnable, forever war. Failed states like Lebanon, Syria, Yemen, Iraq, Venezuela (with the world's highest oil reserves of over 300 billion barrels) Somalia, Afghanistan etc. behaved like an ostrich for too long, ignoring the signals, sound and odour of disintegration. America's CIA had strongly warned Nigeria in 2015 about CKDN! The incoming administration should, instead of continuing to administer "pain-killer drugs", go for a "pain-remover surgical operation"! Nigeria's vital organs (liver, kidney, eyes, lung and heart) are all too weak and failing, pumping Nigeria with more ''Panadol'' or 'Panadol Extra' will ultimately lead to stroke. Nigeria should be wheeled immediately to the emergency theatre for a ''pain-remover surgical operation''.
*Lessons from Breakout Nations*!
All breakout nations got four variables right simultaneously: workable structure, sound strategy, competent leadership, and ethically ''born-again'' population. Nigeria's emphasis has been largely on strategy: visions 2000, 2010, and 2020, the 7-point agenda of YarAdua, the Transformation agenda of Jonathan and the 63-point agenda of the Buhari administration- ignoring the other three variables. The result has been repeated failures and frustrations. There is also the Leadership illusion, i.e. that all Nigeria needs to become a gold medallist is just one 'Messiah'. No. For any country to win a gold medal, those four variables must be present.
Nigeria cannot be great without a Cultural Revolution, i.e. national rebirth coupled with structural reforms. Everyone seems unhappy about Nigeria's stunted growth, pointing accusing fingers. The university dons who practice sex for marks, the media empire who built their wealth on blackmail and cash-for-awards, the spare parts importers who import substandard spare parts from China that cause road accidents and deaths, the Pharmacists that import fake drugs from India leading to an outbreak of diabetes and kidney failures, the businessmen who became rich on fraudulent fuel subsidy and kick back on tax weavers, the Pastors and Imams who use offerings and tithes and gifts meant for the general wellbeing of their members and the society to buy private jets and marry 4 wives, the Yahoo Yahoo! Youths, the corrupt civil servants who pocket 80% of the contract sum as kick-backs, the artisans and market women who abuse customers trust, the disabled people on the road who help criminals hide their guns and the terrorists among us are all complaining about the sorry situation Nigeria without first removing the log in their own eyes. Before their respective cultural revolutions, life was short, brutish and nasty in both China and South Korea. We urgently need to have a conversation on national rebirth as a people.
*10 +1 Commandments for the President-elect*
1 Thou shall not remove the remaining fuel subsidy until you have substantially removed the youth's pains.
2 There is an urgent need to embark on the following 7Rs: reconciliation, recalibration, rebirth, re-education, re-industrialization, re-construction and rebranding.
Remember that Czar Nicholas 11 (1868- 1918) crowned in 1894 was the last Russian emperor. He was stubborn and underestimated the hunger and anger of the Russians after WW1, he ignored the signals and sounds of the hopelessness of Russians by refusing to carry out necessary and quick economic reforms that would bring abundance and hope to his people. Thus Nicholas 11 was forced to abdicate on March 15th, 1817, through popular uprising and on July 17th, 1918, Emperor Nicholas and his entire family and their closest associates were gruesomely murdered, and their remains soaked with acid and burnt, thus ending the 300-year-old Romanov's dynasty rule.
3 Thou shall not fill your Cabinet with recycled, corrupt political jobbers.
Allow those ''flying CVs'' to remain in the air forever. Those who can make Nigeria a peak performer and Gold medalist are already too busy to be flying their CVs around. Getting them would only be through headhunting and serious persuasion. Those corrupt, recycled characters lobbying to serve have little or nothing to offer since Nigeria became the world's poverty capital under their watch, they don't deserve a second chance.
4 Thou shall prioritize meritocracy. Nothing is wrong in advertising certain critical cabinet positions such as Ministers of Finance, Education, ICT, Solid Minerals and Petroleum
5 Thou shall not appoint yourself as Petroleum Minister. Presidents OBJ and PMB did it, they both failed.
Of all the OPEC countries, Nigeria is the only one that does oil business at a loss. Nigeria has the lowest per capita income and weakest national currency among the major oil exporting countries. Prosperity is a rule among OPEC countries except Nigeria. In 45 years, Nigeria recorded profits only in two years but it was  *rat profits* For instance, Saudi Arabia posted a whopping profit of $161 billion in 2022.Norway (average sales of 1.2mbd) has in her Sovereign Wealth a gargantuan sum of $1.3Trillion, and in 2020 during C-19 when Nigerians were severely hurting and hungry, Norway realised the sum of $180billion profit from her oil investments dividends in technology companies. Here is a simple example of  national insanity: Nigeria's total profits from her sales of oil in 45 years were N287 billion in 2020 and N674 billion in 2021 i.e. N961 billion or $1.2billion (@N750:$1) gross. The total money in the Nigeria Sovereign Investment Authority (NSIA) is about N1.02 Trillion (i.e. $1.2 billion vs Norway's $1.3 trillion, less than 1% of Norway's Sovereign wealth.
The advertisement for the position of Petroleum Minister should read: *Nigeria needs a person who can bring the cost of sales and profit per barrel of crude oil exploration and processing to be at par or close to that of Norway, Saudi Arabia or UAE, plus or minus 20% environmental exigencies* What is wrong with headhunting Norway's Minister of Petroleum and Energy (Terje Aasland) as the next Nigeria's Minister of Petroleum, under a management contract of 90:10 profit sharing in favour of Nigeria? He made about $90 billion selling 1.2mbd for Norway in 2022. After all, we have people from the Niger Republic holding sensitive public offices in Nigeria. Conversely, we have had Nigerians as Ministers of Economy in Togo and Justice in the Gambia. And Nigerians are holding sensitive cabinet positions in America and the UK.
6 Thou shall create two new Ministries: Ministry of Future to be headed by a Nigeria prodigy, likely under 30 years of age. Two, the Ministry of Renewable Energy. The future would be dominated by Space innovations and Artificial Intelligence (Ai). The bus is already moving, our youths cannot afford to be bus conductors, they should be in the front seat of the 4.0 revolution. Furthermore, the market value of the renewable energy business is forecast to be more than $ 2 trillion by 2030, whereas oil has less than 40 years before it becomes satchet water.
7 Thou shall abolish the office of *Aso Rock CABAL* because it is unconstitutional and anti people.The ''cabal'' engineered the annulment of the June 12, 1993 election according to IBB. GEJ's Cabal made him clueless. PMB's Cabal held him, hostage, in the Villa according to PMB's wife, Aisha Buhari. Allowing your closest political and business associates, the Vice President or your wife or son or daughter to form a new cabal is like signing an irrevocable MoU with failure, because the ''Cabal'' is not on record for positive contributions.
8 Foreign Policy: thou shall not drag Nigeria into the China-America-Russia supremacy battle. There is a window of commercial opportunity worth $250 billion in the energy sector that has opened up in Europe as a result of the Russia-Ukraine war which the incoming administration can harvest. The geopolitics sands are shifting but smart nations like Israel are playing it safe: Prime Minister Benjamin Netanyahu is smartly cutting deals with Russia' Putin, China Xi and America's Biden simultaneously without dropping any of the 3 balls for the overall benefits of his people.
9 Thou shall not waste the Globalization crisis: There is a gradual sunset on globalization: Japan is relocating most of its factories from China to Japan. America is building a new semiconductor factory in Arizona, as I write, to reduce its vulnerability in Asia which controls 70% of the global semiconductor output, Germany is looking inward for its energy needs etc. Today, Regionalization and nationalism are coming back as valedictory services are being held for Globalisation, even in her home country, America. Nigeria should optimize the AfCFTA opportunities, as most of what Nigeria needs to succeed can be found inside her ''Sokoto'', why travel to Sokoto?10 Global hunger crisis is real: thou shall prioritize food security from day one: an empty sack cannot stand. Globally, 10% of the population has little or nothing to eat and 70% of them are in Africa. About 133 million Nigerians are living below the poverty line. However, there is zero chance of solving the food crisis in Nigeria without first addressing the security challenges posed by the Fulani herdsmen. The Vice President's (Shettima) first task should be to head the ANTI-TERRORISM TASK FORCE (ATTF) that will end terrorism in Nigeria within your first 100 days in office.
10+1: Thou shall not complain: likely, you would soon lose two vital things: sleep and smiles! As you peruse Aso Rock's ''top secret'' books, which would most likely be like a horror movie with stomach-churning violence. Every country has ''classified information'' meant for the C-in-C eyes only. My intellectual guess is that the horror movie would contain scary graphic details of Nigeria's deplorable basket of trouble, e.g. the high debt profile, NNPC woes and possible bankruptcy of Nigeria within months, not years, the implication of a 40% youth unemployment rate, list of untouchable VIPS behind oil bunkering and political terrorism. The reason behind the dubious CBN complicated naira exchange rates and those profiteering from it, details of irrevocable agreements to service with China and the West. There will also be pressure from the World Bank and America on the removal of the remaining fuel subsidy, caustic antagonism from different quarters for different reasons and how to fulfil the election IoUs which you gave to different power blocks, etc., etc.
Poverty and pains have no equilibrium, therefore, the situation can even get worse with the possibility of a cascading crisis within the first 100 days, as it happened in 1999 when OBJ took over and in 2011 with GEJ. Nonetheless, be strong, courageous, and audacious. Thou shall not complain, for thou waited, toiled and prayed for 30 years, now is your hour, seize the moment.
To fix Nigeria is like cooking stones for dinner, the water and the fire dry up quickly, yet the stones remain uncooked and squeezing water out of the stone becomes impracticable! The statistics is scary but true: 30% of the past ''Nigeria's chef'' expired suddenly or got violently killed on duty, another 30% were forcefully and unceremoniously disgraced out of the kitchen while the reaming 40% are still baffled (some incapacitated) till today asking ''what went wrong, how and why did I fail''. It is like a zero-sum game for Nigeria's chef. Worse still, the outgoing administration has used the last political ''LIFELINE''. The youths are tired of the Aso-Rock sermon of *dinner-not-ready, they want DINNER NOW*!
In all this, there is hope, transforming a complex country is not rocket science, it is doable. In recent world history, three outstanding leaders found themselves in similar situations and seized the moment, and against all odds, squeezed the water out of stones. However, the three didn't loot the treasury and didn't allow their associates to loot. Indeed, they killed their kleptomaniac associates. They practiced meritocracy. My favourite books in my library are Ben Gurion, the man who created Israel, The Story of Singapore by Lee Kuan Yew and Deng Xiaoping and The Transformation of China. Unarguably, Gurion, LKY and Deng were nothing short of miracle workers. Can we replicate what happened in China, Singapore and Israel in Nigeria? Yes.
*Pathway to Silver or Bronze Medals*
Smart nations are run the way Apple or Google run their businesses. There are five questions which smart transformative CEOs ask when trying to make an Elephant dance. Nigeria needs to ask those five questions as well. One, what is left on the table that Nigeria can grab quickly and use as a stepping stone, or make better- X+1?
Two, what is coming next on the horizon that we can enjoy the "first-mover advantage"? Three, what capability as a nation do we have?
Four, what capabilities do we need?
Five, how do we get there from here? All smart nations (South Korea, India, Singapore, Taiwan, Malaysia, Israel, UAE, Sweden, Norway, Germany etc. without exception built their respective successes on those five pillars.
Indian elites took a bet on software as a business (the first India Institute of Technology- IIT, was established in 1951, in Kharagpur). Today, Indians in the diaspora remit over $100 billion yearly back home and most of the global technology companies are run by Indians. Taiwan bet on chip making and established the world's first semiconductor foundry, TSMC in 1987. Today, no Taiwan, no civilization! South Korea's economy runs on five legs: electronics, telecommunications, automobile manufacturing, shipbuilding and steel. Today, Samsung Electronics alone contributes about 17% to the GDP of South Korea, realizing $246 billion in 2022, i.e. more than five times Nigeria's yearly oil revenue. China zeroed in on building competence in the Global Supply Chain. Within 30 years, China went from zero to hero. Of the 100 countries I have studied in the last 10 years, the Thailand model fascinated me greatly. Thailand with about 70,000 villages, set up what is called ''ONE TOMBON, ONE PRODUCT'', with a beautiful slogan- 'Local Wisdom, Goes Global'. Each village (Tombon) has a product (based on their cultural and environmental competitive advantage) that they focus on and each village builds an ecosystem for backward and forward integration around it. Nigeria can start with the 774 local government councils: *One Council, One Product*- *OCOP*.  For instance, the Benin people are the world's best of all time in Bronze making, we need to build a Bronze making industry ecosystem there in, for export. This can fetch over $1billon yearly income.
*Questions & Answers for Nigeria*
1 What is left?
Answer: There are four major revolutions on going as I write: Electric Vehicles Revolution, (EVR),  Space innovations, 4.0 skills, and Global Food crisis affecting 800 million hungry people worldwide. Those four problems constitute the new opportunities.
2 What's next?
Answer:  Space commercialization, Defence innovations, Artificial intelligence solutions, Medical breakthrough in incurable diseases, Climate change solutions, currencies innovations.
3 What capabilities does Nigeria have: robust population of 220million with 52% youths, 40% arable land, a huge diaspora population, Dangote, and about 270 types of mineral and natural resources (only Chinese know the exact numbers, locations, and quantities and quality- I am not exaggerating!), Atlantic Ocean, Sambisa Forest, Lagos, AfCFTA, abundant sun and favorable climate, Diverse nationalities, untapped Africa market, etc.
4 What capabilities do we need?
Answer:  rebirth, recalibration, elite consensus, re-industrialization, youth employment, infrastructural modernization, technology solutions to combat desert encroachment in the North and purposeful leadership, etc.
5 How do we get there from here?
Answer: Electrical vehicles are the future, by 2030, Europe will stop the production of vehicles using gasoline. By 2032, 75% of American vehicles will be EVs. Interestingly,Nigeria is one of the few countries in the world that has all the eight mineral resources required to build a complete ecosystem for EV manufacturing: Cobalt in Kano, Lithium, Nickel, Cooper, Graphite, Zinc, Manganese and Rare Earths. They are all available in Kaduna, Nasarawa, Kogi, Plateau, Benue, Borno, Adamawa, Kebbi, Cross Rivers Katsina and Ekiti.
There will be an unusual quantum leap in EVs businesses.
Nigeria should build a new ''renewable energy hub'' that will employ over a million youths within the next two years through private initiatives. The leading global battery supplier, CATL which controls 34% of the world's EV batteries should be invited to site its factory in Nigeria for the European market fulfilment. Nigeria is closer to Europe than China. And instead of the crude ways Chinese employ currently to steal some of there mineral resources that is the source of unending communal crisis in some part of Nigeria, let us sit down with the Chinese to stop the *Monkey Business* and let us do a clean and proper win- win EVs related businesses, going forward.
The global electric car market was valued at $229b in 2021 and is projected to reach $700 billion in 2030 growing at 17.30% yearly.
Another one million youths can be absorbed and become gainfully employed through innovative and customized JAPA INITIATIVES plus the New Business Process Outsourcing package (NBPO), using the instrumentality of 4.0 industrial revolutions solutions and skills. From NBPO, Nigeria can begin to earn up to $ 50 billion in inflows from June 2024 I.e. *delicious food is ready within 12 months* The Philippines is number two globally in BPO, and India is number one. Nigeria can be number three: *the youths are ready when the government is ready*  There is no better sector to invest in the $800 million World Bank grant than NBPO (RoI is massive and fast, with no competition). Concomitantly, Nigeria would need to create two new banks: Nigeria Start-Ups Bank (NSB) and Nigeria Diaspora Bank (NDB). The existing banking solutions are not enough to harvest the emerging massive opportunities in the ongoing professional demographics shifts.
To fix another one million unemployed youths, the 800 million hungry population worldwide need food, food, and food. Using the latest precision agricultural technology, Nigeria's Middle Belt can feed half of the world's hungry people profitably, when and if the heads men killings stop.
We also need to get Dangote Refinery up and running since yesterday to conserve 70% of our dollars  spent on fuel importation.
Even if the federal government has to take additional 20% equity (but transparently valued this time around), the risk is worth taking. The Dangote ecosystem would take about 500,000 Nigerians out of poverty including market women selling table water and nuts to the staff of the refinery. Dangote must work and walk, NOW!
All said Nigeria can fix 5 million youths in quality, high-paying jobs within the next 24 months, generate a fresh $50 billion revenue inflow from innovative programs aiming at assisting the naira gain a full erection and reflate the economy. Before the C-19 pandemic, one company in Taiwan had about 0ne million employees (5% of the population) on its payroll. Just one company! In 2022, Walmart had about 2.3 million employees and realized a revenue of $ 600 billion. Nigeria's environment should be made fertile for mega businesses to germinate and thrive,  where the likes of Foxconn and Walmart would be replicated here
Africa has been anxiously waiting for the Elephant (Nigeria) in the room to arise and dance, likewise the entire black race. Nigeria cannot afford to continue to move in circles like the Barber's chair. Nations perish for lack of three things: knowledge, vision and political will. Everything is possible, including winning a GOLD, Silver, Bronz or CKD medals, depending on the choices we make today!
Going forward, let us reason, talk and choose wisely, for all we have is this tiny but fantastically blessed 923,768 sq. km piece of land in the Cosmos filled with milk and honey, sugar, chess and butter plus! Paradoxically, Nigerians scarcely cherish their own country. While globally, Nigerians are viewed pitiably, secretly, however, our land is the envy of all- no competition. None. Honest!
By: Tim Akano
Akano writes from Abuja.
Re: Wike, A Governor Possessed By Spirit Of Flyovers
Our attention was drawn to an article titled: "Wike, a Governor Possessed By Spirit of Flyovers" published by Yemi Adebowale. It was in his 'RingTrue' column of the ThisDay Newspaper of August 6th, 2022.
The writer exhibited distasteful notoriety with his recluse to illogical offerings in public space of what he least knew about. The development audacity of Governor Nyesom Wike has remained all inclusive. The writer hardly grasped that extent. His piece depicted him as a sad minded and bitter man. Evidences of one soaked in skewed social media snippets abounded in his piece.
Publishers of such snippets, always, were backward looking critics. They feared to seek out the fact that would help them cease from misinformation. Yemi Adebowale, unfortunately so, had showed himself to be among such political opportunists and hack writers who politicise and trivialise issues of development with puerile logic.
As their stock-in-trade, they criticise blindly every genuine intention of Governor Wike. It is therefore, imperative for us to overcome the temptation of being silent over such snide and provocative innuendos in that obviously sponsored pervasive rant.
Stating it as it is, from inception of his administration on May 29th, 2015, up until now, Governor Wike has been dogged with issues of development . He started off with such urgency and accomplished so much within first few months in office. The drive was predicated on repairing the rot in all sectors that he inherited. The giant development strides were to rebuild the broken walls of social trust and vitalise the economy of the State. So, the well thought out development plan and its system implementation remained in focus and encompasses all sectors.
Perhaps, Yemi is oblivious of the fact that all across the globe, service-oriented governments are reinventing many cosmopolitan cities like Port Harcourt to become people friendly and sustainable.
Perennial traffic congestions in major cities like Lagos, Cairo, Port Harcourt have been identified as major bottleneck to economic growth and development.
And as part of his integrated urban renewal programme, Governor Wike decided to embark on the construction of flyovers to solve traffic snarls in major intersections within Port Harcourt and Obio-Akpor councils.
Until the Wike's infrastructure revolution, residents of Port Harcourt and its environ will attest to the fact that driving or better still, commuting along the busy Port Harcourt-Aba Road Expressway, was harrowing due to traffic congestion. A ten minutes drive today, could take up to two hours thirty minutes. That was the reality of those who live and do business in the State capital before the Wike's administration began to proffer solution to this problem.
The seven out of twelve flyovers already inaugurated have helped to streamline the traffic in Port Harcourt and its environs. A lot of irretrievable time, which is unit of life spent in congestion is avoided through these flyovers.
We are confident that these flyovers will tremendously help the business community to grow its business.
These flyovers have contributed significantly to the aesthetics of the Rivers State capital. Anyone driving through the flyovers any time of the day of course will relish a panoramic view of the Garden city.
Only narrow-minded people and those who must remain blind to any meaningful, genuine and concrete development take to mischief. They refused to see the connecting strings of each development towards the overall development of the state and its people.
But, why is the construction 12 flyovers by Governor Wike a pain to Yemi Adebowale? Without any contradiction, he is particularly averse to appreciating the benefits of the flyovers. They remained remarkable achievement. The record set would not be beaten for a long time. In contemporary times, no State government could dare.
Yemi Adebowale also had enthused that these flyovers are the only projects that are being executed. He lied. His assertions are robed with pale claims. It only proves that he had not been to Rivers State before or, maybe lately. If he had, he would be enthusiastic to do an independent search for facts. Such efforts would have espoused him to evidences of other shades of development ongoing. This is because, some levels of development are intangible. But he could still berth at shores of tangible others different from flyovers.
Governor Wike's administration has turned and transformed not less than 20 major single lane roads into dual carriage. They include Igwuruta – Chokocho road, Saapkenwa – Bori road, Tam David West Boulevard, Rumuokwurishi – Eneka – Igwuruta road, Rumuepirikom – Rumuolumeni road, Rebisi – Trans-Amadi – Oginigba road, Justice Iche Ndu road, Eagle Island – Illoabuchi road, Elelenwo – Akpajo road, Birabi road, Emeyal road, Tombia road, Forces Avenue, Olumeni road, Abacha road, and Harley street, Tombia Extension, Eastern bypass, Ogbum-nu-Abali/Eastern bypass road,and the Ezimgbu road. They have street lights, pedestrian walkways and covered drains.
Already, a lot of roads connecting and interconnecting several communities across the State are ongoing. They include Phase one of the Ahoada – Omoku dual carriage way, the phase two Saakpenwa-Bori – Kono dual carriage way, the dualisation of Egbema- Omoku road, the Woji – Aleto – Alesa road and the Wakama – Ogu – Bolo road, are underway.
It is worthy to noted that Opobo axis of the Ogoni- Opobo-Andoni road has achieved, Andoni community is next and would soon be completed so that coastal communities of Ngo, Ikuru and other towns along that way can be accessed by road after decades of failed promises by the previous governments. It is in similar vein that the construction of phase one of the Trans-Kalabari road has commenced.
Governor Wike has also provided over 1200 classrooms and nearly 14,000 desks to over 200 primary and junior secondary schools. His administration has also reconstructed, furnished and equipped several secondary schools with modern classrooms, laboratories, libraries, sports facilities, staff quarters and paved interconnecting road networks.
The facts abound that at the tertiary level, the governor has elevated the structural quality of State's tertiary institutions with new faculty, administrative and other buildings, strengthened the governance systems and enhanced staff welfare with the new salary structure.
Apart from the College of Medical Sciences, the Wike's administration has also implemented a multi-campus structure for the Rivers State University with the establishment of new campuses at Emohua, Ahoada and Etche Local Government Areas, thereby increasing the carrying capacity of the University and providing more access to quality tertiary education for Rivers people and other Nigerians. The restoration of the multi-campus status of the Rivers State University opened a vista of engagement of more personnel.
In the health sector, the Wike's administration has built some new primary healthcare centres for under-served communities, renovated some existing primary health centres and general hospitals, commissioned the 132-bed Mother and Child specialist hospital, established the Rivers State University Teaching Hospital, built the Senior Doctors' Quarters and rebuilt and upgraded the Government House Specialist Clinic, while a Junior Doctors Quarters is also under construction
The Wike's administration re-equipped and upgraded the Braithwaite Memorial Specialist Hospital. Today, it serves as the Teaching Hospital of the College of Medical Sciences. Manpower was engaged to ease provision of healthcare in expanded RSUTH.
The scholarship scheme established for Rivers indigenes studying at PAMO University of Medical Sciences subsists. Currently, over six hundred students are benefiting. This had ultimately provided medical education to Rivers children and other Nigerians. Notably, there were separate approval for an automatic employment of all Rivers State indigenes who bagged Doctor of Philosophy (PhD) during the 2018 Convocation Ceremony of the Rivers State University.
We wondered why these are not human capital development to Yemi Adebowale. Maybe, he would need to be reminded that in 2021, employment of teaching and non- teaching staff was concluded at the Rivers State University. There is an ongoing recruitment of teaching and non-teaching staff at the Ignatius Ajuru University of Education.
Yemi Adebowale least understood the implementation of the water reforms programmes, driven convincingly to specific and targeted communities. On the 15th April, 2016, the State Urban Water Sector reform programme was launched. The programme encapsulated the Port Harcourt Water Supply Scheme and the Sanitation Project.
Precisely on August 31st, 2020, the Rivers State government signed contracts for the rehabilitation and upgrading of water supply for Port Harcourt and Obio/Akpor Local Government Areas. 496 kilometers of pipeline which will produce 330,000 cubic metres of potable water per day are currently being upgraded. This project will equally create over 1,200 direct jobs and 5,000 indirect jobs for Rivers people.
Soon, water will flow in public taps. Besides the Port Harcourt and Obio/Akpor local government areas urban water scheme, the Wike's administration rehabilitated moribund water projects in 18 of the 23 Local Government Areas of the state. These water projects are targeted at improving access to potable water in the respective communities.
The significance of these deliberate, yet strategic interventions in a critical sector of the State inclusive of the Flyovers underscores the determination of leader who changed the narrative of leadership that is committed to good governance.
Yemi Adebowale in his penchant for peddling falsehood, claimed governor Wike has not been paying pensions, even when ThisDay published this report in May, 2022, 'Wike Orders Immediate Payment of Gratuities, Pensions to Rivers Retirees.'
Yemi Adebowale's suggestion that Governor Wike ought to have completed the abandoned monorail projects clearly depicts as someone possessed by spirit of ignorance.
Is Yemi Adebowale aware that in the twilight of the immediate past administration in Rivers State, the technical consultant on the monorail had planned to unveil the contentious project specifically to mislead the people of Rivers State that the project that was abandoned after 2.6 km of the over 19 km phase one, after gulping over N33.9bn was still on course.
It is on record that the Managing Director of ARCUS GIBBS Nig Ltd, technical partners to the Rivers State government on the Monorail Project, Wiero Viguezang, in 2015 declared that the project was no longer tenable, considering the shortfall of the state's revenue and the inability of its original technical and equity partners, TSI Nig Ltd, to fulfil its obligations to contribute 80 per cent of its equity holdings.
In April, 2015, ARCUS GIBBSS, had in a letter made a six-point recommendation to the Rivers State government on how to unbundle the monorail project by approaching the manufacturers of the mechanical components and rail tracks in Germany and exploit the possibility of reselling components at a lower price to the manufacturers.
It will interest him to know that no Rivers government will venture to complete the white elephant project.