Fuel Crisis: NNPC Sinks $5.8bn On Petrol Importation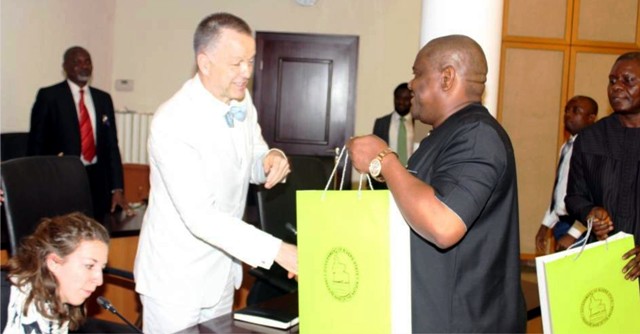 The Nigerian National Petroleum Corporation (NNPC) said it spent about 5.8 billion dollars to import Premium Motor Spirit (PMS) popularly known as petrol to combat fuel crisis that resurfaced since late last year.
In a statement signed by Mr Ndu Ughamadu, the Group General Manager, Group Public Affairs unit in Abuja, yesterday, it said the PMS was equivalent of 9.8 million metric tons.
According to the statement, the Group Managing Director of the corporation, Dr. Maikant iBaru, disclosed this during a public hearing by the Senate Committee on Public Accounts at the National Assembly in Abuja.
Represented by the Chief Operating Officer, Finance and Accounts, Mr. AbdulrazaqIsiaka, he said that the corporation carried out the massive importation in fulfilment of its statutory role of supplier of last resort.
This, he said was to ensure that Nigerians do not suffer as a result of product unavailability. The GMD in the statement noted the corporation's provision of 9.8 million metric tons of petrol so far had helped a great deal in ameliorating the suffering of Nigerians.
He said the corporation's intervention became necessary following the inability of the major and independent marketers to import the product.
He pointed out that cross-border smuggling due to price disparity between Nigeria and neighbouring countries as well as logistic issues in trucking products to different locations across the country remained serious challenges in the quest for fuel queue-free situation in the country.
The Chairman, Senate Committee on Public Accounts, Senator Matthew Uroghide noted that the public hearing was a part of the Committee's duty to find lasting solutions to the problem of fuel scarcity in order to make life easy for all Nigerians.
Meanwhile, the Senate, yesterday, mandated its Committee on Public Accounts to investigate the rationale behind a security account allegedly operated by the Nigeria National Petroleum Corporation (NNPC) and Nigerian Agip Oil Company (NAOC).
This followed the adoption of a motion moved by Sen. Dino Melaye (Kogi-APC).
Moving the motion, Melaye said there was the need for the Senate to unravel the objective of the account and source of its funding.
He alleged that the account opened with the name NNPC/AGIP Oil Company IPP Security Account with address NNPC Garki, Harbert Macauley way, is domiciled in First Bank Nigeria Plc with account number 2006367288.
Melaye alleged that the account had an opening balance of N31.7billion and a closing balance of N34.5billion as at April 25, 2017, adding that there were lodgements and withdrawals since January, 2017.
"A lot of questions are begging for answers as regards this account.
"While we need to know the objectives of this account, we also need to know the signatories to the account; is the account known to the Federal Government and what are the sources of the account's funding?
"About N2trillion is kept in various accounts of government, we are operating a Treasury Single Account yet money is kept in various personal accounts.
"If these monies are properly remitted to government purse, we will have no business borrowing.
"This Senate will continue to expose any corrupt practice in the country because it is time to protect the future of Nigerians unborn," Melaye said.
The committee has four weeks within which to carry out its investigation.
Meanwhile, the ad-hoc committee set up by the House of Representatives, yesterday, commenced investigations into the incessant killings in Nigeria.
Addressing journalists on their approach, Chairman of the committee, Rep Pally Iriase (PDP, Edo) said the committee of seven lawmakers was going to be bi-partisan in their approach.
He said "We formally commenced our investigations today and we will use a three prong approach via interaction with security chiefs, interface with foreign partners and conduct public hearing."
'Pipeline Surveillance Contracts Must Promote Ethnic Cohesion, Not Rivalries'
The leadership for the Movement for Survival of Ijaw Ethnic Nationality in Niger Delta (MOSIEN) has said that the pipeline surveillance contracts to indigenous Ijaw contractors by the Federal Government should promote ethic cohesion rather than rivalries in the region.
The group also condemned petitions to the Presidency on the contracts by some non-state actors, saying that such letters lack substance and were ill-orchestrated.
This was contained in a statement by the President, MOSIEND Worldwide, Amb Kennedy Tonjo-West made available tonewsmen in Port Harcourt.
Tonjo-West said some non-state actors had been hitting hard, expressing disaffection, threatening and issuing one ultimatum after another, adding that some even went as far as transmitting letters to President Muhammadu Buhari.
"We are asking Mr President to disregard such petitions as the fact stated therein is unfounded.
"The Nigerian National Petroleum Company Limited (NNPCL), now a private business outfit, has said in response to some uninformed agitations that the contracts were awarded with strict adherence to the Public Procurement Act, and that the companies were qualified, and we think that they deserve commendation for getting it right".
The President noted that the contracts to indigenous contractors had provided employment opportunities to Ijaw youths and others trained to be specialists.
"This singular policy by the government is already generating employment for thousands of jobless youths within the communities who are now trained and engaged by the companies in line with their contractual obligations.
"We called for caution because the Federal Government in their wisdom deemed it right to involve community participation in addition to the military is dedicated efforts in the fight against illegal bunkering and oil theft in the region".
He appealed to all aggrieved youths to learn to put common interest above all, and show love, oneness and brotherhood.
"We should learn to put our common interest above all and show our adversaries that we love ourselves, we should cooperate, tolerate and respect each other, promote harmonious relationships, support and share in the success of our neighbours.
"We should avoid intimidating any tribe or ethnic nationality due to their size or educational standing.
"As people from the Niger Delta, we cannot be crying of mistreatments from the government and mete out the same treatment to fellow Niger Deltans.
"If we cannot understand ourselves on this 'small opening', how can we sustain our cries for better deals from the government and oil companies", Tongo-West added.
"We are not at war with ourselves; all the ethnic nationalities in the region are one people, blessed by God, and designed to live together", he said.
MOSIEN further advised "individuals, ethnic nationalities and tribes which are not directly part of the contracts never to give up on our working together, let us be proactive and consciously allow for a win-win approach to enable us to grow and progress together, but apply the re-orientation and re-positioning mechanism to recovering our lost values as a region".
By: Chinedu Wosu
Senate Directs NLNG To Pay Host Communities N18.4bn Compensation
The Nigeria Liquefied Natural Gas (NLNG) has expressed worry over a recent resolution of the Senate directing it to pay N18.4billion compensation for acquisition of right of way (RoW) across some communities.
In a statement in Port Harcourt, the company, said, it was evaluating the resolution and the circumstances surrounding it.
The statement read, "The attention of Nigeria LNG Limited (NLNG) has been drawn to a resolution said to have been passed by the Senate, following the consideration of a report by its Committee on Ethics, Privileges and Public Petitions, sequel to a petition relating to compensation for the acquisition of a Right of Way across some communities.
"NLNG is evaluating the resolution and circumstances surrounding it.
"NLNG wishes to state that it has always conducted its business responsibly and in accordance with the laws of the Federal Republic of Nigeria, including in this specific matter".
Poverty, Hunger Affect Citizens' Political Choices –CAN
The Christian Association of Nigeria (CAN), yesterday, raised concerns over the increasing hardship being experienced daily by Nigerians.
This was the outcome of the meeting, held in Kaduna, presided by the Chairman of Northern CAN, Rev. Dr. Yakubu Pam, to discuss the various issues affecting Nigerians, including hardship and unemployment.
Other issues discussed include the mass poverty and hunger among millions of Nigeria; the 2023 general elections; insecurity; and the prolonged strike by the Academic Staff Union of Universities (ASUU) and the Federal Government.
In a statement issued at the end of their meeting in Kaduna, signed by CAN Chairman, and Secretary of the 19 Northern states and Abuja, Reverend Yakubu Pam and Sunday Oibi, respectively, said many families can barely get one meal in a day, adding that there was no denying the fact that there is poverty and hunger in the land.
He said Nigeria's weak economy has thrown millions into abject poverty and hunger while life is becoming a living hell as people struggle to make ends meet.
The statement said almost daily, prices of food and essential items are on the increase, adding that the reality on the ground is evident for all to see.
"Poverty and hunger affect all spheres of life. It fuels criminality and crime; it affects education; it affects quality healthcare.
"Hunger affects citizens' political choices. Already those who mismanaged the economy are using hunger as a weapon as the 2023 general election approaches",he said.
The group called on governments at all levels to address the problem of poverty and hunger in Nigeria.
It also called on Nigerians to ensure that the 2023 elections are conducted under a peaceful atmosphere without rancour, adding that an election is not war.
"No politician is worth dying for. No one should take the laws into his or her hands".
He tasked the Independent National Electoral Commission (INEC), to ensure that the elections are free, fair and credible.