HIV/AIDS Fight: Collaboration, Awards, RSG's Strategy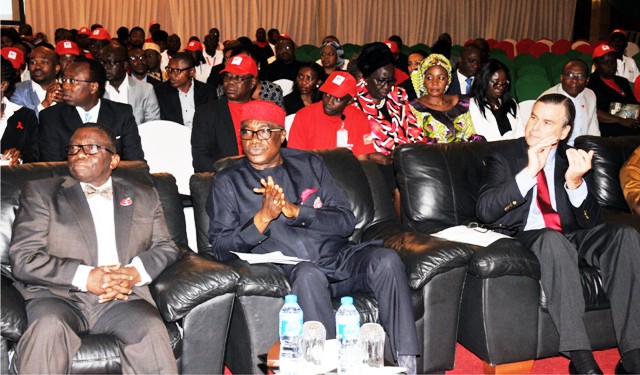 Reinforcement, a concept even in Education Psychology posits that an individual be rewarded (reinforced) of a good deed for more of such deeds. It is also said that 'whatever worth doing is worth doing well'.
The 2017 World AIDS Day commemoration was a true test of these positions as the Rivers State Government in collaboration with development partners in the health sector harnessed its abilities of resources, time and personnel in making the day/event not only memorable but positively challenging stakeholders in the state HIV/AIDS control programme to do more to raise the state beyond the present prevalence status of the disease.
Since the discovery of the disease in 1989, about 28 years ago, and its attendant rapid contraction, spread and fatal nature, there had been struggles and quest globally and locally to end the scourge or even reducing its prevalence to the barest minimum and all hands had been on deck at the international, federal and state levels. Since then, too, there has been world commemorations of the epidemic as in every other epidemic, and marked with activities usually of awareness, sensitisations, call on individual screening and stakeholders in finding ways of living and reducing the risk of contraction and spread even ending the menace. And Rivers State has not been left out in this scheme.
But the 2017 celebration was distinct and marked with a difference. The multipurpose hall of the State Ministry of Justice Complex was agog as individuals, groups, agencies and international organisations bagged different special awards that proved dignified efforts in the state's HIV/AIDS fight. The event was one that revealed the commitment, loyalty and sacrifice of awardees which catapulted the state to its present reduced zero-prevalence rate, a percentage lower than the national rate. It was yet another programme that proved that collaboration is indeed a key factor in achieving a pursuit of any kind inclusive of the HIV/AIDS menace whether globally or locally.
It was at the event that the Executive Governor of Rivers State, Chief Nyesom Wike bagged the Good Governance/Health leadership Award while the Deputy Governor, Dr (Mrs) Ipalibo Harry-Banigo bagged the HIV/AIDS Control Award particularly of the Prevention of Mother-To-Child Transmission (PMTCT) alongside the Rivers State Agency for the Control of AIDS (RIVSACA). There were other categories of awards including the 'Award of Team Spirit', Pioneer HIV/AIDS Service Award', Health Development Award bagged by the FH1360 and Global Funds, strong partners of the Rivers State Government in the achievement of health initiative and reforms. There was also the voice of HIV/AIDS Prevention Award bagged by Cool Wazobia FM, Nigeria Info, Silver Bird Rhythm 93.7 and The Tide.
The Award of Support of People Living with AIDS was bagged by the women wing of First Baptist Church, Ada George branch among others . Indeed, it was a 'well organised' programme but beyond that was the fact that it boosted the morale and efforts of the dedicated partners to continue in their giant strides as well as a call on others to join in the train to achieving a free HIV/AIDS state.
At the event, the state Governor, Chief Nyesom Wike ably represented by his deputy, Dr Ipalibo Harry Banigo said "this day is set aside for advocacy, awards and consolidation of the on-going efforts of all stakeholders in the HIV/AIDS control programme. I congratulate all awardees especially the former director of RIVSACA. I know how much work he did in consolidating the efforts of the state government in this fight including the Ministry of Health under the leadership of Princewill Chike and his team for carrying out every activity to ensure that we deal with the menace of HIV/AIDS in Rivers State".
It is worthy of note that the state government has in the last three years built hospitals and health centres that are providing HIV/AIDS Anti-viral and supportive treatment as well as psychological support that patients no longer view HIV/AIDS diagnosis as a death sentence but that which could be managed thereby leading them to achieve great life and productivity.
This administration has not only insisted on the provision of PMTCT services by every single health facility in the state to end maternal transmission, but also made substantial progress in its community- based testing platform which has added significant value to its case-finding efforts and expanded access to HIV/AIDS services across the state.
Banigo said "we have not had any stock out for our Anti-Retrovirals in Rivers State. This is made possible by the efforts of the AIDS Control programme and our development partners in the fight against HIV/AIDS.
"The government of Rivers State ably led by Governor Wike is so committed and passionate about health care in all ts facets of case-finding, prevention, treatment including people living with AIDS (PLA). He wants to see that they are encouraged to live to the fulfillment of their lives".
The state Commissioner for Health, Prof. Princewill Chike lauded the United States Agency for International Development (USAID) for its provision of the Polymerase Chain Reaction (PCR) machine as installed by the state government at the Braithwaite Specialist Memorial Hospital (BMSH).
Chike said the two PCR machines which are used in the monitoring of mother-to-child transmission, testing of samples of viral infections and detection of viral loads have made the state independent of its HIV/AIDS case-finding and treatment.
"As far as HIV/AIDS control is concerned, Rivers State has gone another level higher by the acquisition of the PCR machine. We no longer go out of the state for sample verification but everything is done here and this is kudos to our partners and state government".
Chike maintained that with the progress recorded so far in the state's HIV/AIDS fight, the state was poised to achieve the control target of 90:90:90: by the year 2020 saying "this means that 90 percent of people living with HIV/AIDS are diagnosed, 90 percent of those diagnosed receive treatment and 90 percent of those with Anti-retroviral therapy receive viral suppression at least by the year 2020. That is our focus".
He also revealed that the zero prevalence rate of the disease in the state has reduced to 5.8 percent, describing it as small but significant compared to the 6.0 percent of the 2014 national survey. This is made possible through the 119 established centres involved in the management of the epidemic with about 91 treatment centres across the state.
Also apt was the theme of the year's commemoration-'My Health, My Right' which resonates around the right to health services, access to social services and importance of individual behavioural knowledge and practice in order to keep healthy. Simply put, the right to health was the right to all including people living with AIDS (PLA) and of course, Rivers State has achieved this.
Yet, the fight continues. There is the need for more deliberate efforts in organising awareness, sensitisation and education programmes to encourage people to embrace screening. Stakeholders are also called upon not to relent in their efforts. "I want to say that our stakeholders should continue to support us in this state. Don't look at us as an Orphan state. We still need you as we on our part will also continue to do our best in this beat", Banigo said.
As a way of continuity and achievement of the desired goal, there is the need for the promotion of a state and or society that is totally devoid of stigmatisation and discrimination against those living with the virus.
More so, to consolidate the HIV/AIDS fight in the state, it is imperative that there be a maximum utilisation of health services as well as ordering the social determinants that impede individuals and communities in their quest for health services even in the face of HIV/AIDS epidemic in the state.
Lady Godknows Ogbulu
Breast Feeding Week: RSUTH Targets Health Personnel
As part of measures to heighten the importance of breast feeding, authorities in the State owned Rivers State University Teaching Hospital (RSUTH) is set to sensitise its personnel on the need to ensure that nursing mothers embrace exclusive breast feeding.
The programme forms part of the weeklong activity on breast feeding and is billed to hold tomorrow to school staffers on the health benefits and why they should support the campaign
Member of a committee set up on breast feeding, Nurse Agana Ebirien in a chat with The Tide said the hospital is breast feeding friendly and has over the years held campaigns within and outside the hospital to promote breast feeding.
She stressed the need for health workers to be ambassadors at the forefront for the quest to ensure breast feeding is highly embraced by mothers visiting the health facility.
Ebirien said this year's theme: "Step Up Breast Feeding, Educate and Support" is aimed at raising awareness and underscoring the need for nursing mothers to exclusively breast feed their babies.
She said, "Most nursing mothers don't want to breast feed their babies because of the myths surrounding breast feeding. Some of the myths include danger of colostrum and many others."
Ebiriien explained that the colostrums which is the first drop of breast milk from a nursing is the richest and healthiest part of the breast milk, as it helps boost the baby's immunity and prevents him from falling ill frequently.
The nursing expert therefore called on nursing mothers to ensure they breast feed their babies exclusively for at least six months, and then breast feed with complementary feeding upto two years.
A nurse and expert on women health, Nurse Agana Ebirien has listed the benefit of breast feeding with the call on nursing mothers to exclusively breast feed their babies for at least six months without water or glucose water.
Nurse Ebirien in an exclusive chat with The Tide said thre are huge benefits of exclusive breast feeding to help the mothers and baby health in the future
Some of the benefits she said include the boosting of the child's immunity, and improving the child memory and intelligence.
She noted that mothers who breast feed their babies help curb obesity in their babies in the future, as she described breast milk as " balanced diet in balanced proportion".
For the mothers she noted that breast feeding help to heal the uterus , " as the baby sucks the breast the uterus contract and that curbs bleeding in mothers."
In addition, the nurse explained that mothers who breast feed their babies for a long time also reduce the occurrence of breast and ovarian cancers.
She added that breast feeding is calso economical as it saves the family from spending huge sums from buying milk and other condiments to feed the baby, and therefore called on fathers, and the menfolk in general to encourage their wives to breast feed their babies.
By: Kevin Nengia
Tiger Nuts Can Heal Urinary Infections -Study
The experts have evaluated the antioxidant vitamins (vitamins A, C and E) and antibacterial potential of tiger nut extracts against germs that cause human urinary tract infection pathogens. These are Escherichia coli, Staphylococcus aureus and Klebsiella pneumonia.
Many individuals, including diabetics, eat tiger nut mainly for its sweetness and for its high content of arginine, which is reported to stimulate the production of insulin. Now, in a new study, researchers have said it is a fruit that should be consumed more to prevent and treat urinary tract infections.
The susceptibility of these disease-causing germs towards the tiger nut extracts was compared with each other and with gentamicin, which was used as a positive control. All plant extracts showed antimicrobial activities against the selected microorganisms at various concentrations and the methanol extract was found to be most effective compared to ethyl acetate extract.
In addition, the antioxidant vitamin composition in the different extracts of tiger nut indicated that it contained an appreciable amount of these vitamins. However, the concentrations of these vitamins were considerably higher in the methanol extract, with Vitamin E exceeding the daily recommended intake by international standards in both extracts.
The study published in the Journal of Agroalimentary Processes and Technologies involved Imaobong E. Daniel and Etukudo Edigeal D. at the Department of Chemistry, University of Uyo, Akwa Ibom State, and it was to authenticate the medicinal importance of tiger nut.
Urinary tract infections (UTI) affect any part of the urinary tract which could be the kidney, ureter, bladder and urethra. The causes of UTIs include sexual intercourse with infected persons, poor hygiene, holding urine longer than necessary, underlying kidney stones, diabetes and loss of oestrogen.
All over the world, millions of people are diagnosed with urinary tract infections (UTI) every year. It is estimated that about 35 percent of healthy individuals suffer from symptoms of UTI at some stage in their lives, with incidences occurring mostly in women than men.
Culled from Tribune online.
Nursing Mothers Cautioned On Exclusive Breast Feeding
As Rivers State joins the rest of the world to observe the 2022 World Breast Feeding Week, some nursing mothers in Rivers State have cautioned their colleagues not to use poverty and hardship as an excuse against the practice of exclusive breastfeeding of their babies.
It would be recalled that some nursing mothers have cited poverty as factor responsible to practice exclusive breastfeeding of their babies.
Speaking, a mother of three from Okrika, Mrs Patience Owiriwa, said mothers have no excuse not to practice exclusive breastfeeding.
"I advise that as a mother, if you don't have anything to feed a child, go for breast milk, even if it is little fish you buy to cook.
"That money you use for milk, use it to buy 'Sungu' and any good cooking things.
"If you buy N500 fish, you can cook soup that will carry you. When you are eating well, your baby is eating well too", she said.
Owiriwa said exclusive breast milk prevents children from reacting to unnecessary sicknesses.
"He will be very OK. With breast milk, every vitamin is inside that breast milk; so, even if you feed him with only breast milk, he is good to go".
Another respondent, Mrs Nnenna Amadi from Ikwerre Local Government Area said, "when you breast feed a child well, you find out that the baby will be OK.
"Moreover, when you do exclusive breastfeeding, the child will not be sick, he will be healthy and plump.
"The breast milk will make the child very sharp", she said.
This year's World Breastfeeding Week is from August 1 to 7, 2022.
The theme for this year's event is: 'Step Up For Breastfeeding: Educate and Support'.
It would be recalled that the United Nations Children Fund (UNICEF) had recommended that children be initiated to breastfeeding the first hour of birth and exclusively breastfed the first six months of life.
However, some nursing mothers, who spoke on the celebration in an interview said, poverty was hampering their effort to exclusively breastfeed their babies for the first six months of birth.
Accordingly, Esther Alaka, a nursing mother said, "you must eat well before you can give your babies breast.
By: John Bibor & Oribim Ibama