Barcelona Terror Attack: Death Toll Hits 13 …IS Claims Responsibility …World Leaders React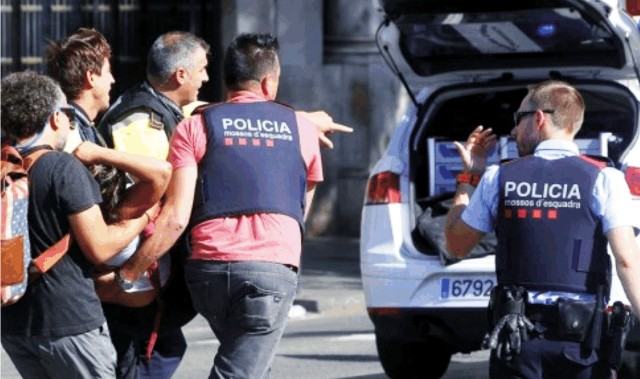 At least 13 people were killed yesterday when a driver deliberately slammed a van into crowds on Barcelona's most popular street in what police said was a "terror attack".
The attack, the latest in a wave of vehicle rammings across Europe in recent years, caused panic on the streets of Spain's largest city and drew condemnation from world leaders.
"We can confirm there are 13 dead and more than 50 injured," regional interior minister Joaquim Forn said in a tweet.
Catalan police said they had arrested one suspect, and denied earlier reports that the perpetrator was holed up in a bar near the scene.
The famous Las Ramblas is one of Barcelona's busiest streets, lined with shops and restaurants and normally thronged with tourists and street performers until well into the night.
Police said there had been a "huge collision" between a van and pedestrians on the thoroughfare and a police source said officers were seeking a total of two suspects.
Spain's royal family condemned the assault in unusually strong terms, vowing that their country would not be "terrorised" by extremists.
Witnesses spoke of a scene of carnage, with bodies strewn along the boulevard as others fled for their lives.
"When it happened, I ran out and saw the damage," local shop worker Xavi Perez told AFP.
"There were bodies on the floor with people crowding round them. People were crying. There were lots of foreigners."
Witness Aamer Anwar told Britain's Sky News television that he was walking down Las Ramblas, which he described as "jam-packed" with tourists.
"All of a sudden, I just sort of heard a crashing noise and the whole street just started to run, screaming. I saw a woman right next to me screaming for her kids."
Spain had so far been spared the kind of extremist violence that rocked nearby France, Belgium and Germany.
But it was hit by what is still Europe's deadliest jihadist attack in March 2004, when bombs exploded on commuter trains in Madrid, killing 191 people in an attack claimed by Al Qaeda-inspired extremists.
Ethan Spibey, a charity director on holiday in the city, said he and several others had locked themselves in a nearby church after yesterday's van ramming.
"All of a sudden it was real kind of chaos… people just started running screaming," he told Sky. "There was kind of a mini stampede."
Local Tom Gueller, who lives on a road next to Las Ramblas he saw the van speeding along the boulevard.
"It wasn't slowing down at all. It was just going straight through the middle of the crowds in the middle of the Ramblas," he told BBC Radio.
A Greek diplomat in the city said three nationals had been wounded, a woman and two children  without providing details.
Yesterday's attack, which followed similar incidents in Britain, Germany and France, drew widespread condemnation.
"The United States condemns the terror attack in Barcelona, Spain, and will do whatever is necessary to help," US President Donald Trump tweeted.
France's President Emmanuel Macron — whose country witnessed a similar horror when a Tunisian man ploughed a 19-tonne truck through a crowded boulevard in Nice, killing 86 people in July 2016 — said his thoughts were with the victims of the "tragic attack".
A spokesman for German Chancellor Angela Merkel condemned the "revolting attack" and British Prime Minister Theresa May said on Twitter that London "stands with Spain against terror".
The Nice carnage and other assaults including the 2015 Paris attacks were claimed by the Islamic State jihadist group.
In another deadly vehicle attack in December, 12 people were killed when a man driving a truck ploughed into a crowd at a Berlin Christmas market.
Spain has emerged as a potential target for jihadists, with extremist websites mentioning it for historical reasons, since much of its territory was once under Muslim rule.
Generally, authorities in Spain — the world's third largest tourism destination — remain discreet on the terror threat.
But they publicise every arrest of alleged jihadists, most of them detained for propaganda, recruitment for extremist groups or "glorifying terrorism."
According to the interior ministry, more than 180 "jihadist terrorists" have been arrested since 2015.
Meanwhile, the Islamic State of Iran and Syria (ISIS), has claimed responsibility for the attack. "Soldiers" of the Islamic State group carried out a deadly van attack in Barcelona yesterday, the jihadist organisation's propaganda outlet Amaq said.
"The executors of the Barcelona attack were soldiers of the Islamic State," Amaq said on its Telegram messenger account, without naming those it claimed were behind the attack.
Amaq said they had launched the attack in response to calls to target states taking part in the United States-led coalition battling the jihadist group in Iraq and Syria.
In a related development, world leaders yesterday condemned the Barcelona van attack, expressing outrage and solidarity with the victims.
The Spanish royal family issued an unusually strongly-worded statement: They are assassins, criminals who won't terrorise us. All of Spain is Barcelona."
FC Barcelona said it was "deeply saddened" by the tragedy and the team's talismanic striker Lionel Messi said separately that people must reject "any act of violence".
"There are many more of us who want to live in a world in peace, without hate and where respect and tolerance are the basis of coexistence," he added.
President Donald Trump tweeted: "The United States condemns the terror attack in Barcelona, Spain, and will do whatever is necessary to help. Be tough and strong, we love you!"
US Secretary of State Rex Tillerson added: "Terrorists around the world should know — the United States and our allies are resolved to find you and bring you to justice."
In a statement, the office of German Chancellor Angela Merkel said they were thinking of the victims of the "revolting attack" with "profound sadness".President Vladimir Putin called for the world to unite in an "uncompromising battle against the forces of terror".
"We decisively condemn this cruel and cynical crime against civilians," Putin wrote in a telegram of condolences to Spanish King Felipe VI.
European Commission President Jean-Claude Juncker said: "I send my deepest condolences to the families and loved ones of the victims, as well as to Prime Minister Rajoy and the people of Spain. My thoughts are with the people of Barcelona."
President Emmanuel Macron of France voiced "France's solidarity" with Spanish citizens following what he called "a tragic attack".
Paris Mayor Anne Hidalgo said: "Parisians are at your side. Barcelona and Paris are cities that share love and tolerance. Our values are much stronger than this heinous and cowardly act of terrorism".
British Prime Minister Theresa May tweeted: "My thoughts are with the victims of today's terrible attack in Barcelona … and the emergency services responding to this ongoing incident. The UK stands with Spain against terror."
London Mayor Sadiq Khan called the attack "barbaric", adding: "London stands with Barcelona against the evil of terrorism."
It was a "cowardly attack against innocent people," Prime Minister Mark Rutte said in a statement on his Facebook page, calling it a "black day at a place where many people around the world gathered."
Foreign Minister Mevlut Cavusoglu said Turkey strongly condemned the "henious terrorist attack".
Pope Francis's spokesman said in a statement: "The Pope prays for the victims of this attack and wishes to express his closeness to all the Spanish people, especially the wounded and families of the victims."
Footballer Cristiano Ronaldo, a star with Spanish premier club Real Madrid, said he was "dismayed" by the attack and voiced "support and solidarity with the families and friends of the victims".
Vote Against Candidates In Support Of Naira Redesign Policy Implementation -Wike …Challenges Sekibo To Disclose Why Obasanjo Sacked Him As Minister
Rivers State Governor, Chief Nyesom Wike, has urged Nigerians not to vote for any candidate that supports the way the currency redesign policy is being implemented, in the forthcoming election.
Governor Wike spoke at Opobo Town Sandfield during the Rivers State Peoples Democratic Party (PDP) campaign flag-off rally for Opobo/Nkoro Local Government Area at the weekend.
The governor, in a statement by his Special Assistant on Media, Kelvin Ebiri, explained that such candidate is an enemy of Nigerians, who are already plunged into inexplicable economic hardship with nonavailability of both the old and new Naira notes to enable them buy food for their households and fuel for their cars.
Governor Wike said he is convinced that President Muhammadu Buhari, who may not have been properly briefed on the hardship the Naira swap is causing Nigerians, is already getting feedback on the ill advised policy and will review the implementation.
"Anybody who claims he loves Nigeria and is contesting election but is supporting this CBN policy. Will you people vote for such person? It is only the enemies of Nigeria that are supporting this anti-people policy. I believe President Muhammadu Buhari was not properly briefed about this policy", he said.
Governor Wike insisted that the policy is being implemented to provoke the civil populace into embarking on public protests that could be used as an excuse to postpone the forthcoming election.
The governor pointed out that there is a cabal behind the policy implementation who are pushing to install an interim government, thereby prevent Nigerians from using their Permanent Voters Cards to determine their next leaders.
"The primary target of this policy is to provoke Nigerians to embark on civil disturbance which they will capitalise on to say they cannot conduct election and push for enthronement of an interim government. No matter the provocation, I urge everyone to be calm. This election must hold because nothing will stop an Opobo man to become governor", he vowed.
Wike challenged the former Minister of Transport, Dr Abiye Sekibo, to explain why former President Olusegun Obasanjo sacked him from his cabinet.
The governor described himself as a man of integrity who served as minister under President Goodluck Jonathan and later resigned honourably to contest governorship election and won.
He also asserted that he is not among those who had caused crisis in their local governments and has blood on their hands, daring Sekibo to also make similar assertion.
Canvassing votes for the PDP governorship candidate in the state, Sir Siminialayi Fubara, Governor Wike enjoined Opobo people not to undermine the opportunity they have now to produce the next governor of the State.
He assured of signing the contract for the construction of Opobo Ring-Road, which will be completed by Fubara when he wins the election and assumes office as governor.
Governor Wike also told the electorate to deliver their votes for all PDP candidates in the state and await instructions from their leaders on the presidential candidate to cast votes for.
Sir Fubara, in his speech, restated his promise to the leadership of the party to never disappoint the confidence reposed in him to fly the party's gubernatorial flag.
Fubara urged Opobo people to deliver their votes as an appreciation of the opportunity given to their son to become the next governor of the State.
He acknowledged the benevolence of Governor Wike in delivering road infrastructure and land reclamation projects in Opobo town, and assured that they would benefit more when he wins.
Presenting flags to PDP candidates, Chairman of the party in Rivers State, Ambassador Desmond Akawor, enjoined Opobo people to ensure that they deliver winning votes for their son and all the candidates of the party.
In his speech, Senator Adawari Pepple, expressed gratitude to Governor Wike for deeming it necessary to support their son to emerge PDP governorship candidate in the state.
Senator Pepple asserted that a true Opobo citizen is a loyal person and that Fubara will not disappoint the confidence reposed in him.
He assured that the entire Opobo people would follow Governor Wike wherever he goes and vote as he directs.
Dr. Sam Jaja acknowledged that Governor Wike has used his position to give prominence to an Ijaw son of Ibani extraction.
According to him, they have resolved that their votes will be wholesomely delivered for the PDP governorship candidate and the entire consolidation team.
Speaking on behalf of the candidates, Senator Barinada Mpegi, said the entire Rivers South East Senatorial District is fully ready to vote massively for all PDP candidates in the state.
Earlier, Governor Wike, Fubara and other PDP leaders had paid a courtesy visit to the palace of His Majesty, King (Dr.) Dandeson Douglas Jaja, Jeki V, Amanyanabo of Opobo Kingdom.
The King, in appreciation of the governor's benevolence to the Opobo kingdom, conferred on him 'Amafurotuo' which means son of Opobo.
Implementation Of New Naira Policy Is Anti-People, Wike Tells Buhari …Insists Cabal In Presidency Backing Atiku
Rivers State Governor, Chief Nyesom Wike, has advised President Muhammadu Buhari to reconsider the manner with which the currency redesign policy is being implemented because it is anti-people.
Governor Wike maintained that those who recommended this apparently anti-people monetary policy do not love the President and are bent on tarnishing his legacies.
The governor stated this at the Comprehensive Secondary School field, Ibaka Town, Okrika Island, during the Rivers State Peoples Democratic Party (PDP) Campaign Flag-off Rally for Okrika Local Government Area, last Friday.
Governor Wike, in a statement by his Special Assistant on Media, Kelvin Ebiri, urged President Buhari to take a critical look at the socio-economic chaos and hardship that the exercise has caused, and revisit the policy in order to curb the pains of Nigerians.
According to him, "This policy is anti-people. The new Naira note is not there. Even though I have money in my account, I cannot get N10,000. I cannot go and buy fuel. Who is losing? Is it not the masses? Is it not the people?"
He advised the President to stop listening to those who advise him on this monetary policy under the guise that it will curb vote buying, saying those advisors do not mean well for Nigerians and cannot feel their sufferings.
Governor Wike also dismissed the claim that the policy is being implemented to fight politicians and corruption, and wondered if such goals can be achieved within the remaining three months of President Buhari's administration.
"You're merely fighting against the poor people. Mr President, I know the pressure, but please since two of us are going the same time, this policy, it has nothing to fight corruption at all. It has nothing to fight politicians.
"This policy is aimed to suffer the people who elected us to govern over them. Our business is not to make the people to suffer. We all know how to fight corruption. We all know how to fight politicians. This particular one, it does not come in at all", he insisted.
Governor Wike expressed dismay that people were prevented from accessing money lodged in their bank accounts while small scale commercial activities were grounded for lack of cash.
According to him, there is reduced cash flow in circulation and even the redesigned Naira notes are hardly available to the citizenry.
"I know Mr President has good intention, but there are these people who believe they know more than everybody, they go and put the country in total chaos and that is what we are suffering now", Wike said.
He stressed the futility of presenting credit cards to pay for food items bought from an elderly woman who depends on daily sales to raise money in the rural areas with prevailing illiteracy.
According to the governor, there is no where in the world where such currency change has been done conclusively within six months.
He said, "I have never seen anywhere in this world where you change money within six months and say no more use of old money. It doesn't work. It takes time and you have to prepare. Look at our economy, look at the rural areas, the level of illiteracy in the country."
Governor Wike urged President Buhari to avert aggravating the security challenge across the country and pushing Nigerians deeper into economic hardship.
"Can you imagine the problem you're causing for us. As we are here, the level of insecurity will increase. We can't get security agencies money any longer for them to use and pay those who are in the field. Even the CIA they carry cash for operation. Even NIA, they carry cash for operation. But here, we can't even give our security One Million Naira."
Speaking further, Governor Wike said recent events had vindicated him over his initial public statement that the PDP presidential candidate and his supporters boasted that they do not need the G-5 governors to win election because they had been assured of victory by a cabal in the presidency.
"I said they have been given assurance, but this election is not going to be based on that cabal assurance. It is on the people's assurance", he said.
Governor Wike, however, insisted that any party that does not need Rivers State will lose the election.
According to him, "whether you like it or not, you must need Rivers State. If you don't need Rivers State you must fail. If you say you don't want us, you'll fail. There is no two ways about it."
Soliciting votes for the PDP governorship candidate in the state, Sir Siminialayi Fubara and other PDP candidates, Governor Wike urged the people to vote overwhelmingly for the PDP.
He disclosed that the contract for the Okrika sandfilling project has been re-awarded because the former contractor who is their son has failed to finish the project.
Governor Wike also announced the upgrading to first class traditional stool status, confirmation and recognition of King Nelson Atubo Oputibeya as the Amanyanabo of Koniju.
Sir Fubara, in his address, said his administration, when elected as governor, would work to sustain the existing peace in Okrika, complete any ongoing project it may inherit, and provide more development projects to them.
Rivers State Chairman of the PDP, Ambassador Desmond Akawor, who presented the party's flags to the various candidates in the area, urged Okrika people to vote massively for the party's candidates.
Speaking on behalf of other candidates, the Rivers East Senatorial candidate, Chief Allwell Onyesoh, thanked the leadership and members of the party for the privilege given to them to fly the party's flag, pledging that they will provide quality representation when elected.
Earlier, Governor Wike had inaugurated a 100-Bed Mother and Child Hospital in Okrika, which was built under the auspices of the Sustainable Development Goals (SDGs) in the office of the presidency.
The project was nominated and attracted to the area by Hon. Bright Gogo, the House of Representatives member for Okrika and Ogu/Bolo federal constituency.
While commending Princess Adejoke Adefulire, the Senior Special Assistants on SDGs to President Buhari, for ensuring the building and equipping of the hospital, Governor Wike noted that Hon. Gogo has distinguished himself for attracting and realising the project in his constituency unlike other federal lawmakers from the state who attracted no projects.
Rivers Electorate'll Punish PDP National Leadership -Wike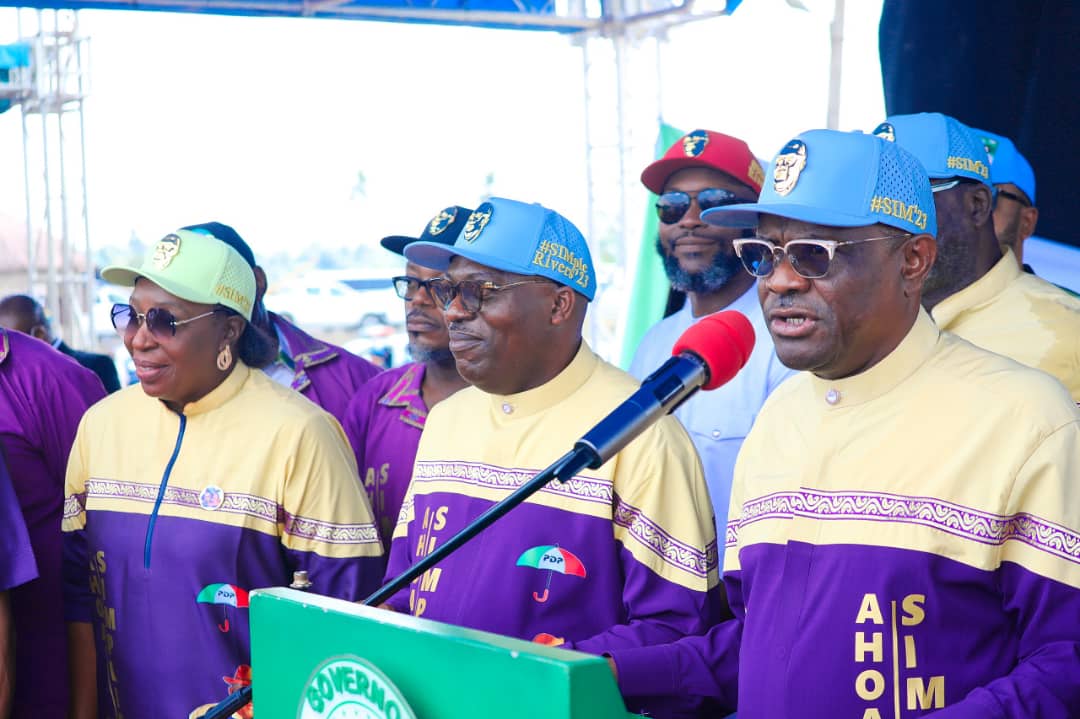 Rivers State governor, Nyesom Ezenwo Wike says Rivers electorates will use the forthcoming election to punish the national leadership of the Peoples Democratic Party (PDP) for abandoning them during the October and November 2022 flooding incidence.
Governor Wike made the remark yesterday at the Community Secondary School in Akinima Town during the Rivers State PDP Campaign Flag-off Rally at Ahoada West Local Government Area.
The governor explained that the flooding situation was devastating in some communities of Abua/ Odual, Ahoada West and Ahoada East Local Government Areas with houses submerged, the people displaced, and their socioeconomic life disrupted.
Wike recalled that while the period lasted, the national leadership of PDP refused to visit those communities as a way of identifying with Rivers people when it mattered most.
Governor Wike emphasised that even though the PDP national leadership refused to identify with Rivers communities, they gladly visited flood impacted communities in other States, and identified with them, which can now be interpreted that they hate Rivers State.
He said in retaliation of the hatred, and the mindset that Rivers State does not matter, the electorates will use the power of their permanent voters cards (PVCs) to "pepper" the PDP national leadership in the forthcoming election.
"You had a problem, a major problem. Ahoada West, Ahoada East, Abua-Odual, had a major flooding problem. After they'll say we are in the same party. Is there anybody from the national of our party that came to visit Ahoada West, Ahoada East, and Abua?
"But they went to other states, which means that they don't like us. If somebody says he doesn't like you, will you force yourself on them?"
Speaking further, Governor Wike reassured the people of Ahoada West Local Government that his administration would deliver to them a fully reconstructed Government Secondary School, Okarki.
Governor Wike told them that the contract for the project was awarded long time ago and paid for in full, but their sons who got the contract failed to deliver on schedule.
He assured that the contract would be re-awarded and completed before his tenure ends on May 29.
Governor Wike urged the people not to allow ballot box snatchers in the area to outsmart them anymore particularly, now that the elections will be conducted electronically.
He harped on the need for massive mobilisation of the people per electoral unit, so that the voters will be aware of who to cast their votes for, and to make sure that PDP wins all the election for governorship, Senate, House of Representatives and State House of Assembly.
"What I want to advise you this time is, don't allow those ballot box snatchers in APC to try it again. Luckily, this election is not election of snatching ballot boxes or paper. It is election that will be done electronically and transmitted electronically. All we need from you is to mobilise your people unit to unit."
In his address, Rivers State governorship candidate of the PDP, Sir Siminialayi Fubara, noted that because of the massive development projects delivered in the area by the PDP controlled State government, the party has first right of winning the election.
Fubara, therefore, urged the people to go and collect the remainder of their PVCs at the Independent National Electoral Commission (INEC).
He said with the PVCs, they can confidently vote into power the PDP consolidation team that will continue to deliver to them more development projects, education infrastructure and to sustain the security experienced in the area.
Chairman, Peoples Democratic Party (PDP) in Rivers State, Ambassador Desmond Akawor, who presented party's flags to candidates contesting for the various elective positions, charged the people to ensure bulk delivery of winning votes to PDP.
Rivers State Deputy governor, Dr. Ipalibo Harry Banigo, who is contesting for Rivers West Senatorial District slot, spoke on behalf of the candidates and said sequel to excellent performance of Governor Wike in office, it is given that Ahoada West is faithful supporter of PDP.
She promised that when elected, they would commit to upholding the interest of their constituents and the State at large.
Before going to the campaign venue, Governor Wike had paid a courtesy visit to the Ahoada West Local Government Traditional Rulers Council under the chairmanship of Chief Moore Maclean Ubuo, the king of Engenni kingdom, to first introduce and secure royal blessings for Sir Siminialayi Fubara, as the incoming governor of the State.