'Bolt Still World's Greatest Athlete'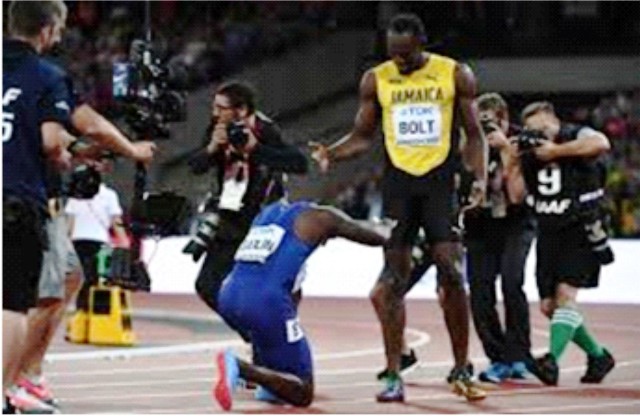 Although Jamaica's Usain Bolt could not win his last 100m of the International Association of Athletics Federations (IAAF) World Championships, some athletics enthusiasts say he remains the world's greatest athlete.
Tidesports source reports that Justin Gatlin won the London IAAF World Championships' 100m with a time of 9:92secs ahead of Christian Coleman returned 9:94secs for the second position, while Bolt returned 9:95secs.
Bolt, who bows out at the championships which began on Aug.4 and ends on Aug.13, had his Nigerian fans showing their respect on the social media platforms for having scintillated the world for 12 years.
Tony Urhobo, a former Athletics Federation of Nigeria (AFN) President, in his reaction described Bolt as a "'true gladiator'' whose memory would linger in the hearts of many fans.
"Still, I hail the great big man who has thrilled us for over 12 years with scintillating performances on the track. He has been a beauty to watch, a true gladiator.
"He has re-defined the Track game in many aspects and in many ways. I am certain he will continue to be under-studied as a research subject for years to come.
"I know he will endure as an inspiration and influencer for myriads of athletes from all over the world for generations to come.
"Regrettably, we bid farewell to the greatest and fastest athlete of all times, Usain Bolt!''
Urhobo, now an athletics coach, said watching Bolt's qualification into the semi-finals was a struggle rarely seen from him, while commending Justin Gatlin.
"We know he is not the quickest off the block, but he was unusually slow that time. I must give it to Gatlin for coming from behind to snatch the World's gold.
"Although I was on Bolt's corner, but did you see the frequency of that catch-up run? It was mesmerising, absolutely breathtaking!
"An obvious observation of Bolt's performance this year was that he was not in the best form he could have been even at this time of his career.
"Watching him for probably the last time in an individual event was an emotionally moving event.
"I do hope he gets his hands on the 4×100m gold; the competition is stiff though,'' Urhobo said.
The former AFN president said that another touching incident at the 100m final was the booing of Gatlin by spectators, saying "drug cheat tarnishes athletes reputation''.
"I also want to comment on another moving moment, when Gaitlin bowed to Bolt after winning the race like: `You are still the king, you are still the greatest'.
"Something shifted in my heart for Gaitlin, if you noticed, he was the only athlete that the crowd of spectators noticeably booed during the introduction and after the race.
"The tag of `drug cheat' has dogged his career ever since his drug bans. I think that a lot of athletics lovers will forgive him after that display of humility, bowing to Bolt,'' he said.
Saheed Akinpelu, also an athletics coach, said on his Facebook page to congratulate Bolt: "He will always earn respect even after retirement''.
Divine Oduduru, a five-time African Junior Champion, who adores Bolt, took to his Facebook saying: "A big congratulations to you, no matter what, you are my hero.
"The king of track, you ended well,'' said Oduduru who ran alongside Bolt in the 200m semi-finals of the 2016 Rio Olympics.
In a hilarious comment on his Facebook, Chukwudi John Olisakwe, another young athletes, said that "I will bet with my 2012 running spike that Bolt will always be a legend''.
NPFL Title Race: Kano Pillars Throw In Towel
Kano Pillars head coach Ibrahim Musa, has admitted that the title race could be over after leaders Akwa extended their advantage to six points at the weekend.
The Promise Keepers defeated Jigawa Golden Stars at home last Sunday and needs just four points from remaining three matches to seal their first ever league crown.
Musa who watched his side grind out a 1-0 win over Abia Warriors at the Ahmadu Bello Stadium in Kaduna, said the title could be heading to Uyo after what happened last Sunday.
"Sincerely speaking, it's difficult to win the title now after Akwa United won [against Jigawa Golden Stars]. We cannot deceive ourselves [that we still have a chance to win the league]. Let's go and fight for the second position in order to secure continental football."
Ibrahim Musa however ever called on his boys to finish strongly starting with the game against Kwara United on Wednesday.
Pillars will then hosts Wikki Tourists in Kaduna on Sunday, before wrapping up the campaign away.
Team Nigeria Continues Poor Run At Tokyo 2020
Nigeria continued her poor run in the ongoing Tokyo Olympics games after players lost out in the table tennis singles event. The only remarkable point for the country was the induction of veteran table tennis star, Funke Oshonaike into the ITTF Club 7.
Despite crashing out of contention at the Games, Oshonaike officially joined the exclusive club of table tennis players who have attended seven Olympics.
Funke was presented, with a certificate of authenticity, crafted in sterling silver and layered with white gold at the Tokyo Metropolitan Gymnasium Hall.
The Olympic participation record dates back to her first Olympics in the 1996 Atlanta games as she is the first woman to hold such in the ITTF.
She attended the ceremony alongside Segun Toriola and the Public Relations Officer of the Nigeria Olympic Committee, Phemmy Adetula.
Meanwhile, another vetran and medal hopeful, Aruna Quadri, suffered a defeat in the men's singles yesterday.
The Nigerian lost 4-2 to Brazil's Gustavo Tsuboi in the third round and has been eliminated from the game.
Quadri who reached the last eight of the 2016 edition in Rio took the first set 15-13, but Tsuboi fought back to win the next two sets 11-9, 11-6.
Aruna responded and won the fourth game 11-7, but fell short in the final two sets as Tsuboi sealed passage into the next round with 11-7 and 11-6 victory.
Aruna has now followed his compatriot Olajide Omotayo, Funke Oshonaike, and Offiong Edem out of the competition.
Nigeria's table tennis sensation, Offiong Edem was also eliminated from the Tokyo Olympics Women's single event.
The 34-year-old kissed the event goodbye following a defeat to three-time American Champions, Lily Zhang in the early hours of Monday.
Edem, who was far from her best lost by four sets to one (13-11,2-11,2-11, 8-11,6-11).
Despite the defeat, Edem remains the only Nigerian table tennis star with a win at the ongoing Tokyo Olympics.
She defeated Csilla Dora Madarasz 8-11, 9-11, 9-11, 11-9, 4-11) in her first match, before the eventual defeat to the three-time Olympics champion.
In a related development, Nigeria's Elizabeth Anyanacho has voiced her disappointment for missing out on a medal at the Olympics.
Anyanacho failed to make it to the podium in taekwondo following a narrow defeat to a Turkish opponent Nur Tartar on Sunday.
She competed in the women's -67kg and suffered a 12-7 to much experienced Nur Tartar of Turkey.
"I lost to Turkey 7 – 12. Turkey then lost in golden point to the USA after a 1 – 1 draw. This means I am totally out of fighting for a podium place at the Tokyo Olympics," she told the media.
"I have cried and I still feel hurt because I wanted to spring a good surprise, despite being four years early to my original Paris 2024 Olympics.
"It has been quite a journey. Truly, a long and challenging journey with a rollercoaster of emotions.
She added that the painful defeat will surely help her development in sports.
In basketball, it was an encouraging encounter for Nigeria's D'tigress as they lost to World powerhouse, United States 72-81 in the opening group B match of the Tokyo Olympics games.
The Nigerian girls started the game pretty promptly and sharp as they ran into a 6 point lead early in the game and took the first quarter with a 3point lead over the USA at 20-17.
They fell short of the spark in the 2nd quarter as the experience of USA players came to the party as they racked up 27 points in the quarter to Nigeria's 12 to take the quarter 32-44.
More of the same it was in the 3rd quarter as the match began to run agonizingly away from Nigeria's D'Tigress as the USA began to drop huge 3pts shots and draw a lot of fouls from Nigeria due to the aggressive defensive full court play of the Nigerians as the quarter ended 50-70.
With almost all hope gone, the huge height of the United States girls began to show as they extended the lead by over 20pts and it was beginning to look like a landslide comfortable win for the USA but it wasn't to be as Nigeria's D'Tigress showed outstanding fighting spirit and accrued a massive 22points in the last quarter compared to USA's 11points to reduce the deficit to just 9points.
Joshua Vows To Smoke Fury In Ring
Anthony Joshua has declared he would fight Tyson Fury even with no belts on the line and has vowed to "smoke that guy" should they finally meet in the ring.
WBA, IBF and WBO heavyweight champion, Joshua had appeared set for a unification showdown with fellow Briton, Fury, the WBC title-holder, before a United States arbitrator in May ordered the latter to have a third bout against Deontay Wilder
That contest is due to take place in Las Vegas in October, rearranged from this month after Fury tested positive for Coronavirus, while Joshua is now preparing to face Oleksandr Usyk at the Tottenham Hotspur Stadium in September.
Speaking to Tidesports source, Joshua said when asked if he thought Fury did not want a fight against him: "He's a fighter isn't he? What's the worst that can happen? You get hit. He's been doing it for years.
"However, I just know on my end, my management team and my promoters, we've done everything we can to make this happen, and as long as I'm champion,I'll compete with anyone."
On meeting Fury regardless of if they win or lose their next fights, Joshua said: "Without the belts? I rate that, I rate that, that's what I'm talking about.
"We'll fight 100 per cent, let's do it. I'll smoke that guy. I will. It's annoying."
He added: "It's not me. It's the other side that are letting this down. We are keen, we are ready."
Asked by Neville if he respected Fury as a man, Joshua said: "I don't know, I don't really look at anyone in my industry like that. That's people I want to just fight.
"I haven't got no time for none of them. I'm not friends with no-one, they're all enemies at the end of the day."
Joshua also gave his thoughts on taking the knee – something he said he would be prepared to do in the ring.
England players made the anti-racism gesture ahead of matches at this summer's European Championship, which was booed by some fans.
Without the belts? I rate that, I rate that, that's what I'm talking about.
Asked by former England and Manchester United defender, Neville for his view on what he had seen in terms of football and taking the knee, Joshua said: "I feel like the players and the teams have done a great job of explaining what the reasons are for taking the knee.
"As a fan, whether you're there for that, or not, you're there to watch the team win. The importance of supporting your team mates and your players – emotionally you're with them through thick and thin. That's the whole point of being like 'I ride for this team'. That's loyalty.
"The reason that has been explained of them taking a knee is to bring awareness to an issue that's been going on. Before phones were recording certain incidents, these things were happening. Certain people are aware, some people have learnt more recently. But as I said, it's nice that the explanation was made clear as to why the knee is being taken.
"This is just for a change for the better. It's not political, it's not about defunding anything or funding anything. The change wants to be made for the better. For the betterment of my kids, probably your kids, probably the person down the road's kids, so harmony is created, because division is going to cause war."
When then asked if he would take a knee in the ring, Joshua said: "Yeah, 100 per cent I would. I'd take the knee anywhere."