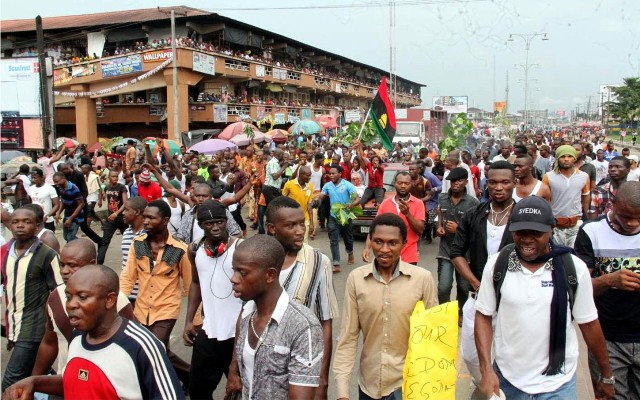 A recent statement credited to the Indigenous People of Biafra (IPOB) says that the pro-Biafra group has declared Port Harcourt, the Rivers State capital, as its operational base. According to the statement issued by the group's Media and Publicity Secretary, Mr. Emma Powerful, Port Harcourt was chosen based on the fact that many people now regard it as the unofficial power base of the IPOB-led Biafra resurgence, especially in the South-South geo-political zone. The release also expressed the hope that Uyo, Oron, Ogoja, Yenagoa and Warri will soon become centres for the Biafra struggle.
Indeed, since the arrest and detention of the London-based leader of IPOB, Mr. Nnamdi Kanu, while on an alleged secret trip to Nigeria two years ago, Port Harcourt has witnessed a number of street processions calling for his immediate and unconditional release from the custody of the Directorate of State Security (DSS) in Abuja.
During some of these demonstrations, Rivers indigenes and residents, particularly those in Oyigbo town, were said to have been harassed, intimidated and forced to shut schools and their businesses and join the agitation. Even the latest of these processions which was reportedly planned as a rally to support US President Donald Trump's inauguration also turned violent.
But more disturbing is the observation that these street agitations have continued to recur in spite of the many condemnations and outright warnings of the state government and its people against such acts. In fact, as the Chief Security Officer of the State, Governor Nyesom Wike had, in a state broadcast aimed at distancing his government from IPOB activities in the state and also reassure Rivers people and residents of their safety, warned thus: "Let no one be in doubt of the resolve of the Rivers State Government and the security agencies to maintain law and order at all cost within the state and preserve the unity of the Federal Republic of Nigeria.
"Majority of these individuals have come from neighbouring states and, in the course of these protests, disrupted social and economic activities, damaged properties, assaulted and inflicted injuries on other citizens going about their lawful endeavours."
Similarly, some notable groups in the state, including Ogbakor Ikwerre, National Union of Ikwerre Students, the Rivers Elders and Leaders Council (RELEC) and eminent persons from the state have also prevailed on IPOB and other pro-Biafra agitators to discontinue their demonstrations in Port Harcourt. These groups have respectively argued that Rivers people are not and will never be part of the agitation for Biafra; hence, there is no basis for any pro-Biafra group, under whatever name or guise, to adopt Port Harcourt as its operational base.
The Tide endorses the sentiments of the state government and these Rivers groups and persons who had lent their voices against any further use of Port Harcourt for IPOB protests. We, therefore, view the sustained reference to Port Harcourt as 'Igweocha' and its declaration as IPOB's operational base as an assault on the sensibilities of Rivers people.
While we are not opposed to the privileges of any section of the country to self determination and freedom of association, we, however, think that no person or group has the exclusive right to force another to belong to where they do not want to be. It is also our candid position that if there is any entity in the Nigerian project that feels so seriously marginalised, it is obviously the southern minorities to which Rivers State rightly belongs.
IPOB should, therefore, cease to cause disaffection among Rivers people or the Ijaws in their quest for a sovereign state of Biafra. What's more, it is almost 50 years since the creation of Rivers State and its subsequent liberation from the avoidable rebellion that resulted to the Nigerian Civil War, but not all the war survivors from these parts would want to be reminded of their unsavoury experiences as refugees in neighbouring lands.
Before Nigeria's Independence in 1960, the minority people of the Niger Delta did have cause to demand for self determination without causing rowdy protests anywhere beyond their shores. This peaceful move gave rise to the establishment of the Willinsk Commission and later, the Niger Delta Board. Again, even in the face of military dictatorships in the 1990s, the Ogonis of Rivers State were led by the late internationally acclaimed environmentalist, Kenule Saro-Wiwa, in non-violent processions to draw global attention to the operational excesses of a multinational oil firm in Ogoniland and, by extension, the oil-rich Niger Delta. These processions were mainly in and around Port Harcourt, but certainly not in Enugu, Umuahia, Owerri or any other part of Nigeria.
We, therefore, implore the state government and Rivers leaders to continue to defend the people's inalienable right to belong to where they want and speak in one voice against what we consider as a clear and grave danger. The Ijaw National Congress (INC), Ijaw Youth Council (IYC) and other such bodies must join their Ikwerre counterparts to speak out now or never.
Combating Food Crisis In Nigeria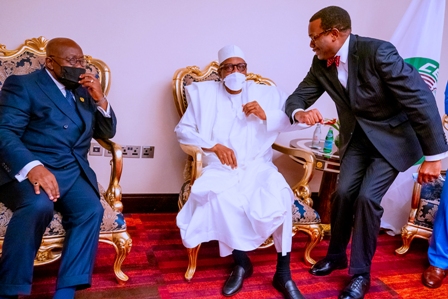 Dire economic conditions have been exacerbated by severe shortages in food supply in Nigeria. Therefore, the government should do all it can to ensure that the country is not hit by food depletion by promoting local production rather than resorting to the usual food imports. Immediate steps should also be taken to combat the threat of destructive pests.
Over the years, Nigeria has spent billions of dollars importing basic food items from other countries. Not long ago, former Minister of Agriculture, Audu Ogbe, revealed that Nigeria spent as much as $20 billion a year on food imports. This is an infamy for a country with 99.9 per cent arable land that has huge potential for agricultural development.
It can be seen that policy and institutional obstacles are the main stumbling block to Nigeria's agricultural development and agro-related industries. In addition to the lack of commitment, there has been no policy push for agro-processing and value-added tool manufacturing. Furthermore, epileptic power is a major barrier. Nigerians would not be importing food or going hungry if the right policies and structures were in place.
Reports show that more people are falling into extreme poverty daily. Some live on less than a dollar a day and are unable to eat three meals a day. About 7.1 million people in Nigeria are currently in need of humanitarian assistance, and another 1.8 million people are still living in camps for internally displaced persons in conflict-affected areas. Their main need is food. We must identify the problems associated with food production and distribution to overcome the looming hunger and food crisis.
Insecurity is a major concern currently plaguing food production, supply, and distribution. The killing of 43 rice farmers in Borno State by Boko Haram militants is still fresh in farmers' memories. Similar killings by bandits or herder/farmer conflicts have occurred across the country. Insecurity also hinders the free movement and distribution of agricultural products. These events create great fear among farmers, who are forced to abandon their farms.
Low agricultural product quality and inputs are also identified as one of the threats to food production. At a 2019 national workshop analysing agricultural input supply chains in West Africa and the Sahel sub region, agricultural experts agreed that despite population growth in Nigeria and West Africa, agricultural inputs and productivity were declining. Their position was that most farmers did not understand improved seeds and how to obtain them. Farmers' awareness in this regard must be improved.
Lack of storage is another issue in the food value chain that contributes to hunger. Sadly, more than 60 per cent of our produce perishes before it reaches the final consumer. This is because the country lacks sufficient storage facilities to keep perishable goods. Tomatoes, peppers, onions, and others are the hardest hit. These products are prone to spoilage soon after harvest.
Consequently, we call for the speedy re-introduction of various marketing boards, especially for cash crops such as cocoa, cashew, rice, and maize. The defunct marketing boards were emplaced to scale agricultural hurdles of poor financing, fluctuating prices and inability to access markets. The agricultural boards were of great help to farmers with relevant information and capacity building towards stabilising production and marketing of farm produce.
Poor transport systems and road networks have also been identified as a factor hindering an effective and efficient food distribution system. Currently, most produce is transported across the country by road on trucks. Food distribution and delivery to their respective destinations are greatly hampered by poor roads and general insecurity.
The current rice revolution policy of the government is applaudable, but not adequate. That is why the price is still on an upward swing. The availability of alternative food to rice must be the priority of governments at all levels. A situation where rice is given so much priority almost to the neglect and exclusion of other food crops the country is equally blessed with is not in the interest of the nation.
Our federal lawmakers should enact a law to compel all tiers of government to regulate prices of food and other items, guarantee food security and lessen the economic hardship on Nigerians. The legislators should meet with critical stakeholders in the country to address the frightening rise in the prices of goods. These should include captains of industry and other promoters in the economic sector on ways for a drastic reduction in prices of goods and services.
From the onset of COVID-19, global food prices have rocketed, putting pressure on the world's most fragile countries. In Nigeria, especially, soaring prices and growing insecurity are deeply felt and could foment protests and social unrest. The pain is unusually acute because purchasing power and social safety nets are virtually absent in the country, and discontent with underperforming governments is simmering.
Since local production of food is not getting the required boost, the Federal Government should reopen more borders to address the food shortage in the country. This will be a step in the right direction. Food importation could arrest Nigeria's food inflation to an extent. Making food available and taming hunger that could escalate conflicts should be the focus of our country rather than protectionism. This measure would help reduce the surging cost of food items and other necessities.
Besides the insecurity that daunts farmers, the poor state of infrastructure in rural areas where most of the farming population lives is a major impediment to Nigeria's efforts to ensure food security. State governments should correct this. The need to provide good rural roads and off-grid electricity using solar energy to improve the lives of rural residents cannot be overemphasised. States need to prioritise rural infrastructure and agriculture with strong private-sector.
Address Looming Genocide In Nigeria
Last Friday, January 27, was designated by the United Nations General Assembly as International Holocaust
Remembrance Day (IHRD). Since 2005, the UN and its member states have held commemoration ceremonies to mark the anniversary of the liberation of Auschwitz-Birkenau and to honour the six million Jewish victims of the Holocaust and millions of other victims of Nazism.
The purpose of International Holocaust Remembrance Day is two-fold: to serve as a date for the official commemoration of the victims of the Nazi regime and to promote Holocaust education throughout the world. Since 2010, the UN has designated specific themes for the annual commemorations that focus on topics such as collective experiences and universal human rights. In addition to Holocaust Day, many countries hold national commemoration ceremonies on other dates connected to the Holocaust.
Resolution 60/7 not only establishes January 27 as "International Day of Commemoration in Memory of the Victims of the Holocaust", but it also rejects any form of Holocaust denial. Drawing from the Universal Declaration of Human Rights, the resolution condemns all forms of "religious intolerance, incitement, harassment, or violence against persons or communities based on ethnic origin or religious belief" throughout the world.
The first commemoration ceremony was held on January 27, 2006, at the UN Headquarters in New York City. Each celebration has a specific theme. The 2022 theme was "Memory, Dignity, and Justice." It explored how preserving the historical record and challenging distortion are elements of claiming justice. However, the theme of 2023 is "Home and Belonging." It reflects on what these concepts meant to persecuted individuals during the Holocaust and in its aftermath.
Holocaust,  like genocide, is the deliberate and systematic destruction of a group of people because of their ethnicity, nationality, religion, or race. Genocide has been practised throughout history. In Bosnia-Herzegovina, the conflict between the three main ethnic groups – the Serbs, Croats, and Muslims – resulted in genocide committed by the Serbs against Bosnian Muslims. In the late 1980s, a Serbian named Slobodan Milosevic came to power. In 1992 acts of "ethnic cleansing" started in Bosnia, a mostly Muslim country where the Serb minority made up only 32% of the population.
In 2003, violence and destruction raged in the Darfur region of western Sudan. Government-sponsored militias known as the Janjaweed conducted a calculated campaign of slaughter, rape, starvation, and displacement in Darfur. It is estimated that 400,000 people died following violence, starvation, and disease. More than 2.5 million people were displaced from their homes and over 200,000 fled across the border to Chad. The then United States Congress and former President George W. Bush of the United States recognised the situation in Darfur as "genocide."
Beginning on April 6, 1994, groups of ethnic Hutu, armed mostly with machetes, began a campaign of terror and bloodshed that embroiled the Central African country of Rwanda. For about 100 days, the Hutu militias followed a premeditated attempt to exterminate the country's ethnic Tutsi population. The killings only ended after armed Tutsi rebels, invading from neighbouring countries, managed to defeat the Hutu and halted the genocide in July 1994. By then, over one-tenth of the population, an estimated 800,000 persons, had been killed.
Between 1975 and 1979, Pol Pot led the Khmer Rouge political party in a reign of violence, fear, and brutality in Cambodia. An attempt to form a Communist peasant farming society resulted in the deaths of 25% of the population from starvation, overwork, and executions.  By 1975, the U.S. had withdrawn its troops from Vietnam, and Cambodia lost its American military support.  Taking advantage of this opportunity, Pol Pot's Khmer Rouge seized control of Cambodia and murdered intellectuals, former government officials, and Buddhist monks.
There have been a series of dastardly acts that suggest ethnic cleansing in Nigeria. Kaduna is increasingly the epicentre of violence, rivalling Borno State, the home turf of Boko Haram. Kaduna has long been a place of political, ethnic, and religious violence. The city has undergone ethnic "cleansing," with Christians now concentrated in the south and Muslims in the north. Since the end of military rule, Kaduna has seen election-related violence that turned into bloodshed along ethnic and religious lines.
The growing attacks reportedly by armed Fulani herdsmen in Nigeria have left villages previously occupied by Christian farmers desolate. The attacks propose "an Ethnic cleansing agenda" in the country. They have become so frequent that some families have suffered multiple displacements. The Fulani herders are systematically killing the local population and occupying their territories. The killings have a motive of religion behind them. The Fulani killers are Muslims, and the conquering of the territory is paramount to large Muslim populations in the country.
Many other states in Nigeria, especially in the country's South East region, Makurdi, Gboko, Otukpo, and Katsina-Ala in Benue State including Ogun State, Cross River, Ebonyi, Imo and Anambra continue to experience attacks by Fulani militants. Thousands of lives have been lost, property destroyed, and communities left in disarray, with the population of internally displaced individuals totalling over a million in Benue State alone, to say the least.
President Muhammadu Buhari must personally lead the peace resolution efforts based on a bilateral and multinational approaches to end needless ethnic and religious-based killings and armed violence in many parts of the country. If the violence continues unchecked, Nigeria may slip into a killing field where the government and security agencies will become increasingly helpless.
Though the responsibility to protect populations against genocide, war crimes, ethnic cleansing, and crimes against humanity lies primarily with individual States, the principle also underlines the responsibility of the international community to take collective action, in a timely and decisive manner, to protect populations from those crimes when States manifestly fail in their responsibilities. There is a need for a collective response that would protect populations by either stopping the escalation of ongoing atrocities or accelerating or prompting their termination.
Being able to recognise the signs of genocide is only the first part of how to end the crime. It is also important to act when any of these steps are underway to prevent the progression to full-blown mass killing. Genocide usually takes place during wartime, so to prevent a massacre, it is essential to find the causes. Many conflicts stem from racism, intolerance, discrimination, dehumanisation, and hatred of others. Addressing these issues should be a primary goal because it can prevent armed conflicts.
Addressing Petroleum Products Supply Challenges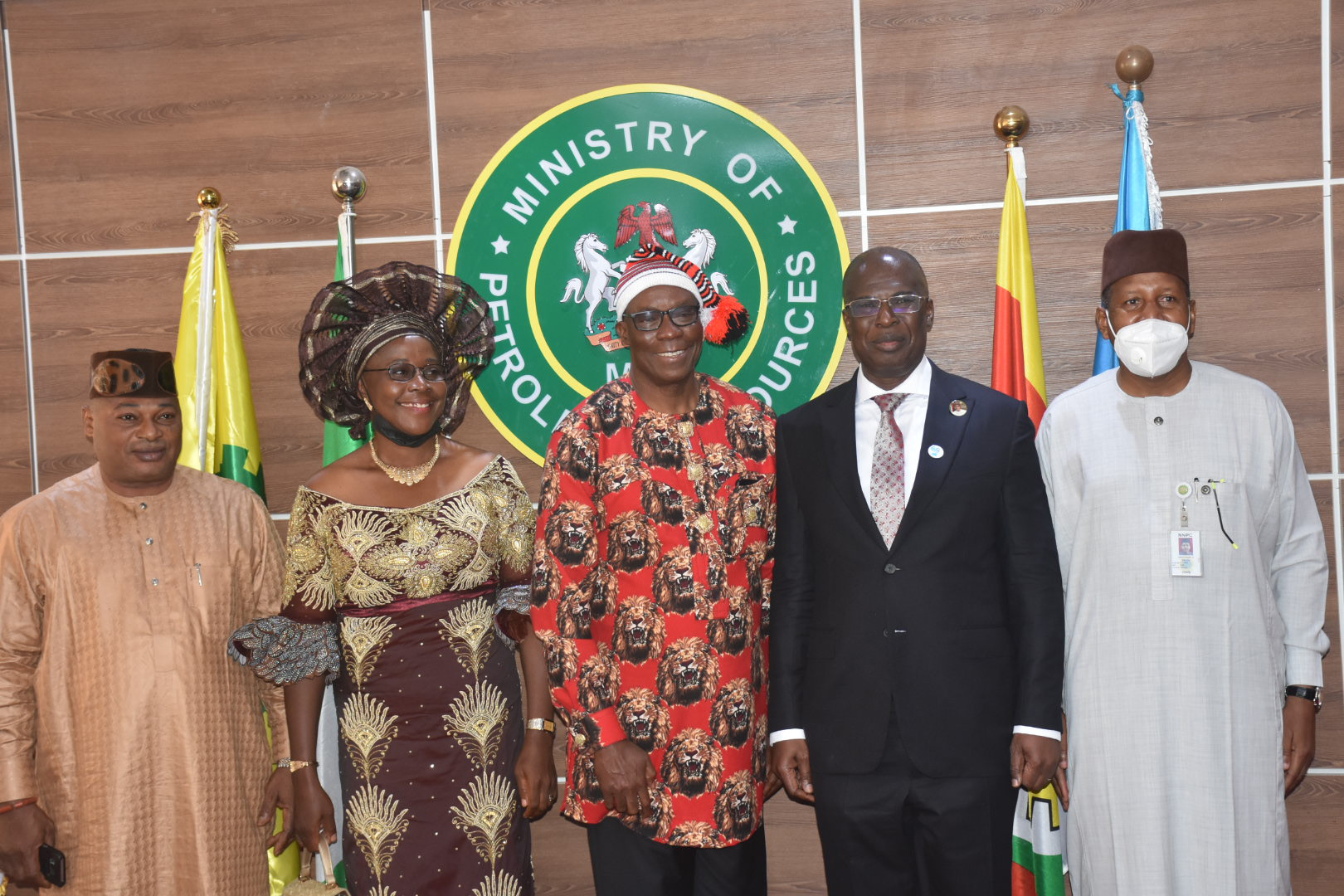 Nigeria's Federal Government recently announced that the commencement of operations at the 60,000 barrels per day Port Harcourt Refinery had been moved from December 2022 to the first quarter of this year. In September last year, the Minister of State for Petroleum Resources, Timipre Sylva, while speaking after a Federal Executive Council (FEC) meeting, promised Nigerians that the country's biggest refinery would become functional by December 2022.
However, that was no longer possible, according to Sylva and the Group Chief Executive Officer of the Nigerian National Petroleum Company Limited (NNPC), Mallam Mele Kyari. Both men spoke at the President Muhammadu Buhari Administration Scorecard (2015 – 2023) series, anchored by the Federal Ministry of Information in Abuja. The reason adduced by Sylva and Kyari was that the government was buying stakes in some upcoming privately owned refineries in the country because of the need to ensure the nation's energy security.
Sadly, the Nigerian government, instead of developing refining capacity, waits patiently for the completion of private refineries currently being constructed to end fuel scarcity in the country. This compels the nation to rely on imported petrol for local consumption. This factor robs Nigeria of the gains of the current spike in crude oil prices. The contentious issue of fuel subsidy would not have arisen if Nigeria can refine all its needed petroleum products, as dependence on imported fuel has continued to put serious pressure on the nation's foreign exchange account at the expense of other productive sectors of the economy.
We reject the reason given by the two government officials for the inability of the Port Harcourt Refinery to commence production last December as originally scheduled. If the refinery had worked, it would have added 60,000 barrels per day of Premium Motor Spirit (PMS) to the supply equation at a time when fuel scarcity has returned across the country and prices have skyrocketed to between N280 and N500 per litre at the few filling stations dispensing the product. This would have helped to reduce the burden on Nigerians.
Furthermore, we think that resuscitating and putting other local refineries back on stream will additionally boost the government's desire to bridge the yawning gap in the demand and supply chain, and reduce the frustration millions of Nigerians are facing in efforts to move around from one place to another or power their homes. Getting more private sector-driven refineries, like Dangote, Waltersmith, and others to contribute to enhancing the volume or quantity of refined petroleum products available to consumers will help address the excruciating pains the people are experiencing.
At a time when inflation has risen to an all-time high, the Naira's capacity to compete at the international market (exchange rate) is so weak, the purchasing power of the average Nigerian has been drastically whittled down, and economic opportunities are near zero. Hence, addressing the fuel supply hiccup is key to refocusing the nation, and returning it to a functional state.
Petrol shortages have been recurring for several decades in Nigeria. The present scarcity resurfaced about four months ago and has defied all logic and solutions. The government and its agencies are clueless, making disconnected statements and uncoordinated moves. Curiously, the Department of State Service (DSS) directed the NNPC Limited, the Independent Petroleum Marketers Association of Nigeria, and the Major Oil Marketers Association of Nigeria to resolve the fuel crisis in 48 hours.
Others directed by the Service were the Depot and Petroleum Marketers Association of Nigeria, Nigerian Association of Road Transport Owners, Nigeria Union of Petroleum and Natural Gas Workers, Petroleum Tanker Drivers Union, and other stakeholders. The queues initially appeared to reduce after the directive, but the reprieve did not last as the scarcity assumed a more acute dimension, frustrating Nigerians who are now spending many precious hours at filling stations.
Marketers were selling the product at prices ranging from N175 to N300 per litre in defiance of the regulated pricing regime, signifying an out-of-control. Some private depots in Port Harcourt, Lagos, and other cities increased the ex-depot price to N235/litre as against the approved N148.17/litre. The scenario is further proof of the disarray in the administration of President Buhari. A serious, coordinated government would have cobbled together an inter-agency effort, efficiently coordinated, and with tasks assigned to each agency.
This development is ignominious considering that Nigeria is one of the six leading oil producers and exporters in the world, a fact the President once underscored when meeting with stakeholders. But lamentations are not enough. The Buhari-led government should set to work immediately on a long-term scheme that will not only end scarcity, but ensure the refining of enough petroleum products locally for Nigerians' consumption. The corruption-ridden importation, which has hampered local refining, is the bane of fuel supply.
Whenever Nigeria experiences fuel scarcity, there are usual speculations about likely causes, claims, and counter-claims by operators and regulators. But one constant fact is that scarcity is not often because of product non-availability but the general increase in the overall cost of importing the product, which usually affects marketers who are always without the required capital amid complaints of unsettled previous loans from the banks.
It is time to ask the Nigerian authorities pertinent questions. What has happened to the refineries the NNPC claimed had been turned around to complement import? What impact has the recently enacted Petroleum Industry Act (PIA) had on fuel supply? The law, passed after more than a decade of debate, was meant to overhaul the nation's oil industry; is it doing that? What about the modular refinery development strategy that was meant to leverage local refining? Why is it not operational yet, and is there nothing to be done about that?
Buhari should stop treating petrol scarcity with levity. As President and de facto Petroleum Minister, he should suspend his endless foreign trips, and coordinate an inter-agency effort to resolve the current supply logjam. Certainly, enough excuses have been offered for the fuel scarcity in the country and sufficient damage has been done to the people's well-being. The present administration can end this national shame if it shows a greater commitment to governance and the interest of the people.