Nigeria, Only Country With Ill-Equipped Diplomats In Language – Don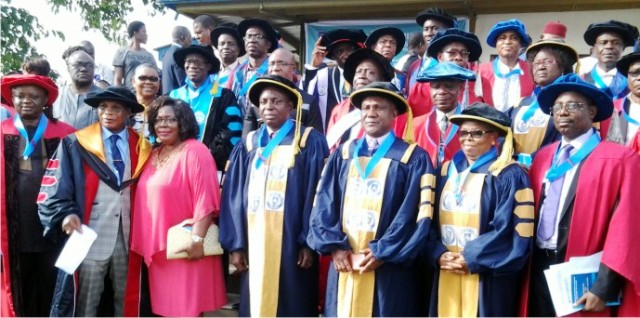 Nigeria's diplomats
are the only ones in the world who are ill-equipped in terms of language in International Relations.
A university teacher, Professor Folorunso Adisa Ogunleke, made this assertion on Thursday during his inaugural lecture titled "Bilingualism and International Relations", at the Ignatius Ajuru University of Education, Rivers State in Port Harcourt, recently.
"In this modern age, it is sad to note that Nigeria is the only country that has many diplomats who do not speak the official language/languages of their host countries.
"Party members are appointed ambassadors instead of career ambassadors who are made idle at the Ministry of Foreign Affairs. And this is to the detriment of the Nigerian State", he said.
Explaining the Concept of Bilingualism/Trilingualism, the Professor of French stated that it implies "the ability to speak and write two or three international languages", which most Nigerian Diplomats are incapable of.
Contrarily, he continued, the French have instituted trilingualism in their educational system from the junior secondary school level to university, which ensures that every educated French speaks a minimum of two international languages.
"Since international relations are first driven through the vehicle of international languages, in our opinion, French speaking countries are positioned to be better players in international relations", he said.
Professor Ogunleke, who is the Dean, Faculty of Humanities, IAUE, recalled that towards turning Nigeria into a bilingual country, the late Head of State, General Sani Abacha, had declared that the country will make deliberate effort.
"Nigeria will embark on a vigorous language programme that should ensure that our people, within the shortest possible time, become bilingual", Professor Ogunleke quoted the late Head of State.
Ogunleke also quoted the "Nigeria Policy on Education on French which emphasized: "For smooth interaction with our neighbours, it is desirable for every Nigerian to speak French.
"Accordingly, French shall be the second official language in Nigeria, and it shall be compulsory in primary and junior secondary schools."
Unfortunately, he said, since its formulation, it had remained "a mere policy".
In his address, Acting Vice Chancellor of the University, Professor Joseph Kinanee emphasised on the importance of multi-language competency in international relations.
"I should use this opportunity to repeat that multi-language competency is gradually becoming a veritable survival kit, as some of our frequent – traveller colleagues would attest", he said.
Stories by Sogbeba Dokubo
New NYSC Welfare, Allowances Await Buhari's Consent, Says Minister
The Minister of Youths and Sports Development, Mr. Sunday Dare, has disclosed that a new monthly allowance for National Youth Service Corps (NYSC) members is awaiting President Muhammadu Buhari's approval.
He noted that the economic empowerment of corps members through entrepreneurship training initiative has brought to light the capacity of NYSC as an organisation that is responsive to contemporary national needs.
Dare disclosed this in Abuja, during the inauguration of a 22-man inter-ministerial committee to plan the 50th anniversary celebration of the agency. He said: "Under the leadership of President Buhari, monthly allowances of corps members were increased from 19,000 to 33,000, which is even above the minimum wage. NYSC has sent a proposal to improve on corps members' uniforms and their allowances.
"That is already with the President and if approved, the Skills Acquisition Entrepreneurship Development (SAED) training may be extended beyond three weeks. So, those are areas that are covered and we believe that this committee will also make recommendations on reforms, not just for improved welfare, but for the system that keeps the NYSC engine running."
Director-General of NYSC, Brigadier-General Ahmed, commended the corps members for their roles in the peaceful conduct of the just-concluded Presidential election.
Chairman of the newly inaugurated committee, Mr. Taiwo Adeniyi, assured that the group would deliver on the task given it. Apart from planning the 50th anniversary, the committee is also to propose programmes and activities for the event; examine operations of the scheme and recommend areas of improvement to sustain its relevance.
It is also expected to call for entries from corps members for logo and mascot to commemorate the anniversary.
Why Children Should Not Skip Classes – Educationist
A consultant with True Teachers Organisations (TTO), Mrs Violet Ubah, says children should be given opportunity to progress through all classes, rather than skipping some.
Ubah spoke in an interview with the News Agency of Nigeria (NAN) in Lagos on Friday, in reaction to skipping of classes by some pupils in the foundation stage of their academics.
She said that passing through the normal progression of classes was helpful in boosting their chances of academic excellence.
According to her, the standard has been made clear by the government that the country operates the 6-3-3-4 system of education, except in some courses in tertiary institutions that require additional year.
"The system obtainable in our country is six years in primary school, (that is primary 1 to 6), three years in junior, three years in senior secondary school and four years in tertiary institution.
"It is rather unfortunate that some parents encourage their children in Primary 4 to write entrance examinations into secondary schools and they deny them opportunity of passing through Primary 5 and 6.
"This affects such students' general performances as they will be struggling to cover gaps of topics in missed classes and challenges in catching up with scheme of work in the secondary school.
"The early and foundational stage of a child's education is very fundamental, so there should be a level playing ground for them to progress and get the quality education they require," she said.
The educationist identified being ' child centred against teacher centred' as part of measures to make learning easy in nursery schools, advising secondary school management to also engage students with low performances in extra classes.
"Teachers in nursery section should have plans for the week by taking each child from what they don't know to what they need to know, and with love; that is, simply coming down to their level.
"The services of guidance and counseling unit will also come in handy for students with low performances in the secondary, as they might be having personal challenges from the home that is affecting them," she said.
Meanwhile, she called on management of schools, particularly the private, to make entrance examinations to secondary classes standard, as part of measures to ascertain the qualifications of the pupils and their ability to cope.
University Admissions Must Be Based On Merit -Don
Prof. Jacob Olorunfemi of the Department of Geography and Environmental Management, University of Ilorin, has called on tertiary institutions to insist on merit for students' admission into Nigerian varsities.
Olorunfemi made the appeal on Thursday in Ilorin while delivering his valedictory lecture titled: "Revisiting the why and how of what is where".
According to him, admission of students should be based on merit and any admission request to the Vice Chancellor must be strictly based on merit and not on quota/distribution policy.
He said: "There is even no provision for discretion, and that subsists until the rule is changed."
The don, who until his retirement teaches in the Faculty of Social Sciences of the university, also called for the abrogation of 25 per cent quota for educationally less developed states in Nigeria.
He argued that there is no longer any state in Nigeria without a state-owned university in Nigeria.
"The 25 per cent quota for educationally less developed states be jettisoned, as there is no state without a state-owned university in Nigeria (NUC, 2022).
"Catchment area should be modified to include all the states that are contiguous to the state of location of the university.
"The university Senate should not under any circumstances abrogate its role in the development of curriculum for the university," he said.
The expert in Geography also stated that admission into universities be separated from those of Polytechnics and Colleges of Education.
He explained that applicants to tertiary institutions be given the choice of at least three institutions with the second and third choices from institutions located in the other two major ethnic groups of Nigeria.
Olorunfemi called for the reintroduction of Geography as among the six core courses at the senior secondary school level.
He submitted that Geography be reintroduced as one of the six compulsory core courses at the senior secondary level, because of its utility.
"Geography should be retained in both the faculties of Science and Social Sciences to provide additional entry opportunities for potential students.
"It should be immediately introduced to the Police Academy, Wudil, Kano, because of its importance and relevance to the training of police and other security officers," he added.
Besides, the Geographer called for sufficient investments to develop education in Nigeria, adding that good education is a catalyst for national transformation and development.
He also advocated that the right of all and sundry in an organisation must be assured, guaranteed and protected.
"Promotion should not be based on sentiments, while appropriate criteria should be advertised far ahead of time, such that staff members can do a self-assessment," he advised.
Speaking also, Prof. Wahab Egbewole, the Vice Chancellor of the university. commended Olorunfemi for his contribution towards development of education.
Egbewole, who was represented by Prof. Abayomi Omotesho, the Deputy Vice Chancellor (Academics), described the professor as an academic worthy of emulation, while congratulating him on his retirement.