'Accounting Records, Panacea For BUsiness Growth'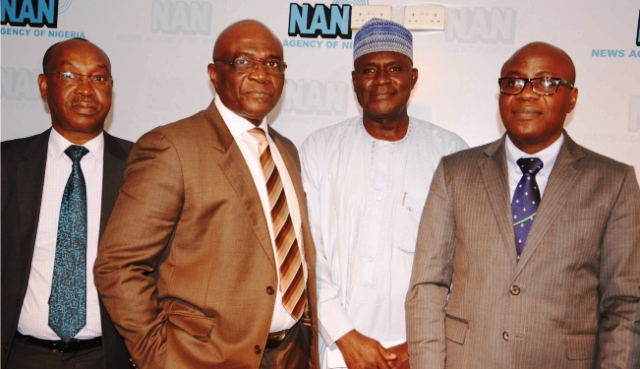 Accurate accounting
records has been said to be a prerequisite to business growth, survival and continuity.
A  professional accountant and business man, Elder Levi Macauley said this during his paper presentation titled, 'Financial Freedom Consequent Upon Proper Accounting' at the Youth and Profession/Skill programme organised by the Adventist Youths Ministries of the Seventh Day Adventist  Church, Mile One, Port Harcourt Central District, last Sunday.
Macauley who noted that many businesses have gone bankrupt in recent times said the cessation of the businesses were due largely to the reckless and uncontrolled spending leading to their inability to discharge their day to day financial obligations.
Macauley said "in any type of business one is engaged in, it is proper  to keep accurate records which is a prerequisite to business growth, survival and continuity.  Some of the businesses that are bankrupt today could have survived and continued were there proper accounting mechanism to control their actions and also result in financial freedom".
Explaining financial freedom as a period of financial independence of an individual, company, corporation or government, Macauley said such was a time when financial obligations are conveniently discharged with internal resources without resorting to outside borrowing during the period under consideration.
"On the other hand, if an individual, business entity, corporation or government is not indebted to anyone or business, the person or business entity is also said to be enjoying financial freedom within the same period", he said.
While noting the present harsh economic situation in the country, Macauley called on entrepreneurs, government and business owners to become more diligent with a view of ensuring financial freedom in order to stay in business and obtain a sustained livelihood.
Lady Godknows Ogbulu
CBN Gov Approves Charter On Ease Of Doing Business
Governor of Central Bank of Nigeria (CBN), Mr Olayemi Cardoso, has approved the CBN's reviewed Service Charter.
A statement from the CBN, midweek, said the service charter is a requirement of the Business Facilitation Act 2022 for driving the ease of doing business in Nigeria.
"It also enables the Bank to fully comply with the directives of SERVICOM Nigeria (The Presidency) on improvement of customer service delivery.
"The charter outlines how the bank promises to work with its external customers in meeting their expectations of service along with what the Bank expects from them", according to the statement.
It stated that the Governor reiterated the Bank's commitment to providing more responsive and citizen-friendly governance through quality service delivery that is efficient, accountable and transparent.
According to the CBN, "The document clearly outlines the Bank's mandates, vision, mission, and core values. It contains the list of services offered by the Bank through its various departments and the service standards for each service.
"The service charter also includes a standardised Customer Complaints Form for reporting service failure as well as a mechanism for addressing service failure in any of the Bank's services".
Bayelsa, NCDMB Task Youths On Skills Acquisition, Opportunities
The Bayelsa State Government has charged youths across the Niger Delta states to leverage on skills acquired to eke out a meaningful living.
The State Governor, Senator Douye Diri, gave the charge Tuesday in Yenagoa, the state capital, at the Youth session of the  2023 edition of the Nigerian Content Development and Monitoring Board (NCDMB) annual Practical Nigerian Content (PNC) programme.
Diri, represented by the State Commissioner for Youths and Sports, Dr Bralate Daniel Igali, noted that though conventional education is needed in most cases to enable job seekers get better placements in  organisations, skill acquisition is inevitable in the contemporary world.
He tasked the youths not to relent in self development, noting that as participants in the fora organized for their development, youths must not just be listeners and participants, but should seize those opportunities to make judicious use of their potentials.
"Over the years, youths have participated in several empowerment and vocational training programmes, but it seems many aren't taking such opportunities seriously.
"As youths, you must endeavour to make maximum use of knowledge and skills acquired to develop yourself and become a responsibly, productive citizen.
"I charge you not only to be listeners and participants in the lectures and training the NCDMB and others would be giving you today as part of their 2023 PNC programme, but to strive to derive the greatest benefit from it", Governor Diri said.
Earlier in his opening remarks, the Executive Secretary, NCDMB, Engr. Simbi Kesiye Wabote, called on youths to take advantage of the various empowerment and employment opportunities made available by the board.
Represented by the General Manager, Corporate Communication and Zonal Coordination of the NCDMB, Mrs Angela Okoro, Wabote stated that the rationale behind the  forum was to inform youths about activities of the board, noting that the annual programme enables participants  benefit from various opportunities provided in the oil and gas sector.
He called on participants to register on the NCDMB's NOGIC JQS portal to be qualified for training, contracts and other available opportunities.
In her presentation on the prospects of the ongoing NLNG Train-7  project, the Coordination Lead of the Project, Dr. Rachael Tamunoso Ibibam, said there were numerous opportunities in the project.
She said the  Train-7 Project comes with new development opportunities that will generate about 12,000 jobs and increase Nigeria's  revenue earnings, as well as provide sufficient LPGs for the local Nigerian market, noting also that the project is 54% completed.
"I want to commend the NCDMB for promoting and encouraging Nigerian businesses. I would like to call on you, participating youths in this forum, to register with the NCDMB as vendors to be qualified to execute contracts in the Train-7 project", she said.
Delivering a paper on conflict management skills at the programme, a  Resource Person, Dr. Patterson Ogon, called for collaborative efforts between and amongst individuals to resolve conflict at home and in the workplaces.
By: Ariwera Ibibo-Howells, Yenagoa
Five Multinationals Exit Nigeria In 10 Months
An analysis of separate notices filed by five multinational firms has shown that the five multinationals have winded down operations in Nigeria in the last 10 months.
On Wednesday, Consumer goods giant, Procter & Gambles, disclosed that it would dissolve on-ground operations in the country.
Chief Financial Officer of the group, Andre Schulten, stated this during his presentation at the Morgan Stanley Global Consumer and Retail Conference.
The company said it was difficult to do business in Nigeria as a dollar-denominated organisation and the macro-economic reality in Nigeria is responsible for its latest strategic decision.
Schulten said, "The other reality that arises in some of these markets is that it gets increasingly difficult to operate and create U.S dollar value.
"So, when you think about places like Nigeria and Argentina, it is difficult for us to operate because of the macro-economic environment.
"So, with that in mind, we are announcing a restructuring programme with the intent to adjust the operating model and adjust the portfolio to ensure that we maintain the portfolio discipline that has brought us to this point.
"The restructuring programme will largely focus on Nigeria and Argentina. We've announced that we will turn Nigeria into an import-only market, effectively dissolving our footprint on the ground in Nigeria and reverting to an import-only model".
The company joins a growing list of multinationals set to exit Nigeria in 2023, following the footsteps of Unilever, which is the first Multinational to announce that it would fold up operations in Nigeria in 2023.
In March, the company had said changes in its business meant it had to exit its home care and skin cleansing categories from Nigeria.
The announcement meant that famous brands such as Omo, Sunlight and Lux, which many Nigerians had become accustomed to, would no longer be on retail shelves.
The company's decision to end production in Nigeria is connected to increased financial difficulties occasioned by the continued devaluation of the naira, among others.
President of the Manufacturers Association of Nigeria (MAN), Francis Meshioye, told The Tide's source that some international manufacturing firms had already exited Nigeria as a result of the power crisis, coupled with the unpredictability of the country's foreign exchange rate before it was recently unified.
He said the N144bn spent on alternative energy sources by manufacturers in 2022 impacted adversely on the operations of his members.
In July, barely a month after Meshioye's warning, GlaxoSmithKline Consumer Nigeria Plc, the country's second-biggest drug producer, announced it was halting manufacturing operations in Nigeria.
According to a statement published on the Nigeria Exchange, GSK Plc (Headquartered in the UK), which owns a majority stake in the Nigerian unit, said it will appoint third-party distributors to sell its prescription medicines and vaccines in the country.
GSK's consumer-health arm, Haleon Plc, also informed GSK Nigeria of its "intent to terminate its distribution agreement in the coming months" and appoint a third-party distributor.
GSK also said it planned "an accelerated cash distribution and return of capital" to minority shareholders.
No reason was given for the company's exit, though the company had in the past raised concerns about the scarcity of forex which made it difficult to maintain supplies of its pharmaceutical and vaccine products in Nigeria.
Last month, Sanofi, a French pharmaceutical multinational, announced its exit from Nigeria.
The company said it had appointed a third-party distributor to handle its commercial portfolio of medicines from February 2024.
While the company's Country Manager, Folake Odediran, had described the decision as a strategic move driven by the company's commitment to continually improve access to medicines, the company's financials indicated that operating in Nigeria had been a tall order.
Shortly after Sanofi's announcement, Bolt Food announced that it had made the difficult decision to discontinue its food delivery operations in Nigeria due to business reasons.
According to a statement by the company, the decision was borne out of the need to "streamline its resources and maximise overall efficiency".