Amaechi Presents Scorecard …Says We've Been Prudent With Rivers Resources
Rivers State Gover
nor and Chairman of Nigeria Governors' Forum, Rt. Hon. Chibuike Rotimi Amaechi has attributed   the successful implementation of projects in the state to well-defined and purposeful use of finance.
Speaking  during the 2015 New Year State Banquet Amaechi said: "We've been very prudent, we've managed our resources in such a way that we can stand our ground and tell people like Tonye Princewill that we can't steal money. I will publish the transaction of our power assets and I tell Tonye Princewill and he knows that I don't like money. Tonye Princewill had a problem with Tonye Cole. It is peer jealousy. Why I said peer jealousy, Tonye Princewill suspected that I was going to make Tonye Cole deputy governor in 2011 and I never had that at the back of my mind and he approached me and said, 'why was I going to do that' and I said it wasn't part of my agenda."
"If that is the reason for which he is attacking Sahara Oil and attacking me, I wish him luck. Let him tell the state why he's trying to malign my character and I am open for a debate with him. But like I said he's my young friend whose ambition is to be governor, I wish him luck. I thank God I had been governor even if he becomes governor, he will be a junior governor to me because I had already become governor before him", he added.
He urged people of the state to appreciate and support the need for power shift in the state's forthcoming governorship poll.
He said "I think that the battle for Rivers soul starts now. You are all here seated, go home and get your brothers and sisters to learn that power has to shift hands. It would be wrong to look at myself, an Ikwerre man and support a greedy and ambitious young boy from the same Ikwerre when you have Kalabari, you have Ogoni and other parts of Rivers State that have not served in the office of the governor'.
It is the responsibility of Rivers people to vote for the party that has put forward change on their agenda. If the reason for which they are puting Ikwerre candidate forward is because of the population of Ikwerre then the rest of Rivers State should forget governorship because it is after one Ikwerre man to another Ikwerre man until they are tired," he added.
According to the governor, "it will not be fair that the mainland will take governorship for 16 years and the riverine won't take for even four years. I think as a people that we should support that shift so that it will go one day from the riverine to the mainland, back to the riverine, back to the mainland until we begin to talk about merit alone".
He thanked Rivers people for the opportunity to serve the state and especially thanked elders and leaders of the state including his wife for their supportive roles. He said his wife has been a source of great strength and encouragement.
Amaechi said, "today will be the last New Year Banquet that we hold in office and today I wish to thank my lovely wife for marrying me. From the day she stepped into my house, she has not known peace because she met me a politician and I have been playing politics until today and she has been able to manage me from that day till today and I want to publicly thank you for that".
He recalled efforts made by his administration during inception to combat insecurity in the state, saying, "I don't want to bore you with what we met in office but you knew that in our first year by this time, this banquet would have been over because everybody would be running back to his or her house. There was a dinner we had in Government House, by the time the Israelis left here to the hotel, they were kidnapped on the way. The Israeli Ambassador to Nigeria was in Port Harcourt for almost one week looking for them until they were released".
Amaechi appreciated members of the State House of Assembly and the Judiciary and National Assembly members for effectively supporting his administration and ensuring survival of democracy in the state.
"I want to thank members of the State House of Assembly who stood their ground despite the challenges that we faced. In fact, people went as far as collecting money, assuring the President that I would be removed from office and I told them the contract I have with God is not over. To remove me, you need to first go to God but beyond God, it was the fact that members of the State House of Assembly stood by us, so I thank the Speaker and all the members of the Rivers State House of Assembly.
"I also thank members of the judiciary. You will agree that they are supposed to be non-partisan but some became partisan in the course of our work. Leave them to God. Don't leave them to human beings. Let God be their Judge. But majority of them were non-partisan and I thank them for being non-partisan and for standing their ground to support Rivers State.
"I thank members of the National Assembly. Out of 13 in the House of Representatives, eight are with us. Out of three in the Senate, two are with us. Only one went his way", he said.
He also thanked state chapters of Nigeria Labour Congress (NLC) and Trade Union Congress (TUC) for their understanding over salient issues and co-operation with his government.
He attributed the drastic fall in allocations to the state from the Federation Account to corruption in the government at the centre and falling world oil price, and noted that the President Jonathan-led federal administration took oil wells from the state and gave to neighbouring states.
Amaechi expressed disappointment over lack of federal presence in the state, argued that Nigerians need a new lease of life.
He said he would ensure full payment for any loan taken by the state government and will not leave backlog of debts for the incoming administration.
According to him, the APC governorship candidate in the state when elected in the forthcoming governorship election, would sustain his achievements and solicited support for the party's governorship candidate, Dakuku  Peterside.
Yiaga Africa Blames Govt For Voters' Apathy
Independent election observer group, Yiaga Africa, has expressed worry that increasing voters' apathy as witnessed in the Anambra governorship election may not have been caused by insecurity but increasing loss of confidence in government.
A board member of the group, Ezenwa Nwagwu held the view in Awka during a post-election reflection meeting with leaders of Civil Society Organizations.
Nwagwu reiterated that the ugly trend was not necessarily occasioned by insecurity that had always heralded elections in the past, but growing disconnect between the government and the masses, saying it is time populace held government to account to bridge the gap.
He said: "Election is over. Now we have to watch governance and the only way to do that is to clearly design pathways through which we can hold the government accountable.
"One of the ways is for the citizens to engage the government with budget process. Government every year estimates what it uses the people's resources to do for them.
"Unfortunately, the people involved don't show any interest, and four years later, the same people will start complaining that government has failed, even when there was nothing to track.
"We need to see how the Media and Civil Society groups can collaborate and produce what I call a citizen charter demand that they can hand over to the new Governor-elect.
"They can liaise with other professional bodies to conduct infrastructural assessment in the state and use that as a document to organize a town-hall meeting to engage government officials."
Nwagwu also identified what he termed "fear and complaint industries" as major impediments to the growth and development of the state, insisting that the two factors must be shut to enable people of the state enjoy democracy dividends.
He added: "We need to close up the two industries of fear and complaint that have gripped the state, especially after the election so people can leverage the benefits of governance.
"If we continue with this scare-mongering and complaints, we will only succeed in having few persons taking over the government and dictating the pace."
CVR: Fresh Registrations Hit 4.2m
The Independent National Electoral Commission (INEC) said that fresh registration in the ongoing Continuous Voter Registration (CVR) has hit 4,297,494.
The commission disclosed this in the second quarter, week seven, weekly update released by the commission in Abuja recently.
The commission said that as at 7 a.m. on Monday, November 22, 1,856,771 persons have completed their online and physical registration.
According to statistics provided by the commission, 1,856,771 persons who completed their registration, include 941,098 males, 915,673 females.
It also added that 741,183 persons completed their registration online, while 1,115,588 completed it through physical registration.
Saraki Visits Benue Over Presidential Ambition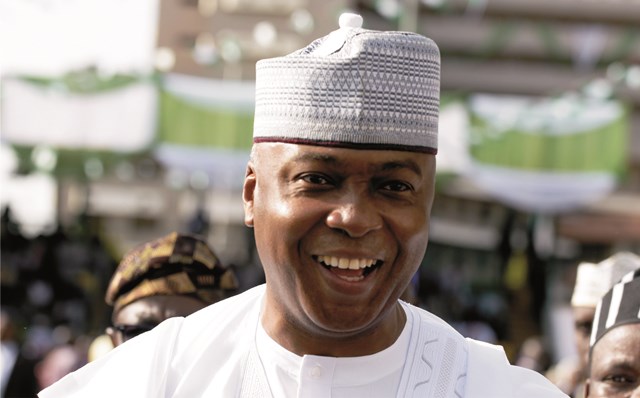 A former President of the Senate, Dr Bukola Saraki, has visited Governor Samuel Ortom of Benue State over his ambition to vie for President in 2023.
Saraki, after a close door meeting with Governor Ortom, also met with the State Working Committee members of the Peoples Democratic Party (PDP) to familiarise them with his intention to kick start consultations for his ambition to rule the country.
He said that the nationwide defection of party loyalists from the All Progressives Congress (APC) to the PDP was an indication that there might not be anyone left in the party before the next election.
"A party that cannot organise its affairs has no business leading this country. A party that has organised its affairs is ready in leading this country and that is the PDP," he said.
Saraki added that the North Central Zone has paid its dues by working so hard in keeping the country together as one united entity just as he pointed out that, "this time we must stand for our own and charity begins at home."
The ex -senate president, who was accompanied on the visit by former Governor of Kogi State, Idris Wada, former National Chairman of the PDP, Kawu Baraje, Senator Suleiman Adokwe and Prof Iyorwuese Hagher, Chairman of Council, Saraki for President Campaign, thanked the Benue governor for standing out for the zone.
Earlier, Governor Ortom, eulogised Saraki for being one of those Nigerians that had contributed immensely to the development of democracy.
Ortom said it was time to rescue the country from bottom, a position it was placed by the APC government, to the top, adding that Saraki deserves the presidential seat to enable him salvage the country from its current mess.
On his part, the State Chairman of the PDP, Sir John Ngbede, represented by his deputy, Isaac Mfo, said the party in the state had remained intact even as he assured the presidential hopeful that they would back his ambition to rule the country.