Hotel Management System | Hotel Management Software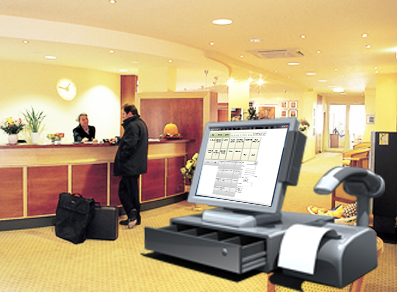 As a hotel industry provider, you know how hard it is to boost profits while giving customers a personalized guest experience. You need hotel software solutions that provide you with what you need, when you need it—whether you work at a large global company, smaller chain, or independent hotel.
Join more than 10,000 hospitality properties worldwide—including some of the world's most recognizable hotels, resorts, and gaming facilities—that use our  hotel software to improve guest experiences and boost profits.
Our  hospitality software systems deliver multi-departmental hotel management software that touches every area of your business, whether it's your financial and asset team; central reservations or corporate office; on-property operations; sales, marketing, and loyalty team; maintenance group; or coordinators of labor and staffing schedules. Our hotel management solutions connect your hospitality-specific strategy and plans to your front- and back-office systems so you can make better decisions and more money. From hotel financial management software, to food and beverage management software, hotel property management software, central reservations, gaming management, and more, you'll get the tools you need to manage availability, rates, reservations, guest profiles, and in-house services.
Join more than 10,000 hotels, resorts, gaming properties and government housing facilities worldwide that use our  Hospitality software, which was developed by technology experts who have more than 25 years of experience in hospitality.
Request a free quote and demo at info@eproafrica.com or call: 0803-478-0061
Multinational Troops Eliminate Terrorists, Rescue Abducted Victims
Troops of the Multinational Joint Task Force (MNJTF), have eliminated scores of Boko Haram terrorists and rescued abducted victims in recent encounters in the Lake Chad Basin region.
The Chief of Military Public Information Office for MNJTF, Lt.-Col. Kamarudeen Adegoke, made this known in a statement on Tuesday in N'Djamena, Chad.
Adegoke said the troops of MNJTF Sector 4 in Niger, while on patrol along Kara–Diffa Road on Jan. 9, 2023, intercepted four persons suspected to be Boko Haram/ISWAP logisticians conveying about 1,000 litres of fuel.
He said the fuel was cleverly concealed in plastic bags inside a Toyota Highlander Jeep and was being transported from Maine Soroa to the Lake Chad Islands, possibly to suspected terrorists.
He added that the sum of N650,000 was also recovered hidden in the vehicle, saying that suspects and exhibits were in custody of MNJTF Sector 4 for further investigations.
Adegoke said the troops of Sector 3 (Nigeria), had in another incident on January 11, 2023, repelled an attempted infiltration by the Boko Haram/ISWAP criminals due to superior firepower.
He said that two terrorists were killed at the end of the encounter and one Rocket Propelled Grenade, seven bombs, two 60mm mortar bombs, 36 rounds of 7.62mm ammunition, seven mortar chargers and two wooden canoes were recovered.
According to him, the canoes were promptly destroyed.
"Similarly, on Sunday, unspecified number of Boko Haram/ISWAP terrorists also attempted to infiltrate Monguno in MNJTF Sector 3 (Nigeria) in the early hours of the morning but met the gallant and alert troops.
"Troops engaged the criminals in a fire fight forcing them to withdraw in disarray.
"The unrelenting troops pursued and engaged the criminals along their withdrawal routes neutralising three criminals while many fled with gunshot wounds.
"The troops also recovered one AK 47 rifle and 2 magazines after the encounter.
"Regrettably, a soldier paid the supreme sacrifice in the line of duty in this encounter.
"Five young men suspected to have been abducted were rescued by the troops while five brand new boxer motorcycles were also captured from the terrorists during the encounter.
"Efforts are being made to ascertain the origin of the motorcycles and how they were smuggled into the Lake Chad Islands while the rescued young men are being profiled in the Sector Headquarters before further processing," he said.
MNJTF spokesman further said that a total of 70 terrorists surrendered to troops of Sector 4 MNJTF (Niger) and troops of Sector 1 (Cameroon).
He said the surrendered terrorists would be treated in line with standard procedures for such surrenders which would include interrogation and profiling by the relevant authorities.
He added that the Force Commander (FC), Maj.-Gen. Abdul-Khalifah Ibrahim, had enjoined the troops to continue to maintain resilience and offensive posture until the criminals surrendered totally or are defeated completely.
According to him, the force commander reaffirmed the fact that the terrorists have been severely degraded and there is need to finally finish them off.
"He reminded the Force of the obligation they have to observe international humanitarian laws and to be professional at all times.
"The FC praised the courage and determination of the troops of the MNJTF and their commanders and paid tribute to the fallen hero and passed his deep condolences to the soldier's family.
"He called on the people of Lake Chad basin region to continue to support the MNJTF and other security forces with useful information to help bring this conflict to an end.
Group Hails Buhari's Achievement In Fight Against Insurgency
Building Resilience Against Violent Extremism, Insurgency and Terrorism (BRAVEIT), a Non-governmental Organisation, has commended President Muhammadu Buhari over the successes of the military in the fight against insurgency.
The Director of Operations, BRAVEIT, Mr Lawrence Audu, gave the commendation while briefing newsmen on "Counter Terrorism and Maritime Safety Under Buhari: Encomium for the Nigerian Navy" on Tuesday in Abuja.
Audu said that Nigeria had made landmark achievements in various strata of the polity particularly in the area of security in spite of some daunting challenges, which he said he described as deliberately inflicted.
He said that almost 19 local government areas in the North East were under the control of the Boko Haram terrorists prior to 2015 when President Buhari came to power.
He said that the once dreaded terrorist group had been reduced to mere ragtag groups who only preyed on selected soft targets in the region.
According to him, it took the foresight of President Buhari to appoint one of Nigeria's war tested and most decorated Generals in person of Lt.-Gen. Tukur Buratai as the then Chief of Army Staff to lead an onslaught against the criminals.
"Within five years the result is there for every unbiased eye to see.
"A more professional and organised army expanded units and commands in addition to morale boosting welfare for troops not to talk massive infrastructural development in all formations across the country.
"Buratai, we are proud to say, left an indelible footprint on the sands of time.
"In the Northeast Theatre of Operations, there has been a sustained push by our gallant troops, it has been one success story or another.
"Following the introduction of home-made solutions to tackling insurgency in addition to the acquisition of platforms and equipment to prosecute the war as well as training exercises for troops who are now fully acquainted with this nature of asymmetric warfare.
"Today, over 83,000 terrorists have surrendered to troops in various locations following sustained push by the military to root out remnants who still hibernate in some locations of the northeast," he said.
Audu said the military had also improved the security situation in the North West, where bandits held sway for some times, displacing villages, killing innocent civilians and kidnapping for ransom.
He said the achievements were made possible by the existing synergy among security agencies with the massive support being given by President Buhari.
The group also commended the Chief of Naval Staff, Vice Adm. Awwal Gambo, for his dynamic and pragmatic leadership that had changed the landscape of operations for the better.
According to him, a recent visit to Baga road fish market in Maiduguri witnessed a heightened activity as business has resumed fully with traders from all across the country converging for the purpose of trading.
"This has been made-possible by the presence of the of the Navy's elite Special Operations Forces (SOFs) and the Nigerian Navy's elite Special Boat Service – which is unmatched among SOFS in Africa, at the Lake Chad basin who have completely rooted out terrorists operating in the region.
"Baga in Borno is now safe now and people are fishing. This is the Same with the issue of pirates along Nigeria's coastal waters where the Nigerian Navy has continued to frustrate the efforts of economic saboteurs.
Police Burst Baby Factory, Rescue 10 Pregnant Women In Rivers Community
The Rivers State Police Command says it has arrested three women operating baby factory for child trafficking in Igwuruta community, Ikwerre Local Government Area of the state and subsquently rescued ten pregnant young ladies found in the area.
A statement signed by the police spokesperson in the state SP. Grace Iringe-Koko, and made available to newsmen in Port Harcourt and reads thus:
"On Saturday 7th January 2023, at about 1645hrs acting on credible intelligence available to the Rivers State Police Command, C4I Intelligence Unit Operatives, raided two houses at Igwuruta and Omagwa communities respectively, where victims of child trafficking were being kept in the operation.
The suspects who were arrested by the police operatives: include; Favour Bright 'f', 30 years old, from Umudioga Community in Emohua Local Government Area of Rivers State, and Peace Alikoi 'f', 40 years old, from Igwuruta Community in Ikwere Local Government Area, who is the leader of the trafficking syndicate, Noble Uzuchi 'm' 17 years old and Chigozie Ogbonna 'm' 29 years old."
"The victims rescued in the operation are ten (10) most of them pregnant. They include: Gift Saviour 19, from Umudioga Community in Emohua Local Government Area, Favour Charles, 23, from Abale Community in Obingwa Local Government Area of Abia State, Joy Monday, 21, from Bumy Community, Gokana Local Government Area Rivers State, Chiagoro Nice, 19, from Ndas Community Etche Local Government Area, Blessing Francis, 28, from Ngwa Community Ikot Ekpene Local Government Area, Akwa Ibom State, Joy Emmanuel, 29, from Ikot Obiom Community in Nsit Ibiom Local Government Area of Akwa Ibom State, Precious, 25, from Omudioga, Emohua Local Government Area of Rivers State."
"Others are: Cynthia Ekeh, 27, from Okpuala Community Ngor Okpuala Local Government Area of Imo State, and Queen Amos, 28, from Owase 7Community in Kwande Local Government Area of Benue State. Chika Nwosa, 15, from Umudioga Emohua Local Government Area of Rivers State, Chigozie Ogbonna, 29, From Abale Community Obingwa Local Government Area Abia State, and Noble Uzochi, 17, from Omuobasa Community in Osisioma Local Government Area of Abia State."
The statement further said investigation into the case so far revealed that when the victim delivered, the syndicate leader would keep the baby while she paid the victim a sum of Five Hundred Thousand Naira (N500, 000:00). All the victims confessed that they had been lured to the illicit sale of children because of the need to meet some financial challenges. Honda Pilot Jeep with Reg. Number, Lagos, FST 607 AX, white was recovered from the syndicate leader.
The case has been transferred to the State CID and efforts are being intensified to track and arrest the buyers of the children already sold out.
"The Command wishes to reaffirm its commitment to reducing crimes in all its forms to the barest minimum. While painstaking effort is being deployed to ensure the above, members of the public are urged to remain vigilant and report any suspicious activity to the police at the following emergency numbers: 08039213071, 08098880134."
By: Akujobi Amadi