Stamp Of Intolerance …That Reps' Show Of Shame
When, in one of his works, The Devil's Dictionary, 1906, the famous romanticist and fiery American writer, Ambrose (Gwineth) Bierce, 1842-1914 described politics: "as a strife of interests masquerading as a contest of principles: The conduct of public affairs for private advantage," I thought it was an unfair generalisation. There should be me thought a few whose sojourn into politics may not entirely be driven by personal desires and appetites, Nigeria inclusive.
But politics, especially in the past few months has eroded my confidence that there indeed could be sourced herefrom reasonable numbers that form an aberration to the rule. It is even most painful that those the populace depend upon to make the marked difference in civilised  culture and defence of democratic ethos have themselves become not only the problem, but indeed soldiers in battle to kill democracy.
Last Tuesday, Nigerians watched with disbelief, shame and disappointment, as a near-repeat of the war on the floor of the Rivers State House of Assembly was re-enacted when, supposed Honourable members of the House of Representatives shamefully dramatised their stamp of intolerance over an issue as minor as a visit of the leadership of the new faction of the ruling Peoples' Democratic Party, along with seven state governors. The delegation was guest of the PDP caucus in the House, to which it hoped to discuss some lingering grievances.
What followed afterwards was shameful. Live on National Television, Honourable members who should demonstrate the highest level of civility, tolerance, respect for laws, and indeed political patience were seen shoving, jabbing and threatening fire and brimstones in the most foul of languages.
Coming at a time Nigeria seems to be facing some of the biggest threats to her own democracy, when, there seems no single common-ground for any honest national discurse without witnessing the dull colours which 2015 now represents, and above all when, the economy is begging for timely address and attention, the House showed lack of statesmanship.
No doubt, an expression of the larger political picture driven by individual greed and aspirations, the political class seems bent, not just on self-destruct but also to ensure that Nigeria is made utterly ungovernable. Is this what democracy is all about? By constantly heating-up the polity and creating artificial insecurity that presents Nigeria as the worst government on earth?
Virtually, no day passes without one form of betrayal, conspiracy, threats, alarms, media wars or violent exchanges among members of the political class. And without much exception, almost all carry on with such impunity that aptly questions the politicians' respect for the rule of law.
And because most of their actions are driven by personal ambitions and greed' they are resolute on making reconciliation impossible. Strangely, these are elected representatives of the people depended upon to make real meaning out of the 14 years of unbroken democratic experience, by investing all their time and energy articulating, planning and implementing programmes that frontally address state and national issues, barely two years into their four-year tenure.
Unemployment is at all-time high. Rivers State Governor Rotimi Amaechi was recently quoted as saying that it was 70 percent while Finance Minister, Okonjo-Iweala insists it was 68%. These are worrisome figures for a country that has made fortunes out of oil and gas: University education has remained stalled on account of a lingering industrial dispute between the Federal Government and ASUU. The impasse should worry the National Assembly because in a dispute of the kind, a third party intervention could be meaningful.
But no, Honourable members are busy playing politics, grandstanding and posturing to secure their seats or get bigger stools. They are not worried that the projected two million barrels per day oil production upon which the 2013 budget was based had been virtually impossible on account of fall in production actuated by trans-national oil theft, pipeline vandalism and indeed frequent attacks on oil facilities.
What of the threat which Boko Haram has posed to the Nigerian nation for years now? On near daily basis, fellow Nigerians in uniform are battling terrorists, many of them paying the supreme sacrifice for a united Nigeria yet the same political class, responsible for the violent monster in the land, seems unrepentant. Rather than form proactive synergy in tackling the burning security concerns through good laws, votes for proper funding and indeed addressing the people's basic needs that often fuel militancy, elected representatives see bigger priorities in playing divisible politics.
To them, Nigeria can boil, bend or even break if their political desires are not met. The other day, even before the registration of what became the All Progressive Alliance (APC), one-time disgraced governor of old Kaduna State, Alhaji Balarabe Musa threatened that Nigeria would reverse to military rule should the APC not win the 2015 general elections. On his own account, if that fails, Nigeria would be made so ungovernable that everyone would either seek a hiding place or go their separate ways.
For his age and political pedigree as a failed politician, an ex-governor who, unable to demonstrate maturity in his dealings with the state's legislature was impeached by members of the Assembly, the first and only Governor to be independently impeached by an Assembly, his goofs ought to be ignored.
But how can one explain the threats by former militant war-lord Asari Dokubo, that there would be bloodbath if President Goodluck Jonathan is denied the opportunity to seek re-election. What talk is that?
Who told Dokubo that the Niger Delta alone can decide the re-election of Jonathan in a country of nearly 170 million people, six geo-political zones, 36 states and countless other interests? In what way would Dokubo's threats enhance Jonathan's success? Or like Balarabe Musa, is he merely seeking political relevance? At the risk of heating up the polity? Who benefits from such avoidable political rancour and hate-filled vituperations?
In his address to welcome his distinguished colleagues from a two-month recess last week Tuesday, Senate President David Mark urged the political class to resist attempts by those he described as 'political jobbers' bent on over-heating the polity for selfish interests.
"It is disheartening that the elections of 2015 are two years away, but political jobbers and sycophants have prematurely seized the political space and are being allowed to set the tone of national discourse.
"This is an unnecessary and avoidable distraction. They are only out to feather their own nests and unduly overheat the polity," Mark lamented, and called on security agencies to take any threat bordering on treason seriously and thoroughly investigate such with a view to taking appropriate measures irrespective of who the culprits were.
When on the heels of the 2011 elections, former military Head of State, Major General Mohammadu Buhari threatened that the baboon and the monkey would be soaked in blood if he lost, the security operatives found no crime committed. And since the greatest incitement to crime is the hope of escaping punishment, Balarabe Musa and Asari Dokubo have joined the party of threat-mongers. Who knows who the next entrant shall be?
This is why Mark's call on the security agencies is most timely and one they must treat with all sense of urgency and responsibility. There is not much, many hope to benefit from a Nigeria that is divided, ungovernable and indeed backward.
With this on their minds, members of the House of Representatives and indeed the political class ought to be busy preaching unity not division, love not hate, accommodation not intolerance and indeed service not mere political grandstanding. A failed House of Representatives is a big danger to our Democracy, because unlike a state House of Assembly whose duties may be performed by the National Assembly in terms of grave crises, the Lower House of Nigeria's bicameral legislature provides no other alternative and that will also cripple the Senate.
My Agony is that the political class has taken the joke of constantly heating-up the system a little but too far, not knowing that in times of violent change which careless talks often engender, the political class and indeed the media are often primary victims. For once, lets stay-off the idea of 2015 and have a single-honest conversation on how to move Nigeria forward.
The thoroughly polarised Nigeria I see today, cannot achieve that.
Again, RSG Begins Unveiling, Flag-Off Of Nine Key Projects, 'Morrow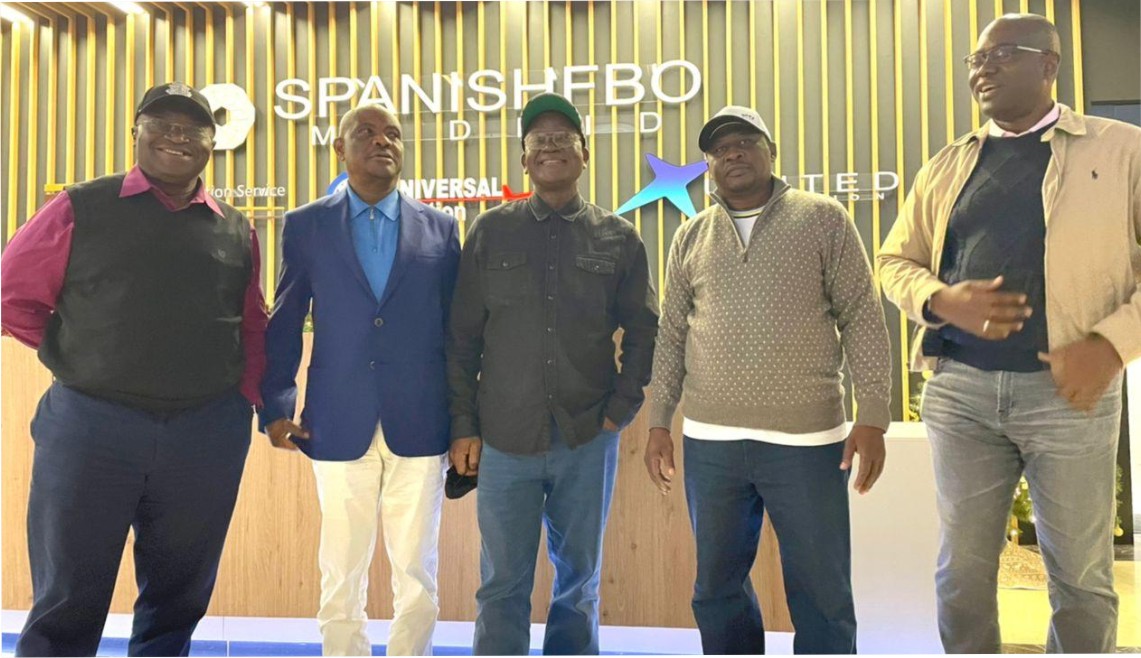 The Rivers State Government has rolled out the drums to herald another phase of official commissioning of key projects embarked upon by the Governor Nyesom Wike-led administration in the state.
A statement by the state government said that the process is in continuation of the commissioning and flag-off of projects by Governor Nyesom Wike.
It indicated that Rumuola flyover would be commissioned tomorrow, while the GRA flyover would be commissioned on Saturday.
The also stated that the government would commission the Ezimgbu Road on Monday, December 13, 2021; with another commissioning of Tombia Road Extension scheduled for Tuesday, December 14, 2021.
The statement said that the governor would commission the Safe Home, Borikiri, Port Harcourt on Wednesday, December 15; while on Thursday, December 16, 2021, the governor would commission the Odokwu internal roads.
Also, the governor would continue the flag-off of key infrastructure projects with Chokocho-Igbodo Road slated for Monday, December 20, 2021; Oyigbo-Okoloma Road on Wednesday, December 22, 2021; and Magistrates' Court Complex, Port Harcourt on Thursday, December 23, 2021.
Wike Justifies N7bn Libel Suit Against THISDAY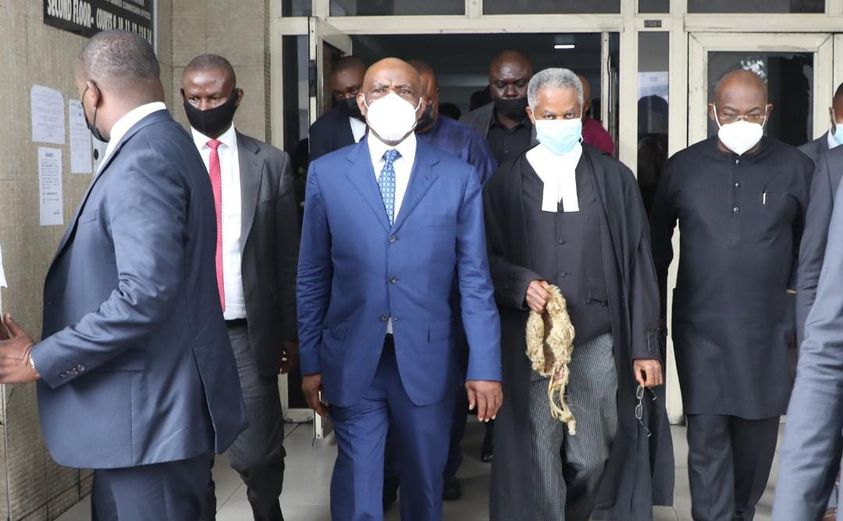 Rivers State Governor, Chief Nyesom Wike, yesterday, appeared before the state High Court in Port Harcourt, to testify as a witness in an N7billion libel suit against THISDAY Newspaper.
Wike said he was in court to seek justice and clear his name as a person from the malicious publication by THISDAY Newspaper, which portrayed him as deceitful, untrustworthy person, who exerts subterranean influences on judicial matters and over court sittings in Port Harcourt.
It would be recalled that Wike had in August, 2020, slammed a N7billion suit being damages for libel written and published in THISDAY's Tuesday, June 23, 2020 edition captioned, "With Wike, Obaseki Meets His PDP's Waterloo; Almost."
The defendants in the suit are THISDAY Newspapers Limited, Leaders and Company Limited, Davidson Iriekpan, Chuks Okocha and Adibe Emenyonu.
Wike, while testifying as witness in suit No. PHC/1505/CS/2020 before the court presided over by Justice A. Enebeli, asserted that the defendants maliciously and falsely portrayed him as an unreliable friend/person.
"When you say somebody cannot be trusted; that cannot be a fair comment. When you say somebody is influencing the Judiciary, that cannot be a fair comment", the governor said.
In his written statement on oath, Wike had stated that the defendants had accused him of influencing the decision of the court sitting in Port Harcourt that granted an injunction restraining Godwin Obaseki from participating in the primaries of Peoples Democratic Party (PDP) in Edo State in 2020.
He stated that the defendants maliciously accused him of undemocratically exerting influence on the primaries process of PDP in Edo State in aid of his ally, Omoregie Ogbeide-Ihama, who was the beneficiary of the court order restraining Obaseki from participating in the PDP primaries.
The governor, who told the court that he was not even aware of the aforementioned suit by Ogbeide-Ihama against Obaseki, said the publication was reckless, false and without regards for the truth.
According to him, contrary to well-known journalistic tradition and practices, the defendants did not investigate properly to ensure the information they relied on was accurate.
"They did not seek to verify the facts from me or in any manner oblige me with the opportunity to state my own side of the story before proceeding to make the false publication" the governor argued.
Wike stated that the defendants further denigrated him before the entire world as a fake democrat, who engages in meddling in the internal affairs of All Progressives Congress (APC) in order to get at his political foe, Chibuike Amaechi.
The governor explained that he was not a member of the APC and has had no hand in the internal crisis which has bedevilled the party both in Rivers State and all over Nigeria.
"By the letter of Messrs E.C. Ukala and Co., Solicitors, under the hand of Emmanuel C. Ukala, SAN, dated 23rd June, 2020, the defendants were given opportunity to retract, and recant the publication as well as to offer apology for the false publication but the defendants spurned the opportunity and ignored the letter completely."
The governor, while responding to claim by lawyer to the defendants, Turudu Ede, SAN, that the essence of the lawsuit was to intimidate and harass his clients, said the whole essence of the suit was to get justice and clear his name as a man of substantial character, honour and repute.
"The essence of the suit is to get justice since they (defendants) refused to retract the publication or apologise. So, I sued them to clear my name."
Speaking to journalists outside the court, one of the lawyers to Wike, Mr. Mark Agwu said his client was in court to seek legal redress.
"To challenge him as a person, it means you have made him untrustworthy, a deceit, a cheat, an influencer of the court, because the publication they made was that he had a role to play in influencing the outcome of that Federal High Court case. Nobody will take that lightly, and especially for a man who believes in the rule of law", Agwu added.
The court adjourned the matter for further hearing to 12th, 13th and 14th of January, 2022.
$130m Fraud: Rivers Sues Saipem SPA, Saipem Contracting Firm, Others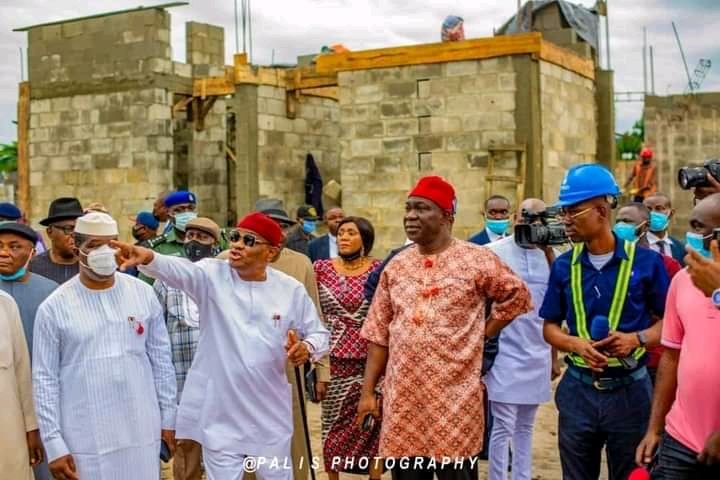 The Rivers State Government has charged two construction firms, Saipem SPA and Saipem Contracting Nigeria Ltd, to court over an alleged conspiracy to cheat and with intent to defraud the state of the sum of $130million, being advanced payment for the construction of the OCGT power plant in Port Harcourt.
In a 16-count criminal charge filed by the Director of Public Prosecution, C.F. Amadi for the Rivers State Attorney General, the state alleged that after collecting the said sum as advanced payment between 2011 and 2018, the defendants have not kept their obligation under the contract.
Others charged alongside the companies were Walter Peviana; Kelechi Sinteh Chinakwe; Giandomenico Zingali; Vitto Testaguzza and Davide Anelli, who are directors and officers of the companies.
The defendants are charged with various offences ranging from conspiracy, cheating and obtaining credit by false pretence, contrary to Section 518 (6) and (7) and punishable under Section 518 of the Criminal Code, Cap 37 Vol. 2 Laws of Rivers State of Nigeria, 1999, section 419A and punishable under Section 419 (A) (1) (b) of the Criminal Code, Cap 37 Vol. 2 Laws of Rivers State, amongst others.
Already, the Rivers State Government has issued a fiat to the law firm of Godwin Obla (SAN) to prosecute the matter before the state High court.
The defendants are equally charged for the offence of false Statements by Officials of Companies contrary to and punishable under Section 436 (b).
The prosecution specifically accused the defendants of obtaining credit of $130million by false pretences or other fraud contrary to Section 419A and punishable under Section 419 (A) (1) (b); obtaining credit of $20,467,942.00 by false pretences or other fraud contrary to Section 419A and punishable under Section 419 (A) (1) (b), obtaining credit of N7,000,000,000.00 only by false pretences or other fraud contrary to Section 419A and punishable under Section 419 (A) (1) (b).
They are charged for obtaining credit of N318,640,173.54, by false pretences or other fraud contrary to Section 419A and punishable under Section 419 (A) (1) (b); attempt to cheat $97million contrary to Section 508 and punishable under Section 509; attempt to cheat $15million contrary to Section 508 and punishable under Section 509; conspiracy to receive a credit of $97million by false pretences contrary to Section 518 (6) and punishable under Section 518; cheating $11million contrary to Section 421 and punishable under Section 421; cheating contrary to Section 421 and punishable under Section 421; cheating N110, 097, 416.51 contrary to Section 421 and punishable under Section 421; cheating by collecting sums attributable to shared facilities already paid for in AFAM Phase I in AFAM Phase II contrary to Section 421 and punishable under Section 421.
Obtaining N20, 467, 942 contrary to Section 421 and punishable under Section 421; obtaining credit of $60,168,936.00 by false pretences or other fraud, contrary to Section 419A and punishable under Section 419 (A) (1) (b); obtaining credit of $1,512,034.00 by false pretences or other fraud contrary to Section 419A and punishable under Section 419 (A) (1) (b) all of the Criminal Code Law of Rivers State, Cap 37 Vol. 2 Laws of Rivers State of Nigeria 1999.
According to the Proof of Evidence attached to the charge and the statement made by the Head, Power Generation/Mechanical of the Rivers State Ministry of Power, one Mr Temple Azunda M., the facts constituting the case in hand are as follows:
Saipem SPA and Saipem Contracting Nigeria Limited and other officers of the duo, herein the Defendants, are Italian companies which services have been retained by the Rivers State Government, herein RSG, in several projects, prominent amongst which is the AFAM Phase II Power Plant Project.
By an initial tripartite agreement made on the January 20, 2010, the RSG under the auspices of the Rivers State Ministry of Power entered a contract with Saipem Contracting Nigeria Limited, Saipem SPA for the construction of the OGCT power plant in Port Harcourt at a total cost of $119million consequent upon which the Rivers State Government made advance payments, in instalments, to Saipem Contracting Nigeria Ltd and Saipem SPA amounting in total to a sum of $130million in all which the Defendants have acknowledged receipt of.
The Defendants were to be given an initial mobilization of 20per cent of the total contract sum which the RSG paid.
It was part of the initial agreement – and indeed a condition sine qua non – that, to access the 2nd tranche of payment of 25per cent from the Rivers State Government, the Defendants would mandatorily have installed the Gas Turbine into the foundations as referenced in ATTACHMENT 1 to VO 007 which states that:
CONTRACTOR shall be entitled to a payment corresponding to 20per cent of the VO No. 007 LS PRICE upon mobilisation to site and commencement of bush clearing activities at SITE.
Upon commencement of bush clearing activities at the site, the contractor shall issue the invoice relevant to the above payment and the owner shall pay such invoice within 14 days from its issuance.
The parties agree that no deduction for recovery of advance payment shall apply on the payment due to the contractor for invoices issued by the contractor in accordance with this paragraph.