Vote 10% Annually For Agric, FG Told
The Minister of Agriculture and Rural Development, Dr Akinwumi Adesina, has called for the allocation of 10 per cent of the nation's annual budget to agriculture.
Adesina made the suggestion while contributing to a discussion in Abuja yesterday at the 19th Nigeria Economic Summit on ways to sustain the nation's agenda on agriculture.
He said that financing the growth and development of the agriculture sector should be significantly expanded for realistic growth.
"At the moment, we are not spending enough on agriculture. As we go forward, we have to restructure the modes of financing of the sector.
"We need to make at least 10 per cent of our budget to go to agriculture, if we want to sustain this particular agenda.
"The issue of getting financing from the private sector is key. Nobody is going to do agriculture and borrow money at 25 per cent interest rate and also make profit.
"So we need to find new institutions, new arrangements and new platforms that will allow us to get affordable financing as well as long-term financing.
"So we really cannot get far until we tackle this particular issue.''
Adesina also said that adequate funding of research and development institutes that were geared toward innovative agriculture discoveries was important.
"I think it is very crucial for us to invest heavily in research and development because no nation in the world has been able to achieve this without spending money on innovative technologies.
"Talk about China, Brazil, Pakistan and India, all of them invested in innovative technologies.
"Right now we are spending less than one per cent on research and development and it is not enough. To be the global power we want to be, we must spend more on research.''
He said that another factor stunting the growth of agriculture in the country was the issue of agricultural extension, diverse means of transportation of farm produce, among others.
The minister said that the way forward was for young and fresh minds to come into the business of agriculture.
Adesina said that this was the reason why the recently launched Nurturing the Successor Generation of Nigerian Farmers and Agriculture Enterprises by President Jonathan, was a welcome development.
The Chairman of Heir Holdings, Mr Tony Elumelu, said that there should be continuity in the transformation of the agriculture agenda, to achieve sustainability in the sector.
He said that the ultimate goal of the agriculture agenda would be achieved when policy reforms and incentives were put in place.
"We also need to think of how to make agriculture more lucrative. It employs a lot of people but in actual wealth, it doesn't make a lot of them rich.
"So if we succeed in making it lucrative and people begin to make money, naturally others would want to join in,'' he said.
The Chief Executive Officer, Stanbic IBTC Holdings, Mrs Sola Borha, said that for affordable lending for agriculture purposes, the sector needed to be attractive, to enable banks feel safe to advance loans.
" NIRSAL funds provided by the Central Bank is a step in the right direction since it is aimed at sharing risk, this will result to bankers feeling more comfortable in advancing agricultural loans.
" This would help to bring the lending rates to the agricultural sector down.
"A commodity exchange, plus warehousing system, is absolutely key in providing the appropriate structure to agric business,'' she said.
The Minister of the National Planning Commission, Dr Shamsudeen Usman, said that an alternate funding of the agriculture system apart from the traditional funding by banks was necessary.
" At the federal level more economic policies like the NIRSAL funds should be fashioned to cushion risks in agriculture funding.
"Diversifying the transport sector is also important, which is why a step in that direction is already being taken, through resurrecting the train routes of Kano to Lagos and Port Harcourt to Borno,'' he said.
The Managing Director, PZ Industries Plc, Mr Christos Giannopolus, also harped on the importance of having the right transportation system in place to aid movement of goods and services.
" However, time is costly, if it takes over a month to move goods from Port Harcourt to the north, that becomes a challenge.''
Giannopolus also urged the government to create more road corridors in the country.
He noted that the cost of using a particular means of transport half way through a journey and having to change to another was not cost effective and that it affected prices in the long run.
Fubara Dedicates Victory To Rivers Unity …As INEC Declares Guber Election Results …PDP Wins 31 State Assembly Seats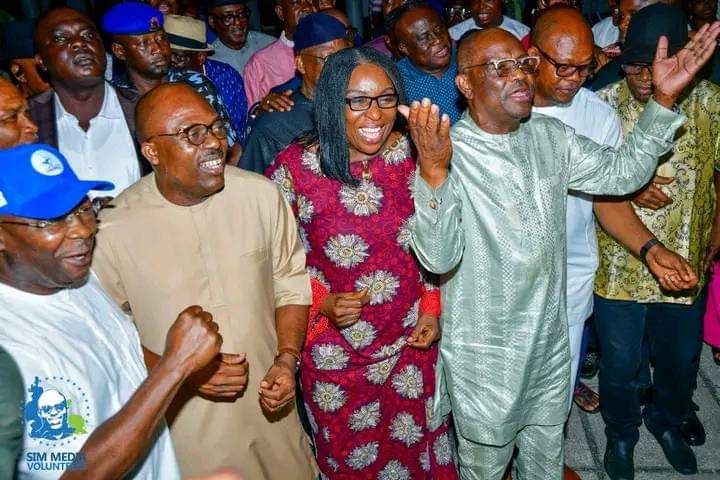 Rivers State governor-elect, Sir Siminialayi Fubara, has dedicated his victory at the March 18 governorship polls to the unity of Rivers people.
Fubara noted that the determination of the people to sustain development gave him the victory as he described the giant strides of Governor Nyesom Wike as a big shoe that he would learn to wear.
The governor-elect who reacted to his declaration as the winner of the governorship election in the state on Monday, assured Rivers people of sustaining the tempo for the betterment of the state, adding that he is prepared to work with Rivers people who believe in the new Rivers vision and with innovative ideas.
He thanked Wike for his encouragement and for finding him worthy to carry on from where he will stop, describing it as a great privilege.
He glorified God as the foundation of his accomplishments in life and further assured the party leaders and Rivers people that he would not let them down but work in same spirit that has been passed on to him by Wike.
Fubara had scored 302,614 votes to beat his closet rival, Tonye Cole of the All Progressives Congress (APC) and Magnus Abe of the Social Democratic Party (SDP) who trailed behind with 95,274 and 46,981, respectively.
In same vein, the Peoples Democratic Party swept all the State House of Assembly seats except for Ahoada West that is pending a rerun in some wards.
The State Returning Officer, Prof Akpofure Rim-Rukeh, who announced the result late Monday night at the end of the two-day collation at the Independent National Electoral Commission (INEC) Head Office in Port Harcourt, had declared Fubara as the winner of the governorship election.
The PDP candidate polled 302,614 votes to defeat his closet rival Tonye Cole of the All Progressives Congress (APC) who scored 95,274 votes while the Social Democratic Party (SDP) candidate, Senator Magnus Abe, and Labour Party (LP), Beatrice Itubo came a distant third and fourth with 46,981 and 22,224 votes, respectively.
Rim-Rukeh, who is also the Vice Chancellor of the Federal University of Petroleum Resources, Delta State, said a total of 496,852 were accredited for the March 18 governorship election out of the 3,537,190 registered voters in the state.
He explained that of the 494,604 total votes cast, 483,934 were valid while 10, 670 were rejected votes.
Fubara was anointed by the incumbent Governor Nyesom Wike who is in the last weeks of his two-term of eight years.
Fubara's Victory Reaffirms Rivers As PDP's Stronghold -Wike …We'll Sustain NEW Rivers Vision -Fubara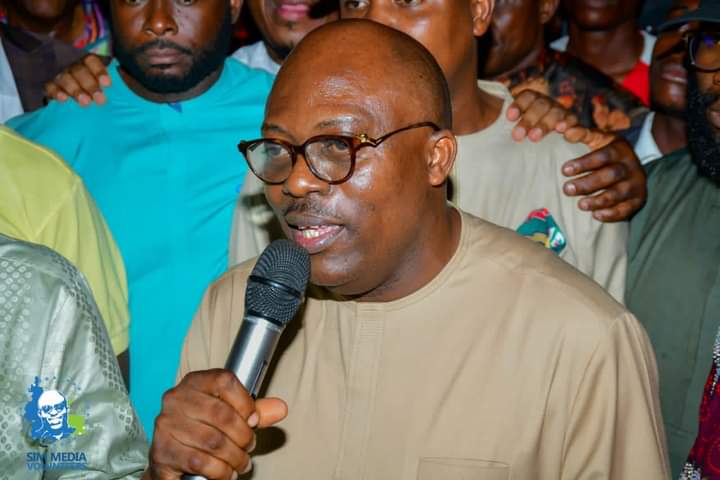 Rivers State Governor, Chief Nyesom Wike, says the State has once again reasserted itself as one of the premier strongholds of the Peoples Democratic Party (PDP) in the country following the victory of Sir Siminialayi Fubara as the governor-elect.
The governor noted that despite evil machination of the opposition, the PDP has consistently won all the governorship elections in the State since 2015.
Governor Wike stated these shortly after the Independent National Electoral Commission (INEC) announced Fubara as the winner of the 2023 governorship election on Monday night.
Fubara, who was the PDP candidate polled 302,614 votes to defeat his closest rival, Mr. Tonye Cole of the All Progressives Congress (APC), who had 95,274 votes and the Social Democratic Party (PDP) candidate, Senator Magnus Abe who came a distant third with 46,981.
Wike, who was visibly excited by Fubara's resounding victory, told PDP leaders at the Government House, Port Harcourt that the State would continue to remain pivotal to the successes of the PDP.
"Whom God has blessed, no one can curse. There is nothing anyone can do about it. God at this time has said Siminalayi Fubara will be the next governor, and we give God the glory today that, that has happened.
"We won 23 local governments, 23 over 23. It has never happened. Out of the 32 State constituencies, we have won 31, it is remaining one that they said we will go for bye-election. We are ready and we will take that one.
"So, we have said to anybody who cares, Rivers State is PDP. When you annoy us, we do another thing. When we wanted to vote for the unity of the country, we showed it. We didn't do anti-party, but we voted for unity of the country and that is what we did for one Nigeria."
Governor Wike, who dedicated the electoral victories of the PDP in the just concluded general elections to God and the people of Rivers State, commended party stalwarts for remaining steadfast in defence of the State since he assumed office in 2015.
"Let me thank all of you for the support you have given us, how you stood firm to make sure that we defend what is Rivers State. In 2015, we did it, in 2019, we did it and in 2023, we have done it again. So, it is not surprising, God has always been with us."
Governor Wike said he would remain eternally grateful to God because when he first contested for the office of the governor in 2015, his predecessor, Chibuike Amaechi, was the incumbent, and was antagonistic to his political aspiration.
The governor while mocking his predecessor for restoring to divisive and disgusting politicking during the electioneering period, said the resounding victory of the PDP has further diminished his political relevance in Rivers State.
"When we came out in 2015, we were not in government. There was a governor (Amaechi) then in 2015. He was the Director General (DG) of (Muhammadu) Buhari campaign. In 2019, he was a super Minister and was also DG of Buhari campaign. He never gave him (Buhari) 25 percent. 2015, he never gave him 25 percent."
"This is 2023, and they cannot get 25 percent vote in the State, we have also defeated him. You were a super governor, we defeated you. You were a super minister, we defeated you, now, you are a super nobody, we defeated you."
Governor Wike, has however, cautioned PDP members not to be complacent because the opposition which he likened to "enemies" are still prowling around.
In his acceptance speech, the governor-elect, Fubara, who was accompanied by his deputy, Prof. Ngozi Odu, thanked God for his electoral victory and assured that his administration would consolidate on Wike's New Rivers Vision.
"We are going to work with everybody who believes in the New Rivers Vision to continue to build better lives, good services, protection of the dignity of every Rivers man and woman, protection of the integrity of this state in all phases and to make sure that we continue to defend our party in this state.
"Our vision is simple, it is anchored on the New Rivers Vision. We are to continue, to improve and to develop more on it. I want to thank the leadership of the party and the good people of Rivers State who believed in the New Rivers vision and ensured that the vision is the right vision. On the 18th of March, 2023, they supported us, they came out in their large numbers and voted for the unity and progress of this State".
The governor-elect assured the people of Rivers State and the leadership of the PDP that his administration would not disappoint them.
"We give God all the glory and our foundation has always been God, and we believe He is going to give us the wisdom to carry this crown, its a big one. My principal will be leaving a very big shoe, I will need a lot of stockings so my leg can fit in properly.
"So, I need to start working on it. I need all of you to continue to support us, for us to achieve and maintain the standard that the governor has already laid and established for us", he said.
Wike Congratulates Makinde, Mohammed, Sanwo-Olu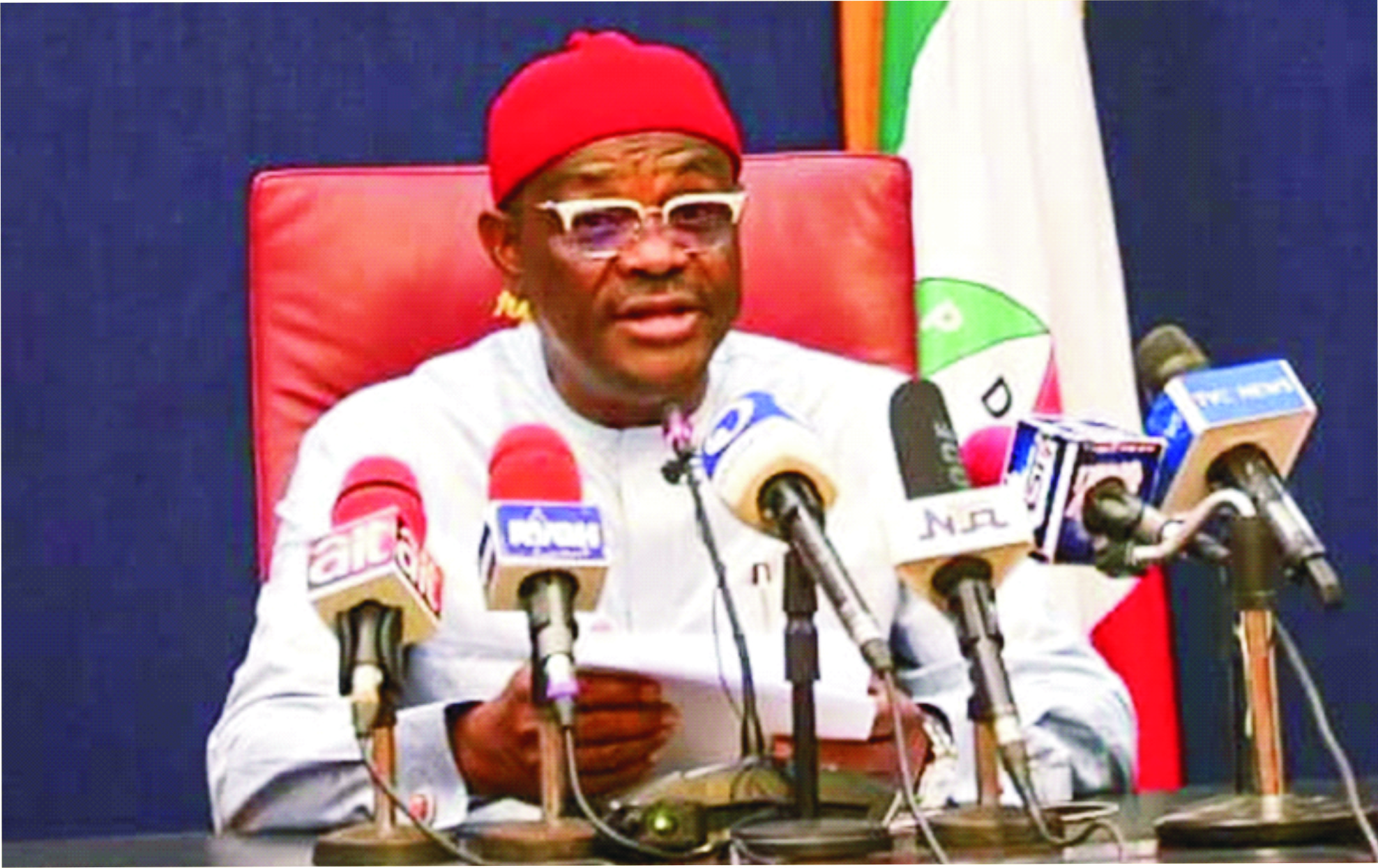 Rivers State governor, Nyesom Wike, has congratulated Governors Seyi Makinde (Oyo); Senator Bala Mohammed (Bauchi) and Babajide Sanwo-Olu (Lagos) on their re-election.
Wike said the re-election of Makinde, Mohammed and Sanwo-Olu through free, fair and credible elections in their respective States, is indeed a triumph for Nigeria's democracy.
"I am excited by the cheering news of the resounding re-election of governors Makinde, Mohammed and Sanwo-Olu. I am pleased to express to Your Excellencies the most sincere fraternal congratulations.
"I look forward to us consolidating the bonds of brotherhood and friendship between our States and peoples", he said.
Wike urged the governors to use the election for their second tenure in office to continue to create a better life, and prosperity for all their peoples.