Domestic Airlines Revert To Lower Fares
Domestic airline operators
said ticket prices had been returned to their normal levels after five
days of fare hikes.
Some of the airline
officials told newsmen that the fares went up between September 21 and
September 24 because of an increase in air travellers.
The increase was
also caused by the disruption of Arik Air operations by aviation sector unions
that claimed the airline was owing huge sums to their employers.
The situation was then compounded by the River Niger
overflowing of its banks and bursting onto the Lokoja-Abuja highway, forcing
the FRSC to close the main artery to protect the lives of motorists and
passengers.
Some passengers told newsmen that the large crowd of
passengers at the airport was due to the flooding in Lokoja which prevented
people from travelling by road.
A passenger, Mr Bola Aguda, said he came to the airport
because of the closure of the Lokoja-Abuja road. "I have a phobia for
travelling by air but with the situation in Lokoja, I am more scared now.
"I believe most of the people you see here today are like
me.
"Although the air ticket PRICE is high, I have no choice now
but to go with any available airline that I can afford.
"All the prices are almost the same, I may as well travel
with anyone so far as they will not cancel the flight,'' he said.
Miss Rita Ejor, a ticketing official of Overland Airline,
said that the airline only changed its price for two days due to the disruption
of Arik Air services but had returned to the normal price.
"Last week, we increased our air fare from N28,000 to
N30,000 due to the large number of passengers and because some other airlines
like Arik that ply same routes with us were not on ground.
"Even though the crowd of passengers since last week has
increased, we have reduced our price because Arik Air resumed and we now have a
competitor,'' she said.
IRS station Manager, Mr Muyiwa Adesanya, also told newsmen
that the reason the airlines charged higher last week was due to the peak
period, adding that the price had been reverted since Monday.
"A lot happened last week that jacked up air fares a little
but now we are carrying passengers at the normal and reasonable rate.
"It is normal to experience price increase during peak
periods.
"In our own case, for now, we have no intention of
increasing our air fares.
"The decision to review air fare is that of the management
and the regulatory bodies like the Nigerian Civil Aviation Authority,''
Adesanya said.
NAMA Boosting Security Of Nigeria's Airspace
The Nigerian Airspace Management Agency (NAMA), established via the Act of Parliament, has the mandate to provide safe, efficient, effective and economic air navigation services to airspace users, through deployment of new technologies and dedicated workforce.
The vision is for NAMA to be one of the leading Air Navigation Service Providers (ANSP) in the w
NAMA's Acting Managing Director,orld.
Mr Mathew Pwajok, said the agency had initiated relevant projects to enable it live up to expectation.
He spoke recently when he featured at the News Agency of Nigeria (NAN) Forum in Abuja.
Pwajok said the government was ready to install Category 3 Instrument Landing System (ISL) in three international airports in the country.
He listed the airports as: Malam Aminu Kano International Airport, Kano, Port Harcourt International Airport and the Katsina Airport, bringing airports with Category 3 ILS to five.
According to him, ILS is a navigational equipment that provides lateral guidance for an aircraft, sky guidance for the aircraft and the longitudinal guidance for the aircraft when landing.
"Navigational facility is one of the very critical requirements for access into an airport safely, efficiently and economically. We place very high premium on the procurement and installation of navigational equipment.
"Over the past five years, we have deployed significantly a large number of navigational equipment. I can go through some of them by justifying my statement.
"Currently, we have installed what we call Category 3 Instrument Landing System (ILS) at Lagos and Abuja airports.
"We are also planning to install addition ones in Kano, Port Harcourt and Katsina."
The NAMA chief, who explained that Category 3 landing system was the highest category for landing anywhere in the world, said that government was set to invest heavily to ensure that all the nation's international airports had the facility.
Pwajok said that lighting system would complement Category 3.
He said that Category 3 approach system was also required to guide pilots, using the instrument landing system.
"Currently, we have installed instrument landing system of Category 2 that requires what we call low visibility operations.
"In operations, where the visibility is below 800m and not lower than 300m, we use what we call a Category 2 instrument landing system.
"For a Category 1 instrument landing system, which are few, you need 800m visibility or more.
"That is to say, visibility must be about 1km (1,000m) for you to be able to do a Catigory1 landing system, the lowest of the three categories.
"For Category 3, when the aircraft and the flight crew are adequately certified for it, with the visual lighting system available, you can basically land in zero visibility, "he said.
Pwajok said that Category 2 ILS was installed in Sokoto, Kano, Minna, Kaduna, Maiduguri, Yola, Jos, Enugu and Benin airports.
He said that Category 2 ILS was currently being installed in Ilorin, Ibadan and Akure airports, noting that some state airports such as Gombe, Kebbi, Bayelsa and Anambra had already installed Category 2 ILS facilities.
The NAMA boss explained that the airport at Lafia in Nasarawa State, which also had Category 2 ILS had not been opened to services because it had not yet been inaugurated.
Pwajok said that Categroy1 facilities were still being used in few airports, pointing out that government had planned to replace them with Category 2 ILS.
"We have other equipment that can guide airplanes to airports and we call them Very High Frequency Omni-Directional Range (VOR), a ground-based electronic system that provides information for high and low altitude routes and airport approaches.
"The VOR is like a broadcast station. It transmits information. Unlike radio station where you tune and hear music, for this navigational facility, when you tune, it gives you directional guidance.
"It directs you for example, if you are going to Lagos, it shows you where the direction to Lagos is. So you fly on that flight path.
"It will also give you the distance to where you are going as well as distance from where you are coming from," Pwajok said.
The NAMA boss further said the agency was currently upgrading control towers in four international airports to enhance air traffic management.
Pwajok said that the control towers, installed over 10 years ago, were obsolete and as such needed to be upgraded.
"On our project, we currently have a safe tower project. In 2005/2006, we have some air craft crashes.
"In 2007, the Obasanjo government implemented what we called the safe tower, which simply refers to automated air travel management system at the control towers of Lagos, Abuja, Kano and Port Harcourt airports.
"Now, these systems after over 10 years are due for upgrade and currently that is what we are doing to upgrade the control tower at the four international airports- Lagos, Abuja, Kano and Port Harcourt.
" This is to bring them in line with the right capacity, the right functionality and capability for enhanced air traffic management at these airports,'' he said.
Pwajok explained that a total raider coverage, that was inaugurated over 10 years ago by then President Goodluck Jonathan also needed an upgrade.
He said the Federal Government approved N28 billion for the upgrade of the Total Radar Coverage of Nigeria (TRACON).
"They are in nine locations – Lagos, Abuja, Kano, Port Harcourt, Ilorin, Obubra in Cross Rivers, Maiduguri, Talata-Mafara in Kebbi and Numan in Adamawa.
"These equipment provide a complete coverage of Nigeria on raider, so aircraft flight within the country are seen and controlled by air traffic controllers in the radar.
"So, the equipment are being upgraded to be in line with global standards and also in line with the expectations of increased traffic volume and requirement for safety and efficiency of flight.
"So this project is currently ongoing and we are doing a survey movement raider and ground control at Lagos and Abuja that will provide surface guidance for aircraft," he said.
He said once they were upgraded, there would then be a surveillance control from departure gate to arrival gate that would be fully automated.
He added that there would be an automated system that would sequence aircraft on departure, stressing that this would completely reduce delays.
"At the moment what we do is that the air traffic controller uses his judgment to determine which aircraft comes first.
"But automated system will detect the speed of an aircraft, the performance and the direction the aircraft is coming from and will now have an air traffic controller to sequence them on arrival.
"We are implementing that in Lagos and Abuja, and hopefully by this year, this project will be completed as it is one of our key projects,'' he added.
Pwajok said the country currently has 13 modernised and automated control tower projects to enhance air traffic control at the airports, adding that similar projects had been completed in Zaria and Kastina states.
He said that the control towers had been integrated with metrological data, where regular weather reports would be brought into the system.
On navigation, he said the agency had deployed a very High Frequency Omni-directional radio-range (VOR) Doppler that would guide aircraft, either over flying on airspace or flying from one airport to the other.
He said that this equipment had replaced initial landing system instrument, adding that the satellite navigation system that gives precision on aeronautical management had been deployed.
According to him, Very Small Aperture Terminal (VSAT) have been installed in 26 locations – 24 in airports, one in NAMA and one in NEMA headquarters to facilitate search and rescue.
According to him, this VSAT will provide digital exchange of information at a very high speed and voice exchange of information using ground radius and air ground communication between air traffic controllers and pilots.
He said if fully completed, it would enhance air ground communication, ground to ground communication and electronic management of information of flight movement.
The NAMA boss assured that the agency would do all within its powers to boost air safety in Nigeria.
By: Gabriel Agbeja
Agbeja writes for News Agency of Nigeria NAN
COVID-19: Arik Airline Sacks 300 Staff
At least 300 staff of Arik Air have been relieved of their appointments by the airline's management.
This was announced in a statement by the airline on Friday.
It blamed the sacking on the impact of COVID-19 pandemic.
The press statement was titled, "Arik Air management declares 300 staff redundant".
The company explained that a redundancy package would be provided for the affected workers with the help of the aviation unions.
The statement read in part, "Arising from the devastating impact of the COVID-19 pandemic, leading to the constrained ability of the airline to complete heavy maintenance activities and return its planes to operations, stunted revenues against increasing operational costs, the management of Arik Air (In Receivership) has declared 300 staff members redundant to its current level of operations.
"The leadership of the impacted unions has been contacted to negotiate a redundancy package for the affected staff."
The airline added that over 50 per cent of its workforce of over 1,600 staff have been on furlough in the past six months.
In a separate statement also forwarded to our correspondent by its Public Relations and Communications Manager, Banji Ola, the airline apologised to passengers whose travel plans were disrupted by the protest carried out by the National Union of Air Transport Employees on December 3, 2020.
The picketing disrupted operations in Lagos and prevented the airline from processing passengers at the Murtala Muhammed Airport Domestic Terminal 1 and 2.
S'East Leaders Laud FG Over EndSARS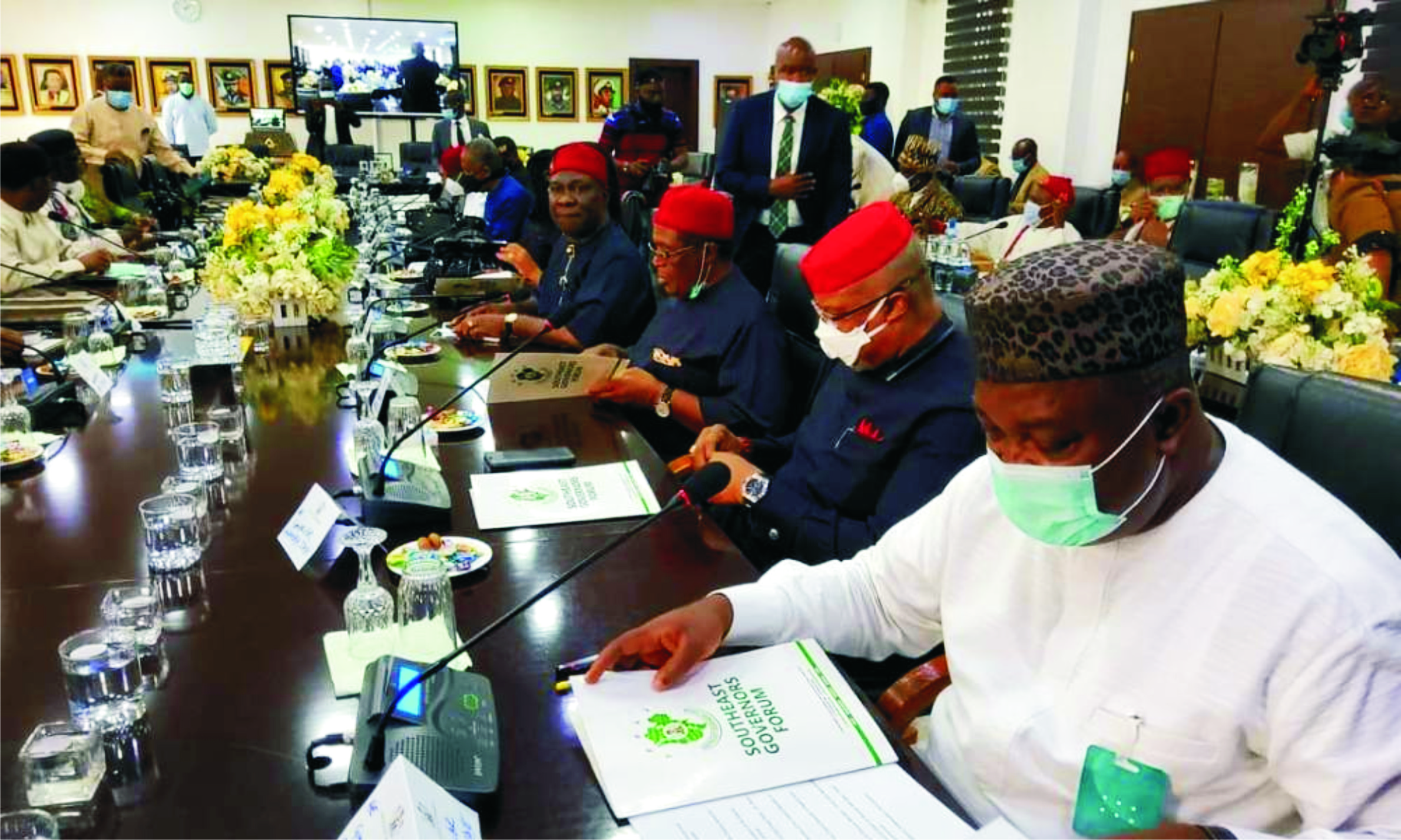 South-East leaders on Saturday, lauded the Federal Government on the matured and responsive manner it handled all issues relating to the EndSARS protest and agitation.
The leaders of the zone, which included Governors, Senators, House of Representatives members as well as traditional, religious and youth leaders, gave the commendation in a communiqué issued after their meeting with a Presidential delegation in Enugu.
The presidential delegation was led by Prof. Ibrahim Gambari, who is the Chief of Staff to President Muhammadu Buhari.
"We thank President Buhari for the speed and restraint with which he handled the EndSARS protest, which has engendered peace throughout the country, especially the South-East.
"We, therefore, request the President to look into demands of various groups and youths with a view to resolving them,'' the statement, which was read by the Chairman of South-East Governors' Forum, Governor Dave Umehi, said.
It also called for joint operation by security agencies and local vigilant groups into all forests in the zone to flush out criminals and killer herdsmen with AK47 rifles.
"But we pledge our commitment to continuous coexistence with peaceful herdsmen who have been living peacefully with us.
"We stand for an indivisible and united Nigeria, built on love, fairness, equity and justice. We believe that under this platform – NIGERIA; we are bigger and stronger,'' it said.
It also called on the Federal Government to continue its support and diplomatic push for the former Coordinating Minister of the Economy, Dr Ngozi Okonjo-Iweala, to be elected as the Director-General of the World Trade Organisation (WTO).
The statement thanked the Federal Government for the timely interventions in Akanu Ibiam International Airport rehabilitation as well as intervention in road infrastructures in the zone.
"We are grateful for the attention given to the second Niger Bridge and completion and inauguration of the Zik's mausoleum.
"However, we urge the Federal Government to give attention to the completion of the current road projects within the zone,'' it said.
The statement said that the states in the zone will provide money for the compensation for those affected by the EndSARS protest, help to rebuild police stations and their logistics; while engaging the youths constantly to forestall any violent development in the zone.
"We have plans to set up various empowerment programmes to gainfully engage the youths. The governors also plan to mainstream the youths in their governance to give them a sense of belonging.