Technical Education: The Way Forward
Technical and Vocational Education as seen in the National Policy on Education (2004), has been defined as those involving, in addition to general education, the study of technologies and related sciences and the acquisition of practical skills, attitudes, understanding and knowledge relating to occupations in various sectors of economic and social life.  Therefore, technical and vocational education is based on:  Providing trained manpower in applied science, technology and business particularly at craft, advanced craft and technical levels.
Providing the technical knowledge and vocational skills necessary for agricultural, commercial and economic development.
Giving training and impart the necessary skills to individuals who shall be self-reliant, economically. (NPE, 2004).
From the outlined objectives, can we say that they are implementable in our TVET institution? The policy issues have been documented, but how many of these, have been given its place in the Nigerian TVET institutions? What this synopsis seeks to examine is the place of  Technical, Vocational Education and Training in the Nigerian TVET institutions.
An overview of TVET in the Nigeria institutions reveals that, TVET is still at the state of theoretical, but not practical. TVET institutions emerged with the purpose of training the young minds, but end up not achieving their purpose; for instance, the government is aware that only limited facilities exist in the Technical Colleges and Universities yet, neither comment nor action is made to achieve the goal of TVET stated by them. Most academic institutions suffer so many set-backs in terms of infrastructure like inadequate accommodation for learning, lack of post-graduate classrooms or lecture theatre, lack of functional facilities for learning, etc in terms of manpower, there are limited staff in the institutions, at times they end-up not being processional; the graduate-assistants are used more than required, just to meet-up with the demands of job in these institutions. Though the knowledge is exploding, but the equipment to practice with becomes a challenge.
Another challenge here is that the mind-set of parents and the community at large is very negative towards TVET, because of lack of adequate orientation and public enlightenment of what TVET entails in the society. The society believes that such occupations as medical, law, engineering and other big-named occupations, place people on  better occupational opportunities than the vocational occupations. Because of this, TVET is looked down at, and indeed it is an obstacle to improve the social statusquo of TVET. This being the case, Osinem (2006) opined that the challenges are to create vocational programmes that deliver professionally successful graduates.
However, TVET institutions should take it as pride to show-case TVET to the society and its value. In the western world, TVET graduates are queued for, to be employed, because the society knows their value. Let the institutions, role out this enlightenment and see if they will not have more boost than ever imagined.
The concept of  Vocational Training differs from technical, vocational education and training. Vocational training involves the informal development of practical skills, knowledge and altitudes by imitation, observation or incidental participation under a master or graduate unlike the TVET, Vocational  Training is not systematically organised, but geared towards informal skill acquisition which is not our focus.
From the foregoing, it is pertinent to understand absolutely the following roles of  TVET in national development if properly placed in the TVET institutions.
TVET is highly instrumental to a buoyant modern economy, by way of rapid growth development, skilled personnel in agriculture, construction, commerce and others.
TVET can meet the manpower needs of Nigeria by planning and providing programmes which result in satisfied employee and employer in those needed occupation, thereby fulfilling its economic role in the nation. TVET fosters creativity in students. TVET a is form of Education which emphasises the development of occupational skills needed as preparation for work.
Therefore, the TVET institutions should be adequately taken care of by funding the TVET centres, employ more professional staff, rehabilitate and provide more facilities (equipment/personnel) for learning, organise and sensitise the masses on the importance of TVET including its vocational opportunities opened to its graduates after school and so on.  By doing these, I believe that TVET shall have a best place or place value in our TVET institutions, and they shall do better than expected in our society.
Ajie wrote in from Port Harcourt.
Godstime Uche  Ajie
JAMB Releases Cut-Off Marks For Universities, Polytechnics, Others
The Joint Admissions and Matriculation Board (JAMB) has released the cut-off marks for universities, polytechnics and other institutions for the recently concluded 2022 University, Tertiary Matriculation Examination (UTME) Below are the cut-off marks.
Federal Universities
Abubakar Tafawa Balewa University, Bauchi (ATBU) 180
Ahmadu Bello University, (ABU) Zaria 180
Bayero University, Kano (BUK)- 180
Federal University of Petroleum Resources, Effurun (FUPRE) 180
Federal University of Technology, Akure (FUTA) 180
Federal University of Technology, Minna (FUTMinna) 180
Federal University of Technology, Owerri (FUTO) 180
Federal University, Dutse, Jigawa State (FUD) 180
Federal University, Dutsin-Ma, Katsina (FUDutsinma) 180
Federal University, Kashere, Gombe State (FUKashere) 180
Federal University, Lafia, Nasarawa State (FULafia)- 180
Federal University, Lokoja, Kogi State (FULokoja) 180
Federal University, Ndufu-Alike, Ebonyi State (FUNAI)- 180
Federal University, Otuoke, Bayelsa (FUOtuoke) 180
Federal University, Oye-Ekiti, Ekiti State (FUOYE)- 180
Federal University, Wukari, Taraba State (FUWukari)- 180
Michael Okpara Uni. of Agric., Umudike (MOUAU)- 180
Modibbo Adama University of Technology, Yola (MAUTECH, formerly FUTYOLA) 180
National Open University of Nigeria, Lagos (NOUN) N/A 180
Nigerian Defence Academy (NDA), Kaduna 180 Nnamdi Azikiwe University, Awka (UNIZIK) 180
Obafemi Awolowo University (OAU), Ile-Ife 200
Police Academy Wudil 180
University of Abuja (UNIABUJA), Gwagwalada 180
Federal University of Agriculture, Abeokuta (FUNAAB) 200
Federal University of Agriculture, Makurdi (FUAM) 180
University of Benin (UNIBEN) 200
University of Calabar (UNICAL) 180
University of Ibadan (UI) 200
University of Ilorin (UNILORIN) 180
University of Jos (UNIJOS) 180
University of Lagos (UNILAG) 200
University of Maiduguri (UNIMAID) 180
University of Nigeria, Nsukka (UNN) 180
University of Port-Harcourt (UNIPORT) 180
University of Uyo (UNIUYO) 180
Usumanu Danfodiyo University Sokoto (UDUSOK) 180
State Universities
Abia State University, Uturu (ABSU) 180
Adamawa State University Mubi (ADSU) 180
Adekunle Ajasin University, Akungba (AAUA) 180
Akwa Ibom State University of Technology, Uyo (AKUTECH) 180
Ambrose Alli University (AAU), Ekpoma 180
Anambra State University of Science & Technology, Uli 180
Bauchi State University, Gadau (BASUG) 180
Benue State University, Makurdi (BSUM) 180,
Medicine 200 Cross River State University of Science & Technology, Calabar (CRUTECH)- 180.
Federal Polytechnic, Bida 150.
Federal Polytechnic, Damaturu N/A.
Groups Educate Students On Human Trafficking, Child Labour
To curtail increased cases of trafficking, child labour, prostitution, forced marriages, and drug peddling in the society, a non-governmental organisation, Children Emergency Relief Foundation (CERF) recently held sensitisation programme for secondary school students.
Executive Director, CERF and convener, Mrs. Abosede Oyeleye, said the foundation gives hope and transform lives of vulnerable and indigent youths in the society.
Oyeleye, at the event themed: "Human Trafficking and Child Abuse," held at Ikorodu council secretariat Hall Lagos, said the foundation has supported more than 10,000 children with various projects over the years, promoting healthier and safer communities through regular community awareness programmes.
Some of the schools present include Christ Army Academy Ikorodu, Living Legacy Schools, Jehovah Jireh Schools, Homat College and Edfan College, Ikorodu.
Zonal commander, National Agency for the Prohibition of Trafficking in Persons (NAPTIP), Mrs. Agboko Modupe, said NAPTIP is fully committed to the prevention of all forms of human degradation and exploitation through coordinated use of crime prevention and law enforcement resources to stamp out human trafficking, liberate and uplift the vulnerable, especially women and children.
Modupe, who is NAPTIP's Assistant Director of Intelligence [NADI], said they ensure rehabilitation and effective reintegration of the vulnerable ones into the society.
She appealed to students, teachers and stakeholders to be mindful of people who speak ill of the country, to lure them abroad.
Varsity Students Lament As ASUU Strike Continues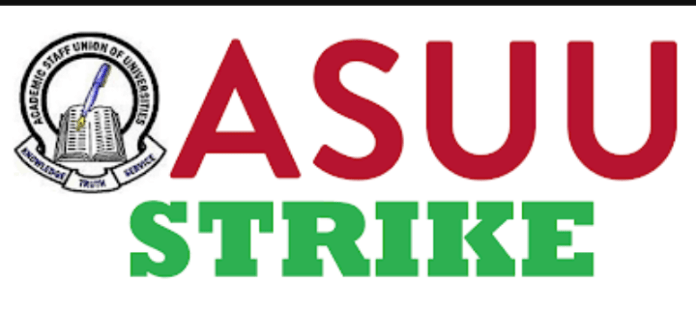 Some students of Nigerian public universities have expressed frustration over the lingering strike by the Academic Staff Union of Universities (ASUU).
In an interview with newsmen in Port Harcourt last Friday, these students are appealing to Federal Government (FG) to at least meet 50 per cent of ASUU demands so as to put an end to the incessant strikes.
Greatness Nnamdi-Ikpo, a third year student of the University of Port Harcourt, who is studying gas engineering, said that the ongoing strike was impacting negatively on the future plans of Nigerian students.
He said although he enrolled for a five-year programme in 2017, he was still in the first semester of the third year because of ASUU constant strike and the outbreak of COVID-19 pandemic in the country.
"My mates who left Nigeria to study abroad have graduated, some are in their final year and it seems those of us in Nigeria are forgotten.
"You don't expect students who spent most of their time on strike and who also studied without properly equipped laboratories to come out with good grades or become experts in their fields.
"I am appealing to the Federal Government to bring back hope to Nigerian youths by putting in some efforts to meet some of the demands of ASUU, at least 50 per cent and this will also make the lecturers not to depend on students for their upkeep.
"I also plead with the government to employ young graduates to teach new technologies and innovations in our universities," Nnamdi-Ikpo said.
Similarly, Ms Gift Nwafor, a student of the University of Calabar, who is studying education psychology, stated that the ongoing strike had caused students lots of harm than good as such she feels frustrated, adding that the strike action was leading some students into crime.
"Honestly, I am very sad and frustrated. My two siblings and I have been at home since February 14, 2022 and our rent for this year would soon expire without being in school.
"My greatest fear is that some of us have gone into crimes. They are into theft, raping and consumption of hard drugs, among others.
"I am appealing to the Federal Government and ASUU to consider our future and call off the strike so that we can go back to school," Nwafor said.
Enugu Govt License To Establish University Of Medical Sciences
The National Universities Commission, NUC, has granted license to Enugu State Government, recognising the establishment of the State University of Medical and Applied Sciences, SUMAS, Igbo-Eno, Enugu State.
The license, issued to Governor Ifeanyi Ugwuanyi of Enugu State, at NUC headquarters, Abuja, yesterday, was sequel to the enactment of the State University of Medical and Applied Sciences, SUMAS, Law, Igbo-Eno, Enugu State, on April 13, 2022.
Presenting the license, the Executive Secretary, NUC, Prof. Abubakar Adamu Rasheed, congratulated Gov. Ugwuanyi and the people of the state "on the establishment of the State University of Medical and Applied Sciences to be located in Igbo-Eno of Enugu State".
The Law establishing SUMAS was presented to NUC by Enugu State government alongside the Academic brief and Master Plan of the new university.
The License recognized SUMAS as the second Enugu State owned University.
With the final stage of granting the license, Enugu State will now have a brand new, full-fledged, State-owned University of Medical and Applied Sciences (SUMAS), Igbo-Eno, Enugu State.
SUMAS, Igbo-Eno has become the 59th State University in Nigeria. Enugu State with two state-owned universities has now joined the league of states with more than one state university.
Reacting, the Deputy Chief of Staff, Government House, Enugu, Prof. Malachy Okwueze, who witnessed the presentation of the license to Gov. Ugwuanyi at the NUC headquarters, Abuja, said that "We can't thank Governor Ifeanyi Ugwuanyi of Enugu State enough for achieving this goal of providing the platform for increased access to quality university education for our teeming youths who struggle year after year to gain admission into the university without fulfilling their desires and  dreams for university education".
According to him "This is especially so for professional courses such as medicine."
U.S Pledges To Boost Cultural Preservation, Promote Learning Among Nigerian Students
The United States government has pledged to support initiatives that promote learning and provide students with opportunity to share ideas in an engaging environment and promote cultural preservation efforts.
Acting U.S. Consul General, James Suor, said modern educational space would stimulate curiosity in the minds of children, support learning, facilitate reflection and promote common ideals between United States and Nigeria.