Saving Death Row Felons The Moral, Legal Implications
Life is full of choices. Some opt for a  decent living, slave-through early education through the Ivory Tower, secure a source of livelihood and create a viable foundation for future of selves and dependants, others prefer the fast lane-a life which depends on  others' earnings to survive. They are common criminals, among them are the murderers, the paid assassins and the kidnappers to whom human life is nothing but a means to their enrichment.
This trend is not peculiar to Nigeria nor the African continent. In fact, every society suffers the dastardly acts and brazen inhumanity of criminals. What differs however, are the various peoples' solutions towards checking the menace. It is for the same reasons, that countries of the world designed prisons for the solitary confinement of less dangerous felons, while slamming death penalty on those who, among other felonies, willfully take others' lives, not in self defence but pre-dedicatedly. 
Here in Nigeria, crimes like armed robbery and murder attract either life imprisonment or capital sentence because of the moral code that anyone who would take another's life deserves none of his. These are also contained in the nation's criminal statutes and which for years permitted in the public execution of condemned felons. At some point  in our  national life, a fresh debate was introduced, which toady appears to be gaining more ground. It is that condemned criminals should be spared the death penalty, but be given another opportunity to start a new life.
The proponents of this school enjoy support from Mary Wollstonecrafts, her,  Letters written in Sweden, Norway and Denmark which argued; "Executions, far from being useful examples to survivours, have, I am persuaded, a quite contrary  effect, by hardening the heart they ought to terrify.
Armed with this and in the guise of protecting human rights, many Rights activists now hold the view that no single individual has the right to take another's life, and that executing a murderer amounts to two wrongs, which hardly makes, one right. It is instead their view that such a criminal, guilty of a capital offence be confined in prison and be fed by the same society against which he waged a brutal war until such a day when, his own life naturally ends as against those of others he brutally and forcefully terminated prematurely.
In pursuit of this strange agenda, in African sense human rights ideologues recently succeeded in convincing the commissioner, Human and people' Rights Working Group on Death penalty to help persuade Nigerian President Goodluck Jonathan never to allow the execution of about 870 already condemned criminals who have been languishing in various prisons for between five and 25 years. Commission's chairperson Alpini-Guason, just achieved that without resistance.
That action, came on the heels of a resolution by the Nigerian Senate to the effect that all prisoners on death row be made to face the consequences of the choices they made in life, theirs, being an acceptance of the moral law that he who kills by the sword must himself die by it.
All the affected cases are products of sentence of courts of competent jurisdiction,  that took a thorough look at each case, having in mind, Publilius Syrus legal caution in Semiramis, "It is better to risk saving a guilty person than to condemn an innocent one" a reason why judgments of the kind are subjected to various appeals and up to date, no single one has been pointed to as a mistrial.
The argument has instead been that the life of the murderer is not just as precious as the life he took but even more precious and so should be saved at all cost because taking his life will merely harden hearts of other criminally minded survivors instead of serving as a deterrent to them that might also consider the murderer's path as of choice.
This line of argument, "reminds me of the man who murdered both is parents, and then, when sentence was about to be pronounced, pleaded for mercy on the grounds that he was an orphan" as ascribed to Abraham Lincoln in Gross's Lincoln's own Stories. How for instance, can a trigger-happy Police Constable willfully kill a final year, student of the University of Port Harcourt at a police check-point and label his victim an armed robber, knowing fully well that the consequence of his action would be death? And when such is pronounced according to law, Rights Advocates insist that the Killer Constable should be spared his own life after that of another.
If human life should be that valueless what guarantees are there that murder, kidnapping and other heinous crimes will ever abate? If the punishment for murder is merely a prison term with a likelihood of regaining freedom at the slightest jail delivery exercise or at every regime change, who says society would ever know peace?
This writer does not share the view that criminals who willfully take others' lives be spared theirs because of the fact that, "exact justice is commonly more merciful in the long run than pity, for it tends to foster in men those stronger qualities which make them good citizens", ask James Russel Lowell (Among My Books: Dante).
Besides, Marcus Tillius Cicero in the Pro Milone warned; 'the greatest incitement to crime is the hope of escaping punishment, which in my view, partly accounts for the now brazen manner in which murders and kidnappings are being carried out. The same may also be responsible for the many unresolved murders.
Those who insist that executions would not serve as a deterrent to others have not said what would. Debatably however, execution of armed robbers in the 70's and 80's actually helped to check increase in armed robbery cases especiall when it was decided that such would be carried out in the criminals ome-steads.
Conversely, it is the pampering of condemned criminals on death-row and who are still feeding fat at tax-payers expense that appears to be the real incentive to increased criminality. Or was it not the  Holy Bible that insists, suffer not a witch to live? If, even a witch can suffer capital punishment why not a murderer?
What is even more laughable is the fact that the so-called rights' groups are not bothered by the fact that the death penalty is a wholesome part of Nigeria's criminal system and not one about to be introduced, specifically for the sake of the 870 on death row-prisoners some of whom also took lives of others.
My Agony is that a dangerous precedence is gradually playing out, one that would further embolden common criminals into full fledged killers, certain that their lives will be spared upon conviction, and who knows, even gain their freedom should a powerful kith or kin pull the right strings.
But in all these, have we, as a people stopped to think of the multiplier effects of setting free, a murderer? What of the urge for vengeance that could drive victim's loved ones and family to resort to jungle justice? At that time, would such action attract the death penalty? If not, what will society be like?
But why should condemned criminals live on death-row for 25 years, on tax-payers' funds? Why is it difficult for state governors to summon the necessary legal, moral and political will to discharge their duties without affection or ill-will as they swore to do? What then is their failure to sign execution orders years after courts of competent jurisdiction have done their duties, amount to.
If the governors had done their part would we have as many as 870 condemned felons testing the political will of the Nigerian leadership and her laws?
If the various state governors had done their part, it would not have required a Senate resolution to do the right thing at the right time, the failure of which has now been capitalized upon by the rights activists to truncate positive attempts to hold murderers, armed robbers, and hired killers accountable and make the accountable and make them to face the consequences of their choices.
That is why I agree with the National Economic Council which last week directed all state governors to sign urgently, the various execution orders for triumph of law over sentiments.
Fortunately, the condemned death-row felons, over whom all the debates are today raging, had a choice either to be good citizens and live or kill others and die in the process. Letting them live will be to have them eat their cake and still have it. These will grant them two of two choices instead of the one allowed.
Again, RSG Begins Unveiling, Flag-Off Of Nine Key Projects, 'Morrow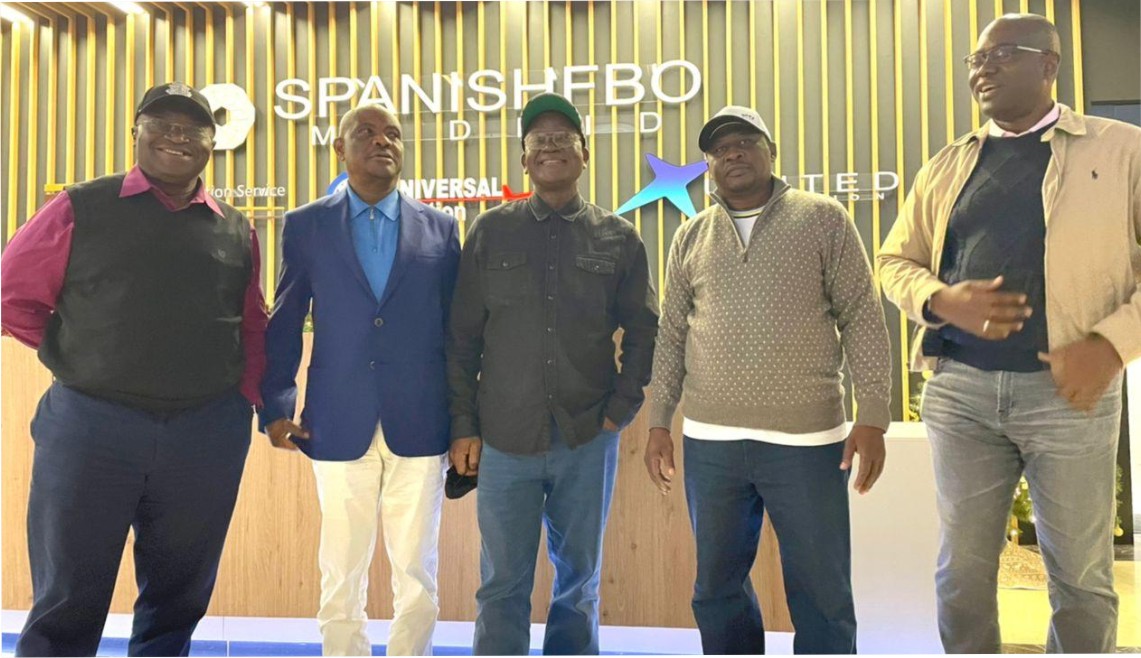 The Rivers State Government has rolled out the drums to herald another phase of official commissioning of key projects embarked upon by the Governor Nyesom Wike-led administration in the state.
A statement by the state government said that the process is in continuation of the commissioning and flag-off of projects by Governor Nyesom Wike.
It indicated that Rumuola flyover would be commissioned tomorrow, while the GRA flyover would be commissioned on Saturday.
The also stated that the government would commission the Ezimgbu Road on Monday, December 13, 2021; with another commissioning of Tombia Road Extension scheduled for Tuesday, December 14, 2021.
The statement said that the governor would commission the Safe Home, Borikiri, Port Harcourt on Wednesday, December 15; while on Thursday, December 16, 2021, the governor would commission the Odokwu internal roads.
Also, the governor would continue the flag-off of key infrastructure projects with Chokocho-Igbodo Road slated for Monday, December 20, 2021; Oyigbo-Okoloma Road on Wednesday, December 22, 2021; and Magistrates' Court Complex, Port Harcourt on Thursday, December 23, 2021.
Wike Justifies N7bn Libel Suit Against THISDAY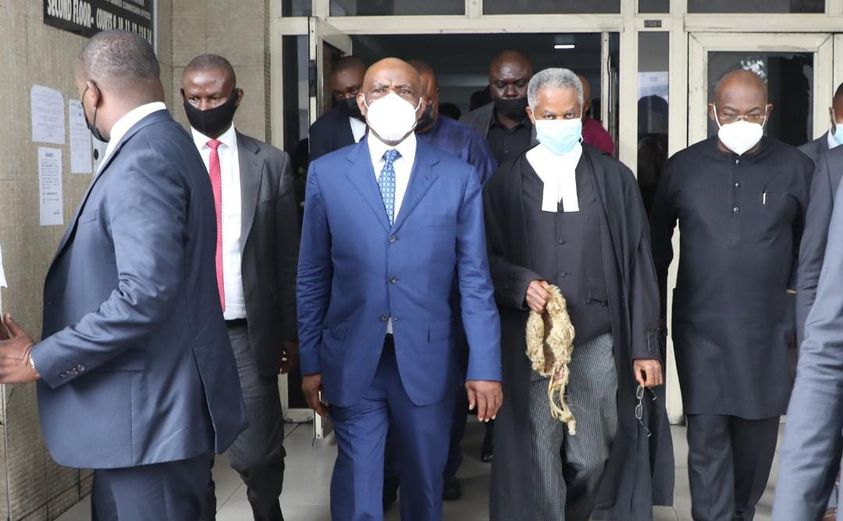 Rivers State Governor, Chief Nyesom Wike, yesterday, appeared before the state High Court in Port Harcourt, to testify as a witness in an N7billion libel suit against THISDAY Newspaper.
Wike said he was in court to seek justice and clear his name as a person from the malicious publication by THISDAY Newspaper, which portrayed him as deceitful, untrustworthy person, who exerts subterranean influences on judicial matters and over court sittings in Port Harcourt.
It would be recalled that Wike had in August, 2020, slammed a N7billion suit being damages for libel written and published in THISDAY's Tuesday, June 23, 2020 edition captioned, "With Wike, Obaseki Meets His PDP's Waterloo; Almost."
The defendants in the suit are THISDAY Newspapers Limited, Leaders and Company Limited, Davidson Iriekpan, Chuks Okocha and Adibe Emenyonu.
Wike, while testifying as witness in suit No. PHC/1505/CS/2020 before the court presided over by Justice A. Enebeli, asserted that the defendants maliciously and falsely portrayed him as an unreliable friend/person.
"When you say somebody cannot be trusted; that cannot be a fair comment. When you say somebody is influencing the Judiciary, that cannot be a fair comment", the governor said.
In his written statement on oath, Wike had stated that the defendants had accused him of influencing the decision of the court sitting in Port Harcourt that granted an injunction restraining Godwin Obaseki from participating in the primaries of Peoples Democratic Party (PDP) in Edo State in 2020.
He stated that the defendants maliciously accused him of undemocratically exerting influence on the primaries process of PDP in Edo State in aid of his ally, Omoregie Ogbeide-Ihama, who was the beneficiary of the court order restraining Obaseki from participating in the PDP primaries.
The governor, who told the court that he was not even aware of the aforementioned suit by Ogbeide-Ihama against Obaseki, said the publication was reckless, false and without regards for the truth.
According to him, contrary to well-known journalistic tradition and practices, the defendants did not investigate properly to ensure the information they relied on was accurate.
"They did not seek to verify the facts from me or in any manner oblige me with the opportunity to state my own side of the story before proceeding to make the false publication" the governor argued.
Wike stated that the defendants further denigrated him before the entire world as a fake democrat, who engages in meddling in the internal affairs of All Progressives Congress (APC) in order to get at his political foe, Chibuike Amaechi.
The governor explained that he was not a member of the APC and has had no hand in the internal crisis which has bedevilled the party both in Rivers State and all over Nigeria.
"By the letter of Messrs E.C. Ukala and Co., Solicitors, under the hand of Emmanuel C. Ukala, SAN, dated 23rd June, 2020, the defendants were given opportunity to retract, and recant the publication as well as to offer apology for the false publication but the defendants spurned the opportunity and ignored the letter completely."
The governor, while responding to claim by lawyer to the defendants, Turudu Ede, SAN, that the essence of the lawsuit was to intimidate and harass his clients, said the whole essence of the suit was to get justice and clear his name as a man of substantial character, honour and repute.
"The essence of the suit is to get justice since they (defendants) refused to retract the publication or apologise. So, I sued them to clear my name."
Speaking to journalists outside the court, one of the lawyers to Wike, Mr. Mark Agwu said his client was in court to seek legal redress.
"To challenge him as a person, it means you have made him untrustworthy, a deceit, a cheat, an influencer of the court, because the publication they made was that he had a role to play in influencing the outcome of that Federal High Court case. Nobody will take that lightly, and especially for a man who believes in the rule of law", Agwu added.
The court adjourned the matter for further hearing to 12th, 13th and 14th of January, 2022.
$130m Fraud: Rivers Sues Saipem SPA, Saipem Contracting Firm, Others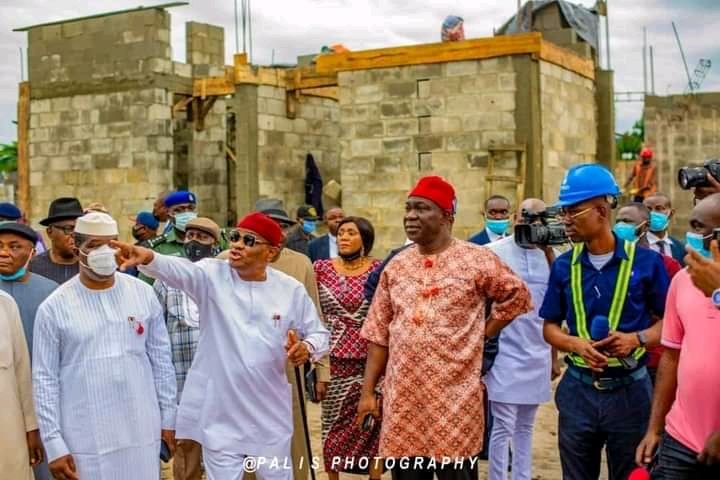 The Rivers State Government has charged two construction firms, Saipem SPA and Saipem Contracting Nigeria Ltd, to court over an alleged conspiracy to cheat and with intent to defraud the state of the sum of $130million, being advanced payment for the construction of the OCGT power plant in Port Harcourt.
In a 16-count criminal charge filed by the Director of Public Prosecution, C.F. Amadi for the Rivers State Attorney General, the state alleged that after collecting the said sum as advanced payment between 2011 and 2018, the defendants have not kept their obligation under the contract.
Others charged alongside the companies were Walter Peviana; Kelechi Sinteh Chinakwe; Giandomenico Zingali; Vitto Testaguzza and Davide Anelli, who are directors and officers of the companies.
The defendants are charged with various offences ranging from conspiracy, cheating and obtaining credit by false pretence, contrary to Section 518 (6) and (7) and punishable under Section 518 of the Criminal Code, Cap 37 Vol. 2 Laws of Rivers State of Nigeria, 1999, section 419A and punishable under Section 419 (A) (1) (b) of the Criminal Code, Cap 37 Vol. 2 Laws of Rivers State, amongst others.
Already, the Rivers State Government has issued a fiat to the law firm of Godwin Obla (SAN) to prosecute the matter before the state High court.
The defendants are equally charged for the offence of false Statements by Officials of Companies contrary to and punishable under Section 436 (b).
The prosecution specifically accused the defendants of obtaining credit of $130million by false pretences or other fraud contrary to Section 419A and punishable under Section 419 (A) (1) (b); obtaining credit of $20,467,942.00 by false pretences or other fraud contrary to Section 419A and punishable under Section 419 (A) (1) (b), obtaining credit of N7,000,000,000.00 only by false pretences or other fraud contrary to Section 419A and punishable under Section 419 (A) (1) (b).
They are charged for obtaining credit of N318,640,173.54, by false pretences or other fraud contrary to Section 419A and punishable under Section 419 (A) (1) (b); attempt to cheat $97million contrary to Section 508 and punishable under Section 509; attempt to cheat $15million contrary to Section 508 and punishable under Section 509; conspiracy to receive a credit of $97million by false pretences contrary to Section 518 (6) and punishable under Section 518; cheating $11million contrary to Section 421 and punishable under Section 421; cheating contrary to Section 421 and punishable under Section 421; cheating N110, 097, 416.51 contrary to Section 421 and punishable under Section 421; cheating by collecting sums attributable to shared facilities already paid for in AFAM Phase I in AFAM Phase II contrary to Section 421 and punishable under Section 421.
Obtaining N20, 467, 942 contrary to Section 421 and punishable under Section 421; obtaining credit of $60,168,936.00 by false pretences or other fraud, contrary to Section 419A and punishable under Section 419 (A) (1) (b); obtaining credit of $1,512,034.00 by false pretences or other fraud contrary to Section 419A and punishable under Section 419 (A) (1) (b) all of the Criminal Code Law of Rivers State, Cap 37 Vol. 2 Laws of Rivers State of Nigeria 1999.
According to the Proof of Evidence attached to the charge and the statement made by the Head, Power Generation/Mechanical of the Rivers State Ministry of Power, one Mr Temple Azunda M., the facts constituting the case in hand are as follows:
Saipem SPA and Saipem Contracting Nigeria Limited and other officers of the duo, herein the Defendants, are Italian companies which services have been retained by the Rivers State Government, herein RSG, in several projects, prominent amongst which is the AFAM Phase II Power Plant Project.
By an initial tripartite agreement made on the January 20, 2010, the RSG under the auspices of the Rivers State Ministry of Power entered a contract with Saipem Contracting Nigeria Limited, Saipem SPA for the construction of the OGCT power plant in Port Harcourt at a total cost of $119million consequent upon which the Rivers State Government made advance payments, in instalments, to Saipem Contracting Nigeria Ltd and Saipem SPA amounting in total to a sum of $130million in all which the Defendants have acknowledged receipt of.
The Defendants were to be given an initial mobilization of 20per cent of the total contract sum which the RSG paid.
It was part of the initial agreement – and indeed a condition sine qua non – that, to access the 2nd tranche of payment of 25per cent from the Rivers State Government, the Defendants would mandatorily have installed the Gas Turbine into the foundations as referenced in ATTACHMENT 1 to VO 007 which states that:
CONTRACTOR shall be entitled to a payment corresponding to 20per cent of the VO No. 007 LS PRICE upon mobilisation to site and commencement of bush clearing activities at SITE.
Upon commencement of bush clearing activities at the site, the contractor shall issue the invoice relevant to the above payment and the owner shall pay such invoice within 14 days from its issuance.
The parties agree that no deduction for recovery of advance payment shall apply on the payment due to the contractor for invoices issued by the contractor in accordance with this paragraph.