Adamawa
Adamawa State Government has spent over N223 million to pay 2009 NECO and WAEC examination fees for students from the state.
The Commissioner for Education, Mr Gabriel Adama,  disclosed this in Yola recently at a news conference.
He said: "I want to say that it was, however, a big  loss for us because over 90 per cent of the students  failed the examination.''
Describing the situation as unacceptable, the commissioner
said that out of the 28,000 students who sat for the examination, only seven per cent of them got the required credits including  English and Mathematics.
Bauchi
A lecturer , Prof. Sulaiman Bogoro of Abubakar Tafawa Balewa University, (ATBU) Bauchi, has said that auditing of public and private agencies was crucial for accountability and promotion of good governance.
Bogoro made the statement in a paper he presented on Tuesday at the Conference of the body of Federal and State Auditors-General in Bauchi.
He said accountability and transparency in leadership are necessary as without them, some leaders or heads of organisations engage in secrecy and corrupt manipulation of the system.
Ekiti
Hundreds of giant-sized posters of President Goodluck Jonathan for President in 2011 have flooded major streets in Ado-Ekiti, the Ekiti State capital.
The Tide's source reports that the posters carried the message "Dr Goodluck Ebele Jonathan for 2011 Presidential election. Let us encourage him for peaceful co-existence in Nigeria, courtesy of Ekiti New Era Forum".
The posters are posted on electricity poles, stationery vehicles and some buildings in the metropolis.
The posters, which had PDP logo and the picture of Jonathan are on major streets such as Fajuyi round about, Okesa, Governor's office road, Iyin road, Okeyinmi, secretariat road among others.
FCT
The Economic and Financial Crimes Commission (EFCC) says it has  instituted more than 50 cases and got more than 100 convictions in the last two years.
Mrs Farida Waziri, the Chairman of EFCC, made the  statement in Abuja on Monday during an interaction with newsmen.
" We can conveniently boast that we inherited about 10 profile cases when we took over about two years ago.
"We have not only instituted 50 high profile cases, we have secured over 100 convictions with a record of recovery that towers above 3.5 billion dollars and over 1,200 cases pending in court."
Jigawa
The Jigawa government  has inaugurated a six-man committee to implement its sanitation policies and promote good hygiene, Alhaji Abdulkadir Jinjiri, the Commissioner for Community Development and Rural Infrastructure, said on Friday.
He told newsmen in Dutse that the committee was formed to utilise the 2009 Millennium Development Goals Conditional Grant Scheme for the implementation of sanitation and good hygiene policies.
He explained that the committee would carry out advocacy and sanitation visits to policy makers, political, religious and traditional rulers in order to gain support for sanitation and hygiene promotion at local governments and community levels.
Kaduna
The Christian Community, Ahmadu Bello University (ABU), Zaria, has organised a memorial service in remembrance of the first indigenous Vice Chancellor and Registrar of the university.
A statement issued by the institution's Information and Protocol Officer Bitrus Galmaka, stated that the duo were late Prof. Ishaya Audu and late Michael Angulu, the first indigenous vice chancellor and registrar respectively
It noted that the memorial service was "to honour these pioneers of the Christian community whose services and sacrifices contributed immensely to the foundation laying of ABU''.
It indicated that 27 others, whose ages ranged from 70 and above, were also honoured for their meritorious sacrifices in the service of the institution.
Kano
Thousands of Qur'anic pupils, known as "Almajiris," have moved out of Kano metropolis due to the commencement of the rainy season, Tide's source  reports.
The pupils, majority of whom came from Yobe, Jigawa, Katsina, Bauchi and Kaduna states and parts of Kano states, left the commercial town to engage in farming in their respective communities.
Investigation by the source  in Kano shows that the almajiris have deserted most of the areas they were usually seen begging for alms, since the exodus began about two weeks ago.
Such places included restaurants, motor parks, mosques and markets, where only pockets of them could now be sighted loading goods, washing plates and begging.
Kwara
Dr. Hammed Ali, Kwara Attorney-General and Commissioner for Justice, has called for the construction of more prisons as a panacea for decongesting prisons in the country.
Ali made the call on Monday when he paid a courtesy visit to the Comptroller of Prisons in the state, Mr. Olatunde Olayiwola, in llorin.
Ali suggested that private organisations should be involved in the construction and management of prisons.
"If about 227 prison houses in Nigeria accommodate 50,000 inmates and out of these about 42 per cent are awaiting trial suspects, then we need more prison houses", he said.
Lagos
The Dangote Group says local production of iron rods and steel would reduce the incidence of building collapse and other construction failures in the country.
Mr. Sankasu Balasubramania, Technical Director of the group, disclosed this to journalists who were on a facility tour of Dangote Steel Rolling Mills in Osogbo on Sunday.
He said that the increasing of building collapse and construction failures would be tackled through production of quality iron rods locally.
Balasubramania said that Dangote Steel Rolling Mill, which would commence production in October, this year, would produce over 350,000 tonnes of quality steel products annually.
Osun
Mrs. Omolola Oyinlola, wife of Osun Governor, has expressed concern over the increasing cases of teenage pregnancy among secondary school girls.
She expressed the concern during a sensitisation visit to St. Mary's Grammar School, Iwo, Osun.
Oyinlola, who is the initiator of Women and Children Development Initiative Foundation (WOCDIF), called on stakeholders to join hands with her to stem the tide.
The Tide's source reports that the visit is part of her awareness campaign on teenage pregnancy, HIV and AIDS, cancer and maternal/child mortality.
Oyo
The Association of Fish Farmers and Aqua-culturists of Nigeria (AFFAN) in Oyo State, has called on the Federal Governments to create special silos for maize and soya beans.
The Chairman, Mr Peter Farinto, told newsmen on Tuesday in Ibadan that the two crops formed the major raw materials for the production of local fish feeds.
"If government could store the raw materials, an enabling environment would be created for the sustenance of the fish farming business which depended largely on fish feeds, to boost local production," Farinto said.
Plateau
The Miners Association of Nigeria (MAN) has cautioned against  illegal mining, saying the lead poisoning in Zamfara that reportedly killed 163 persons, was regrettable.
The MAN National President, Sani Shehu, told newsmen in Jos, that the incident, which occurred in Anka and Bukkuyum Local Government Areas of Zamfara was "purely a result of illegal mining".
He said, "most minerals contain one level of impurity or the other.  Some of these impurities are radio-active in nature.  Some of them release poisonous gases that are not visible.
"That is why when you are operating a formalised form of mining, issues like safety, radioactivity and other poisonous gases will be discussed and addressed", he cautioned.
Sokoto
The Sokoto State Commissioner for Religious Affairs, Prof. Musa Maitafsir, has said that the government plans to ban begging in the area.
Maitafsir said the plan will come into effect only after all the destitute persons have been brought under a scheme where they would be paid monthly stipend.
The commissioner disclosed that the government was currently spending over N45 milliioon on 7,000 destitute persons every month.
He told newsmen in Sokoto that each of the beneficiaries was being given N6,500 monthly.
"This gesture has been on for about two years and it will be sustained to alleviate the suffering of the less privileged persons.
"More of them will soon be brought under the scheme introduced by Governor  Aliyu Wamakko to reduce the menace of begging in the state", Maitafsir said.
EFCC Re-Arrests Fani-Kayode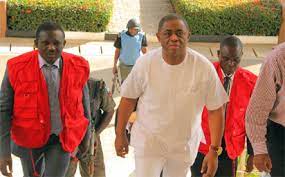 A former Aviation Minister, Femi Fani-Kayode has been re-invited by the Economic and Financial Crimes Commission (EFCC) following investigations into alleged document falsification
Fani-Kayode alongside a former Minister of State for Finance, Nenandi Usman, is standing trial on alleged N4.6billion money laundering, before Justice Mohammed Aikawa.
Other defendants are Yusuf Danjuma, a former chairman of the Association of Local Governments of Nigeria (ALGON) and a company, Jointrust Dimensions Nigeria Ltd.
They are facing a 17-count charge of money laundering preferred against them by the anti-graft agency.
They had each pleaded not guilty to the charges and were granted bails.
The trial had begun before Justice Aikawa and witnesses were still being led in evidence until Aikawa was transferred out of the Lagos division.
The charge was consequently, re-assigned to a new judge, Justice Daniel Osaigor, and the defendants were scheduled for re-arraignment on October 27.
Meanwhile, at the last adjourned date, FaniKayode was absent from court and the defence counsel who appeared on his behalf, Mr Fred Ajudua informed the court that he was on admission at Kubwa General Hospital in Abuja.
He had prayed for an adjournment on that ground on behalf of the second defendant
But, the EFCC prosecutor, Mrs BilikisuBuhari, informed the court that the same tactics had always been adopted by the defendant whenever he does not want to attend court.
After going through the court's records, Justice Osiagor noted that it was clear that the defendant had issued a similar letter of excuse five times.
Abiodun Presents N350.74bn 2022 Budget To Ogun Assembly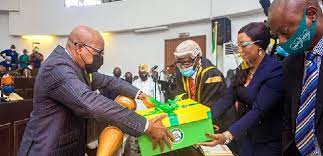 Governor Dapo Abiodun has presented the 2022 appropriation bill of N350.74 billion to the Ogun State House of Assembly.
Abiodun, yesterday, presented the bill, tagged 'Budget of Restoration' to the lawmakers at the Assembly Complex, Oke-Mosan, Abeokuta.
Addressing the assembly members at a ceremony presided over by the Speaker, Olakunle Oluomo, Abiodun reiterated his determination to give priority attention to the completion of existing projects, projects with revenue potential and projects that can enhance employment generation.
According to the governor, the total state funding is estimated at N350.74 billion in 2022.
This, Abiodun said, "includes Ogun State Internal Revenue Service (OGIRS) estimates of N56.30 billion and other Ministries, Departments and Agencies (MDAs) estimated at N96.87 billion totaling N153.17 billion. Statutory allocation (i.e. FAAC and VAT) is expected to be N73.01 billion while the capital receipt is estimated at N124.56 billion (i.e. Internal and External loans including Grants and Aids etc)."
On planned expenditure, Abiodun explained that "the aggregate expenditure of N350.74 billion is proposed for the State Government in 2022."
Under recurrent expenditure, a total of N75B is to be expended in paying salaries and allowances in MDAs; N28b on debt service obligations and N51b on total overhead costs of MDAs and government-owned enterprises.
For capital expenditure, Abiodun said N170 billion is budgeted, being an increase of N10 billion over the 2021 approval of N160 billion.
He added that a total sum of N7.7billion is provided for transfers to the Stabilization Fund to insulate and position the State towards unprecedented activities or economic shocks.
Of the entire budget, Education gulps N56,071.21b, representing 16 percent; while Health takes N35,073.51b, being 10 percent.
Infrastructure takes the largest share of N77,775.77, which is 22 percent of the budget.
The Assembly is expected to legislate on the appropriation bill and return a clean copy to the governor for his assent.
The Speaker assured Abiodun of a speedy and thorough legislative process on the proposed budget with a view to sustaining the tradition of its passage on record time to comply with the January to December cycle in line with the international financial standards.
ICPC Uncovers N20bn Project Duplication, Personnel Budget Fraud In MDAs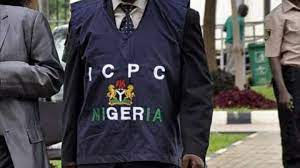 The Independent Corrupt Practices and other related offences Commission (ICPC) says it has uncovered gross abuse of personnel budget as well as duplication of projects by some federal Ministries, Departments and Agencies (MDAs) amounting to over N20.138 billion.
The duplication and padding occurred in the implementation of the 2021 budget and involved about 257 projects, the anti-corruption agency said its review shows.
The anti-graft agency said it is investigating the Ministry of Labour and the University College Hospital Ibadan as well as corrupt staff members in other MDAs suspected of massive illegal recruitment.
ICPC chairperson, Bolaji Owasanoye, made the disclosure in his welcome address at the 3rd National Summit on Diminishing Corruption in the Public Service and Presentation of Public Service Integrity Award on Tuesday.
Themed, 'Corruption and the Cost of Governance: New Imperatives for Fiscal Transparency', the event was held at the State House Conference Hall, Presidential Villa, Abuja.
Many dignitaries including the Secretary to the Government of the Federation, Boss Mustapha, were in attendance.
In his address, Owasanoye said ICPC, through its projects tracking, found out that skyrocketing personnel in many MDAs was attributable to massive budgetary scam, including illegal recruitment, unilateral increase in wages, indiscriminate travels, among others.
"The high cost of governance and rising personnel budget in Nigeria is as a result of illegal recruitment, illegal and unilateral increase in wages and remuneration by some MDAs, indiscriminate local and international travels, unreasonable demands by some political appointee board members of MDAs without regard for extant circulars on cost management; procurement fraud, budget padding, etc," he said.
"This has continued to reflect in the huge wage bill on personnel and operational cost standing at about 70 per cent of annual budget".
According to Mr Owasanoye, the "malfeasance" the anti-graft agency uncovered in the recruitment process by some MDAs including the labour ministry is perpetrated with the connivance of some staff members of the Integrated Payroll and Personnel Information System (IPPIS). He noted the cases and officials involved were under investigation.
"At another level, a syndicate of corrupt individuals within the service corruptly employ unsuspecting Nigerians, issue them fake letters of employment, fraudulently enrolling them on IPPIS and post them to equally unsuspecting MDAs to commence work".