BP Puts Containment Cap On Gushing Oil Pipe
British Petroleum (BP) BP has made promising strides in its latest bid to capture some of the oil spewing from its ruptured deep-sea well in the Gulf of Mexico.
Meanwhile, President Barack Obama has called off an overseas trip and prepared for another visit on Friday to the spill-stricken U.S. Gulf Coast.
BP Chief Operating Officer Doug Suttles said the containment cap "should work" by capturing upward of 90 percent of the gushing oil.
"I'd like to see us capture 90 plus per cent of this flow. I think that's possible with this design," Suttles told CBS TV.
"It should work," he added in another interview with CNN.
After failing days ago to plug the well, BP Plc managed on Thursday to shear away the gushing well pipe a mile (1.6 km) below the ocean surface, then lowered a containment cap over the jagged hole left atop the crippled wellhead assembly in its latest bid to curtail the oil flow.
British energy giant BP, facing a criminal probe by the U.S. government, civil lawsuits, lost share value and growing questions about credit-worthiness, set an eagerly awaited investors' briefing conference call with chief executive Tony Hayward for 9 a.m. EDT (1300 GMT).
BP shares were up four per cent in European trading on Friday after word of the apparent progress in curbing the spill.
Pressure is building on BP to suspend dividend payments, which total 10.5 billion dollars a year, and divert cash to dealing with the spill and clean-up.
Hayward was coy on the issue on Thursday, telling reporters in Houston, "We will meet our obligations to stakeholders."
Two Democratic U.S. senators have called on BP to suspend shareholder dividends until the full cost of the cleanup is known.
London-based investment bank Evolution Securities said in a research note, "We believe BP will bow to political pressure in the U.S. and suspend dividend payments for the remainder of 2010."
The placement of the cylindrical containment cap was confirmed by the U.S. disaster response chief, Coast Guard Admiral Thad Allen, in a statement describing the move as a "positive development" but "only a temporary and partial fix."
"It will be some time before we can confirm that this method will work and to what extent it will mitigate the release of oil into the environment," Allen said.
Once the containment cap is firmly in place over the wellhead, the plan is to start funneling at least some of the escaping oil and gas into a large hose that would carry it from the bottom of the Gulf of Mexico to the surface, where it would be collected in ships and safely removed.
Confronting one of the biggest tests of his presidency as his party girds for tough congressional elections in November, Obama called off a trip to Australia and Indonesia set for this month to focus more on the oil spill and other matters.
The White House said in a statement early on Friday that Obama spoke on Thursday night to Australian Prime Minister Kevin Rudd and Indonesian President Susilo Bambang Yudhoyono to inform them of his decision.
The trip had been scheduled for June 13-19.
Crude oil has been pouring unchecked into the Gulf of Mexico at up to 19,000 barrels (800,000 gallons/three million litres) a day since an explosion April 20.
The explosion demolished a BP-contracted drilling platform off the coast of Louisiana, killin  g 11 crewmen and unleashing an environmental disaster of epic proportions.
NSE Begins Week On Negative Note, Loses N19.49bn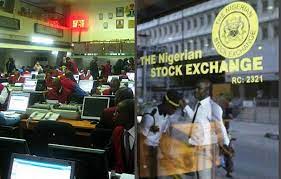 The Nigerian stock market began the week on a negative note as banking and consumer goods stocks, among others, triggered a N19.49bn loss.
At the end of trading on the floor of the Nigerian  Exchange Limited , the NGX All-Share Index dropped by 0.09 per cent to end at 43,270.94 basis points, while the market capitalisation declined to N22.58tn.
Market activities were mixed as the total volume of shares traded decreased by 30.19 per cent while the value traded rose by 34.05 per cent.
A total of 213.13 million shares valued at N2.36bn were exchanged in 4,105 deals, compared to 305.32 million shares worth N3.58bn in 4,450 deals last Friday.
FCMB Group Plc topped the traded stocks in terms of volume, accounting for 27.43 per cent of the total volume of trades while Airtel Africa Plc emerged as the most traded stock by value, representing 28.81 per cent of the total value of trades on the exchange.
14 firms gained compared to 21 losers.
AIICO Insurance Plc was the biggest gainer for the day, topping the gainers' chart with a price appreciation of 8.57 per cent to N0.76 per share.
It was followed by LivingTrust Mortgage Bank Plc with a rise of 7.95 per cent, ending the day at N0.95 per share.
Analysing by sectors, three of the five major indices closed lower, led by NGX Oil & Gas (-0.56 per cent), NGX Consumer Goods (-0.23 per cent) and NGX Banking (0.18 per cent).
But the insurance (0.82 per cent) and industrial goods (0.002 per cent) indices gained at the end of trading.
… Introduces TIES To Boost  Business Loan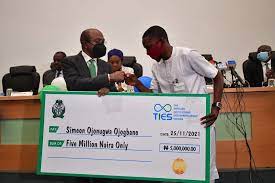 The Central Bank of Nigeria (CBN) has introduced the Tertiary Institutions Entrepreneurship Scheme (TIES), which provides undergraduates and graduates with a platform to access loans.
The TIES' underlying aim is to provide access to capital for Nigerian undergraduates and graduates with innovative entrepreneurial and technological ideas from polytechnics and universities.
TIES intends to shift undergraduates and graduates away from white-collar job pursuits and towards a culture of entrepreneurship development for economic development and job creation.
In a national biennial entrepreneurship competition, the Developmental Component would be distributed in the form of awards to Nigerian polytechnics and universities.
The competition aims to increase undergraduates' awareness and visibility of high-impact entrepreneurial/technological concepts, foster entrepreneurial talent hunts in Nigerian polytechnics and universities, and encourage commercially viable and transformative technologies.
Interested Nigerian polytechnics and universities shall apply to participate in the national biennial entrepreneurship competition on a dedicated online portal.
Outlining brief details of the project, potential impact and evidence of originality of project, CBN said it is an innovation for students entrepreneurs.
CITN Applauds FG, Tax Authorities On Fiscal Policy Decisions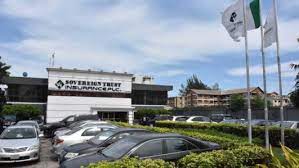 The Chartered Institute of Taxation of Nigeria (CITN) has lauded the Federal Government and tax authorities on the giant strides made on fiscal policy decisions and tax administration measures initiated this year in the area of Finance Act 2021 and the introduction of TaxPromax solution.
President of the institute, Adesina Adedayo, who gave the commendation at the institute's yearly award ceremony at the weekend in Lagos, assured the government and tax authorities of aligning with the measures and promised to provide professional thoughts and insights on ways through which they could achieve an efficient and effective Nigerian tax system.
Adedayo emphasised the need to address the database, adding that without knowing who the tax-payers are, there is no way they can take money from unknown tax-payers.
Database is the aspect we have been emphasising on as an institute and in doing this, there are so many of pockets of data we have. All the data must be harmonised to have a simple unique tax-payers identification number," he said.