Stock Futures Rise Sharply, Indicates Higher Open
Expectations for another round of upbeat U.S. economic reports and China's reassurance it will hold onto European debt sent stock futures sharply higher Thursday.
Dow Jones industrial average futures are up almost 200 points.
Reports on weekly jobless claims and first-quarter gross domestic product are expected to show the domestic economy is strengthening.
Asian markets rose overnight and European markets are also significantly higher. The euro, which is seen as an indicator for confidence in the health of Europe's economy, rose to $1.2270.
The gains came after the agency that manages China's $2.5 trillion in foreign reserves denied a Financial Times report that China was considering cutting its exposure to European debt.
Concerns about whether mounting debt problems in Europe will upend a global economic recovery have dragged down stocks around the world in recent weeks. Volatility has also increased as investors remain jittery about how budget cuts in some European countries like Greece, Spain and Portugal could affect growth.
In the U.S., traders are expected to get another batch of upbeat economic reports for the second straight day. Some focus has returned to the domestic economy in recent days, though investors are still keeping an eye on Europe.
Ahead of the opening bell, Dow Jones industrial average futures rose 189, or 1.9 percent, to 10,110. Standard & Poor's 500 index futures surged 24.70, or 2.3 percent, to 1,085.90, while Nasdaq 100 index futures rose 41.75, or 2.3 percent, to 1,833.25.
Economists predict the Labor Department will say initial claims for unemployment benefits fell last week after an unexpected jump a week earlier. Claims likely fell 16,000 to a seasonally adjusted total of 455,000, according to economists polled by Thomson Reuters.
High unemployment remains a stumbling block to a stronger recovery in the U.S. The unemployment rate jumped to 9.9 percent last month.
A separate report is expected to show the nation's economy grew at an annual rate of 3.4 percent in the first three months of the year. That is better than a previous estimate that said GDP rose 3.2 percent during the first quarter.
While slow, steady growth is seen as a positive coming out of the recession and helped drive stocks higher early in the year, it still isn't strong enough to make a big dent in unemployment. Growth would have to climb to around 5 percent for a year to cut the unemployment rate by 1 percentage point.
Even if the reports top expectations and stocks open higher, early morning gains have not necessarily meant the market will remain strong throughout the day.
Twice this week, stocks have rallied early in the day only to see those advances erased in late-day selloffs. The Dow Jones industrial average was up 135 points Wednesday morning, but ended the day down about 69 points. It was the Dow's eighth drop in the last 10 trading sessions.
The slide Wednesday afternoon was tied to the Financial Times report questioning whether China would cut its holdings of euro-denominated bonds.
Stocks had been rallying for most of the day after two upbeat reports on the U.S. economy. April durable goods orders and new home sales both rose more than forecast, providing evidence that the volatility in markets and concerns about a potential slowdown in Europe's economy have not affected a domestic recovery.
Bond prices fell Thursday as investors moved into riskier assets. The yield on the benchmark 10-year Treasury note, which moves opposite its price, rose to 3.28 percent from 3.19 percent late Wednesday.
Overseas, Britain's FTSE 100 rose 1.8 percent, Germany's DAX index gained 2.2 percent, and France's CAC-40 jumped 2.1 percent. Japan's Nikkei stock average rose 1.2 percent.
NSE Begins Week On Negative Note, Loses N19.49bn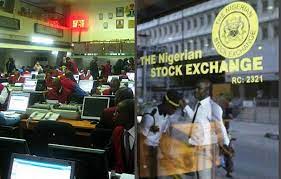 The Nigerian stock market began the week on a negative note as banking and consumer goods stocks, among others, triggered a N19.49bn loss.
At the end of trading on the floor of the Nigerian  Exchange Limited , the NGX All-Share Index dropped by 0.09 per cent to end at 43,270.94 basis points, while the market capitalisation declined to N22.58tn.
Market activities were mixed as the total volume of shares traded decreased by 30.19 per cent while the value traded rose by 34.05 per cent.
A total of 213.13 million shares valued at N2.36bn were exchanged in 4,105 deals, compared to 305.32 million shares worth N3.58bn in 4,450 deals last Friday.
FCMB Group Plc topped the traded stocks in terms of volume, accounting for 27.43 per cent of the total volume of trades while Airtel Africa Plc emerged as the most traded stock by value, representing 28.81 per cent of the total value of trades on the exchange.
14 firms gained compared to 21 losers.
AIICO Insurance Plc was the biggest gainer for the day, topping the gainers' chart with a price appreciation of 8.57 per cent to N0.76 per share.
It was followed by LivingTrust Mortgage Bank Plc with a rise of 7.95 per cent, ending the day at N0.95 per share.
Analysing by sectors, three of the five major indices closed lower, led by NGX Oil & Gas (-0.56 per cent), NGX Consumer Goods (-0.23 per cent) and NGX Banking (0.18 per cent).
But the insurance (0.82 per cent) and industrial goods (0.002 per cent) indices gained at the end of trading.
… Introduces TIES To Boost  Business Loan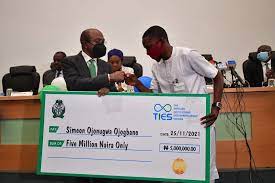 The Central Bank of Nigeria (CBN) has introduced the Tertiary Institutions Entrepreneurship Scheme (TIES), which provides undergraduates and graduates with a platform to access loans.
The TIES' underlying aim is to provide access to capital for Nigerian undergraduates and graduates with innovative entrepreneurial and technological ideas from polytechnics and universities.
TIES intends to shift undergraduates and graduates away from white-collar job pursuits and towards a culture of entrepreneurship development for economic development and job creation.
In a national biennial entrepreneurship competition, the Developmental Component would be distributed in the form of awards to Nigerian polytechnics and universities.
The competition aims to increase undergraduates' awareness and visibility of high-impact entrepreneurial/technological concepts, foster entrepreneurial talent hunts in Nigerian polytechnics and universities, and encourage commercially viable and transformative technologies.
Interested Nigerian polytechnics and universities shall apply to participate in the national biennial entrepreneurship competition on a dedicated online portal.
Outlining brief details of the project, potential impact and evidence of originality of project, CBN said it is an innovation for students entrepreneurs.
CITN Applauds FG, Tax Authorities On Fiscal Policy Decisions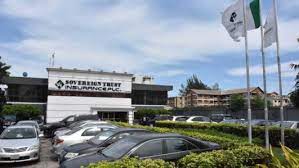 The Chartered Institute of Taxation of Nigeria (CITN) has lauded the Federal Government and tax authorities on the giant strides made on fiscal policy decisions and tax administration measures initiated this year in the area of Finance Act 2021 and the introduction of TaxPromax solution.
President of the institute, Adesina Adedayo, who gave the commendation at the institute's yearly award ceremony at the weekend in Lagos, assured the government and tax authorities of aligning with the measures and promised to provide professional thoughts and insights on ways through which they could achieve an efficient and effective Nigerian tax system.
Adedayo emphasised the need to address the database, adding that without knowing who the tax-payers are, there is no way they can take money from unknown tax-payers.
Database is the aspect we have been emphasising on as an institute and in doing this, there are so many of pockets of data we have. All the data must be harmonised to have a simple unique tax-payers identification number," he said.