Requiem For President Yar'Adua …Sad Exit Of A Servant Leader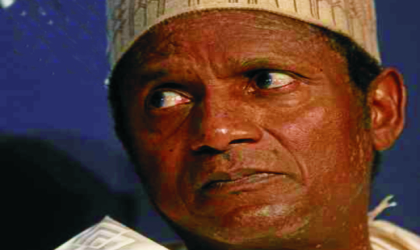 Nigeria had lost leaders while on National duty, but none since the brutal assassination of General Murtala Mohammed Feb 3, 1976, has the death of a Nigerian President evoked so much grief, inconsolable mourning, passion and above all unity, as did the death, last week Wednesday of the Servant-Leader, Late Umaru Musa Yar'Adua. (Allah Bless his soul).
Yar'Adua's was indeed one death that is worth grieving over, not only by family and friends but even by those whose vigorous pursuit of their constitutionally allowed protests, tended, inadvertently though, to diminish the amount of pain, helplessness and a grueling battle a good man was waging against a fatal medical condition and by extension death.
 At about 9pm that Wednesday, in his sick bed at the Presidential Villa, Abuja, an ailing Yar'Adua eventually lost the battle to death, after Soul-lifting assurances by Moslem clerics that the president was fast recuperating and would return soon to the work Nigerians entrusted to him, that of superintending the presidency of Africa's biggest and most populous democracy. But Yar'Adua couldn't, afterall and instead surrendered to death, apparently as a token of his usual selflessness, so that Nigeria that he had laboured to keep united, would not be divided by the politicking and avoidable grandstanding that evoked comments and actions over his protracted illness.  
Earlier, he had been flown-out of the country to the King Faisal Specialist Hospital, Saudi Arabia Nov 23, last year, where Yar'Adua had been battling acute pericarditis, a medical term explaining inflammation of the outer coverings of the human heart. According to informed medical opinion, the President might have died of cardiac complications arising from the ailment.
Ordinarily, those were moments Nigerians would have willingly shared and empathised with their President, knowing that ill-health is neither an example of gross misdemeanor nor should it be seen as a criminal offence.
But the poor and phoney information management by handlers of Yar'Adua's health rather than unite Nigerians behind a goodman, helped to heat-up the system and contributed to the diminishing of the import that ought to have been attached to his condition, the pains, the trials,  and the tribulations before his eventual death.
 For instance, the medical team made a secret of the president's health condition, forgetting that Nigerians had as much right to such information as it did, even if, granted that Yar'Adua was first of all a husband, father and a Moslem.
These are not times for the blame game, but man must note the mistakes of the past, learn from the present and avoid any repeat in the future, for, without such retrospection, it would be easy to willfully vilify or even demonise civil society groups and indeed all other progressive Nigerians who insisted and rightly too that the Nigerian constitution  must be adhered to, no matter the circumstances.
For the records, at the time Yar'Adua was flown to Saudi Arabia, none could tell his medical condition and could not have been expected to follow all the requirements of section 145  of the constitution, that of handing over to his Vice President, since he was to be on a medical vacation.
Sadly, handlers of the President's health and indeed his information managers chose instead, to hoodwink an already agitated citizenry with less than acceptable hints of their President's medical condition. As if that was not damaging enough, the same clique, using Saudi security support denied all, especially key national officers, the desired access to see the ailing President. The list included cabinet ministers, then Vice President Goodluck Jonathan and indeed leadership of the National Assembly. The only valuable information concerning the president's health was sourced from the British Broadcasting Corporation (BBC) News, where-in Yar'Adua was early this year, quoted as saying he was recuperating from a major heart problem.
And because Yar'Adua was a goodman, who could not be blamed for the poor management of information, concerning his health, the Senate sought a soft-landing, and eventually agreed to imploring the Doctrine of Necessity to empower Vice President Goodluck Jonathan to assume Presidential powers as Acting President, instead of declaring the substantive president incapacitated.
Strangely, the ailing President was flown back into the country at night, amidst tight military security without the knowledge of the Acting President, and Commander –in-Chief of the Nigerian Armed Forces, an event which the President's health-handlers and close political associates intended to implore to diminish the legality of Jonathan's new identity.
In fact, Yar'Adua's Special Adviser on Media, Mr Segun Adeniyi, in pursuit of same agendum made a veiled reference to Jonathan as Vice President and went further to assure that the ailing president would return to his duties, the following week, after worshiping at the Abuja Central Mosque that Friday. The President never did.
Even so, Nigerians were hopeful that since he could as much as thank "Vice President" Jonathan for managing the presidency in his absence, he could as well address the nation or at least meet with both the Acting President and indeed leadership of the National Assembly. The ailing President never did.
Instead, some Moslem clerics and later Christian leaders were obliged audience with the ailing President, where they offered prayers for his quick recovery. Thereafter, leader of the Moslem clerics and Chief Iman of the Abuja Central Mosque confidently told Nigerians that Yar'Adua had handsake with them, joined them in prayers and even assured them of his quick recovery and timely return to presidential duties,  the following week.
The timing of that statement almost truncated Jonathan's attempt to infuse fresh blood into the Executive Council of the Federation (EXCOF), having dissolved the original cabinet, put in place by Yar'Adua
It was only days  later that Nigerians came to terms with the fact that Yar'Adua required prayers from all and not merely those who had seen, prayed with him and later dazed the citizenry with half-truths, if not total lies.
Ordinarily, as former US secretary of state, Candolessa Rice rightly observed, the presidency is bigger than any one man and should therefore never be left stagnant, but because of the tremendous goodwill, love and compassion, Yar'Adua had earned in his dealings with others, virtually every attempt by civil society groups to insist on the invocation of section 144 of the constitution, required to declare the ailing President, permanently incapacitated were rebuffed. And rightly too because he was a Goodman, and not because the so-called cabal, who hoped to capitalise on Yar'Adua's condition to govern Nigeria by proxy were more powerful but because of Yar'Adua's lasting power of love, humility, selfless services, true statesmanship and indeed accommodating spirit that endeared him to many Nigerians, devoid of ethnic leanings, religion, political diversities and indeed cultures.
These are why, try as they could, to reduce Yar'Adua's national appeal to a small ethno-religious tin-god, providence ended up exalting a good man and used his death to unite a people nearly torn-apart by human greed, political misadventurism  and  insatiable appetites.
 As Nigerians together mourn Late President Umaru Musa Yar'Adua, we must do so, always remembering his ever forgiving spirit which he often demonstrated during key national challenges, such as the pronouncement of amnesty to Niger Delta militants who had carried arms against the Nigerian state.
 We should also learn from his preference for fairness, equity and justice as exemplified by his bold step of establishing the Niger Delta Affairs Ministry to address some of the issues that informed the rebels' armed confrontation by standing behind his successor in trying to actualise Yar'Adua's ideals.
My Agony is that once Jonathan starts pursuing these pro-active policies, grounded in the same virtues of fairness, equity and the need to give the Niger Delta the much desired sense of belonging, the same cabal, will see him as pursuing a Niger Delta agendum.
Methinks such vain talks, if they do come, should be jettisoned by President Goodluck Jonathan, because doing so will be the only way of living-out dreams of servant-leader Umaru Musa Yar'Adua to assuaging the pains of that group of Nigerians who have been giving far more to the centre than they can point to as dividends of their own sacrifices.
For a people's true leader, I say,  Fare-The-Well, Yar'Adua and to a worthy successor Jonathan, I say NYSC-Now Your Suffering Commences, so that Nigerians, all Nigerians may breathe a little  easier in the future.
That's what Yar'Adua wanted.
Again, RSG Begins Unveiling, Flag-Off Of Nine Key Projects, 'Morrow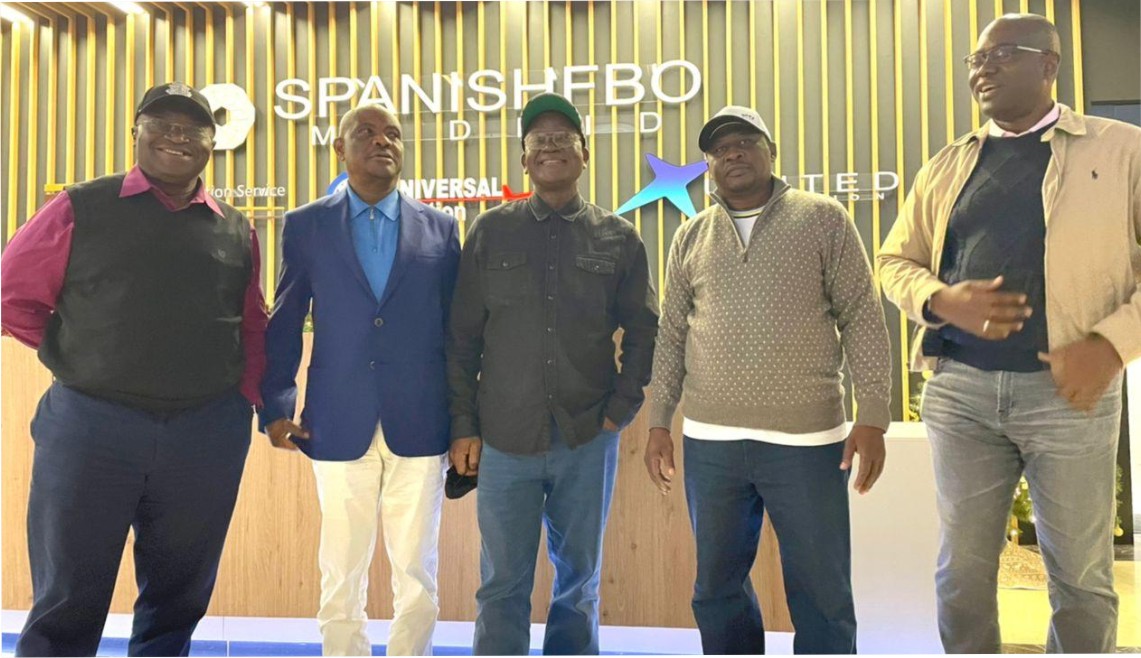 The Rivers State Government has rolled out the drums to herald another phase of official commissioning of key projects embarked upon by the Governor Nyesom Wike-led administration in the state.
A statement by the state government said that the process is in continuation of the commissioning and flag-off of projects by Governor Nyesom Wike.
It indicated that Rumuola flyover would be commissioned tomorrow, while the GRA flyover would be commissioned on Saturday.
The also stated that the government would commission the Ezimgbu Road on Monday, December 13, 2021; with another commissioning of Tombia Road Extension scheduled for Tuesday, December 14, 2021.
The statement said that the governor would commission the Safe Home, Borikiri, Port Harcourt on Wednesday, December 15; while on Thursday, December 16, 2021, the governor would commission the Odokwu internal roads.
Also, the governor would continue the flag-off of key infrastructure projects with Chokocho-Igbodo Road slated for Monday, December 20, 2021; Oyigbo-Okoloma Road on Wednesday, December 22, 2021; and Magistrates' Court Complex, Port Harcourt on Thursday, December 23, 2021.
Wike Justifies N7bn Libel Suit Against THISDAY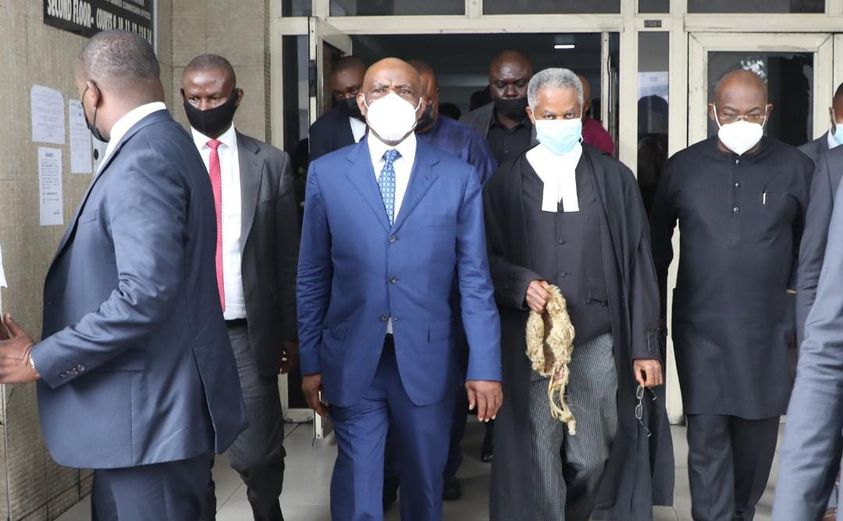 Rivers State Governor, Chief Nyesom Wike, yesterday, appeared before the state High Court in Port Harcourt, to testify as a witness in an N7billion libel suit against THISDAY Newspaper.
Wike said he was in court to seek justice and clear his name as a person from the malicious publication by THISDAY Newspaper, which portrayed him as deceitful, untrustworthy person, who exerts subterranean influences on judicial matters and over court sittings in Port Harcourt.
It would be recalled that Wike had in August, 2020, slammed a N7billion suit being damages for libel written and published in THISDAY's Tuesday, June 23, 2020 edition captioned, "With Wike, Obaseki Meets His PDP's Waterloo; Almost."
The defendants in the suit are THISDAY Newspapers Limited, Leaders and Company Limited, Davidson Iriekpan, Chuks Okocha and Adibe Emenyonu.
Wike, while testifying as witness in suit No. PHC/1505/CS/2020 before the court presided over by Justice A. Enebeli, asserted that the defendants maliciously and falsely portrayed him as an unreliable friend/person.
"When you say somebody cannot be trusted; that cannot be a fair comment. When you say somebody is influencing the Judiciary, that cannot be a fair comment", the governor said.
In his written statement on oath, Wike had stated that the defendants had accused him of influencing the decision of the court sitting in Port Harcourt that granted an injunction restraining Godwin Obaseki from participating in the primaries of Peoples Democratic Party (PDP) in Edo State in 2020.
He stated that the defendants maliciously accused him of undemocratically exerting influence on the primaries process of PDP in Edo State in aid of his ally, Omoregie Ogbeide-Ihama, who was the beneficiary of the court order restraining Obaseki from participating in the PDP primaries.
The governor, who told the court that he was not even aware of the aforementioned suit by Ogbeide-Ihama against Obaseki, said the publication was reckless, false and without regards for the truth.
According to him, contrary to well-known journalistic tradition and practices, the defendants did not investigate properly to ensure the information they relied on was accurate.
"They did not seek to verify the facts from me or in any manner oblige me with the opportunity to state my own side of the story before proceeding to make the false publication" the governor argued.
Wike stated that the defendants further denigrated him before the entire world as a fake democrat, who engages in meddling in the internal affairs of All Progressives Congress (APC) in order to get at his political foe, Chibuike Amaechi.
The governor explained that he was not a member of the APC and has had no hand in the internal crisis which has bedevilled the party both in Rivers State and all over Nigeria.
"By the letter of Messrs E.C. Ukala and Co., Solicitors, under the hand of Emmanuel C. Ukala, SAN, dated 23rd June, 2020, the defendants were given opportunity to retract, and recant the publication as well as to offer apology for the false publication but the defendants spurned the opportunity and ignored the letter completely."
The governor, while responding to claim by lawyer to the defendants, Turudu Ede, SAN, that the essence of the lawsuit was to intimidate and harass his clients, said the whole essence of the suit was to get justice and clear his name as a man of substantial character, honour and repute.
"The essence of the suit is to get justice since they (defendants) refused to retract the publication or apologise. So, I sued them to clear my name."
Speaking to journalists outside the court, one of the lawyers to Wike, Mr. Mark Agwu said his client was in court to seek legal redress.
"To challenge him as a person, it means you have made him untrustworthy, a deceit, a cheat, an influencer of the court, because the publication they made was that he had a role to play in influencing the outcome of that Federal High Court case. Nobody will take that lightly, and especially for a man who believes in the rule of law", Agwu added.
The court adjourned the matter for further hearing to 12th, 13th and 14th of January, 2022.
$130m Fraud: Rivers Sues Saipem SPA, Saipem Contracting Firm, Others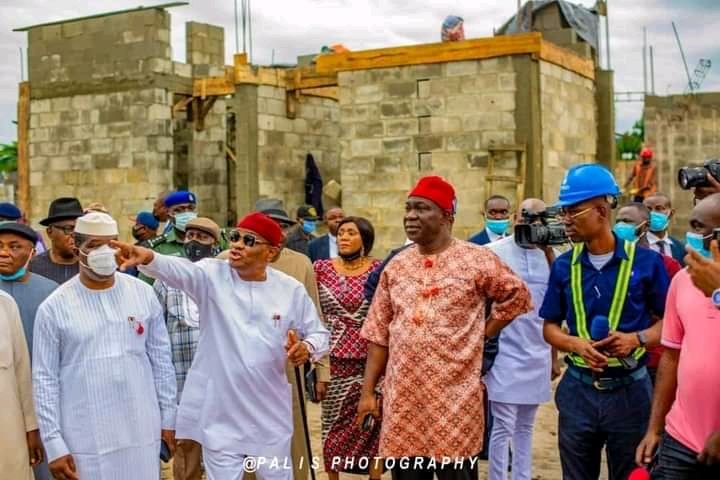 The Rivers State Government has charged two construction firms, Saipem SPA and Saipem Contracting Nigeria Ltd, to court over an alleged conspiracy to cheat and with intent to defraud the state of the sum of $130million, being advanced payment for the construction of the OCGT power plant in Port Harcourt.
In a 16-count criminal charge filed by the Director of Public Prosecution, C.F. Amadi for the Rivers State Attorney General, the state alleged that after collecting the said sum as advanced payment between 2011 and 2018, the defendants have not kept their obligation under the contract.
Others charged alongside the companies were Walter Peviana; Kelechi Sinteh Chinakwe; Giandomenico Zingali; Vitto Testaguzza and Davide Anelli, who are directors and officers of the companies.
The defendants are charged with various offences ranging from conspiracy, cheating and obtaining credit by false pretence, contrary to Section 518 (6) and (7) and punishable under Section 518 of the Criminal Code, Cap 37 Vol. 2 Laws of Rivers State of Nigeria, 1999, section 419A and punishable under Section 419 (A) (1) (b) of the Criminal Code, Cap 37 Vol. 2 Laws of Rivers State, amongst others.
Already, the Rivers State Government has issued a fiat to the law firm of Godwin Obla (SAN) to prosecute the matter before the state High court.
The defendants are equally charged for the offence of false Statements by Officials of Companies contrary to and punishable under Section 436 (b).
The prosecution specifically accused the defendants of obtaining credit of $130million by false pretences or other fraud contrary to Section 419A and punishable under Section 419 (A) (1) (b); obtaining credit of $20,467,942.00 by false pretences or other fraud contrary to Section 419A and punishable under Section 419 (A) (1) (b), obtaining credit of N7,000,000,000.00 only by false pretences or other fraud contrary to Section 419A and punishable under Section 419 (A) (1) (b).
They are charged for obtaining credit of N318,640,173.54, by false pretences or other fraud contrary to Section 419A and punishable under Section 419 (A) (1) (b); attempt to cheat $97million contrary to Section 508 and punishable under Section 509; attempt to cheat $15million contrary to Section 508 and punishable under Section 509; conspiracy to receive a credit of $97million by false pretences contrary to Section 518 (6) and punishable under Section 518; cheating $11million contrary to Section 421 and punishable under Section 421; cheating contrary to Section 421 and punishable under Section 421; cheating N110, 097, 416.51 contrary to Section 421 and punishable under Section 421; cheating by collecting sums attributable to shared facilities already paid for in AFAM Phase I in AFAM Phase II contrary to Section 421 and punishable under Section 421.
Obtaining N20, 467, 942 contrary to Section 421 and punishable under Section 421; obtaining credit of $60,168,936.00 by false pretences or other fraud, contrary to Section 419A and punishable under Section 419 (A) (1) (b); obtaining credit of $1,512,034.00 by false pretences or other fraud contrary to Section 419A and punishable under Section 419 (A) (1) (b) all of the Criminal Code Law of Rivers State, Cap 37 Vol. 2 Laws of Rivers State of Nigeria 1999.
According to the Proof of Evidence attached to the charge and the statement made by the Head, Power Generation/Mechanical of the Rivers State Ministry of Power, one Mr Temple Azunda M., the facts constituting the case in hand are as follows:
Saipem SPA and Saipem Contracting Nigeria Limited and other officers of the duo, herein the Defendants, are Italian companies which services have been retained by the Rivers State Government, herein RSG, in several projects, prominent amongst which is the AFAM Phase II Power Plant Project.
By an initial tripartite agreement made on the January 20, 2010, the RSG under the auspices of the Rivers State Ministry of Power entered a contract with Saipem Contracting Nigeria Limited, Saipem SPA for the construction of the OGCT power plant in Port Harcourt at a total cost of $119million consequent upon which the Rivers State Government made advance payments, in instalments, to Saipem Contracting Nigeria Ltd and Saipem SPA amounting in total to a sum of $130million in all which the Defendants have acknowledged receipt of.
The Defendants were to be given an initial mobilization of 20per cent of the total contract sum which the RSG paid.
It was part of the initial agreement – and indeed a condition sine qua non – that, to access the 2nd tranche of payment of 25per cent from the Rivers State Government, the Defendants would mandatorily have installed the Gas Turbine into the foundations as referenced in ATTACHMENT 1 to VO 007 which states that:
CONTRACTOR shall be entitled to a payment corresponding to 20per cent of the VO No. 007 LS PRICE upon mobilisation to site and commencement of bush clearing activities at SITE.
Upon commencement of bush clearing activities at the site, the contractor shall issue the invoice relevant to the above payment and the owner shall pay such invoice within 14 days from its issuance.
The parties agree that no deduction for recovery of advance payment shall apply on the payment due to the contractor for invoices issued by the contractor in accordance with this paragraph.