15 Students Win Ben-Kalio Essay Competition Award
Fifteen Students of various senior secondary schools in Okrika and Ogu/Bolo local Government areas have emerged winners in this Year's Group Captain J.I. Ben-Kalio Essay Competition in Rivers State.
The students are: Okoye Abigail of Immanuel International School Abuloma; Kingsley Semenie-boka of Community secondary school, Abuloma; Solomon Erasmus of Community Secondary School, Abuloma; and Sunday Stephen of Okrika National Secondary School, Okrika.Others are Ashaolu Adejuro (Immanuel International School, Abuloma); Moses Happiness (Government Girls Secondary School Okumgba); Kalango Sotony (Obiye High School, Abuloma), Muosaya Violet (Community Secondary School, Agan-Ama); Dima-Dede Fomiebaka (Federal Government Girls College, Abuloma); and Rufus Minaseh Chibo (Government Girls Secondary School, Okumgba).
Also on the list are Patrick Uchenna, Shotonwa Emmanuel, Opulah Miereparker, Erekosima Tamuno-ina, all of Immanuel International School, Abuloma and Jack-Bara Florence of Community Secondary School, Kalio-Ama.
This year's essay competition, organised by Green-leaf Foundation, a Non-Governmental Organisation Committed to youth development, environmental protection and Advocacy in Niger Delta, is the sixth edition.
In an interview with The Tide Acting President of the foundation, Mr. Manasseh Jaja, said the annual event is aimed at promoting unity peace, co-operation and collaboration among youths in the state.
Mr. Jaja said that the programme was also geared towards improving the academic standards of senior secondary schools in Okrika, Ogu-Bolo and other communities in Okrika ethic nationality.
The Foundation's boss recalled that from the commencement of the competition only 12 students were considered for the award, "But from this edition, we decided to give room to more students by increasing the awards to fifteen."
Jaja, who is also the donor of the awards is a former military  Administrator of Yobe State.
Segbeba Dokubo
IAUE Targets Top Notch Graduates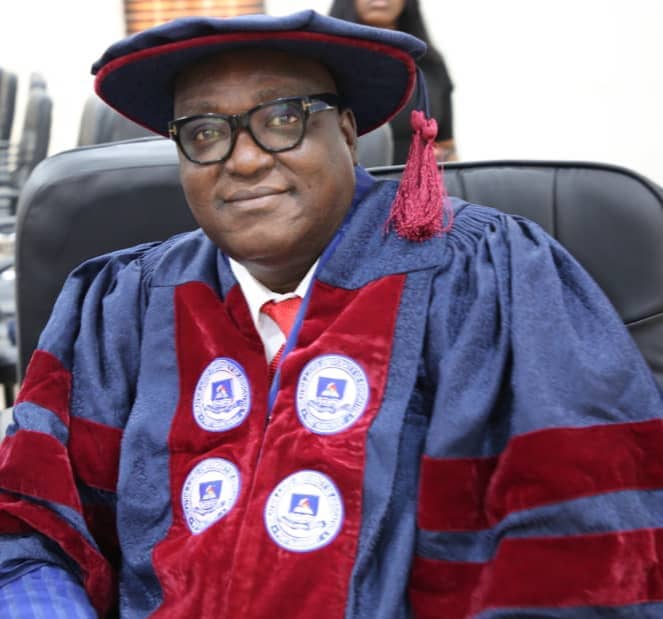 The Acting Vice Chancellor (VC) of Ignatius Ajuru University of Education (IAUE), Port Harcourt, Prof. Okechuku Onuchuku, says topmost among legacies he want to bequeath in the institution is for graduates of the university to be of high quality.
Onuchuku, who disclosed this in a media briefing in his office to mark his one year in office, said his desire is to ensure that all graduates from IAUE can compete favourably with their peers globally.
"I want to be remembered for ensuring that graduates from this institution are of high quality, and can compete favourably anywhere in the world.
"That the degrees from this University will not be looked down upon anywhere in the world", he said.
He continued that this aspiration is what has been the driving force behind all the achievements he has recorded so far in his one year in office as Acting VC.
Among such achievements are the establishment of a new academic and special programmes taylored at placing IAUE at par with global standard.
According to him, this is one of the ways tertiary educational institutions around the world attract prospective students.
Part of this, he hinted, has manifested in the creation of a full-fledged Faculty of Agricultural Science from the existing Faculty of Technical and Vocational Studies.
"Nobody can underestimate the importance of Faculty of Agriculture in a State where much of our food supply comes from outside.
"As a university, we have a duty to help change the unacceptable narrative within the shortest possible timeline", he said.
He said, knowing that students and staff are vital in the quest to build a top notch university, he also have the welfare and security of staff and students priority attention.
This, he said, brought about the first ever Christmas gifts to staff last year, and coming up with students-friendly policies.
Other achievements recorded in his one year in office, he said, include a deliberate campaign against"sorting", which is a form of gratification from students to gain unmerited grades.
He also established a "Bottled Water Factory" to enhance Internally Generated Revenue (IGR), and strengthened community relations and security on campus.
Onuchuku also carried out several renovation works and building of various segments of the campuses of the university: at Ndele and St. John's Campuses, both of which are outside the main campus in Rumuolmeni.
He used the opportunity to call on students to judiciously use all facilities provided for them in order to earn their stay in the university.
By: Sogbeba Dokubo
Kwara Govt Re-Opens College Of Education
Kwara Government has ordered the immediate resumption of academic activities at the state College of Education in Ilorin.
This directive is contained in a statement issued by the Press Secretary, Ministry of Tertiary Education, Monsurat Amuda-Kannike, in Ilorin, yesterday.
Amuda-Kannike quoted the Commissioner in the ministry, Dr Alabi Abolore as saying that Governor AbdulRahman AbdulRazaq gave the directive, following interventions by some relevant stakeholders on the need to find lasting solutions to the crisis in the institution.
The state government had, on October 19, shut the college, following the violent protest embarked upon by the students.
The commissioner said that government had to close the institution to forestall possible degeneration of the crisis within the college community.
Abolore said it took the ministry series of engagements with the college management and the leadership of the Joint Academic Staff Union in Tertiary Institutions (JASUTI), both of which pleaded for return to normalcy.
"Committee of Unions in Tertiary Institutions (CUTI) in the institution and other important stakeholders also intervened.
"Another takeaway from those meetings was the promise from the attendants never to allow anything that could threaten public peace and impede academic session in that citadel of learning happen again," he said.
The statement added that the latest decision by government was to enable the college to continue with the examination that was put on hold, following the shutdown.
It, however, called on the school management to justify the confidence reposed in it by ensuring that the institution met the yearning of students vis-a-vis the service delivery.
FG, UNICEF Sponsor 1.5m Girls' Education
The Federal Ministry of Education, the Foreign, Commonwealth and Development Office of the United Kingdom and the United Nations Children's Fund have partnered to sponsor the education of 1.5 million girls in northern Nigeria.
This three parties implemented the Girls' Education Programme Phase 3 across Katsina, Kano, Niger, Sokoto, Zamfara and Bauchi States between 2012 and 2022, in response to the low levels of participation of girls in schooling.
At the national closing ceremony of GEP3 held in Abuja, the partners reported that the programme's investment of $109million yielded positive results in enrolling an additional 1.5 million girls into school.
The attendance rate of girls in primary schools in the six states improved from 43% to 70%, while gender parity improved from 0.73 to 0.97, a statement by UNICEF on Wednesday revealed.
Speaking on the project, the Minister of Education, Adamu Adamu, said, "In our commitment to drastically reduce the number of out-of-school children, Nigeria appreciates the scaling of evidence-based solution in tackling this menace as provided through the GEP3.
"As we continue on this path, we would leverage on the success of GEP3 to plan better, budget better, and make better decisions in putting more girl-child in school."
UNICEF Representative in Nigeria, Cristian Munduate, said, "GEP3 has not only been successful in getting more girls into formal and non-formal schools, but it has also improved learning outcomes.
"GEP3 has raised the profile of educated girls, created new positive social norms in many communities and enabled a transformational shift in mindsets about the importance of girls' education. It is critical that we advocate scaling of the approach in all states.
"I express the deep appreciation of UNICEF to the UK Government for this long-term commitment and funding for girls' access to primary school in northern Nigeria.
"Together there remains much work to be done, to ensure that girls transition to, and complete secondary education. This is important not only for the economic prosperity and wellbeing of the girl and her family, but to stem the high population growth expected in Nigeria.
"We see FCDO and the government of Nigeria as steadfast partners in this complex endeavour."