Prayers For Mr President …The Lies, The Truth, The Intrigues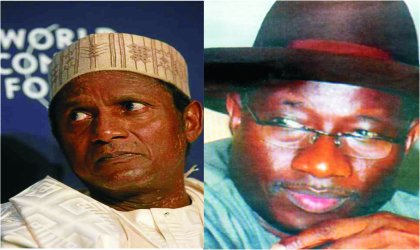 In the political process leading to the 2007 presidential elections, the  then governor of Kastina State, Umaru Musa Yar'Adua was not one of those largely counted to succeed former President Olusegun Obasanjo. If any governor was looked upon, it was that of Rivers State, Dr Peter Odili.
Beyond them however, many Nigerians saw the presidency as a fight among men like, then Vice President, Atiku Abubakar, former military President, Ibrahim Babangida, Vice President under the Shehu Shagari second republican presidency, Sir Alex Ekwueme, one-time Head of State, Gen Mohammadu Buhari and former Secretary to the Government of the Federation (SGF) Ambassador Jerry Gana.
Strangely, however, in days leading to the ruling Peoples Democratic Party (PDP) primaries, a fresh face from Kastina State emerged and eventually became the successor to Obasanjo. Again, Nigerians were to record another reluctant President like Shehu Shagari, who harboured a modest ambition of becoming a senator, Yar'Adua we later learnt merely wanted to live out his tenure as governor of Kastina. No more. He might have had very good reasons, which the party leadership ignored.
For instance, in the nationwide campaign leading to the general elections ominous signs that the president-to-be had some health concerns played out when, he had to journey off the shores of the land to seek medical attention in far away Germany. That generated comments and put to question the  fitness level of Obasanjo's  sorry, the PDP's chosen successor.
Infact, candidates of other competing parties outrightly told Nigerians that Yar'Adua was not medically fit to run through the campaigns, let alone run a complex country like Nigeria as President and Commander-In Chief. Worse still, mischief makers even suggested that the PDP candidate might have died in the process of seeking medical attention abroad.
So disturbing were the speculations that an agitated president Obasanjo had to arrange a hurried telephone chat on National television where Nigerians were made to listen to both of them talk heartily, as proof that Yar'Adua was alive.
In the end however, Yar'Adua pulled through after a long torturous campaign to win the elections. Soon after, the new president presented himself to Nigerians as one with a good heart, the nation's socio-economic limitations, his own health concerns and mountainous national problems, notwithstanding. In fact, within the little-over-two and a half years that he piloted the Nigerian ship of state as president and Commander-in –Chief, he demonstrated measured tact, good nature, humility, focus, dedication, selflessness, patriotism and indeed promoted national unity to the Nigerian project, political integration, multi-ethnic understanding, ethno-religious tolerance, and above all else, respect for human life.
That perhaps accounted for the amnesty he granted warring militants of the Niger Delta and also announced a post-amnesty package intended to address, in a lasting manner, the near recurrent cases of violence, senseless bloodletting and under-development of the oil-rich area, famed for being the mainstay of the Nigerian state but, neglected by successive federal administrations.
Yar'Adua's presidency also established the Niger Delta Ministry, voted funds for the upkeep of the repentant militants and indeed set up an implementation body that would take a holistic view at the wider Niger Delta development project.
It was in the middle of all these that his health started failing him in November last year and for  which he left for Saudi Arabia for a heart surgery which kept him away from his presidential seat for over 90 days. Since his return, (how he did is not of essence here) all well- meaning Nigerians have continued to pray for his early recovery, but more importantly, that Allah be as gracious as always to spare a goodman's life.
It is however, important to understand that Nigeria is a democracy, operating the presidential system, an arrangement which can hardly move on hitch-free without a president. This reality no doubt, threw Nigerians into confusion over whether to wait endlessly for a good president's recovery or to move on and still continue their fervent prayers.
Happily, the same presidential system provides for succession procedures at challenging moments like those 93 days of absence Nigerians found themselves and which led to the elevation of his second in command,  then Vice President Goodluck Jonathan to fill the obvious vacuum, as Acting President and still provide a soft-landing for the ailing president – a goodman.
In all these days, Jonathan was self-restraining, unambitious and prayerful. In fact, he demonstrated rare loyalty that created the picture that he was incapable of holding the fort  in his boss absence
But for sometime now, some political adventurers who claim to love President Yar'Adua more and obviously Nigeria less, have continued to create confusion intended to heat-up the system, cause bad blood among the Yar'Adua loving many and above all paint an ethno-religious picture of an otherwise constitutional process.
After their successful attempts to forestall any attempt to declare Yar'Adua permanently incapacitated and accordingly unfit to remain as president, they warned Acting President Jonathan never to try tampering with Yar'Adua's cabinet or risk losing Northern support.
Information and Communications Minister, Prof Dora Akunyili called them a cabal. And for that, during her ministerial screening on the floor of the senate, the former NAFDAC arrow head was virtually ambushed by Sen Tanki Bello, representing Kastina State for being bold enough to unmask them. Dora was obviously 'saved by the bell' as they say, when a motion to make the Senate work beyond 6PM failed to sail through that day, and was not re-invited thereafter.
Not done, the cabal sold another dummy penultimate Thursday, that ailing President Yar'Adua was  hale and hearty and so strong, would be at the Abuja Central Mosque for the Jumait prayer, the following day. He never did.
But later that day, some Moslem clerics, who were said to have visited the Yar'Adua told Nigerians that they shook hands with him and that he even begged them to pray for him. That, to many Nigerians, should be a cheering piece of goodnews.
But it instead raised very vital questions. Yar'Adua may be a Moslem but he was elected by both Christians and Moslems alike, so why invite Moslem clerics alone? Secondly, if Yar'Adua could , as much as, talk and urge his guests to pray for him, why not address Nigerians or at least reach the National Assembly or, best still, the Vice President he left behind?
These queries might have prompted the hurried invitation of some Christians Cleric to also see the ailing president. It was after then  Nigerians came to realise that not all that the Moslem clerics had said about the president's magical recovery should have been taken as truth. That, Yar'Adua in fact said not a word, no gesture, not a smile and was in fact motionless all through the prayers. And that, in such a state, could not have asked for their prayers. They prayed anyhow.
Curiously, the timing of the Moslem clerics, date with Mr President, just a working-day difference to the planned inauguration of the new ministers last week Tuesday (after the Easter break) struck me as yet another failed attempt to create more doubts over the propriety of the Acting Presidency. That was not necessary, if it was truly so intended for Nigeria has moved past the stage.
My Agony is that the managers of the president's health and indeed his immediate family appear bent on manufacturing bad blood between Yar'Adua and Jonathan, where, all well-meaning Nigerians should know, there ought be none.
With the cabinet ministers now inaugurated and the cabal's major targets, Akunyili, and Deziani Allison-Madueke and others now on their jobs, none can tell what their next antic would be. But can someone tell the cabal that Nigeria has better uses for them. To get lost.
Intrinsically, Yar'Adua who accepted the presidency reluctantly in the first place, would not put up the kind of desperation which the so called cabal have thus far shown, for love of self, nay the ailing president's good.
We pray that they may let a good man recover quickly and at God's time.  And not to make a political issue out of very important human affliction.
Wike Justifies N7bn Libel Suit Against THISDAY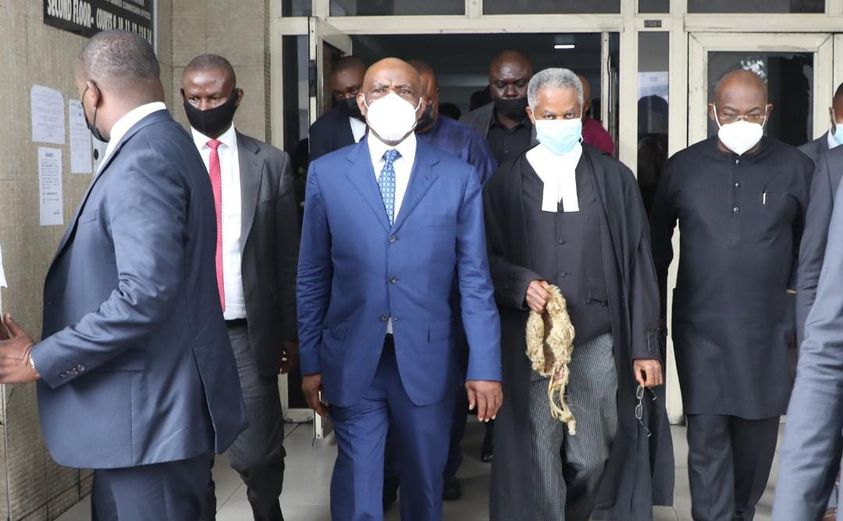 Rivers State Governor, Chief Nyesom Wike, yesterday, appeared before the state High Court in Port Harcourt, to testify as a witness in an N7billion libel suit against THISDAY Newspaper.
Wike said he was in court to seek justice and clear his name as a person from the malicious publication by THISDAY Newspaper, which portrayed him as deceitful, untrustworthy person, who exerts subterranean influences on judicial matters and over court sittings in Port Harcourt.
It would be recalled that Wike had in August, 2020, slammed a N7billion suit being damages for libel written and published in THISDAY's Tuesday, June 23, 2020 edition captioned, "With Wike, Obaseki Meets His PDP's Waterloo; Almost."
The defendants in the suit are THISDAY Newspapers Limited, Leaders and Company Limited, Davidson Iriekpan, Chuks Okocha and Adibe Emenyonu.
Wike, while testifying as witness in suit No. PHC/1505/CS/2020 before the court presided over by Justice A. Enebeli, asserted that the defendants maliciously and falsely portrayed him as an unreliable friend/person.
"When you say somebody cannot be trusted; that cannot be a fair comment. When you say somebody is influencing the Judiciary, that cannot be a fair comment", the governor said.
In his written statement on oath, Wike had stated that the defendants had accused him of influencing the decision of the court sitting in Port Harcourt that granted an injunction restraining Godwin Obaseki from participating in the primaries of Peoples Democratic Party (PDP) in Edo State in 2020.
He stated that the defendants maliciously accused him of undemocratically exerting influence on the primaries process of PDP in Edo State in aid of his ally, Omoregie Ogbeide-Ihama, who was the beneficiary of the court order restraining Obaseki from participating in the PDP primaries.
The governor, who told the court that he was not even aware of the aforementioned suit by Ogbeide-Ihama against Obaseki, said the publication was reckless, false and without regards for the truth.
According to him, contrary to well-known journalistic tradition and practices, the defendants did not investigate properly to ensure the information they relied on was accurate.
"They did not seek to verify the facts from me or in any manner oblige me with the opportunity to state my own side of the story before proceeding to make the false publication" the governor argued.
Wike stated that the defendants further denigrated him before the entire world as a fake democrat, who engages in meddling in the internal affairs of All Progressives Congress (APC) in order to get at his political foe, Chibuike Amaechi.
The governor explained that he was not a member of the APC and has had no hand in the internal crisis which has bedevilled the party both in Rivers State and all over Nigeria.
"By the letter of Messrs E.C. Ukala and Co., Solicitors, under the hand of Emmanuel C. Ukala, SAN, dated 23rd June, 2020, the defendants were given opportunity to retract, and recant the publication as well as to offer apology for the false publication but the defendants spurned the opportunity and ignored the letter completely."
The governor, while responding to claim by lawyer to the defendants, Turudu Ede, SAN, that the essence of the lawsuit was to intimidate and harass his clients, said the whole essence of the suit was to get justice and clear his name as a man of substantial character, honour and repute.
"The essence of the suit is to get justice since they (defendants) refused to retract the publication or apologise. So, I sued them to clear my name."
Speaking to journalists outside the court, one of the lawyers to Wike, Mr. Mark Agwu said his client was in court to seek legal redress.
"To challenge him as a person, it means you have made him untrustworthy, a deceit, a cheat, an influencer of the court, because the publication they made was that he had a role to play in influencing the outcome of that Federal High Court case. Nobody will take that lightly, and especially for a man who believes in the rule of law", Agwu added.
The court adjourned the matter for further hearing to 12th, 13th and 14th of January, 2022.
$130m Fraud: Rivers Sues Saipem SPA, Saipem Contracting Firm, Others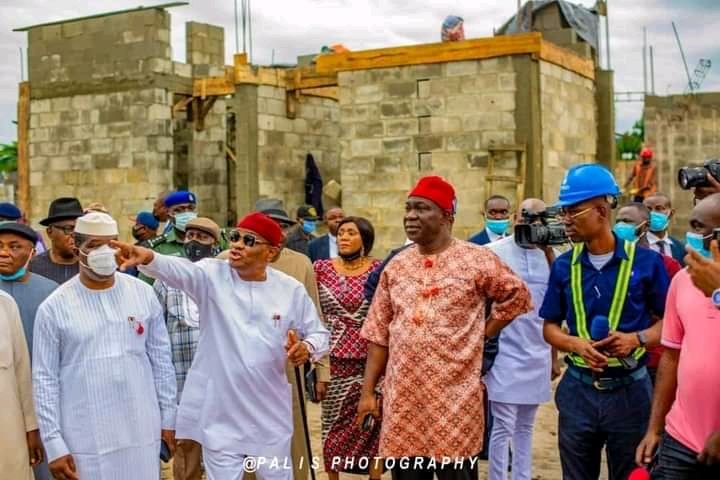 The Rivers State Government has charged two construction firms, Saipem SPA and Saipem Contracting Nigeria Ltd, to court over an alleged conspiracy to cheat and with intent to defraud the state of the sum of $130million, being advanced payment for the construction of the OCGT power plant in Port Harcourt.
In a 16-count criminal charge filed by the Director of Public Prosecution, C.F. Amadi for the Rivers State Attorney General, the state alleged that after collecting the said sum as advanced payment between 2011 and 2018, the defendants have not kept their obligation under the contract.
Others charged alongside the companies were Walter Peviana; Kelechi Sinteh Chinakwe; Giandomenico Zingali; Vitto Testaguzza and Davide Anelli, who are directors and officers of the companies.
The defendants are charged with various offences ranging from conspiracy, cheating and obtaining credit by false pretence, contrary to Section 518 (6) and (7) and punishable under Section 518 of the Criminal Code, Cap 37 Vol. 2 Laws of Rivers State of Nigeria, 1999, section 419A and punishable under Section 419 (A) (1) (b) of the Criminal Code, Cap 37 Vol. 2 Laws of Rivers State, amongst others.
Already, the Rivers State Government has issued a fiat to the law firm of Godwin Obla (SAN) to prosecute the matter before the state High court.
The defendants are equally charged for the offence of false Statements by Officials of Companies contrary to and punishable under Section 436 (b).
The prosecution specifically accused the defendants of obtaining credit of $130million by false pretences or other fraud contrary to Section 419A and punishable under Section 419 (A) (1) (b); obtaining credit of $20,467,942.00 by false pretences or other fraud contrary to Section 419A and punishable under Section 419 (A) (1) (b), obtaining credit of N7,000,000,000.00 only by false pretences or other fraud contrary to Section 419A and punishable under Section 419 (A) (1) (b).
They are charged for obtaining credit of N318,640,173.54, by false pretences or other fraud contrary to Section 419A and punishable under Section 419 (A) (1) (b); attempt to cheat $97million contrary to Section 508 and punishable under Section 509; attempt to cheat $15million contrary to Section 508 and punishable under Section 509; conspiracy to receive a credit of $97million by false pretences contrary to Section 518 (6) and punishable under Section 518; cheating $11million contrary to Section 421 and punishable under Section 421; cheating contrary to Section 421 and punishable under Section 421; cheating N110, 097, 416.51 contrary to Section 421 and punishable under Section 421; cheating by collecting sums attributable to shared facilities already paid for in AFAM Phase I in AFAM Phase II contrary to Section 421 and punishable under Section 421.
Obtaining N20, 467, 942 contrary to Section 421 and punishable under Section 421; obtaining credit of $60,168,936.00 by false pretences or other fraud, contrary to Section 419A and punishable under Section 419 (A) (1) (b); obtaining credit of $1,512,034.00 by false pretences or other fraud contrary to Section 419A and punishable under Section 419 (A) (1) (b) all of the Criminal Code Law of Rivers State, Cap 37 Vol. 2 Laws of Rivers State of Nigeria 1999.
According to the Proof of Evidence attached to the charge and the statement made by the Head, Power Generation/Mechanical of the Rivers State Ministry of Power, one Mr Temple Azunda M., the facts constituting the case in hand are as follows:
Saipem SPA and Saipem Contracting Nigeria Limited and other officers of the duo, herein the Defendants, are Italian companies which services have been retained by the Rivers State Government, herein RSG, in several projects, prominent amongst which is the AFAM Phase II Power Plant Project.
By an initial tripartite agreement made on the January 20, 2010, the RSG under the auspices of the Rivers State Ministry of Power entered a contract with Saipem Contracting Nigeria Limited, Saipem SPA for the construction of the OGCT power plant in Port Harcourt at a total cost of $119million consequent upon which the Rivers State Government made advance payments, in instalments, to Saipem Contracting Nigeria Ltd and Saipem SPA amounting in total to a sum of $130million in all which the Defendants have acknowledged receipt of.
The Defendants were to be given an initial mobilization of 20per cent of the total contract sum which the RSG paid.
It was part of the initial agreement – and indeed a condition sine qua non – that, to access the 2nd tranche of payment of 25per cent from the Rivers State Government, the Defendants would mandatorily have installed the Gas Turbine into the foundations as referenced in ATTACHMENT 1 to VO 007 which states that:
CONTRACTOR shall be entitled to a payment corresponding to 20per cent of the VO No. 007 LS PRICE upon mobilisation to site and commencement of bush clearing activities at SITE.
Upon commencement of bush clearing activities at the site, the contractor shall issue the invoice relevant to the above payment and the owner shall pay such invoice within 14 days from its issuance.
The parties agree that no deduction for recovery of advance payment shall apply on the payment due to the contractor for invoices issued by the contractor in accordance with this paragraph.
Disregard Sentiment On More Law School Campuses, Wike Urges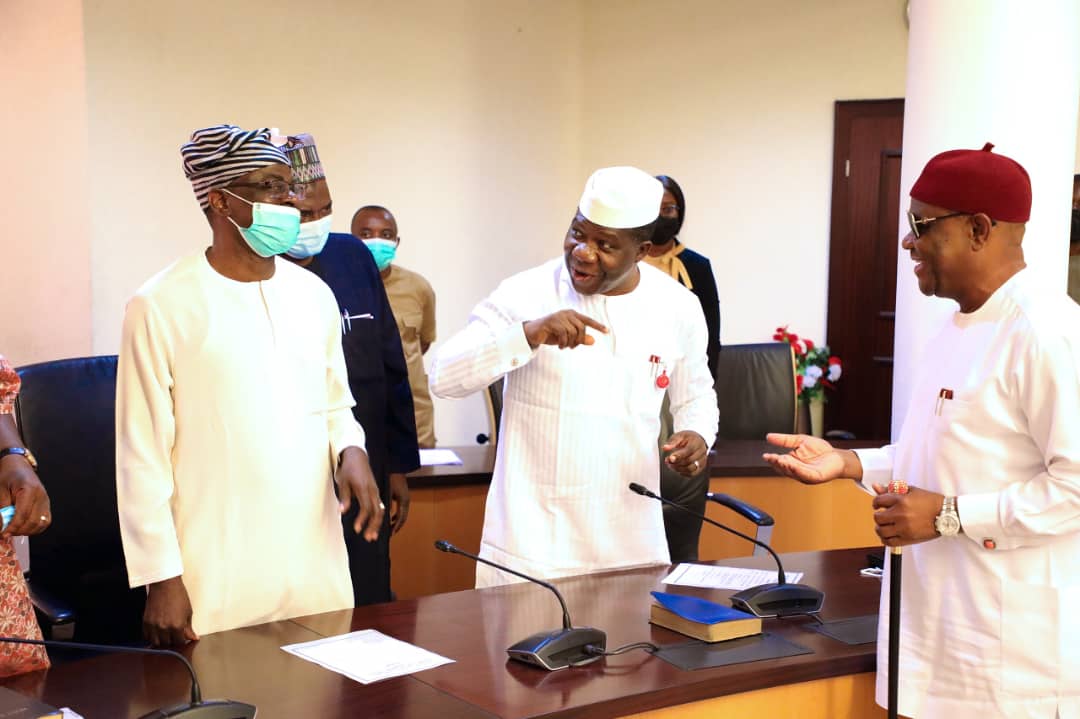 Rivers State Governor, Chief Nyesom Wike has said approval for any new campus of the Nigerian Law School in the country should be based on needs assessment and not on political sentiment.
He noted that with the paucity of funds being allocated to the Nigerian Law School by the Federal Government, states with capacity to build brand new campuses of the institution should be encouraged to do so based on the model provided by the Council of Legal Education.
Wike stated this when members of the Senate Committee on Judiciary, Human Rights and Legal Matters led by its Chairman, Senator Michael Opeyemi Bamidele, paid him a courtesy call at the Government House, Port Harcourt, yesterday.
This is as members of the Senate Committee on Judiciary, Human Rights and Legal Matters have endorsed the Dr. Nabo Graham-Douglas Campus of the Nigerian Law School in Port Harcourt, and declared that it has come to stay.
The Rivers State governor observed that due to the current insufficient carrying capacity of the Nigerian Law School, there has been clamour for proliferation of more campuses across the country.
He, however, cautioned that this must not be done on the basis of political sentiment.
"Most of us attended the Nigerian Law School, Lagos, and even at that time, it was not easy to have accommodation within the school. But, at least, we were able to attend classes. So, it is reasonable for everybody to say there is need to increase the carrying capacity. But that must be done with objectivity; that must be done with facts that must not be done by sentiment."
He explained that two years ago when he attended the call to bar ceremony at the Abuja campus of the Nigerian Law School, he was appalled by the decrepit infrastructure in the school.
According to him, this was what spurred the Rivers State Government to build 900 bed space hostels and 1,500 capacity auditorium for students in Yenagoa campus, and then, the subsequent construction of a brand new campus in Port Harcourt.
"From the record I've checked, they've (Nigerian Law School) never gotten more than N61million to fund the law school yearly. And I made a special appeal to support to Council of Legal Education to rehabilitate the campus in Abuja, and the Director General said no, we have more problem in Yenagoa, leave Abuja.
"You'll never allow your slave to attend the campus in Yenagoa. And I want to thank the DG for being a true Nigerian. As I speak to you today, Rivers State Government is investing not less than N5.1billion in Yenagoa campus. What is our interest? Our interest is to contribute to the development of legal education in Nigeria."
Wike said based on the Federal Government's inability to sufficiently fund the Nigerian Law School, any state government that desires to have a campus should approach the Council of Legal Education for approval.
"I will appeal, in solving this carrying capacity problem, let's not also create other problems. It is a professional school and so we must be guided. If any state wants to have a law school there must be a model."
The governor explained that the construction of Nabo Graham-Douglas Campus of the Nigerian Law School in Port Harcourt will cost the Rivers State government N16billion.
According to him, every thing that is supposed to be in a law school would be found in the Port Harcourt campus when it is completed early next year.
"We are not just merely building a law school; we have acquired investment to handover to the law school to use to sustain the school here. This is a model that a law school should be."
The governor also disclosed once the project is completed and handed over to the Council of Legal Education, the state government would also provide subvention to the council to run the campus for the next four years.
In his remarks, Chairman, Senate Committee on Judiciary, Human Rights and Legal Matters, Senator Michael Opeyemi Bamidele, said they were in the state to assess the progress of work at the Port Harcourt Campus of the Nigerian Law School.
"Your Excellency, when we were all privileged to study law in this country and just as we are doing graduation, the Nigerian Law School was waiting to absorb us. We have children in this country who graduated some two, three, four years ago and they are still waiting to be absorbed into the Nigerian Law School.
"Was it based on the refusal by the Nigerian Law School to so admit them, no. But based simply on the fact that the Nigerian Law School, as presently constituted and as funded, is lacking the capacity to be able to respond to the corresponding needs of the Nigerian public, given the number of universities that turned out law graduates every year."
He commended the governor for his intervention to build a befitting campus of the Nigerian Law School in Rivers State.
However, members of the Nigerian Senate Committee on Judiciary, Human Rights and Legal Matters have endorsed the Dr. Nabo Graham-Douglas Campus of the Nigerian Law School in Port Harcourt and declared that it has come to stay.
The committee members gave the endorsement shortly after inspecting ongoing civil construction work at the campus as part of their oversight function in Port Harcourt, yesterday.
They were conducted round the project sites by the Rivers State Governor, Chief Nyesom Wike, first to the staff quarters beside the Hotel Presidential and then to the law school campus at Rumueme, Port Harcourt.
Chairman of the committee, Senator Michael Opeyemi Bamidele said they were, no doubt, impressed with what they have seen in Port Harcourt.
According to him, their colleagues in the Senate, including the leadership of the Senate who have invested so much trust and put them in charge of the committee were waiting to hear from them.
But, he emphasised, that what they have seen was consistent with global best practice standard when it comes to providing legal education.
"And we are really excited about this for the future of the legal profession which is our own primary constituency, because ours is a committee where virtually, all members are lawyers and members of this profession.
"It was important for us to come here because we are not going to just write any report and take any decision based on sentiment. I mean, this is a nonpartisan legislative action."
Bamidele noted that Rivers State is boldly setting a standard for legal education in the country and it does appear to be a high one.
"After inspecting the ongoing works, the governor also took us to inspect existing property that have been acquired for the purpose of surrendering these same property to the law school to use as a source of revenue. That's why I'm saying there's a Rivers standard.
"And of course, when you now come to the quality of what is on ground, more than any of the law schools that have existed before the creation of this, we have seen quality here that will distinctly place this on the world map when you're talking about law school campuses that can stand the test of time."
Bamidele explained that having come to determine what actually is on ground and also to see the quality of work, they are fascinated to see about 750 workers on the construction site.
According to him, that is something that gladdens their hearts because at a time like this, the Rivers State Government was able to provide such number of jobs to its people.
"There is a need for us to engage in activities that will create employment opportunities for our people. We have seen a lot of artisans here at work, contractors are here at work.
"A lot of building materials are being brought to this site and the economic implication of these are far reaching for Rivers State and on the long run for the Federal Republic of Nigeria.
"We do not take that for granted. Beyond the employment opportunities that this is creating temporarily, we also know that an additional campus of the Nigerian Law School taking off in Port Harcourt would also mean a long term career job opportunities for people who will also work here as administrative staff.
"The number of lecturers that will increase, as career people. We feel that's another reason why this deserve to be celebrated."
Bamidele said except the Lagos campus of the Nigerian Law School that was created by an operation of law in 1962, the other five campuses were created by administrative action like the campus in Port Harcourt because it was approved by the President of the country.