Vehicles belonging to the Port Harcourt City Bus Service (PHCBS) now ply the major roads of our state capital in their numbers. The service, as we are told, is a joint venture between the Rivers State Government, Skye Bank Plc and the National Union of Road Transport Workers (NURTW).
Launched in January 2009, the mass transit bus service came as a filler to the gap created by the ban on the operation of commercial motorcycles popularly known as Okada, especially in Port Harcourt, Obio/Akpor, Eleme and Oyigbo Local Government Areas.
Much as one will readily commend the scheme as having served in no mean measure to check the anger, exploitation and total frustration that would have attended the Okada ban, it will surely not be out of place to state that the age and make of some of the buses now being deployed under the scheme leaves much to be desired.
Let's get this straight. Right from inception, Rivers State has always marked itself out as an entity that believes in the provision of quality services for its people. Alfred Diete-Spiff, pioneer military governor of the state and current Amanyanabo of Twon Brass in neighbouring Bayelsa State, always gets a standing ovation whenever his majestic presence is announced at any public gathering in both states. Obviously, this is a people's way of appreciating a worthy public servant.
The then Navy Commander Diete-Spiff had, while grappling with the task of reconstructing and rehabilitating a newly created but war-torn Rivers state in the early 1970s, insisted on the use of best designs and quality materials in the provision of public amenities for the people. The Secretariat Complex in Port Harcourt, along with its skyscraping Point Block, is one of the many enduring landmarks of that era.
Equally worthy of mention and even more relevant to this discourse is the state-sponsored public transportation system which was introduced by Diete-Spiff. Waterline, as the scheme was then called, had in its fleet some of the sturdiest and most reliable brands of luxury buses and ferry boats of the time. Although succeeding administrations, both military and civilian, tried to add to the fleet inherited from this pioneer regime, their commitments to quality and proper maintenance were largely suspect. And so, only those early post-war acquisitions, particularly the marine vessels, endured until the splitting of old Rivers State in 1996.
Back to the moment. The new bus service scheme now operating in the state started with the deployment of few fairly-used and refurbished Marcopolo (Mercedes Benz) and Ashok Leyland buses adorned with the yellow and blue colours of Skye Bank.
There was an addition of a few Tata buses, later. Most of these vehicles, at their initial outings, still had all their interior and exterior lights and fittings, including in-built radio systems.
Commuters were indeed happy with the state government for such timely intervention. They were equally gladdened by the fact that these buses came in fairly sturdy shapes, with promises of endurance and longevity.
Talking of endurance, the individual strengths of these vehicles can hardly be tested by the excessive loads they convey per trip nor the number of non-stop rounds they make per day, but by the numerous gauntlets  they have had to run in the hands  of Area Boys (Agberos) at nearly every bus stop along their assigned routes. In fact, only little else can account for the heavily battered panels, missing bumpers and vandalised exterior lamps of most of these buses a few months after their deployment.
It is for this reason that one expects operators of the scheme, particularly Skye Bank, to always go for such vehicles as were already being used. Surely, their latest additions to the PHCBS fleet are glorified scraps, to say the very least. Those vehicles could have been imported from  the most impoverished European or Asian country. Their make or model is not readily identifiable. Neither has one, at any time, seen their rear doors open for passengers to enter or exit. In fact, about three of these vans were said to have broken down at various spots along Aba Road on their very first day of operation. Too bad!
Any further importation and use of such apparently scrapped vehicles can only add to the already high cost of operation. And recouping such expenses through whatever marginal increase in fare will most certainly be  an uphill, if not futile, exercise.
Ibelema Jumbo
NSE Begins Week On Negative Note, Loses N19.49bn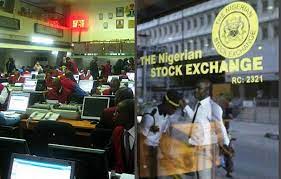 The Nigerian stock market began the week on a negative note as banking and consumer goods stocks, among others, triggered a N19.49bn loss.
At the end of trading on the floor of the Nigerian  Exchange Limited , the NGX All-Share Index dropped by 0.09 per cent to end at 43,270.94 basis points, while the market capitalisation declined to N22.58tn.
Market activities were mixed as the total volume of shares traded decreased by 30.19 per cent while the value traded rose by 34.05 per cent.
A total of 213.13 million shares valued at N2.36bn were exchanged in 4,105 deals, compared to 305.32 million shares worth N3.58bn in 4,450 deals last Friday.
FCMB Group Plc topped the traded stocks in terms of volume, accounting for 27.43 per cent of the total volume of trades while Airtel Africa Plc emerged as the most traded stock by value, representing 28.81 per cent of the total value of trades on the exchange.
14 firms gained compared to 21 losers.
AIICO Insurance Plc was the biggest gainer for the day, topping the gainers' chart with a price appreciation of 8.57 per cent to N0.76 per share.
It was followed by LivingTrust Mortgage Bank Plc with a rise of 7.95 per cent, ending the day at N0.95 per share.
Analysing by sectors, three of the five major indices closed lower, led by NGX Oil & Gas (-0.56 per cent), NGX Consumer Goods (-0.23 per cent) and NGX Banking (0.18 per cent).
But the insurance (0.82 per cent) and industrial goods (0.002 per cent) indices gained at the end of trading.
… Introduces TIES To Boost  Business Loan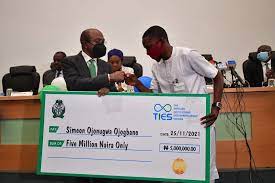 The Central Bank of Nigeria (CBN) has introduced the Tertiary Institutions Entrepreneurship Scheme (TIES), which provides undergraduates and graduates with a platform to access loans.
The TIES' underlying aim is to provide access to capital for Nigerian undergraduates and graduates with innovative entrepreneurial and technological ideas from polytechnics and universities.
TIES intends to shift undergraduates and graduates away from white-collar job pursuits and towards a culture of entrepreneurship development for economic development and job creation.
In a national biennial entrepreneurship competition, the Developmental Component would be distributed in the form of awards to Nigerian polytechnics and universities.
The competition aims to increase undergraduates' awareness and visibility of high-impact entrepreneurial/technological concepts, foster entrepreneurial talent hunts in Nigerian polytechnics and universities, and encourage commercially viable and transformative technologies.
Interested Nigerian polytechnics and universities shall apply to participate in the national biennial entrepreneurship competition on a dedicated online portal.
Outlining brief details of the project, potential impact and evidence of originality of project, CBN said it is an innovation for students entrepreneurs.
CITN Applauds FG, Tax Authorities On Fiscal Policy Decisions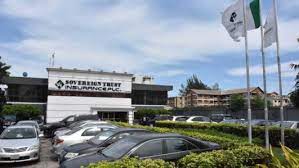 The Chartered Institute of Taxation of Nigeria (CITN) has lauded the Federal Government and tax authorities on the giant strides made on fiscal policy decisions and tax administration measures initiated this year in the area of Finance Act 2021 and the introduction of TaxPromax solution.
President of the institute, Adesina Adedayo, who gave the commendation at the institute's yearly award ceremony at the weekend in Lagos, assured the government and tax authorities of aligning with the measures and promised to provide professional thoughts and insights on ways through which they could achieve an efficient and effective Nigerian tax system.
Adedayo emphasised the need to address the database, adding that without knowing who the tax-payers are, there is no way they can take money from unknown tax-payers.
Database is the aspect we have been emphasising on as an institute and in doing this, there are so many of pockets of data we have. All the data must be harmonised to have a simple unique tax-payers identification number," he said.