Women, Party Politics And Elective Positions(3)
There is also a laughable school of thought positing that with low levels of education, skills, economic resources, poverty and self esteem, women are in a poor position to assert themselves in the political arena. Thus the multiple forms of exclusionist tendencies and disadvantages tend to re-inforce each other and make it difficult for Nigerian women to break out of this vicious cycle of murderous slumber. Women sincerely need a wake up call.
To my mind, I admit sincerely that because men have turned political and electoral activities into a warfare, producing and manufacturing in the process all manner of political and electoral violence, women in response now experience and exhibit phobia for political participation.
This manifest fear of the unknown is neither here nor there. What women see as dark and dirty political horizon is like a masquerade that delights in scaring its adherents and unlookers only to be unmasked and what you see is one young, inconsequential and drunken man who has no capacity in real life to stand your way.
It is my very strong conviction therefore that the answer to the rider in this discourse could be found in the positive. And I state without equivocation, that women can comparatively cope and participate fully in the party politics and contest all forms of elective positions in Nigeria. Few have done it in the past, many more can do it now with determination, courage, hardwork and goodluck.
To succeed women must eschew unnecessary rivalry, gossip, altercations of all dimension and be committed as an army ready for a revolution. Just as it become absolutely necessary in this country during colonial rule, women carried out a revolution that changed the face of Government policies evidenced in the Aba women riot of 1929 and the Abeokuta demonstration of 1949. The time to act is now.
As in other parts of the world, affirmative action will be essential and highly suggested to mobilise and encourage women to overcome the self imposed and unreasonable fear of men's violent activities and advance towards women's advancement particularly in the political arena.
Women have all what it takes to challenge men to a political fight. Men are our sons, fathers and husbands, we live together, eat together and women possess natural endowments that can twist and rattle men as it pleases our conveniences.
Women have the numerical strength, education and decent disposition attractive to the electorate. It is rather men's continued dominance of the political land scape rather than distinaction or gender bias that has continued to encourage the discrimination against women. The time to act I repeat is now. Women have forgotten so soon the slogan that raged like fire in our political life when we used to say in market parlance, "what a man can do, a woman can do it even better." Why must men be left all alone to plunder our common heritage and ravage our political and social life like a colossus. Are we then petty and second class citizens that cannot even walk under the huge legs of the colossal man? Nigeria women can effectively cope in the turbulent and volatile political and electoral waters of Nigeria.
I salute the courage in recent times of the likes of Prof. Dora Akunyili who has been championing the re-branding Nigeria project in her capacity as the Minister of Information and Communication and who in the heat of men's docility in moving the country forward braved it and sent in a memo challenging her fellow memers of the Federal Executive Committee dominated by men to a discussion on the health of the President Umaru Yar'Adua.
Senator Florence Ita-Giwa's political influence cannot be waived easily in Cross-River State. Presently the likes of Senators Joyu Emordi (Anambra), Chris Anyanwu (Imo), Nkechi Nwogu (Abia), Ekaette Udong (Akwa-Ibom) and their counter parts in the present House of Representatives notably Hon. Abike Daribi-Erewa, Hon. Juliet Akano (Imo) and Hon. Uche Ekwunife who recently contested the Anambra State Gubernatorial election under the platform of the progressive peoples Alliance (PPA) are clear demonstrators and advocates for the advancement of the need for an improved women participation in democratic Governance. They are equally living testimonies to our assertion that women can effectively and efficiently cope in the political adventures of Nigeria. The likes of Dr. Mrs. Okonjo Iwela, Former Finance and Foreign Affairs Minister, Dr. Mrs. Chinwe Chigbu, Former Director General of the Bureau for Public Enterprises, Dr. Mrs. Oby Ezekwesili and of the indefatigable Prof. Dora Akunyili are equally clear testimonies that women are better managers in politics. They all and more excelled where men goofed.
Women as mothers, should be propelled by the love of the people of this country and their enduring strong covenant with God and offer themselves to serve. The exhibition of motherly love by women in politics will certainly change the face of politics in this country. In the new Nigeria of our dreams, women should be prepared to take the lead.
I shall conclude this paper with a charge that women must not dogmatise in their approach to the renewed interest in political participation. We must reason with men as our husbands and sons.
We must rather be persuasive and voluntarily join political parties of our choice. But in making the choice to join a political party we must take a decision that by persuasion, we hope that we could bring more people with us. This shall form the basis of our action plan to act and revolutionise the politics of this country. Women have the potentials.
If we therefore think that we can just make a loud noise and the Tory Wall of Jericho will fall down, then we are doomed to go the way of previous campaigners because men will not take us seriously. Power is not given but taken. You must step out before you are counted. We must stop cosmetic initiatives that are devoid of real substance. We must wake up and join progressive forces in a revolutionary style devoid of armed struggle and take up the mantle of leadership in this country. It is so in ivory cost. It has happened in Ghana. Why not Nigeria?
Conclusively therefore, we further posit that the best guarantee for increased women participation in politics is the elimination of fear no matter how imaginary through the conduct of credible elections in Nigeria. Credible election is not a myth in African but a reality. It has happened in most African countries. It happened in Nigeria in 1993 June 12 elections when Nigerians transparently voted against cleavages and stereotypes. And very recently it happened again in Anambra State. As women are poised to participate in the 2011 general elections, may God help us to witness once again, a fair, free and credible election to the glory of God and better services to mankind.
Barrister Ugboaja is the Imo State Co-ordinator, Network for the Bar, the Bench and the Police (NBB&P).
Nkechi Yvonne Ugboaja
Yiaga Africa Blames Govt For Voters' Apathy
Independent election observer group, Yiaga Africa, has expressed worry that increasing voters' apathy as witnessed in the Anambra governorship election may not have been caused by insecurity but increasing loss of confidence in government.
A board member of the group, Ezenwa Nwagwu held the view in Awka during a post-election reflection meeting with leaders of Civil Society Organizations.
Nwagwu reiterated that the ugly trend was not necessarily occasioned by insecurity that had always heralded elections in the past, but growing disconnect between the government and the masses, saying it is time populace held government to account to bridge the gap.
He said: "Election is over. Now we have to watch governance and the only way to do that is to clearly design pathways through which we can hold the government accountable.
"One of the ways is for the citizens to engage the government with budget process. Government every year estimates what it uses the people's resources to do for them.
"Unfortunately, the people involved don't show any interest, and four years later, the same people will start complaining that government has failed, even when there was nothing to track.
"We need to see how the Media and Civil Society groups can collaborate and produce what I call a citizen charter demand that they can hand over to the new Governor-elect.
"They can liaise with other professional bodies to conduct infrastructural assessment in the state and use that as a document to organize a town-hall meeting to engage government officials."
Nwagwu also identified what he termed "fear and complaint industries" as major impediments to the growth and development of the state, insisting that the two factors must be shut to enable people of the state enjoy democracy dividends.
He added: "We need to close up the two industries of fear and complaint that have gripped the state, especially after the election so people can leverage the benefits of governance.
"If we continue with this scare-mongering and complaints, we will only succeed in having few persons taking over the government and dictating the pace."
CVR: Fresh Registrations Hit 4.2m
The Independent National Electoral Commission (INEC) said that fresh registration in the ongoing Continuous Voter Registration (CVR) has hit 4,297,494.
The commission disclosed this in the second quarter, week seven, weekly update released by the commission in Abuja recently.
The commission said that as at 7 a.m. on Monday, November 22, 1,856,771 persons have completed their online and physical registration.
According to statistics provided by the commission, 1,856,771 persons who completed their registration, include 941,098 males, 915,673 females.
It also added that 741,183 persons completed their registration online, while 1,115,588 completed it through physical registration.
Saraki Visits Benue Over Presidential Ambition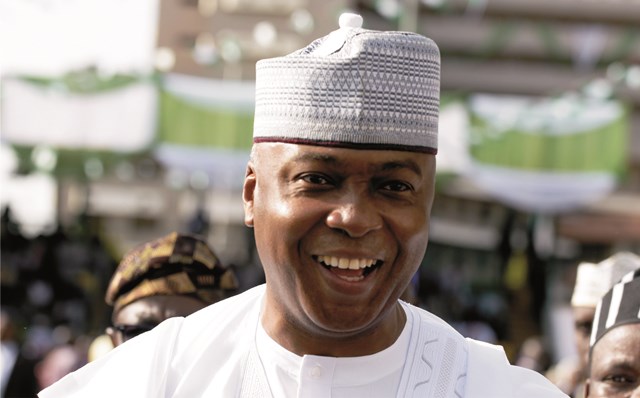 A former President of the Senate, Dr Bukola Saraki, has visited Governor Samuel Ortom of Benue State over his ambition to vie for President in 2023.
Saraki, after a close door meeting with Governor Ortom, also met with the State Working Committee members of the Peoples Democratic Party (PDP) to familiarise them with his intention to kick start consultations for his ambition to rule the country.
He said that the nationwide defection of party loyalists from the All Progressives Congress (APC) to the PDP was an indication that there might not be anyone left in the party before the next election.
"A party that cannot organise its affairs has no business leading this country. A party that has organised its affairs is ready in leading this country and that is the PDP," he said.
Saraki added that the North Central Zone has paid its dues by working so hard in keeping the country together as one united entity just as he pointed out that, "this time we must stand for our own and charity begins at home."
The ex -senate president, who was accompanied on the visit by former Governor of Kogi State, Idris Wada, former National Chairman of the PDP, Kawu Baraje, Senator Suleiman Adokwe and Prof Iyorwuese Hagher, Chairman of Council, Saraki for President Campaign, thanked the Benue governor for standing out for the zone.
Earlier, Governor Ortom, eulogised Saraki for being one of those Nigerians that had contributed immensely to the development of democracy.
Ortom said it was time to rescue the country from bottom, a position it was placed by the APC government, to the top, adding that Saraki deserves the presidential seat to enable him salvage the country from its current mess.
On his part, the State Chairman of the PDP, Sir John Ngbede, represented by his deputy, Isaac Mfo, said the party in the state had remained intact even as he assured the presidential hopeful that they would back his ambition to rule the country.