Waste Management: Ukraine To Collaborate With Lagos
Mr. Valery Vasyliev, Ukraine's Ambassador to Nigeria, says his country is prepared to partner with the Lagos State Government in the recycling of waste.
Vasyliev told The Tide  On Sunday source in Lagos on Friday that the planned partnership with major cities in Nigeria would take off in Lagos.
The envoy said although Lagos State was making relative success in refuse collection, Ukraine would ensure that such collected materials were put to other uses.
"One new area of cooperation with Nigeria by Ukraine is recycling of the heaps of refuse generated in cities of the country.
"Lagos being a major industrial and commercial centre will serve as pilot place for the project before extending it to other cities,'' he said.
Vasyliev said it was obvious Nigeria lacked the resources for efficient transformation of waste to wealth but promised that Ukraine would deploy its human and technological advancement to make waste recycling a reality in Nigeria.
He expressed optimism that the project would ensure that domestic and industrial waste were developed into economic products and commended Lagos State for its efforts to ensure efficient refuse management.
"We need to be committed to efficient collection, disposal and refuse of domestic and industrial waste generated daily around us. We need to know and adequately harness opportunities in waste,'' he said.
NDLEA Arrests 72-Year-Old Man, Five Others Over 5,721.92kg Of Hard Drugs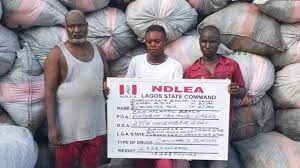 A 72-year-old man and five undergraduate students are some of the suspects the NDLEA arrested in a week-long operation to seize hard drugs and arrest offenders.
The raids, across nine states and at the Murtala Muhammed International Airport (MMIA), Lagos, yielded 5,721.92 kilogrammes of Indian hemp and other drugs.
The 72-year-old man, Emmanuel Akanbi was arrested at Odofin Camp, Uso, Owo Local Government Area of Ondo State with 2,050kg of Indian hemp.
The varsity students belong to the American University of Nigeria, (AUN) Yola, and the University of Maiduguri.
NDLEA's Director, Media and Advocacy, Mr Femi Babafemi said in a statement issued yesterday in Abuja that one Okorie Onyeribe was arrested at the MMIA on December 3.
He was attempting to export 21.85kg of Indian hemp concealed in foodstuffs to London.
Babafemi stated that two students, Emmanuel Thlama and Jonah Joshua were arrested with 16.750kg of Indian hemp on Nov. 30 when NDLEA operatives raided a settlement opposite Gate 4 of the University of Maiduguri.
He added that the three other students, Ekene Asher, Daniel Alkali and Emmanuel Smooth are undergraduates of AUN. They were arrested on Dec. 2.
Babafemi explained that their arrest followed their receipt of "Loud'' a very strong variant of Indian hemp ordered by Asher.
"Equally, ThankGod Danladi who completed a jail term in October was arrested on Wednesday, Dec. 1 with 67 kilograms of Indian hemp in a raid in Taraba.
Also on Dec. 2, NDLEA operatives intercepted a motorised concrete mixer truck used to conceal 2000.6kg of Indian hemp loaded at Ogbese, Ondo State.
Enugu Rehabilitates Nnamdi Azikiwe Stadium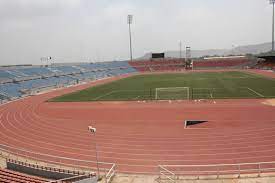 Governor Ifeanyi Ugwuanyi of Enugu State, on Wednesday, inspected the ongoing comprehensive overhaul of the pitch of Nnamdi Azikiwe Stadium, Enugu,  to bring the stadium at par with international standard.
It would be recalled that the Gov. Ugwuanyi administration recently awarded contract for the upgrade of the Nnamdi Azikiwe Stadium pitch with the installation of state-of-the-art turf in line with the requirements of the Confederation of African Football (CAF) and Nigeria Football Federation (NFF) Licensing Regulation on sports infrastructure and facilities.
Speaking during the inspection, the State Commissioner for Youth and Sports, Hon. Manfred Nzekwe, who led Gov. Ugwuanyi to the site, disclosed that the discarded turf was installed 12 years ago, precisely in 2009 and has not been changed since then until the current intervention by the present administration in Enugu State.
Hon. Nzekwe pointed out that, although the state government had been maintaining the pitch and other infrastructure at the Stadium, prior to commencement of the upgrade, Gov. Ugwuanyi administration decided to install a new pitch as part of its concerted efforts at upgrading the stadium to international standard.
The Sports Commissioner added that there had been a yearly routine maintenance of the turf and other sports facilities in the stadium since the inception of the present administration, commending Gov. Ugwuanyi for his commitment to youth empowerment and sports development in the state.
Reacting, a cross section of jubilant sports enthusiasts who witnessed the governor's inspection tour of the ongoing works at the stadium applauded him for the remarkable intervention and other efforts of his administration in repositioning the sports sector in the state.
By: Canice Amadi, Enugu
Firm Inaugurates 100-Tonne LPG Plant In Katsina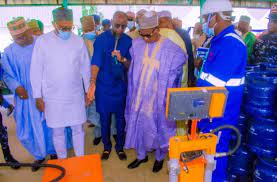 A 100-tonne Liquefied Petroleum Gas (LPG) plant constructed by the Buterny Energy Company was inaugurated on Saturday in Katsina.
The Minister of State for Petroleum Resources, Mr Timipre Sylvia, during the launch said the plant was coming at the time several projects that would address gas availability, accessibility and affordability in the country were being put in place.
Sylvia, represented by the Permanent Secretary in the ministry, Dr. Sani Gwarzo, added that the pricing of gas was currently a major threat to the availability and affordability of the fuel in Nigeria.
"The Federal Government was leveraging the gas pricing framework and the Central Bank of Nigeria (CBN) gas development fund to create an appropriate funding model to support off-take of the gas, especially among vulnerable groups.
"I cannot complete this speech without touching on pricing which is a major threat to gas affordability and gas penetration.
"It is, therefore, expected that the economy of Katsina State and indeed the North-West and the whole of Nigeria will benefit from socio-economic spin ups associated with the gas value chain," he said.
The minister added that smaller countries with less gas reserves than Nigeria such as Kuwait have higher per capita consumption of gas due to their investment in gas infrastructure.
He urged Butane Energy to make their plant a role model of LPG depots by deploying technology to drive market penetration, creation of financial instruments to incentivize off-take of its bottled gas.
"And also investment in human capital development to attract and retain a resilient workforce and operation in a globally acceptable and responsible manner," he said.
Butane Energy Chair, Alhaji Isah Inuwa, said the aspiration of the company under the first phase of investment programme was to have five plants in the Northern Nigeria.
"Kano will have 180 metric tons, in Bauchi, 120 metric tons, in Abuja, 180 metric tons and in Kaduna, 180 metric tons.
"Today, we have finished the designs of Kaduna and Bauchi plants and by God's grace, we are going through the contracting processes between December and January, and it is our hope that before the end of January, construction work will start.
"By April, we will start Kano and Bauchi plants with a combined tonnage of 360.
"Our expectation is that by September 2022, we will have completed five plants with a total capacity of 820 metric tons and we will have the capacity to process 9,200 12.5kg cylinders per eight hour shift per day.
"We would have invested nearly N3 billion by the end of the first phase of our development programme. We expect annual gross revenue of these five plants to be more than N20 billion."