Conscience, Wound So Deep That Akunyili's Therapy
Truth comes in various moulds; As suppressed human gas or pollutant in public, even during a church service;  a potent advance team for true reconciliation between two and among peoples; a symbol of repentance and preparedness for lowly restitution; an essential healing balm for wounds inflicted on the mind or simply a guilty conscience and sometimes just as the truth. In all its forms however, it is usually, a priceless commodity that attracts scorn or praise, enmity or friendship, love or hatred, honour or horror.
In most of its raw forms, it tastes sour in the mouths of those without integrity but to the honourable, a tasty cake of courage.
Being a rare commodity, especially among people of deep moral depravity, it requires a little more than raw courage to voice it during conflicts, particularly, when, individuals' ambition, needs and fears are at play, but even moreso, when one is in minority, . At such times, to speak the truth is to endanger one's socio-political status, juicy accruements to such high public office and or even risk ones own life.
This is why in matters of pressing national concerns, the truth is often elusive among those, society normally depends upon to voice it. Have Nigerians not simply forgotten 'June 12' and Abiola, the metaphor of our electoral success, which this country gladly jettisoned?
Uptill this day, the real reasons for the annulment of the June 12, 1993 presidential elections, largely believed to have been won by Late Chief Moshood Abiola still remain a guided secret among people who apparently required more of the kind of integrity needed to force out the truth.
And now, for more that 80 days today, Nigerians have witnessed another impasse, of mainly constitutional enactment of squinting meanings and expressions, which mainly integrity, honour and indeed the truth could very easily address. In my last treatise titled 2 Winners Same Silver Coin published Monday, February 1, 2010, (same back page) I laid bare the constitutional conflict and detailed claims of and quarrels between the competiting parties and would not wish to bore you with a repeat of those luried details. Suffice it to say that President Umaru Musa Yar'Adua, according to section 145 of the 1999 Nigerian Constitution ought to have exercised the discretion of transmitting to the National Assembly a letter to cover his long absence, a move which alone could have empowered a Vice to serve as Acting President. That, the ailing president did not do before traveling to Saudi Arabia in November, last year due to serious health concerns, and has been there, ever since.
Ironically, the same constitution also spells out how a president and his vice can cease to function in office on health grounds. Section 144 puts a key part of that process in the hands of the  office holder , in Yar'Adua's case, the Executive Council of the Federation ,a body of ministers appointed by him, otherwise also known as the Federal Executive Council (FEC). That body was largely trusted to unveil the truth of the President's health condition and save the nation all the suspense, political heat, conflicts, litigations and even disruption of key national needs and expectations.
But the ministers met, brain-stormed awhile and emerged with the assurance that the president was hail and hearty. But sadly, that was not the whole truth because none of them at the time had seen the ailing Commander-in-Chief, at least not within the period of the conflict. Yet they told an agitated public that the President was well and would return to his presidential duties last week. The president never did. Yet their resolve remained, to keep hanging on, if for nothing else, prevent the displacement of the status quo. Simply, keep their jobs.
But the unwanted truth still remained that the president ought to have transmitted to the National Assembly reasons for his long absence and not hold the federation to ransom, as most ministers willed it .
In the midst of these mistimed betrayal of trust, one minister gave Nigerians a reason to hope and believe in their own country, using the truth as a potent healing balm to mend whatever damage that might have been done to the minds of many.
Among the lot, Prof Dora Akunyili, the Minister of Information and Communications, it was who stood out to whisper, as it were, that much as she treasures the relationship between her boss and herself, she still thinks that it will amount to loving her country less if she chose to  hide the truth, simply to save her job. That the president should transmit  a letter of his health condition to the National Assembly, to enable his Vice to act, pending his return, a view which many of her ministerial ilk considered sacrilegious and shouted her, down. Of course, the body of ministers has repeatedly argued that such a step was not necessary, since the vice president was already performing the duties of the president. But how true?
Could VP Jonathan order the long awaited reconstitution of the Independent National Electoral Commission (INEC)? Could VP Jonathan swear-in the substantive Chief Justice of the Federation? Can VP Jonathan sign the 2010 appropriation bill, if and when passed into law by the National Assembly? Or can Vice President Jonathan sack the present Federal Executive Council on grounds of poor service delivery and appoint another set of ministers?
More importantly, can VP Jonathan declare war on an aggressive neigbour- nation in protection of our territory without some lawyer dragging him to one of the many high courts?
Many, if not all of the ministers had  answers to these and many more worrisome questions but none wished to shift grounds for many reasons, none of which could be tied to love for one's country, but key of which, Methinks, is to maintain the status quo: I hope am wrong.
It is in this perspective that Dora Akunyili's rare display of statesmanship, honour, integrity and patriotism can be appreciated.
But lets ponder a while. Were Yar'Adua a vindictive leader, and miraculously returns today from Saudi Arabia, Can Akunyili be sure of her ministerial job? Will Nigerians, particularly her ministerial colleagues not label her courage, a betrayal and she a villain? Will she not be seen as a political ingrate who abandoned her political benefactor in times of trials and tribulations?
But such is the nature and complexity which truth conjures, love or hatred, friendship or enmity, honour or horror.
That indeed is the nature of the bold steps Akunyili has taken for love of country but at great risk to her political career. Happily, some are gradually gearing-up to share of her praise and be decorated as co-patriots.
This is how role models are made; great characters who, at all times necessary, are willing to risk their personal needs for societal good, those not scared of shunning phoney successes and instead risk failure for integrity sake and above all, help teach others what honesty means.
Dora reminds me of a charming brilliant youngman during my primary school days, who denied my school, Ogoloma Town School, Ogoloma in Okrika Local Government Area of Rivers State the honour of lifting the golden trophy of an annual busy-bee competition, very early, in the 70's.
As leader of our school's spelling team of three, the young woman had correctly spelt all words put  to her in the contest to defeat the opposing side, at least so we all thought, because after each spelling attempt, the moderator would scream either 'right' or 'wrong'. So, all spectators and participants alike, knew the count.
But something strange happened. In the end, after our school had won the finals by a single point against our opponents  just when we thought our lead representative was going to lift the trophy, she instead approached the moderator and made a confession. That she had misspelt the word,'COMPETITIVENESS' as COMPETETIVENESS, a slip which no judge noticed  and in tears told the judges that she did not deserve the victory. And so, rather than slave under the heavy weight of a guilty conscience, she chose to speak the truth, even if that singular action denied our school the trophy, and she, the cash prize of 20 pounds.
Such is the nature of some truths, and Dora Akunyili's, no less so. But My Agony is that Nigeria's long corridor of power has never been in short supply of sycophants, professional praise-singers and talented mischief makers who would insist and succeed in painting the former NAFDAC Heroine in dull colours of a betrayer, bureaucratic thorn-coat and political harlot. And to that, would many  scream, 'yes', only to be relevant.
But like one who tries to suppress excess gas, after consuming a large pot of beans porage, softened by Akanwu (calcium carbonate), the truth of her patriotism shall someday, reverberate and set free, a morally depraved lot in our polity. When? That I can't tell.
Again, RSG Begins Unveiling, Flag-Off Of Nine Key Projects, 'Morrow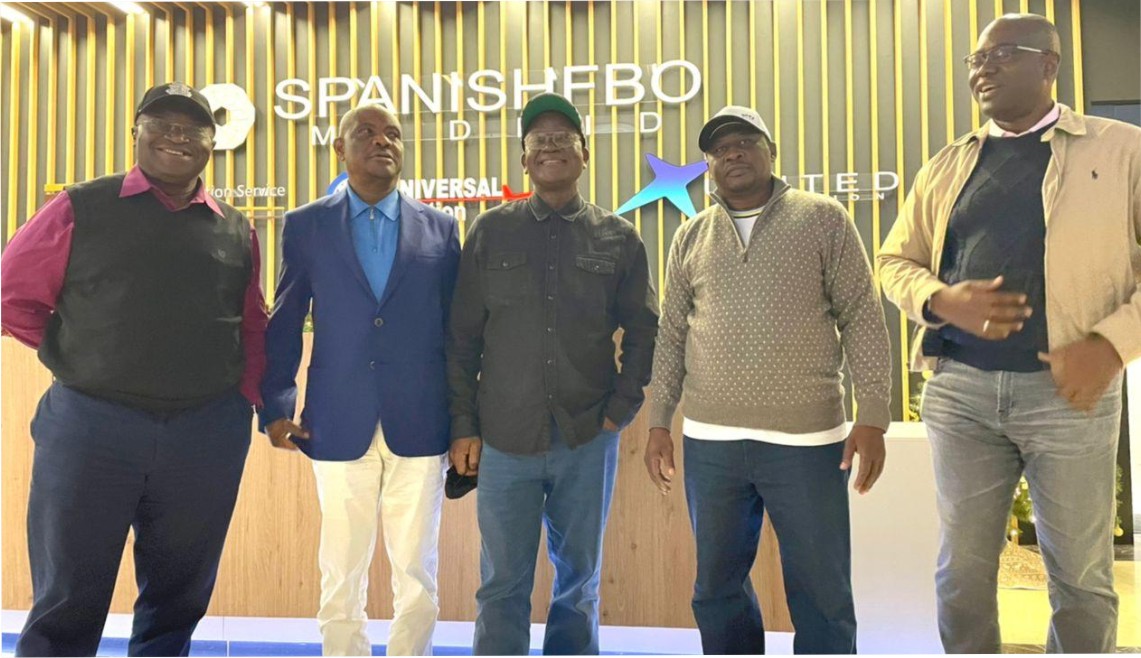 The Rivers State Government has rolled out the drums to herald another phase of official commissioning of key projects embarked upon by the Governor Nyesom Wike-led administration in the state.
A statement by the state government said that the process is in continuation of the commissioning and flag-off of projects by Governor Nyesom Wike.
It indicated that Rumuola flyover would be commissioned tomorrow, while the GRA flyover would be commissioned on Saturday.
The also stated that the government would commission the Ezimgbu Road on Monday, December 13, 2021; with another commissioning of Tombia Road Extension scheduled for Tuesday, December 14, 2021.
The statement said that the governor would commission the Safe Home, Borikiri, Port Harcourt on Wednesday, December 15; while on Thursday, December 16, 2021, the governor would commission the Odokwu internal roads.
Also, the governor would continue the flag-off of key infrastructure projects with Chokocho-Igbodo Road slated for Monday, December 20, 2021; Oyigbo-Okoloma Road on Wednesday, December 22, 2021; and Magistrates' Court Complex, Port Harcourt on Thursday, December 23, 2021.
Wike Justifies N7bn Libel Suit Against THISDAY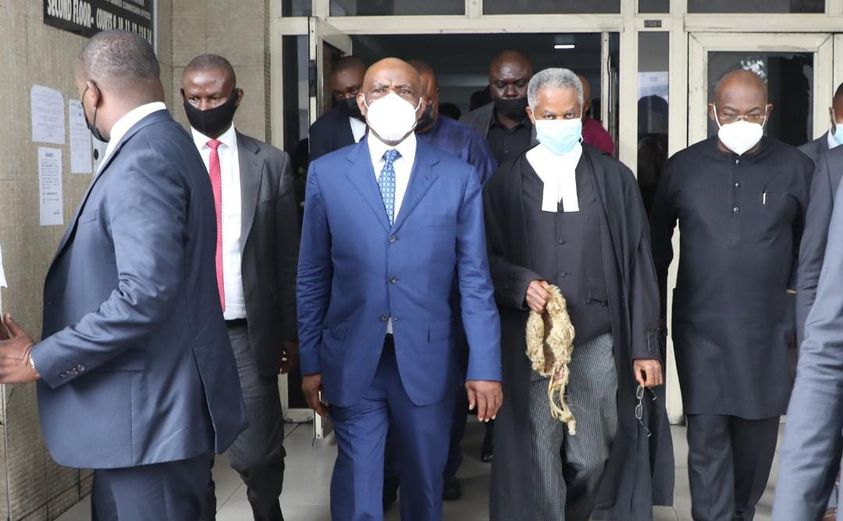 Rivers State Governor, Chief Nyesom Wike, yesterday, appeared before the state High Court in Port Harcourt, to testify as a witness in an N7billion libel suit against THISDAY Newspaper.
Wike said he was in court to seek justice and clear his name as a person from the malicious publication by THISDAY Newspaper, which portrayed him as deceitful, untrustworthy person, who exerts subterranean influences on judicial matters and over court sittings in Port Harcourt.
It would be recalled that Wike had in August, 2020, slammed a N7billion suit being damages for libel written and published in THISDAY's Tuesday, June 23, 2020 edition captioned, "With Wike, Obaseki Meets His PDP's Waterloo; Almost."
The defendants in the suit are THISDAY Newspapers Limited, Leaders and Company Limited, Davidson Iriekpan, Chuks Okocha and Adibe Emenyonu.
Wike, while testifying as witness in suit No. PHC/1505/CS/2020 before the court presided over by Justice A. Enebeli, asserted that the defendants maliciously and falsely portrayed him as an unreliable friend/person.
"When you say somebody cannot be trusted; that cannot be a fair comment. When you say somebody is influencing the Judiciary, that cannot be a fair comment", the governor said.
In his written statement on oath, Wike had stated that the defendants had accused him of influencing the decision of the court sitting in Port Harcourt that granted an injunction restraining Godwin Obaseki from participating in the primaries of Peoples Democratic Party (PDP) in Edo State in 2020.
He stated that the defendants maliciously accused him of undemocratically exerting influence on the primaries process of PDP in Edo State in aid of his ally, Omoregie Ogbeide-Ihama, who was the beneficiary of the court order restraining Obaseki from participating in the PDP primaries.
The governor, who told the court that he was not even aware of the aforementioned suit by Ogbeide-Ihama against Obaseki, said the publication was reckless, false and without regards for the truth.
According to him, contrary to well-known journalistic tradition and practices, the defendants did not investigate properly to ensure the information they relied on was accurate.
"They did not seek to verify the facts from me or in any manner oblige me with the opportunity to state my own side of the story before proceeding to make the false publication" the governor argued.
Wike stated that the defendants further denigrated him before the entire world as a fake democrat, who engages in meddling in the internal affairs of All Progressives Congress (APC) in order to get at his political foe, Chibuike Amaechi.
The governor explained that he was not a member of the APC and has had no hand in the internal crisis which has bedevilled the party both in Rivers State and all over Nigeria.
"By the letter of Messrs E.C. Ukala and Co., Solicitors, under the hand of Emmanuel C. Ukala, SAN, dated 23rd June, 2020, the defendants were given opportunity to retract, and recant the publication as well as to offer apology for the false publication but the defendants spurned the opportunity and ignored the letter completely."
The governor, while responding to claim by lawyer to the defendants, Turudu Ede, SAN, that the essence of the lawsuit was to intimidate and harass his clients, said the whole essence of the suit was to get justice and clear his name as a man of substantial character, honour and repute.
"The essence of the suit is to get justice since they (defendants) refused to retract the publication or apologise. So, I sued them to clear my name."
Speaking to journalists outside the court, one of the lawyers to Wike, Mr. Mark Agwu said his client was in court to seek legal redress.
"To challenge him as a person, it means you have made him untrustworthy, a deceit, a cheat, an influencer of the court, because the publication they made was that he had a role to play in influencing the outcome of that Federal High Court case. Nobody will take that lightly, and especially for a man who believes in the rule of law", Agwu added.
The court adjourned the matter for further hearing to 12th, 13th and 14th of January, 2022.
$130m Fraud: Rivers Sues Saipem SPA, Saipem Contracting Firm, Others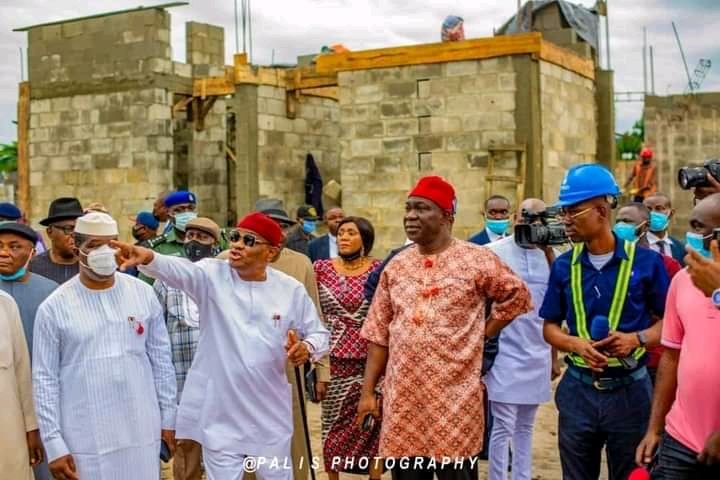 The Rivers State Government has charged two construction firms, Saipem SPA and Saipem Contracting Nigeria Ltd, to court over an alleged conspiracy to cheat and with intent to defraud the state of the sum of $130million, being advanced payment for the construction of the OCGT power plant in Port Harcourt.
In a 16-count criminal charge filed by the Director of Public Prosecution, C.F. Amadi for the Rivers State Attorney General, the state alleged that after collecting the said sum as advanced payment between 2011 and 2018, the defendants have not kept their obligation under the contract.
Others charged alongside the companies were Walter Peviana; Kelechi Sinteh Chinakwe; Giandomenico Zingali; Vitto Testaguzza and Davide Anelli, who are directors and officers of the companies.
The defendants are charged with various offences ranging from conspiracy, cheating and obtaining credit by false pretence, contrary to Section 518 (6) and (7) and punishable under Section 518 of the Criminal Code, Cap 37 Vol. 2 Laws of Rivers State of Nigeria, 1999, section 419A and punishable under Section 419 (A) (1) (b) of the Criminal Code, Cap 37 Vol. 2 Laws of Rivers State, amongst others.
Already, the Rivers State Government has issued a fiat to the law firm of Godwin Obla (SAN) to prosecute the matter before the state High court.
The defendants are equally charged for the offence of false Statements by Officials of Companies contrary to and punishable under Section 436 (b).
The prosecution specifically accused the defendants of obtaining credit of $130million by false pretences or other fraud contrary to Section 419A and punishable under Section 419 (A) (1) (b); obtaining credit of $20,467,942.00 by false pretences or other fraud contrary to Section 419A and punishable under Section 419 (A) (1) (b), obtaining credit of N7,000,000,000.00 only by false pretences or other fraud contrary to Section 419A and punishable under Section 419 (A) (1) (b).
They are charged for obtaining credit of N318,640,173.54, by false pretences or other fraud contrary to Section 419A and punishable under Section 419 (A) (1) (b); attempt to cheat $97million contrary to Section 508 and punishable under Section 509; attempt to cheat $15million contrary to Section 508 and punishable under Section 509; conspiracy to receive a credit of $97million by false pretences contrary to Section 518 (6) and punishable under Section 518; cheating $11million contrary to Section 421 and punishable under Section 421; cheating contrary to Section 421 and punishable under Section 421; cheating N110, 097, 416.51 contrary to Section 421 and punishable under Section 421; cheating by collecting sums attributable to shared facilities already paid for in AFAM Phase I in AFAM Phase II contrary to Section 421 and punishable under Section 421.
Obtaining N20, 467, 942 contrary to Section 421 and punishable under Section 421; obtaining credit of $60,168,936.00 by false pretences or other fraud, contrary to Section 419A and punishable under Section 419 (A) (1) (b); obtaining credit of $1,512,034.00 by false pretences or other fraud contrary to Section 419A and punishable under Section 419 (A) (1) (b) all of the Criminal Code Law of Rivers State, Cap 37 Vol. 2 Laws of Rivers State of Nigeria 1999.
According to the Proof of Evidence attached to the charge and the statement made by the Head, Power Generation/Mechanical of the Rivers State Ministry of Power, one Mr Temple Azunda M., the facts constituting the case in hand are as follows:
Saipem SPA and Saipem Contracting Nigeria Limited and other officers of the duo, herein the Defendants, are Italian companies which services have been retained by the Rivers State Government, herein RSG, in several projects, prominent amongst which is the AFAM Phase II Power Plant Project.
By an initial tripartite agreement made on the January 20, 2010, the RSG under the auspices of the Rivers State Ministry of Power entered a contract with Saipem Contracting Nigeria Limited, Saipem SPA for the construction of the OGCT power plant in Port Harcourt at a total cost of $119million consequent upon which the Rivers State Government made advance payments, in instalments, to Saipem Contracting Nigeria Ltd and Saipem SPA amounting in total to a sum of $130million in all which the Defendants have acknowledged receipt of.
The Defendants were to be given an initial mobilization of 20per cent of the total contract sum which the RSG paid.
It was part of the initial agreement – and indeed a condition sine qua non – that, to access the 2nd tranche of payment of 25per cent from the Rivers State Government, the Defendants would mandatorily have installed the Gas Turbine into the foundations as referenced in ATTACHMENT 1 to VO 007 which states that:
CONTRACTOR shall be entitled to a payment corresponding to 20per cent of the VO No. 007 LS PRICE upon mobilisation to site and commencement of bush clearing activities at SITE.
Upon commencement of bush clearing activities at the site, the contractor shall issue the invoice relevant to the above payment and the owner shall pay such invoice within 14 days from its issuance.
The parties agree that no deduction for recovery of advance payment shall apply on the payment due to the contractor for invoices issued by the contractor in accordance with this paragraph.