Former Nigerian President Olusegun Obasanjo is a study in statesmanship, political brinkmanship, adept traditionalism, vitriolic yet salutory oratory and sometimes, unsettling candour. He is perhaps the only Nigerian who may ever rule Nigeria twice, first as military head of state and only recently, two-term president.
By my reckoning, only three desires have eluded him in his quest to break all political records concerning power and politics: These are being President for 12 consecutive years or at least a little longer than eight years; failure of his party to win Lagos State and Life Chairmanship of the Board of Trustees (BOT) of the ruling Peoples Democratic Party (PDP),. All others, he desired, he got.
In 1999, for instance when he was first elected President, he did so without the support of his immediate kith and kin – the Yoruba States, all of which voted for the Alliance for Democracy (AD). In several respects, it presented Obasanjo either as a statesman who's above ethnic politics, a detribalized Nigerian with immense national acceptance or simply an example of "charity beginning abroad." The first two may be most likely, but nearly four year later, Obasanjo apparently proved many wrong when, he showed that there was no place better than home, And that living perpetually off one's home even in politics, amounted to being either in self-exile or political asylum in some strange land.
For fear of that, Obasanjo sought to and succeeded in claiming his immediate political base, except Lagos State, where, a 'troublesome' Bola Tinubu dashed his dream of 100 percent success.
As it was in the West, OBJ, as leader of his party and President and Commander in Chief of the Federal Republic of Nigeria towered the nation's political landscape like a colossus, deciding who got what. In nearly all cases, he had his way.
For instance, after the governorship primary elections were duly held by the PDP in Rivers State and a flag bearer chosen in the mould of Rt. Hon. Chibuike Rotimi Amaechi, the 'gbate fate of Nigeria' (an Ijaw coinage meaning one whose word is law) decided otherwise. Flagging off the South-South geo-political zone's governorship campaign in Port Harcourt, and which, as planned peaked with the presentation of flags to the party's armour bearers, OBJ told a shocked rally that the Rivers flag bearer would receive no flag, because according to him, the outcome of the primaries and issues which arose therefrom had, in his exact words "K-leg' which needed to be straightened.  There too, OBJ had his way, and accepted Sir Celestine Omehia as flagbearer, even if the man had no reason to buy the Governorship form, and so didn't, instead of Rotimi Amaechi who did and won.
 Again, only a stubborn Judiciary over-turned his decision, albeit months later, after his allowed eight years in the saddle, the next four or even two having been denied by another set of 'stubborn' National Assembly members, who, like OBJ, suddenly became too statesmanly and nationalistic.
Obasanjo's next desire was to have in office as President, then Katsina State Governor Umaru Musa Yar'Adua who, months earlier had undergone a successful kidney transplant, at least, so OBJ said, and should naturally need a long rest far away from the familiar heartaches of Nigerian politics and power intrigues'.
But no, OBJ launched a robust campaign, with a vow that his party would win the Presidency, "at all cost", an allusion which Obasanjo apologists repeatedly refuted without success against ready recordings by stubborn news hounds. So determined, when, in the wake of the campaigns, Yar'Adua's health became a concern to many, OBJ, it was who organized a televised telephone conversation with the ailing candidate Yar'Adua, and later told Nigerians that the 'President-in-waiting' was hail and hearty, safe and sound, assuring that the campaigns would continue afterwards with the flag-bearer leading.
Again, OBJ got what he wanted as he introduced the duo of Yar'Adua and Dr. Goodluck Jonathan, now Vice President, to Nigerians at every stop, zone after zone and state after state, with a flawless oratory grounded in ancient Yoruba language and near frequently laced with disturbing diatribe against opposing political parties.
In the end, Yar'Adua became President, and Jonathan, his vice, in an election which was roundly criticised even by Yar'Adua himself, but in clear fulfillment of OBJ's whims. However, within he limits of available resources, competing national and international challenges and more importantly, life threatening health concerns to contend with, Mr. President had tarried on well.
Now, there is a repeat the same debate over whether or not President Yar'Adua was healthy enough to be president in the first place or now, strong enough to remain President and if not, whether or not the Vice President Goodluck Jonathan should be sworn-in as President.
In all these, OBJ kept a studied silence until last week, when at a media forum in Lagos, the chairman, BOT of the President's party said: "Yar'Adua should toe the path of honour, if he feels incapable of performing his duties as President." Not only that, he went further to deny knowledge of Yar'Adua's pre-election medical condition except that, "I learnt that as governor of Katsina State, he had a successful kidney transplant. Haba! Baba! Should we believe that?
Sadly enough, the former President's comments came at a time, when, unable to contain the growing protests against the President's long absence, the PDP was slaving to assure Nigerians that the President was out of hospital, even if they didn't say where he was and how much longer Nigerians must wait in limbo.
Obasanjo, methinks should know, that the so-called BBC interview with the ailing President was not as effective as the televised telephone interview he had with candidate Yar'Adua on National Television. That being so, one would have expected the BOT chairman to visit his successor; talk with his doctors and with him personally; know his state and advise him on what steps to follow thereafter.
This is because, asking an ailing President to take the kind of decision OBJ willed he took, is a tall order, without good knowledge of the President's medical condition. How, for instance, can anyone battling to save own life decide whether to resign or hand-over to a vice? What if the ailment is such that is beyond the ailing President's consciousness and strength.
Instead, OBJ should have liaised properly with his party leadership, the National Assembly, the BOT, the Presidency and indeed the President's physicians with a view to coming up with a decision hat would halt the shameful politicking with the President's ill-health.
My Agony is that OBJ's comments depict political distance from the power source and that makes me fear that my view on him may also be a tall order. However, let it be said and known that while, we join all well-meaning Nigerians, particularly, the President's family to pray for his quick recovery, now is the time to end the many rumours concerning Yar'Adua's health and take the bold and honourable step as OBJ implied-swear-in Goodluck Jonathan as Acting President. Even while, we continue to pray. Isn't that the path of Honour, OBJ mused about?
Again, RSG Begins Unveiling, Flag-Off Of Nine Key Projects, 'Morrow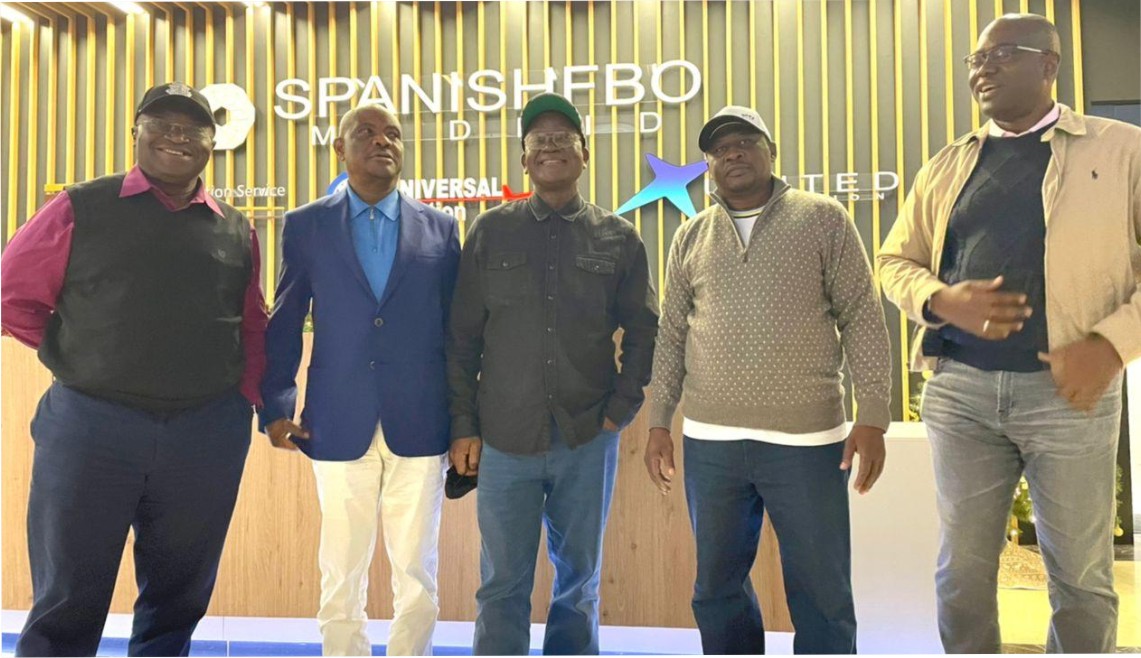 The Rivers State Government has rolled out the drums to herald another phase of official commissioning of key projects embarked upon by the Governor Nyesom Wike-led administration in the state.
A statement by the state government said that the process is in continuation of the commissioning and flag-off of projects by Governor Nyesom Wike.
It indicated that Rumuola flyover would be commissioned tomorrow, while the GRA flyover would be commissioned on Saturday.
The also stated that the government would commission the Ezimgbu Road on Monday, December 13, 2021; with another commissioning of Tombia Road Extension scheduled for Tuesday, December 14, 2021.
The statement said that the governor would commission the Safe Home, Borikiri, Port Harcourt on Wednesday, December 15; while on Thursday, December 16, 2021, the governor would commission the Odokwu internal roads.
Also, the governor would continue the flag-off of key infrastructure projects with Chokocho-Igbodo Road slated for Monday, December 20, 2021; Oyigbo-Okoloma Road on Wednesday, December 22, 2021; and Magistrates' Court Complex, Port Harcourt on Thursday, December 23, 2021.
Wike Justifies N7bn Libel Suit Against THISDAY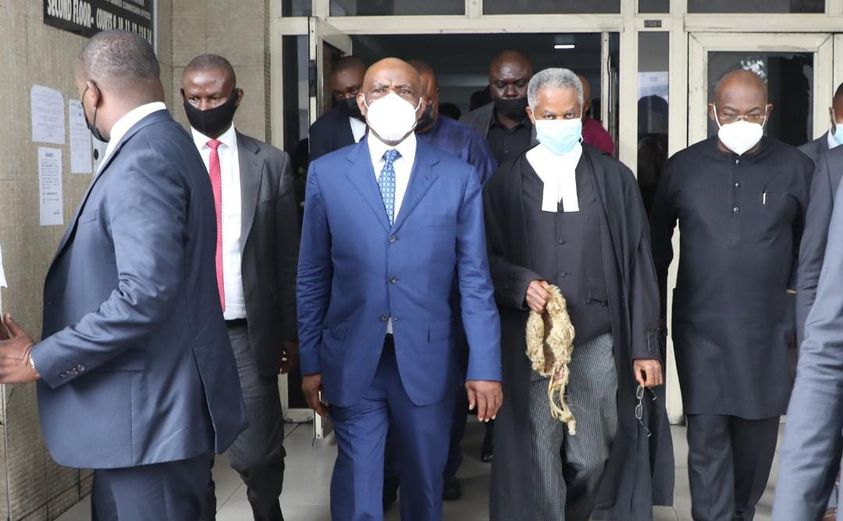 Rivers State Governor, Chief Nyesom Wike, yesterday, appeared before the state High Court in Port Harcourt, to testify as a witness in an N7billion libel suit against THISDAY Newspaper.
Wike said he was in court to seek justice and clear his name as a person from the malicious publication by THISDAY Newspaper, which portrayed him as deceitful, untrustworthy person, who exerts subterranean influences on judicial matters and over court sittings in Port Harcourt.
It would be recalled that Wike had in August, 2020, slammed a N7billion suit being damages for libel written and published in THISDAY's Tuesday, June 23, 2020 edition captioned, "With Wike, Obaseki Meets His PDP's Waterloo; Almost."
The defendants in the suit are THISDAY Newspapers Limited, Leaders and Company Limited, Davidson Iriekpan, Chuks Okocha and Adibe Emenyonu.
Wike, while testifying as witness in suit No. PHC/1505/CS/2020 before the court presided over by Justice A. Enebeli, asserted that the defendants maliciously and falsely portrayed him as an unreliable friend/person.
"When you say somebody cannot be trusted; that cannot be a fair comment. When you say somebody is influencing the Judiciary, that cannot be a fair comment", the governor said.
In his written statement on oath, Wike had stated that the defendants had accused him of influencing the decision of the court sitting in Port Harcourt that granted an injunction restraining Godwin Obaseki from participating in the primaries of Peoples Democratic Party (PDP) in Edo State in 2020.
He stated that the defendants maliciously accused him of undemocratically exerting influence on the primaries process of PDP in Edo State in aid of his ally, Omoregie Ogbeide-Ihama, who was the beneficiary of the court order restraining Obaseki from participating in the PDP primaries.
The governor, who told the court that he was not even aware of the aforementioned suit by Ogbeide-Ihama against Obaseki, said the publication was reckless, false and without regards for the truth.
According to him, contrary to well-known journalistic tradition and practices, the defendants did not investigate properly to ensure the information they relied on was accurate.
"They did not seek to verify the facts from me or in any manner oblige me with the opportunity to state my own side of the story before proceeding to make the false publication" the governor argued.
Wike stated that the defendants further denigrated him before the entire world as a fake democrat, who engages in meddling in the internal affairs of All Progressives Congress (APC) in order to get at his political foe, Chibuike Amaechi.
The governor explained that he was not a member of the APC and has had no hand in the internal crisis which has bedevilled the party both in Rivers State and all over Nigeria.
"By the letter of Messrs E.C. Ukala and Co., Solicitors, under the hand of Emmanuel C. Ukala, SAN, dated 23rd June, 2020, the defendants were given opportunity to retract, and recant the publication as well as to offer apology for the false publication but the defendants spurned the opportunity and ignored the letter completely."
The governor, while responding to claim by lawyer to the defendants, Turudu Ede, SAN, that the essence of the lawsuit was to intimidate and harass his clients, said the whole essence of the suit was to get justice and clear his name as a man of substantial character, honour and repute.
"The essence of the suit is to get justice since they (defendants) refused to retract the publication or apologise. So, I sued them to clear my name."
Speaking to journalists outside the court, one of the lawyers to Wike, Mr. Mark Agwu said his client was in court to seek legal redress.
"To challenge him as a person, it means you have made him untrustworthy, a deceit, a cheat, an influencer of the court, because the publication they made was that he had a role to play in influencing the outcome of that Federal High Court case. Nobody will take that lightly, and especially for a man who believes in the rule of law", Agwu added.
The court adjourned the matter for further hearing to 12th, 13th and 14th of January, 2022.
$130m Fraud: Rivers Sues Saipem SPA, Saipem Contracting Firm, Others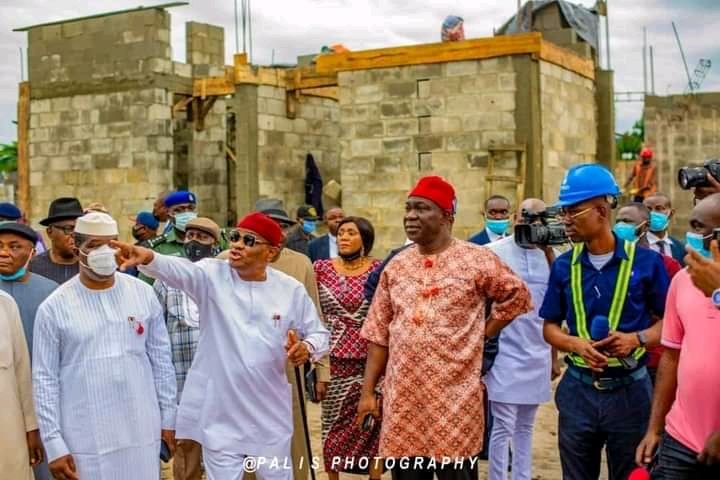 The Rivers State Government has charged two construction firms, Saipem SPA and Saipem Contracting Nigeria Ltd, to court over an alleged conspiracy to cheat and with intent to defraud the state of the sum of $130million, being advanced payment for the construction of the OCGT power plant in Port Harcourt.
In a 16-count criminal charge filed by the Director of Public Prosecution, C.F. Amadi for the Rivers State Attorney General, the state alleged that after collecting the said sum as advanced payment between 2011 and 2018, the defendants have not kept their obligation under the contract.
Others charged alongside the companies were Walter Peviana; Kelechi Sinteh Chinakwe; Giandomenico Zingali; Vitto Testaguzza and Davide Anelli, who are directors and officers of the companies.
The defendants are charged with various offences ranging from conspiracy, cheating and obtaining credit by false pretence, contrary to Section 518 (6) and (7) and punishable under Section 518 of the Criminal Code, Cap 37 Vol. 2 Laws of Rivers State of Nigeria, 1999, section 419A and punishable under Section 419 (A) (1) (b) of the Criminal Code, Cap 37 Vol. 2 Laws of Rivers State, amongst others.
Already, the Rivers State Government has issued a fiat to the law firm of Godwin Obla (SAN) to prosecute the matter before the state High court.
The defendants are equally charged for the offence of false Statements by Officials of Companies contrary to and punishable under Section 436 (b).
The prosecution specifically accused the defendants of obtaining credit of $130million by false pretences or other fraud contrary to Section 419A and punishable under Section 419 (A) (1) (b); obtaining credit of $20,467,942.00 by false pretences or other fraud contrary to Section 419A and punishable under Section 419 (A) (1) (b), obtaining credit of N7,000,000,000.00 only by false pretences or other fraud contrary to Section 419A and punishable under Section 419 (A) (1) (b).
They are charged for obtaining credit of N318,640,173.54, by false pretences or other fraud contrary to Section 419A and punishable under Section 419 (A) (1) (b); attempt to cheat $97million contrary to Section 508 and punishable under Section 509; attempt to cheat $15million contrary to Section 508 and punishable under Section 509; conspiracy to receive a credit of $97million by false pretences contrary to Section 518 (6) and punishable under Section 518; cheating $11million contrary to Section 421 and punishable under Section 421; cheating contrary to Section 421 and punishable under Section 421; cheating N110, 097, 416.51 contrary to Section 421 and punishable under Section 421; cheating by collecting sums attributable to shared facilities already paid for in AFAM Phase I in AFAM Phase II contrary to Section 421 and punishable under Section 421.
Obtaining N20, 467, 942 contrary to Section 421 and punishable under Section 421; obtaining credit of $60,168,936.00 by false pretences or other fraud, contrary to Section 419A and punishable under Section 419 (A) (1) (b); obtaining credit of $1,512,034.00 by false pretences or other fraud contrary to Section 419A and punishable under Section 419 (A) (1) (b) all of the Criminal Code Law of Rivers State, Cap 37 Vol. 2 Laws of Rivers State of Nigeria 1999.
According to the Proof of Evidence attached to the charge and the statement made by the Head, Power Generation/Mechanical of the Rivers State Ministry of Power, one Mr Temple Azunda M., the facts constituting the case in hand are as follows:
Saipem SPA and Saipem Contracting Nigeria Limited and other officers of the duo, herein the Defendants, are Italian companies which services have been retained by the Rivers State Government, herein RSG, in several projects, prominent amongst which is the AFAM Phase II Power Plant Project.
By an initial tripartite agreement made on the January 20, 2010, the RSG under the auspices of the Rivers State Ministry of Power entered a contract with Saipem Contracting Nigeria Limited, Saipem SPA for the construction of the OGCT power plant in Port Harcourt at a total cost of $119million consequent upon which the Rivers State Government made advance payments, in instalments, to Saipem Contracting Nigeria Ltd and Saipem SPA amounting in total to a sum of $130million in all which the Defendants have acknowledged receipt of.
The Defendants were to be given an initial mobilization of 20per cent of the total contract sum which the RSG paid.
It was part of the initial agreement – and indeed a condition sine qua non – that, to access the 2nd tranche of payment of 25per cent from the Rivers State Government, the Defendants would mandatorily have installed the Gas Turbine into the foundations as referenced in ATTACHMENT 1 to VO 007 which states that:
CONTRACTOR shall be entitled to a payment corresponding to 20per cent of the VO No. 007 LS PRICE upon mobilisation to site and commencement of bush clearing activities at SITE.
Upon commencement of bush clearing activities at the site, the contractor shall issue the invoice relevant to the above payment and the owner shall pay such invoice within 14 days from its issuance.
The parties agree that no deduction for recovery of advance payment shall apply on the payment due to the contractor for invoices issued by the contractor in accordance with this paragraph.