US Senators Support Iraq's Frugality In Oil, Gas Industry
Top United States' Senators Benjamin Cardin and Richard Lugar have expressed strong support for Iraq's commitment to greater transparency in its oil and gas industry. 
Cardin is a senior Democrat from the State of Maryland while Lugar is a core Republican from the State of Indiana, and both are members of the powerful Senate Foreign Relations Committee.
Iraq formally announced its intention to become a candidate country in the Extractive Industries Transparency Initiative (EITI) last week, following years of growing interest in the initiative from Iraqi leaders.
The Tide notes that EITI is an international coalition of governments, companies and civil society that promotes good governance through the publication of oil, gas and mining revenues.
According to Cardin, who has promoted EITI as a member of the Senate Foreign Relations Committee and chairman of the Commission on Security and Cooperation in Europe, "this is a significant step towards a greater future for Iraq".
"The EITI process has proven to strengthen civil society and increase revenue transparency. By joining this coalition, Iraq's leaders are committing to transparency that will empower citizens to hold their government accountable," he added.  
Lugar, the ranking Republican on the Foreign Relations Committee, said "as oil and gas is the single largest source of revenue for Iraq, it is important that the revenues generated benefit the people of Iraq, and not just a handful of businessmen and officials," stressing that, "by committing to implement EITI, Iraq is creating a foundation for good governance and accountability in a sector critical to the country's future stability."   
Senators Cardin and Lugar, along with eight other co-sponsors, recently introduced the Energy Security Through Transparency Act (S. 1700), a bipartisan bill that aims to increase transparency through public disclosure of oil, gas and mining payments, and encourages United States' participation in EITI.
'NNPC Spent N15b To Reconstruct Lagos-Badagry Expressway'
The Nigerian National Petroleum Company Limited (NNPC Ltd.) has disbursed N15 billion for the reconstruction of the Lagos Badagry Expressway under the Federal Government Road Infrastructure Tax Credit (RITC) Scheme.
The N15 billion represents a 100 per cent payment of the funding of the Lagos-Badagry Road rehabilitation under the tax credit funding of the NNPC Ltd.
Group Chief Executive, NNPC, Mr Mele Kyari, made this known when he led NNPC's management team with some top government officials to inspect the ongoing rehabilitation and expansion of Lagos-Badagry Expressway (Agbara Junction-Nigeria/Benin Border).
The road under rehabilitation is being funded by the NNPC Ltd. under the Federal Road Infrastructure Development and Refurbishment Investment Tax Credit Scheme.
The execution of the scheme is being carried out in collaboration with the Federal Ministry of Works and Housing as the supervisor and Federal Inland Revenue Service (FIRS) for NNPC's tax obligations deductions.
This is in response to address the plight faced by petroleum products marketers in transportation which affects nationwide distribution.
Kyari said the fund disbursed was part of the N621.24 billion earmarked for the reconstruction of 21 roads nationwide under the scheme.
He expressed satisfaction over the stage of the road development.
"We are covering 1,804.6mkm across the country and taking another set of over a trillion naira investment on infrastructure in Nigeria, believing that with the tax credit system which Mr President has put in place, very soon there will be massive change.
"NNPC as the enabler will consider from its cash flow and fund whatever FIRS and Ministry of works approve for the company", he said.
The Minister of Works and Housing, Mr Babatunde Fashola, represented by the Director, Highways, Roads and Rehabilitation of the Ministry, Mr Folorunsho Esan, said the intervention of the NNPC sped up the reconstruction of the expressway.
Esan said the project was 40 per cent completed.
"In the next 12 months we should be able to deliver this project because the drainages are in place, just for earth works and pavement works, it cannot take us more than 12 months," he said.
Speaking on the gridlock being caused by the Lagos-Ibadan Expressway project, he said the contractor would clear all impediments and move out of site by December 15 to make the highway free for Yuletide.
Oil Marketers Urge Buhari To Crash Diesel Price
Petroleum marketers under the platform of Natural Oil and Gas Suppliers Association of Nigeria (NOGASA) rose from their 2nd National Executive Council (NEC) meeting last week, within a plea to President Muhammadu Buhari to direct the Central Bank of Nigeria (CBN) to make dollars available at official rate to oil marketers.
This, they said, will enable them import diesel, end petrol scarcity, and ultimately save the Nigerian economy from sinking, saying that dollar support should be available till Dangote Refinery comes on stream later in the year.
The association, among others, urged the National Assembly to immediately enact a Bill for the establishment of Energy Bank for easy transaction in petroleum products in the sector.
National President of the Association, Mr Benneth Korie, who briefed the media after the NEC meeting in Abuja, noted that the bulk of the operational challenge peppering marketers and depot owners spring from expensive diesel which hovers around N850/litre.
While thanking President Muhammadu Buhari for approving a higher bridging cost payment to transporters, Korie said the operators' challenges were far from over as oil marketers and depot owners spend about N20 million weekly on diesel to power their operations, thus eroding their profits.
The association urges the National Assembly to review the policy of taxation as it affects petroleum products supply and distribution chain.
Senate To Honour Brave Petrol Tanker Driver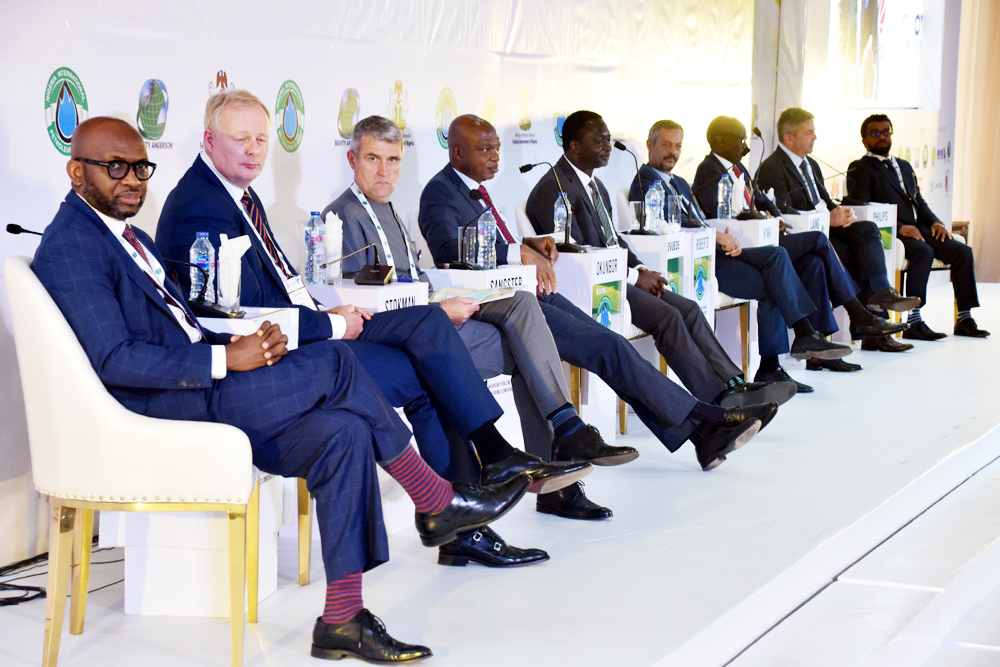 The Senate has resolved to honour Ejiro Otarigho, the brave tanker driver who drove a burning tanker from danger zone to avert a tragic fire incident in Agbarho, Delta State.
The Senate has also recommended Ejiro to President Muhammadu Buhari for National Honours.
This followed a motion moved by the Deputy President of the Senate, Senator Ovie Omo-Agege, and co-sponsored by Senator James Manager and Senator Peter Nwaoboshi, at plenary.
It would be recalled that in a rare act of bravery, Ejiro had last week driven a burning tanker from danger zone to avert what could have been a tragic fire incident in Agbarho, Delta State.
The incident happened last Friday when Ejiro drove the burning truck for 25 minutes from a densely populated area to Agbarho River where the tanker was completely razed in the inferno. The act was captured by onlookers and had gone viral.
Rising under Order 45 and 52 of the Senate Standing Order 2021 (as amended), Senator Omo-Agege stressed that but for Ejiro's courage, a major fire disaster which would have claimed several lives and property could have happened in his senatorial district.
The Delta Central lawmaker noted that Ejiro's "extraordinary display of courage, reflex application of special driving skills, and huge risk to his own life, prevented a huge national tragedy and catastrophe by driving a burning tanker loaded with inflammable petroleum products from residential areas to safety so that thousands of our people may not die in an inferno that would also have consumed so much property in Agbarho, Delta State on Friday, June 10, 2022".
The driver's audacious act of heroism, he stressed, has saved the nation from national tragedy and mourning.
Accordingly, the Senate resolved to "invite Mr. Ejiro Otarigho to the Chamber of the Senate for public commendation by the President of the Senate, Senator Ibrahim Lawan.
"Recommend Mr. Ejiro Otarigho to His Excellency, President Muhammadu Buhari, GCFR, President and Commander-in-Chief of the Armed Forces of Nigeria, for a befitting National Honour as Mr. President may deem fit for his extraordinary act of bravery, courage and skill that prevented the loss of human lives and property on a massive scale".
President of the Senate, Senator Ahmad Lawan, who presided over plenary, hailed the driver for risking his life to drive the burning truck out of residential area to save lives.