Abdul Mutallab: What US Should Note
For over three decades now, Nigeria and the United States of America (USA) have enjoyed superb diplomatic relations and bilateral ties with each other. In international scene, Nigeria and US share many things in common, in peace keeping and being benefactor to poor nations. Nigeria, till date remains the greatest US trade partner in Africa.
Like US, Nigeria has financially assisted many African countries that were in political and economic crises to get out of their problems. These countries are Angola, Zimbabwe, Zambia, South Africa, Liberia, Sierra Leone, among others. There is anti-terrorism bill awaiting the passage of the National Assembly before the Christmas day attempted suicide bomb incidence. Nigeria is a progressive nation that has contributed immensely to the progress and peaceful co-existence of African nations. It is therefore, unfair and undeserving for Nigeria to be hastily blacklisted as a terrorist national by the US on account of one Nigerian.
No right thinking Nigeria will support the barbaric act of the Mallam Farouk Umaru AbdulMutallab's attempt to blow up an American airline, especially at a time when our brother, Mr Barack Obama occupies the White House as the president.
We felt bad, grossly dismayed, embarrassed and disappointed that a young Muttalab who hails from a wealthy home, well brought up and well taken care of should engage in a bombing that will also claim his own life. Although, a Nigerian, AbdulMutallab grew up and trained outside Nigeria. Nigeria as a nation did not train or encourage the young man to be a terrorist nor support his actions.
United Nations Charter on human rights guaranteed individuals freedom of movements and association, so it is not the duty of Nigeria as a nation to monitor AbdulMutallab or any other Nigerian in foreign lands to know where thy go, whom they associate with and what they do. It is the responsibility of the security agents of each county, particularly those as the airports to monitor people going in and out of their countries. Thus, the security at the Ghanaian and Amsterdam airports where Mutlallab passed without detection should be blamed and held responsible and not Nigeria. Again, it has been established that it was in United Kingdom and not in Nigeria that young Mutallab was recruited as a terrorist by Al Qaeda.
What is more, his multi millionaire father, a quiet, principled and disciplined industrialist, Alhaji Umaru Mutallab had earlier reported his son to US embassy in Abuja on account of his radical tendencies, yet no action whatsoever was taken. Confirming this, President Obama in his reaction over the incident, acknowledged hat Abdul Muttalab's father had indeed reported the extremist views of his son to the U authority, but regretted that such vital information was not passed to a component of their intelligence community nor effective distribution.
Today, the remedy is that AbdulMutalab is Nigerian; otherwise the story would have been different. It would have been a black Christmas day for the passengers' relatives. As we are all aware, Nigerians love life and comfort, perhaps the young man was wondering inside the plane how he would lose his life and the world he was enjoying with his father's wealth through suicide bombing, that he forgot to carry out the devilish assignment until 10 minutes to the landing of plane at the Detroit airport US that he began absent minded to denote the bomb. He was immediately overpowered and arrested by the passengers and handed over to the security at the Detroit airport after the plane had landed safety. I wish to assure President Obama and the United States that Nigerians will not excel in suicide bombing terrorism because Nigerians love life and luxuries. Over the year, Nigerian leaders have subjected the poor masses in Nigeria to all manner of hardships, no one contemplate committing suicide. Rather, our belief, hope and song is "life go better".
Again, Nigeria is a country of over 150 million people with different culture and tradition, upbringings and background. It is unfair on account of one person's misdeed for the entire Nation to be blacklisted and branded as a terrorist country, and its law abiding and enterprising travellers subjected to unnecessary and embarrassing scrutiny and search at various airports worldwide.
Nigeria is working hard to remove the stigma of 419 on its Nationals through the establishment of the Economic and Financial Crime Commission (EFCC) and re-branding projects of the Federal Government. So we can accept the stigmatisation of Nigeria as a terrorist nation as a result of one person's misbehaviour. It is on this basis that I call on the United States to rescind its decision to tag Nigeria as terrorist nation and plead that Nigerians be treated with dignity at various airports of the world.
Nigeria strongly believes in Obama's government and hopes to learn and gain from his administration. It will be unwise and not in the interest of African nations for Nigeria, a leading country in the continent of Africa to be kept afar, looked upon and treated as a terrorist nation by the United States, and the rest of the world. Bearing in mind that Nigeria and US had partnered well in business of peace keeping of many Nations of the world.
Prince Ogbuehi is as commentator in national affairs wrote in from Port Harcourt.
Ogbuehi is editor's guest
Prince Ike Ogbuehi
Buhari Seeks Return To Family Values In Rebuilding Nigeria …Wike, Tambuwal, Other Govs Attend Ikpeazu's Son's Wedding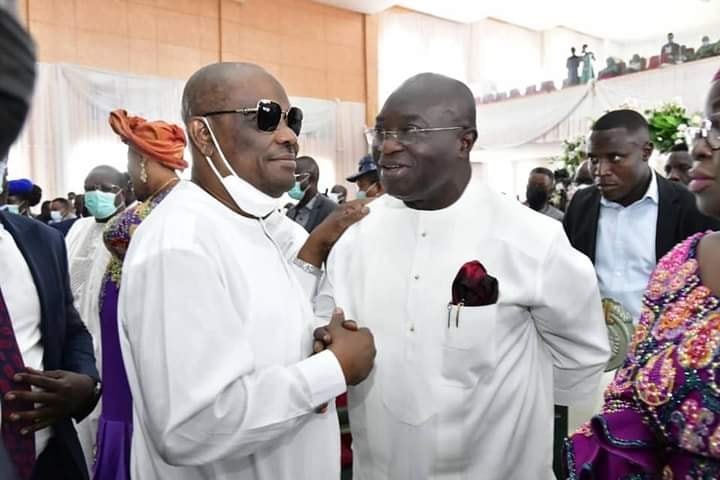 President Muhammadu Buhari has said that the reason why there were so many problems in the Nigerian society was because of a diminishing emphasis placed on the importance of family values.
Buhari said this, yesterday, at the wedding of Mr. Jachimike Ikpeazu, son of Abia State Governor, Dr. Okezie Ikpeazu at the International Conference Centre in Umuahia, Abia State.
At the event, the groom wedded his heartbeat, Miss Thelma Chidinma.
The wedding was also attended by the Rivers State Governor, Chief Nyesom Wike, Sokoto State Governor, Hon. Aminu Tanbuwal, and several other dignitaries.
Others present at the wedding service that was conducted by the Seventh Day Adventist Church were Akwa Ibom State Governor, Udom Emmanuel; Edo State Governor, Godwin Obaseki; Bayelsa State Governor, Senator Douye Diri; Bauchi State Governor, Senator Bala Mohammed; Ebonyi State Governor, Engr. David Umahi; and Enugu State Governor, Chief Ifeanyi Ugwuanyi.
Also at the event were the immediate past governor of Anambra State, Peter Obi; and National Secretary-elect of the Peoples Democratic Party, Senator Sam Anyanwu.
Buhari, who was represented at the occasion by the Minister of State for Mines and Steel Development, Dr. Uche Ogah, decried the situation where parents and guardians who should have paid greater attention in inculcating good character in their wards, have abdicated that responsibility.
He sued for a collective effort across tribes and regions towards restoring family values and giving it its rightful place.
"Marriage is family value, character. The reasons why there are issues in the society, today, is because families are broken. When values are enshrined in families, the entire society will be good."
Buhari charged the couple to build their family on the word of God, have a regular family altar of prayers, and give good attention to building enduring character.
Wife of the President, Aisha Buhari, who was represented by wife of the Ebonyi State Governor, Mrs. Rachael Umahi, told the couple to know that marriage is where love is celebrated.
She urged them to continue in the training given to them by their parents, and learn to love themselves more so that their home can be a blessing and impact positively on others around them.
In his sermon, Pastor B. E. O. Udoh, admonished the couple not to allow their love for each other to diminish.
He further urged them to be tolerant, support each other to become their best, build and cultivate goodly character.
In his remarks, Abia State Governor, Dr. Okezie Ikpeazu said it was delightful to watch his son take a wife to himself, and prayed God to make their union fruitful.
Ikpeazu expressed gratitude to Buhari and his wife, his brother governors, political associates and friends who attended the event, for honouring him with their presence.
Insurgents Planning To Attack Military Bases, DSS Alerts
The Department of State Services (DSS) has issued an alert over planned attacks by insurgents on Ogun border communities and other border communities in Nigeria.
In a letter signed by the State Director of Security, Ogun State Command, M.B. Abdullahi, DSS warned that it has intelligence that the insurgents were plotting to attack military bases in border towns.
The DSS also advised customs and other security agencies in the country to put counter-measures in place to frustrate the plot by the insurgents.
The letter titled, 'Plans by insurgents to launch attacks on military bases in various border communities' read, "Available intelligence indicates plans by insurgents and criminal elements to carry out simultaneous attacks on military posts and bases in various border communities across the nation anytime from now.
"In view of the foregoing and the likelihood such attacks not limited to the military personnel only, all law enforcement and security agencies with operational bases at border communities are advised to take note of the above threat and emplace countermeasures with emphasis on personal security of operatives to frustrate the planned attack."
PAP Partners NNPC To Sustain Peace In N'Delta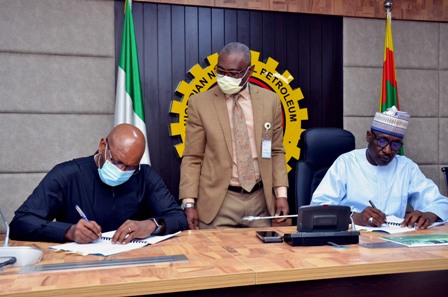 Towards attaining sustainable peace in the Niger Delta region, the Presidential Amnesty Programme (PAP) and the Nigerian National Petroleum Corporation (NNPC) have agreed to work together to tackle pipeline insecurity, unemployment and other challenges in the region.
The agreement was reached when PAP's Interim Administrator, Col. Milland Dixon Dikio (rtd) led a delegation to visit the Group Managing Director, NNPC, Mr Mele Kyari, in Abuja, over the weekend.
In a statement signed by the Special Adviser on Media to the Acting Administrator, Mr Neotaobase Egbe, PAP said the meeting was strategic and in line with the objective of programme to partner with all relevant stakeholders for the full implementation of the amnesty programme.
He said PAP was courting willing partners to have robust synergy to drive the Niger Delta Recovery Plan (NDRP) to fruition.
The statement noted that though PAP was executing its own role in reintegrating 30,000 ex-agitators captured by the Presidency, there was a need to strengthen partnership between sister agencies of government for the sustainable development of the Niger Delta.
He said the NNPC like other institutions of government had roles to play in oil assets redistribution, infrastructural development and environmental remediation.
Dikio said that there was a need to control disruptions in oil production, saying destructive energies could be channelled into productive ventures through re-orientation and sustained advocacy.
He also said that PAP had made efforts to cut down irrelevant trainings and had become intentional about successfully empowering its delegates.
He said trainings over the years had become contractor-driven and were not meeting the beneficiaries' needs.
Dikio maintained that the PAP was targeting functional businesses that had the capacity to train, employ and mentor delegates into becoming successful business owners.
He said: "For instance, if we have someone that has a commercial poultry farm and we partner with them to train our delegates, they will be employed after their training. In the course of two years and five months they will be taken through the ropes of poultry farming before they are sent out to start their own poultry.
"It is a win-win for everybody. We did the research and we discovered that the cassava plant in Bayelsa needs about 20,000 metric tons of cassava daily, so there is ample opportunity for our delegates to go into that kind of business.
"Again, palm oil when sold in international markets is above $1,000 a ton, and here, we are in the region only focusing on oil and gas".
Dikio further said there were arrays of businesses the PAP was looking to inject delegates into, adding that exceptional graduates under the PAP scholarship scheme had more opportunities for employment.
In his remarks, the NNPC GMD, Mele Kyari, commended Dikio for the efforts to ensure peace in the Niger Delta, and emphasised the need to sustain the peace through accommodation and inclusiveness of Niger Delta youths.
He bemoaned the inability of the oil industry to fulfil its obligations to the region over the years, saying that it was one of the reasons the amnesty programme had prolonged.
He said: "As we speak today, we have seen a number of increasing incidents of unrest; cases that remind us of the past we don't want to recollect again.
"Therefore, everything you have said points to the fact that inclusion, support and empowerment for young people particularly in the Niger Delta will bring peace and development to the Niger Delta. No amount of resources available to you will give you peace except there is alignment with the respective players in the space".
Kyari said the award of licences to investors to begin production on about 57 marginal oil fields within Niger Delta in 2022 was designed to support businesses that originated from the region because most of the beneficiaries from the marginal field programme were indigenes of the Niger Delta.
He said working together would bring lasting peace to the region, explaining that the number of experienced technical people produced from the programme, would easily fill employment opportunities.
He said: "Once you create opportunities and investments return, more employment opportunities will come. I think it is a good thing that we work together, both the amnesty programme and all other actors in this space to bring the lasting peace to the Niger Delta and across our country, where people can benefit because ultimately if we cannot give, there will be nothing to show in another five to ten years, that is the reality that we are in."
By: Akujobi Amadi