Togo Withdraws From Nations' Cup … Four Persons Die
Togo's national soccer side is pulling out of the Africa Cup of Nations tournament after the deadly machine-gun attack on its team bus, according to captain and star striker Emmanuel Adebayor.
Adebayor told his English club Manchester City that the Togo players were now heading home to their families after deciding to leave Angola.
City's head of media relations Simon Heggie, who also represents Adebayor, told newsmen that the players met on Saturday morning in the wake of the previous day's assault by rebel fighters near the border between Angola and the Republic of Congo.
Togo had been scheduled to play against Ghana on Monday in Cabinda, one of the tournament venues in Angola.
Adebayor was unhurt, Heggie said, but there have been conflicting reports over the casualties — two people are now believed to be dead, according to SOS International, which transports injured people to hospitals.
The bus driver and another person from the team died, said the group's regional medical director Fraser Lamond, but it is not clear if the latter was a player.
Lamond said a third wounded person was being evacuated to Johannesburg, South Africa for treatment.
The City Web site said the bus driver was killed and two players were shot and injured, while seven other people were wounded.
"It has been made clear by manager Roberto Mancini and senior officials that Emmanuel will now be given as much time as he needs to recover from the horrific attack," Heggie said on Saturday.
The tournament organizers earlier said it will go ahead despite the attack.
Confederation of African Football President Issa Hayatou will meet Saturday with Angolan Prime Minister Antonio Paulo Kassoma "to take decisions to guarantee the smooth running of the competition," a statement on the organization's Web site said.
"The Confederation of African Football is terribly saddened by these events and expresses its total support as well as sympathy to the entire Togolese delegation," the statement said.
Football's world governing body FIFA said it was "deeply moved" by the incident and expressed "utmost sympathy with the Togolese players. It said it expected a full report from the CAF on the situation.
Togo midfielder Moustapha Salifou revealed that goalkeeper Kodjovi Obilale was one of the people shot.
"I know I am really lucky. I was in the back of the coach with Emmanuel Adebayor and one of the goalkeepers," Salifou told the Web site of his English club Aston Villa.
"A defender who was sat in front of me took two shots in the back. The goalkeeper, Obilale, one of my best friends, was shot in the chest and stomach area and he has been flown to South Africa to undergo an operation to save his life.
"It was horrific. Everybody was crying. I couldn't stay in control myself and I cried when I saw the injuries to my friend."
The shooting lasted for half an hour and I could hear the bullets whistling past me. It was like a movie –Togo midfielder Moustapha Salifou.
"It was only 15 minutes after we crossed into Angola that the coach came under heavy fire from rebels. The driver of the coach was shot almost immediately and died instantly, so we were just stopped on the road with nowhere to go.
"Our security people saved us. They were in two separate cars, about 10 of them in total and they returned fire. The shooting lasted for half an hour and I could hear the bullets whistling past me. It was like a movie."
Hosts Angola are due to kick off the tournament against Mali on Sunday in Luanda. It is Angola's first major sporting event since a 2002 peace deal brought the southern African country's decades-old civil war to an end.
It also marks the beginning of a year in the spotlight for African football with South Africa set to become the continent's first country to host the FIFA World Cup, football's showpiece event, in June.
Friday's attack occurred in Cabinda, a disputed oil-rich enclave separated from the rest of Angola by Democratic Republic of Congo territory, shortly after the team bus had crossed the border.
Togo striker Thomas Dossevi, who was on the bus, said the driver was killed in the attack and three others were wounded. But Angola's official press agency, ANGOP, reported nine people were wounded — eight Togolese and one Angolan.
An armed wing of a separatist group, the Forces for Liberation of the State of Cabinda, claimed responsibility for the attack. newsmen cannot independently verify the claim.
We were attacked by armed rebels who used Kalashnikovs. We had just passed the border and we were attacked from both sides –Togo striker Thomas Dossevi.
Angola, which was wracked by civil war for nearly three decades, brokered a peace deal in 2006 with separatists seeking an independent republic of Cabinda. The southern African country is one of the world's largest energy producers and a major supplier of petroleum and liquefied natural gas to the U.S. market.
Dossevi, 30, who plays for French side Nantes, told journalists "armed rebels" with AK-47s had opened fire.
"We were attacked by armed rebels who used Kalashnikovs. We had just passed the border and a couple of minutes later we were attacked from both sides.
"We hid below the seats — we had police protection in front and behind but we were attacked from both sides. As soon as I heard the bullets I went to the floor. … The attack lasted for 10-15 minutes," Dossevi said.
The Africa Cup of Nations is one of the world's biggest football tournaments, bringing together stars including Chelsea's Didier Drogba and Michael Essien, Inter Milan's Samuel Eto'o and Barcelona's Yaya Toure and watched by television audiences of tens of millions.
This month's tournament has been eagerly anticipated as an early chance to assess the form of African powerhouses such as Drogba's Ivory Coast, Essien's Ghana and Eto'o's Cameroon ahead of the World Cup.
Buhari Seeks Return To Family Values In Rebuilding Nigeria …Wike, Tambuwal, Other Govs Attend Ikpeazu's Son's Wedding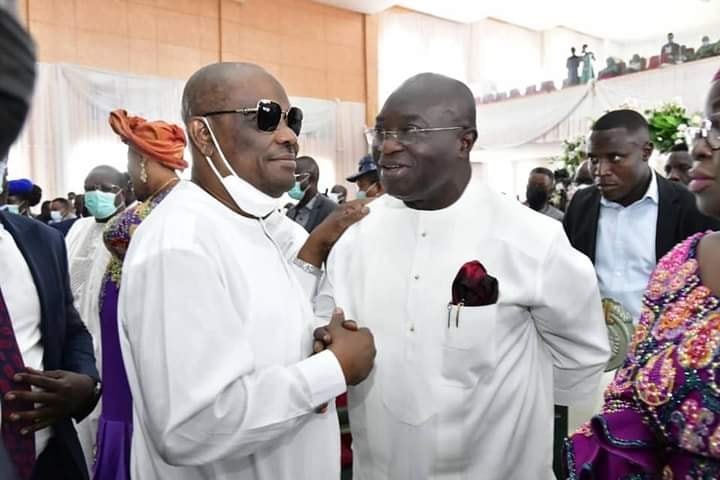 President Muhammadu Buhari has said that the reason why there were so many problems in the Nigerian society was because of a diminishing emphasis placed on the importance of family values.
Buhari said this, yesterday, at the wedding of Mr. Jachimike Ikpeazu, son of Abia State Governor, Dr. Okezie Ikpeazu at the International Conference Centre in Umuahia, Abia State.
At the event, the groom wedded his heartbeat, Miss Thelma Chidinma.
The wedding was also attended by the Rivers State Governor, Chief Nyesom Wike, Sokoto State Governor, Hon. Aminu Tanbuwal, and several other dignitaries.
Others present at the wedding service that was conducted by the Seventh Day Adventist Church were Akwa Ibom State Governor, Udom Emmanuel; Edo State Governor, Godwin Obaseki; Bayelsa State Governor, Senator Douye Diri; Bauchi State Governor, Senator Bala Mohammed; Ebonyi State Governor, Engr. David Umahi; and Enugu State Governor, Chief Ifeanyi Ugwuanyi.
Also at the event were the immediate past governor of Anambra State, Peter Obi; and National Secretary-elect of the Peoples Democratic Party, Senator Sam Anyanwu.
Buhari, who was represented at the occasion by the Minister of State for Mines and Steel Development, Dr. Uche Ogah, decried the situation where parents and guardians who should have paid greater attention in inculcating good character in their wards, have abdicated that responsibility.
He sued for a collective effort across tribes and regions towards restoring family values and giving it its rightful place.
"Marriage is family value, character. The reasons why there are issues in the society, today, is because families are broken. When values are enshrined in families, the entire society will be good."
Buhari charged the couple to build their family on the word of God, have a regular family altar of prayers, and give good attention to building enduring character.
Wife of the President, Aisha Buhari, who was represented by wife of the Ebonyi State Governor, Mrs. Rachael Umahi, told the couple to know that marriage is where love is celebrated.
She urged them to continue in the training given to them by their parents, and learn to love themselves more so that their home can be a blessing and impact positively on others around them.
In his sermon, Pastor B. E. O. Udoh, admonished the couple not to allow their love for each other to diminish.
He further urged them to be tolerant, support each other to become their best, build and cultivate goodly character.
In his remarks, Abia State Governor, Dr. Okezie Ikpeazu said it was delightful to watch his son take a wife to himself, and prayed God to make their union fruitful.
Ikpeazu expressed gratitude to Buhari and his wife, his brother governors, political associates and friends who attended the event, for honouring him with their presence.
Insurgents Planning To Attack Military Bases, DSS Alerts
The Department of State Services (DSS) has issued an alert over planned attacks by insurgents on Ogun border communities and other border communities in Nigeria.
In a letter signed by the State Director of Security, Ogun State Command, M.B. Abdullahi, DSS warned that it has intelligence that the insurgents were plotting to attack military bases in border towns.
The DSS also advised customs and other security agencies in the country to put counter-measures in place to frustrate the plot by the insurgents.
The letter titled, 'Plans by insurgents to launch attacks on military bases in various border communities' read, "Available intelligence indicates plans by insurgents and criminal elements to carry out simultaneous attacks on military posts and bases in various border communities across the nation anytime from now.
"In view of the foregoing and the likelihood such attacks not limited to the military personnel only, all law enforcement and security agencies with operational bases at border communities are advised to take note of the above threat and emplace countermeasures with emphasis on personal security of operatives to frustrate the planned attack."
PAP Partners NNPC To Sustain Peace In N'Delta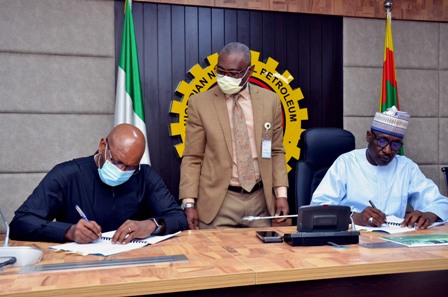 Towards attaining sustainable peace in the Niger Delta region, the Presidential Amnesty Programme (PAP) and the Nigerian National Petroleum Corporation (NNPC) have agreed to work together to tackle pipeline insecurity, unemployment and other challenges in the region.
The agreement was reached when PAP's Interim Administrator, Col. Milland Dixon Dikio (rtd) led a delegation to visit the Group Managing Director, NNPC, Mr Mele Kyari, in Abuja, over the weekend.
In a statement signed by the Special Adviser on Media to the Acting Administrator, Mr Neotaobase Egbe, PAP said the meeting was strategic and in line with the objective of programme to partner with all relevant stakeholders for the full implementation of the amnesty programme.
He said PAP was courting willing partners to have robust synergy to drive the Niger Delta Recovery Plan (NDRP) to fruition.
The statement noted that though PAP was executing its own role in reintegrating 30,000 ex-agitators captured by the Presidency, there was a need to strengthen partnership between sister agencies of government for the sustainable development of the Niger Delta.
He said the NNPC like other institutions of government had roles to play in oil assets redistribution, infrastructural development and environmental remediation.
Dikio said that there was a need to control disruptions in oil production, saying destructive energies could be channelled into productive ventures through re-orientation and sustained advocacy.
He also said that PAP had made efforts to cut down irrelevant trainings and had become intentional about successfully empowering its delegates.
He said trainings over the years had become contractor-driven and were not meeting the beneficiaries' needs.
Dikio maintained that the PAP was targeting functional businesses that had the capacity to train, employ and mentor delegates into becoming successful business owners.
He said: "For instance, if we have someone that has a commercial poultry farm and we partner with them to train our delegates, they will be employed after their training. In the course of two years and five months they will be taken through the ropes of poultry farming before they are sent out to start their own poultry.
"It is a win-win for everybody. We did the research and we discovered that the cassava plant in Bayelsa needs about 20,000 metric tons of cassava daily, so there is ample opportunity for our delegates to go into that kind of business.
"Again, palm oil when sold in international markets is above $1,000 a ton, and here, we are in the region only focusing on oil and gas".
Dikio further said there were arrays of businesses the PAP was looking to inject delegates into, adding that exceptional graduates under the PAP scholarship scheme had more opportunities for employment.
In his remarks, the NNPC GMD, Mele Kyari, commended Dikio for the efforts to ensure peace in the Niger Delta, and emphasised the need to sustain the peace through accommodation and inclusiveness of Niger Delta youths.
He bemoaned the inability of the oil industry to fulfil its obligations to the region over the years, saying that it was one of the reasons the amnesty programme had prolonged.
He said: "As we speak today, we have seen a number of increasing incidents of unrest; cases that remind us of the past we don't want to recollect again.
"Therefore, everything you have said points to the fact that inclusion, support and empowerment for young people particularly in the Niger Delta will bring peace and development to the Niger Delta. No amount of resources available to you will give you peace except there is alignment with the respective players in the space".
Kyari said the award of licences to investors to begin production on about 57 marginal oil fields within Niger Delta in 2022 was designed to support businesses that originated from the region because most of the beneficiaries from the marginal field programme were indigenes of the Niger Delta.
He said working together would bring lasting peace to the region, explaining that the number of experienced technical people produced from the programme, would easily fill employment opportunities.
He said: "Once you create opportunities and investments return, more employment opportunities will come. I think it is a good thing that we work together, both the amnesty programme and all other actors in this space to bring the lasting peace to the Niger Delta and across our country, where people can benefit because ultimately if we cannot give, there will be nothing to show in another five to ten years, that is the reality that we are in."
By: Akujobi Amadi