Chinese Wind Power Companies Target Global Markets
China's Goldwind Science & Technology Limited is one of the world's biggest makers of wind turbines, a cornerstone of the booming clean power business, but is unknown outside its home country.
Goldwind aims to change that. In a Minnesota farmer's cornfield, the company is erecting three 20-story-tall windmills in its first American project and hopes it will help to woo other buyers.
"There are a lot of leads and we are following them up," said Kerry Zhou, Goldwind's director of development. "We certainly expect that by 2011 we can get good results."
China's market for wind equipment is on track to overtake the United States this year as the world's largest, spurred by a government campaign to promote renewable energy to clean up its battered environment and curb surging demand for foreign oil and gas.
Now the biggest Chinese manufacturers want to expand to the United States, Europe and other markets. Western suppliers could face new competition as low-priced Chinese rivals seek to profit from global efforts to limit climate change.
Chinese manufacturers could get a boost if officials at this week's United Nations climate summit in Copenhagen, Denmark, agree on new measures to spread use of clean energy.
Beijing is promoting the industry as part of sweeping efforts to transform China into a creator of profitable technologies. Utilities have been told to step up clean energy spending even as the global crisis cuts into investment elsewhere.
"China is a major player and will dominate the future development of wind," said Lars Andersen, president for China of Denmark's Vestas Wind Systems A/S, the world's biggest maker of wind turbines.
Chinese wind companies' technology lags behind global leaders such as Vestas and General Electric Co. But their prices are up to 50 percent lower, which industry analysts say should make them competitive abroad.
"The performance-to-price ratio is quite attractive," said Victoria Li, who follows the industry for Credit Suisse in Shanghai. "I think they could see strong growth from export revenue within two years."
Last year, China accounted for 22 percent of new global wind capacity, while the United States was 29.6 percent, according to BTM Consult, a Danish research firm. This year, Credit Suisse says China will install up to one-third of new capacity.
The industry has gotten a boost from a flow of money through the Clean Development Mechanism. The U.N. programme allows industrialised economies to meet commitments to reduce greenhouse gas emissions by paying developing countries to cut their own instead. China is the biggest recipient of CDM money.
Chinese demand is so huge that with almost no foreign sales, Goldwind and rivals Sinovel Wind Co. and Dongfang Electric Co. already rank among top global manufacturers.
Sinovel, Goldwind and Dongfang together made one of every eight wind turbines sold worldwide in 2008, according to BTM. Vestas led global sales with 19.8 percent and GE was second with 18.6 percent.
Beijing-based Sinovel made its first foreign sale last year, shipping 10 1.5-megawatt turbines to India, said a company spokeswoman, Liu Chang. Also in 2008, Goldwind sold six of its smaller 750-kilowatt units to Cuba.
In Minnesota, Goldwind is installing three 1.5-megawatt turbines on a farm in the town of Pipestone. Zhou said the company hopes the site will prove its turbines operate reliably under U.S. weather conditions.
Beijing's tactics in promoting its suppliers have caused strains in trade ties at a time when other governments are scrambling to preserve jobs.
The European Union Chamber of Commerce in China complains that foreign producers have been shut out of bidding for major wind projects. Beijing also required that 70 percent of parts in turbines used in China be domestically made, a rule that was dropped in September only after major foreign producers had set up Chinese factories.
November's announcement that a Chinese manufacturer, A-Power Energy Generation Systems, would build a Texas wind farm prompted an outcry from American critics that stimulus money the project might receive should not go to China. A-Power and its American partners said they would open a U.S. factory.
"We definitely are closely watching the controversy and obstacles for this current project to see what will happen," said Goldwind's Zhou.
Aggressive government goals issued in 2005 call for at least 15 percent of China's power to come from wind, solar and hydropower by 2020. Officials say that target might be boosted to 20 percent.
In July, Beijing raised its wind power goal to 150 gigawatts of generating capacity by 2020, the equivalent of 300 standard coal-fired power plants, up from the 2005 plan's target of 30 gigawatts.
But the industry faces technical hurdles to its growth.
Wind farm construction has raced ahead so fast that 25 percent have yet to be connected to the national power grid. Like the United States, China faces the problem that its windiest areas in the desert northwest and northern grasslands are far from populous cities, requiring expensive transmission lines.
Other companies are developing technology ranging from solar panels and fuel cells to more far-out systems that make power from garbage and used cooking oil.
NSE Begins Week On Negative Note, Loses N19.49bn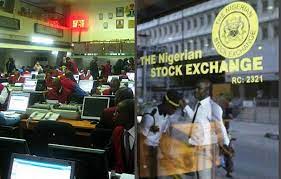 The Nigerian stock market began the week on a negative note as banking and consumer goods stocks, among others, triggered a N19.49bn loss.
At the end of trading on the floor of the Nigerian  Exchange Limited , the NGX All-Share Index dropped by 0.09 per cent to end at 43,270.94 basis points, while the market capitalisation declined to N22.58tn.
Market activities were mixed as the total volume of shares traded decreased by 30.19 per cent while the value traded rose by 34.05 per cent.
A total of 213.13 million shares valued at N2.36bn were exchanged in 4,105 deals, compared to 305.32 million shares worth N3.58bn in 4,450 deals last Friday.
FCMB Group Plc topped the traded stocks in terms of volume, accounting for 27.43 per cent of the total volume of trades while Airtel Africa Plc emerged as the most traded stock by value, representing 28.81 per cent of the total value of trades on the exchange.
14 firms gained compared to 21 losers.
AIICO Insurance Plc was the biggest gainer for the day, topping the gainers' chart with a price appreciation of 8.57 per cent to N0.76 per share.
It was followed by LivingTrust Mortgage Bank Plc with a rise of 7.95 per cent, ending the day at N0.95 per share.
Analysing by sectors, three of the five major indices closed lower, led by NGX Oil & Gas (-0.56 per cent), NGX Consumer Goods (-0.23 per cent) and NGX Banking (0.18 per cent).
But the insurance (0.82 per cent) and industrial goods (0.002 per cent) indices gained at the end of trading.
… Introduces TIES To Boost  Business Loan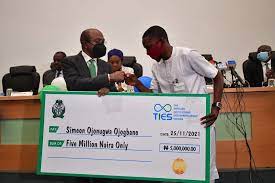 The Central Bank of Nigeria (CBN) has introduced the Tertiary Institutions Entrepreneurship Scheme (TIES), which provides undergraduates and graduates with a platform to access loans.
The TIES' underlying aim is to provide access to capital for Nigerian undergraduates and graduates with innovative entrepreneurial and technological ideas from polytechnics and universities.
TIES intends to shift undergraduates and graduates away from white-collar job pursuits and towards a culture of entrepreneurship development for economic development and job creation.
In a national biennial entrepreneurship competition, the Developmental Component would be distributed in the form of awards to Nigerian polytechnics and universities.
The competition aims to increase undergraduates' awareness and visibility of high-impact entrepreneurial/technological concepts, foster entrepreneurial talent hunts in Nigerian polytechnics and universities, and encourage commercially viable and transformative technologies.
Interested Nigerian polytechnics and universities shall apply to participate in the national biennial entrepreneurship competition on a dedicated online portal.
Outlining brief details of the project, potential impact and evidence of originality of project, CBN said it is an innovation for students entrepreneurs.
CITN Applauds FG, Tax Authorities On Fiscal Policy Decisions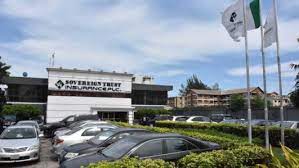 The Chartered Institute of Taxation of Nigeria (CITN) has lauded the Federal Government and tax authorities on the giant strides made on fiscal policy decisions and tax administration measures initiated this year in the area of Finance Act 2021 and the introduction of TaxPromax solution.
President of the institute, Adesina Adedayo, who gave the commendation at the institute's yearly award ceremony at the weekend in Lagos, assured the government and tax authorities of aligning with the measures and promised to provide professional thoughts and insights on ways through which they could achieve an efficient and effective Nigerian tax system.
Adedayo emphasised the need to address the database, adding that without knowing who the tax-payers are, there is no way they can take money from unknown tax-payers.
Database is the aspect we have been emphasising on as an institute and in doing this, there are so many of pockets of data we have. All the data must be harmonised to have a simple unique tax-payers identification number," he said.