Women Form Coalition For Gender Justice
A coalition known as Women Voices Network has been launched to build a synergy to drive positive change in issues around women especially concerning rights and involvement in decision making has been formed in Rivers State.
The network, an outcome of a two-day sensitisation workshop on existing legal instruments- the Convention on Elimination  of All forms of Discrimination Against Women, CEDAW, the Optional Protocol on Human Rights and the Nigerian Gender Policy, for promoting gender justice was formally launched at Mina Hotels Port Harcourt.
Organised by Gender Action for Development, GADA, a gender related non-governmental organisation with support from Stakeholders Network for Democracy, SDN for grassroots women leaders from Erema and Otuesiga attended by representatives of the Federation of Women Lawyers, FIDA, Nigerian Association of Women Journalists, NAWOJ and gender experts and some gender friendly partners, the new platform will advocate for the enactment of an Affirmative Action and Equal Opportunities Commission Bill by the Rivers State House of Assembly and will host quarterly discussion platforms and publications among other activities.
Explaining the rational for the new coalition, Mrs Deborah Effiong, coordinator GADA Rivers State said the wide inequality in the society despite years of the existing instruments to aid women advancement raised the need for a stronger voice to "push for the advancement of Niger Delta women with a view to ending patriarchy and enthrone gender justice. She urged members to be committed so the goals would be achieved.
Launching the network, Mrs Blessing Dienye, director, women affairs in the Rivers State ministry of Women Affairs said the coalition has become imperative because women in Nigeria, Rivers State in particular, have failed to speak out on their needs and that has robbed them of numerous opportunities.
The director urged women to rise up in unity, push forward and network with all relevant segments and endeavour to fulfill the Women Voices goal.
In an earlier presentation Mrs Inie Aguma, a former commissioner and past FIDA chairman had lamented the failure of women to take advantage of already passed laws and legal instruments that protect them.
Said she: "Women have failed to make use of the legislation available to protect them. Rivers State has several laws beneficial to women-the harmful traditional practices law, 2003, the gender mutilation law-but nobody has come forward to complain of abuse. Without a complaint the law can not be enforced so this culture of silence must be dropped".
She advised women to present themselves for political and public recognition and be ready to compete effectively by enhancing their capacity. A communique issued at the close of the workshop called on women to support females in political elections, rise from uniform wearers to demand for tangible democratic dividends and begin the gender justice from their homes by raising both sexes of their children equally.
The communique harped on capacity building for confidence building and called on women to speak up against discrimination, abuses and obnoxious laws.
It also called for the formation of a network of women organisations to "follow up an action plan to push for the enactment of an Affirmative Action Bill for a law to establish the Rivers State Gender and Equal Opportunities Commission at the Rivers State House of Assembly".
Mrs Florence Amasimeka, commissioner for administration in the Rivers State Independent Electoral Commission also took the women through the simplified CEDA W and Optional Protocol documents.
Buhari Seeks Return To Family Values In Rebuilding Nigeria …Wike, Tambuwal, Other Govs Attend Ikpeazu's Son's Wedding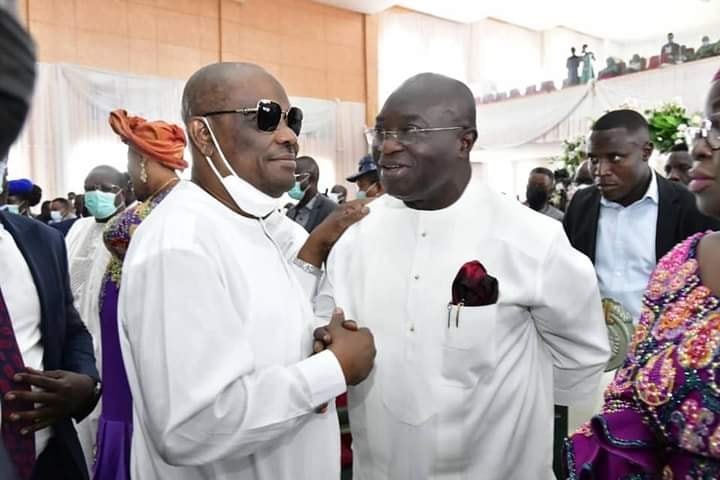 President Muhammadu Buhari has said that the reason why there were so many problems in the Nigerian society was because of a diminishing emphasis placed on the importance of family values.
Buhari said this, yesterday, at the wedding of Mr. Jachimike Ikpeazu, son of Abia State Governor, Dr. Okezie Ikpeazu at the International Conference Centre in Umuahia, Abia State.
At the event, the groom wedded his heartbeat, Miss Thelma Chidinma.
The wedding was also attended by the Rivers State Governor, Chief Nyesom Wike, Sokoto State Governor, Hon. Aminu Tanbuwal, and several other dignitaries.
Others present at the wedding service that was conducted by the Seventh Day Adventist Church were Akwa Ibom State Governor, Udom Emmanuel; Edo State Governor, Godwin Obaseki; Bayelsa State Governor, Senator Douye Diri; Bauchi State Governor, Senator Bala Mohammed; Ebonyi State Governor, Engr. David Umahi; and Enugu State Governor, Chief Ifeanyi Ugwuanyi.
Also at the event were the immediate past governor of Anambra State, Peter Obi; and National Secretary-elect of the Peoples Democratic Party, Senator Sam Anyanwu.
Buhari, who was represented at the occasion by the Minister of State for Mines and Steel Development, Dr. Uche Ogah, decried the situation where parents and guardians who should have paid greater attention in inculcating good character in their wards, have abdicated that responsibility.
He sued for a collective effort across tribes and regions towards restoring family values and giving it its rightful place.
"Marriage is family value, character. The reasons why there are issues in the society, today, is because families are broken. When values are enshrined in families, the entire society will be good."
Buhari charged the couple to build their family on the word of God, have a regular family altar of prayers, and give good attention to building enduring character.
Wife of the President, Aisha Buhari, who was represented by wife of the Ebonyi State Governor, Mrs. Rachael Umahi, told the couple to know that marriage is where love is celebrated.
She urged them to continue in the training given to them by their parents, and learn to love themselves more so that their home can be a blessing and impact positively on others around them.
In his sermon, Pastor B. E. O. Udoh, admonished the couple not to allow their love for each other to diminish.
He further urged them to be tolerant, support each other to become their best, build and cultivate goodly character.
In his remarks, Abia State Governor, Dr. Okezie Ikpeazu said it was delightful to watch his son take a wife to himself, and prayed God to make their union fruitful.
Ikpeazu expressed gratitude to Buhari and his wife, his brother governors, political associates and friends who attended the event, for honouring him with their presence.
Insurgents Planning To Attack Military Bases, DSS Alerts
The Department of State Services (DSS) has issued an alert over planned attacks by insurgents on Ogun border communities and other border communities in Nigeria.
In a letter signed by the State Director of Security, Ogun State Command, M.B. Abdullahi, DSS warned that it has intelligence that the insurgents were plotting to attack military bases in border towns.
The DSS also advised customs and other security agencies in the country to put counter-measures in place to frustrate the plot by the insurgents.
The letter titled, 'Plans by insurgents to launch attacks on military bases in various border communities' read, "Available intelligence indicates plans by insurgents and criminal elements to carry out simultaneous attacks on military posts and bases in various border communities across the nation anytime from now.
"In view of the foregoing and the likelihood such attacks not limited to the military personnel only, all law enforcement and security agencies with operational bases at border communities are advised to take note of the above threat and emplace countermeasures with emphasis on personal security of operatives to frustrate the planned attack."
PAP Partners NNPC To Sustain Peace In N'Delta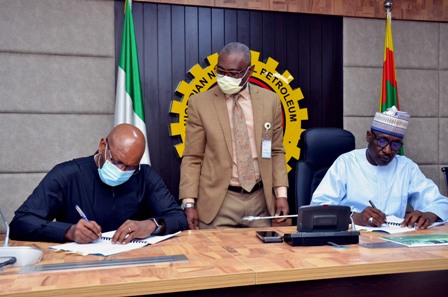 Towards attaining sustainable peace in the Niger Delta region, the Presidential Amnesty Programme (PAP) and the Nigerian National Petroleum Corporation (NNPC) have agreed to work together to tackle pipeline insecurity, unemployment and other challenges in the region.
The agreement was reached when PAP's Interim Administrator, Col. Milland Dixon Dikio (rtd) led a delegation to visit the Group Managing Director, NNPC, Mr Mele Kyari, in Abuja, over the weekend.
In a statement signed by the Special Adviser on Media to the Acting Administrator, Mr Neotaobase Egbe, PAP said the meeting was strategic and in line with the objective of programme to partner with all relevant stakeholders for the full implementation of the amnesty programme.
He said PAP was courting willing partners to have robust synergy to drive the Niger Delta Recovery Plan (NDRP) to fruition.
The statement noted that though PAP was executing its own role in reintegrating 30,000 ex-agitators captured by the Presidency, there was a need to strengthen partnership between sister agencies of government for the sustainable development of the Niger Delta.
He said the NNPC like other institutions of government had roles to play in oil assets redistribution, infrastructural development and environmental remediation.
Dikio said that there was a need to control disruptions in oil production, saying destructive energies could be channelled into productive ventures through re-orientation and sustained advocacy.
He also said that PAP had made efforts to cut down irrelevant trainings and had become intentional about successfully empowering its delegates.
He said trainings over the years had become contractor-driven and were not meeting the beneficiaries' needs.
Dikio maintained that the PAP was targeting functional businesses that had the capacity to train, employ and mentor delegates into becoming successful business owners.
He said: "For instance, if we have someone that has a commercial poultry farm and we partner with them to train our delegates, they will be employed after their training. In the course of two years and five months they will be taken through the ropes of poultry farming before they are sent out to start their own poultry.
"It is a win-win for everybody. We did the research and we discovered that the cassava plant in Bayelsa needs about 20,000 metric tons of cassava daily, so there is ample opportunity for our delegates to go into that kind of business.
"Again, palm oil when sold in international markets is above $1,000 a ton, and here, we are in the region only focusing on oil and gas".
Dikio further said there were arrays of businesses the PAP was looking to inject delegates into, adding that exceptional graduates under the PAP scholarship scheme had more opportunities for employment.
In his remarks, the NNPC GMD, Mele Kyari, commended Dikio for the efforts to ensure peace in the Niger Delta, and emphasised the need to sustain the peace through accommodation and inclusiveness of Niger Delta youths.
He bemoaned the inability of the oil industry to fulfil its obligations to the region over the years, saying that it was one of the reasons the amnesty programme had prolonged.
He said: "As we speak today, we have seen a number of increasing incidents of unrest; cases that remind us of the past we don't want to recollect again.
"Therefore, everything you have said points to the fact that inclusion, support and empowerment for young people particularly in the Niger Delta will bring peace and development to the Niger Delta. No amount of resources available to you will give you peace except there is alignment with the respective players in the space".
Kyari said the award of licences to investors to begin production on about 57 marginal oil fields within Niger Delta in 2022 was designed to support businesses that originated from the region because most of the beneficiaries from the marginal field programme were indigenes of the Niger Delta.
He said working together would bring lasting peace to the region, explaining that the number of experienced technical people produced from the programme, would easily fill employment opportunities.
He said: "Once you create opportunities and investments return, more employment opportunities will come. I think it is a good thing that we work together, both the amnesty programme and all other actors in this space to bring the lasting peace to the Niger Delta and across our country, where people can benefit because ultimately if we cannot give, there will be nothing to show in another five to ten years, that is the reality that we are in."
By: Akujobi Amadi