49th Independence Anniversary: Nothing To Celebrate – Princewill
The Action Congress (AC) leader in Rivers State, Prince Tonye Princewill has left to Turkey to conclude plans with a joint venture partner for a revolutionary waste management and disposal project.
Speaking to newsmen at the Murtala Mohammed International Airport, Ikeja last Monday, Princewill said the project when concluded would place Rivers State in the enviable position of cleanest state in the country.
The AC leader used the opportunity of the media parley to comment on a number of issues including the 49th Nigerian Independence anniversary which he said was noting to celebrate about.
He expressed sadness that the leadership of the country in the past ten years failed  to yield the much needed dividends of democracy while being fraught with anti-people polices that have destroyed the livelihood and psyche of majority of its citizens.
The AC leader noted that corruption has become he bane of our nation, while our roads death traps  and destroyers of vehicles and our education killed and buried as kidnapping has been introduced and established into our system.
He, however, commend the quality leadership offered by the great AC governors in the persons of Fashola and Oshionmole of Lagos and Edo State respectively and also gave kudos to the exceptional quality leadership of two PDP governor, Rt Hon Chibuike Amaechi of Rivers State and Alhaji Goje of Gombe State who despite their party have been able to provide remarkable dividends  of democracy   for their people.
Whilst fielding questions on the viability of the Soberekon Case to oust Amaechi from the Government House and the implications of the 28th September Supreme Court ousting Amaechi's case before her on the polity of the State. The AC leader stated that Soberekon's effort so far I am concerned is an exercise in futility. He reasoned that except Soberekon is being used as a tool to re-elect and probably prolong the tenure of Governor Amaechi, with the much work and the quality of leadership so far offered by Amaechi it will be very difficult to remove him from office.
He stated clearly, that if ever there was a clear case to remove PDP from office, it would have been during the AC's battle against the legality of Omehia's victory at the polls in 2007. According to Princewill, AC had a water tight case prepared by five SANs led by Kola Awodi. This he said, informed PDP's resolve at the time to offer him a N1.2B to drop his case at the election tribunal, a request he promptly turned down. That AC's case would have made Barr Osima Ginah our then Legal Adviser and currently the Commissioner of Urban Ministry in the State a SAN if we had progressed with it.
He went on to inform the press that his decision to withdraw his case at the tribunal came after he had closely observed Amaechi for two weeks following his Supreme Court victory. He debunked any claims that he had received any financial prodding in this regard. The AC leader went on to make some startling revelations concerning the intrigues that played out immediately after Amaechi's Supreme Court victory. He stated that shortly after the announcement, Odili and his cohorts with financial incentives and evidence to substantiate the fact of PDP's rigging of the 2007 polls approached him. All this is in the bid to keep Amaechi out of the Brick House and perpetrate an Odili Dynasty.
Reminded that Odili and Sekibo have concluded plots to hijack the AC Structure in the State to fight Amaechi in the forth-coming election; the Prince amazed at the short memory span of Nigerian politicians, wondered why Odili who in alliance with Obasanjo frustrated, hunted, humiliated Atiku Abubakar and forced him out of PDP in order for Odili, Obasanjo's 'godson' to purse his deluded dream of becoming the President of Nigeria, will now want to use the Political structure founded by Atiku Abubakar to fight a populist Governor of Rivers State. "Though this attempt will be the biggest joke in Nigerian politics recently. We are waiting, let them come into AC and we will see who will give them the structure and once we indentify their accomplices in the party we will expose them to the world".
NSE Begins Week On Negative Note, Loses N19.49bn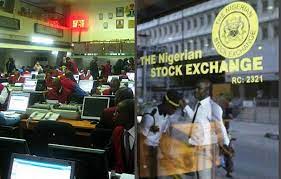 The Nigerian stock market began the week on a negative note as banking and consumer goods stocks, among others, triggered a N19.49bn loss.
At the end of trading on the floor of the Nigerian  Exchange Limited , the NGX All-Share Index dropped by 0.09 per cent to end at 43,270.94 basis points, while the market capitalisation declined to N22.58tn.
Market activities were mixed as the total volume of shares traded decreased by 30.19 per cent while the value traded rose by 34.05 per cent.
A total of 213.13 million shares valued at N2.36bn were exchanged in 4,105 deals, compared to 305.32 million shares worth N3.58bn in 4,450 deals last Friday.
FCMB Group Plc topped the traded stocks in terms of volume, accounting for 27.43 per cent of the total volume of trades while Airtel Africa Plc emerged as the most traded stock by value, representing 28.81 per cent of the total value of trades on the exchange.
14 firms gained compared to 21 losers.
AIICO Insurance Plc was the biggest gainer for the day, topping the gainers' chart with a price appreciation of 8.57 per cent to N0.76 per share.
It was followed by LivingTrust Mortgage Bank Plc with a rise of 7.95 per cent, ending the day at N0.95 per share.
Analysing by sectors, three of the five major indices closed lower, led by NGX Oil & Gas (-0.56 per cent), NGX Consumer Goods (-0.23 per cent) and NGX Banking (0.18 per cent).
But the insurance (0.82 per cent) and industrial goods (0.002 per cent) indices gained at the end of trading.
… Introduces TIES To Boost  Business Loan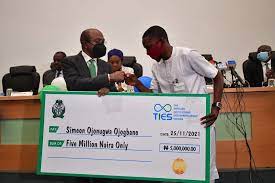 The Central Bank of Nigeria (CBN) has introduced the Tertiary Institutions Entrepreneurship Scheme (TIES), which provides undergraduates and graduates with a platform to access loans.
The TIES' underlying aim is to provide access to capital for Nigerian undergraduates and graduates with innovative entrepreneurial and technological ideas from polytechnics and universities.
TIES intends to shift undergraduates and graduates away from white-collar job pursuits and towards a culture of entrepreneurship development for economic development and job creation.
In a national biennial entrepreneurship competition, the Developmental Component would be distributed in the form of awards to Nigerian polytechnics and universities.
The competition aims to increase undergraduates' awareness and visibility of high-impact entrepreneurial/technological concepts, foster entrepreneurial talent hunts in Nigerian polytechnics and universities, and encourage commercially viable and transformative technologies.
Interested Nigerian polytechnics and universities shall apply to participate in the national biennial entrepreneurship competition on a dedicated online portal.
Outlining brief details of the project, potential impact and evidence of originality of project, CBN said it is an innovation for students entrepreneurs.
CITN Applauds FG, Tax Authorities On Fiscal Policy Decisions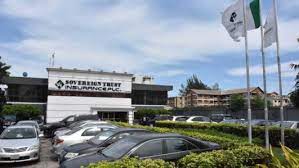 The Chartered Institute of Taxation of Nigeria (CITN) has lauded the Federal Government and tax authorities on the giant strides made on fiscal policy decisions and tax administration measures initiated this year in the area of Finance Act 2021 and the introduction of TaxPromax solution.
President of the institute, Adesina Adedayo, who gave the commendation at the institute's yearly award ceremony at the weekend in Lagos, assured the government and tax authorities of aligning with the measures and promised to provide professional thoughts and insights on ways through which they could achieve an efficient and effective Nigerian tax system.
Adedayo emphasised the need to address the database, adding that without knowing who the tax-payers are, there is no way they can take money from unknown tax-payers.
Database is the aspect we have been emphasising on as an institute and in doing this, there are so many of pockets of data we have. All the data must be harmonised to have a simple unique tax-payers identification number," he said.