FG To Assist Boko Haram Victims
Minister of Interior, Dr. Shettima Mustapha, said the Federal Government is looking in to possible ways to assist the Boko Haram vitims in Borno State and other parts of the North.
The Minister stated this when he paid a condolence visit to the state governor and people of Borno State at the Government House, Maiduguri to commensurate with him over the carnage unleashed on the state by members of the Boko Haram sect.
Dr. Shettima said he was in the state for on-the-spot assessment of damages done to government properties and individuals to enable him make recommendations to the Federal Government for assistance, adding that this carnage should serve as an eye-opener to the government to live up to its responsibility in protecting lives and properties.
He stated that "In this 21st century, while youths from developed countries were busy playing with computers and other hi-tech gadgets, it is very ufortunate that an illiterate man like Mohammed Yusuf can convince graduates of higher institutions to tear their hard earned certificates."
He also advised parents to take proper care of their children and monitor their activities to check them from falling into the hands of miscreants like late Yusuf and prayed that Borno State should not witness such madness and senseless killings of innocent citizens again.
Responding, Governor Sheriff said he was most grateful to President Umaru Yar'Adua for deploying troops to Borno State to curtail the activities of Boko Haram, which he described as a total madness and not connected with any religion.
Sheriff said "I was even surprised that a former commissioner, who served in my cabinet, Alhaji Buji left his legitimate business to join the Boko Haram sect.
"I was dumbfounded when one day the late commissioner walked into my office and advised me to resign as Governor and pursue heaven. I then asked whether he was in his right senses."
He stated that the aim of Boko Haram was to overthrow governments at all levels and establish an Islamic government throughout the country, vowing to see the end of Western education.
The Governor advised groups and individuals to stop making unguarded statements that would jeopardise the peace and tranquility that has returned to the state, adding that the Borno State government is always ready to protect lives and properties of people living in the state.
EFCC Re-Arrests Fani-Kayode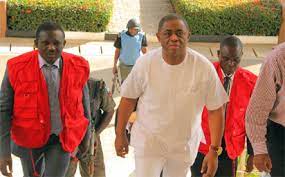 A former Aviation Minister, Femi Fani-Kayode has been re-invited by the Economic and Financial Crimes Commission (EFCC) following investigations into alleged document falsification
Fani-Kayode alongside a former Minister of State for Finance, Nenandi Usman, is standing trial on alleged N4.6billion money laundering, before Justice Mohammed Aikawa.
Other defendants are Yusuf Danjuma, a former chairman of the Association of Local Governments of Nigeria (ALGON) and a company, Jointrust Dimensions Nigeria Ltd.
They are facing a 17-count charge of money laundering preferred against them by the anti-graft agency.
They had each pleaded not guilty to the charges and were granted bails.
The trial had begun before Justice Aikawa and witnesses were still being led in evidence until Aikawa was transferred out of the Lagos division.
The charge was consequently, re-assigned to a new judge, Justice Daniel Osaigor, and the defendants were scheduled for re-arraignment on October 27.
Meanwhile, at the last adjourned date, FaniKayode was absent from court and the defence counsel who appeared on his behalf, Mr Fred Ajudua informed the court that he was on admission at Kubwa General Hospital in Abuja.
He had prayed for an adjournment on that ground on behalf of the second defendant
But, the EFCC prosecutor, Mrs BilikisuBuhari, informed the court that the same tactics had always been adopted by the defendant whenever he does not want to attend court.
After going through the court's records, Justice Osiagor noted that it was clear that the defendant had issued a similar letter of excuse five times.
Abiodun Presents N350.74bn 2022 Budget To Ogun Assembly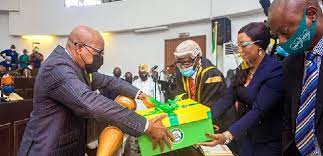 Governor Dapo Abiodun has presented the 2022 appropriation bill of N350.74 billion to the Ogun State House of Assembly.
Abiodun, yesterday, presented the bill, tagged 'Budget of Restoration' to the lawmakers at the Assembly Complex, Oke-Mosan, Abeokuta.
Addressing the assembly members at a ceremony presided over by the Speaker, Olakunle Oluomo, Abiodun reiterated his determination to give priority attention to the completion of existing projects, projects with revenue potential and projects that can enhance employment generation.
According to the governor, the total state funding is estimated at N350.74 billion in 2022.
This, Abiodun said, "includes Ogun State Internal Revenue Service (OGIRS) estimates of N56.30 billion and other Ministries, Departments and Agencies (MDAs) estimated at N96.87 billion totaling N153.17 billion. Statutory allocation (i.e. FAAC and VAT) is expected to be N73.01 billion while the capital receipt is estimated at N124.56 billion (i.e. Internal and External loans including Grants and Aids etc)."
On planned expenditure, Abiodun explained that "the aggregate expenditure of N350.74 billion is proposed for the State Government in 2022."
Under recurrent expenditure, a total of N75B is to be expended in paying salaries and allowances in MDAs; N28b on debt service obligations and N51b on total overhead costs of MDAs and government-owned enterprises.
For capital expenditure, Abiodun said N170 billion is budgeted, being an increase of N10 billion over the 2021 approval of N160 billion.
He added that a total sum of N7.7billion is provided for transfers to the Stabilization Fund to insulate and position the State towards unprecedented activities or economic shocks.
Of the entire budget, Education gulps N56,071.21b, representing 16 percent; while Health takes N35,073.51b, being 10 percent.
Infrastructure takes the largest share of N77,775.77, which is 22 percent of the budget.
The Assembly is expected to legislate on the appropriation bill and return a clean copy to the governor for his assent.
The Speaker assured Abiodun of a speedy and thorough legislative process on the proposed budget with a view to sustaining the tradition of its passage on record time to comply with the January to December cycle in line with the international financial standards.
ICPC Uncovers N20bn Project Duplication, Personnel Budget Fraud In MDAs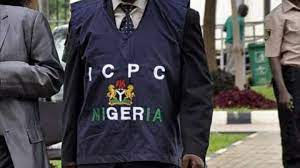 The Independent Corrupt Practices and other related offences Commission (ICPC) says it has uncovered gross abuse of personnel budget as well as duplication of projects by some federal Ministries, Departments and Agencies (MDAs) amounting to over N20.138 billion.
The duplication and padding occurred in the implementation of the 2021 budget and involved about 257 projects, the anti-corruption agency said its review shows.
The anti-graft agency said it is investigating the Ministry of Labour and the University College Hospital Ibadan as well as corrupt staff members in other MDAs suspected of massive illegal recruitment.
ICPC chairperson, Bolaji Owasanoye, made the disclosure in his welcome address at the 3rd National Summit on Diminishing Corruption in the Public Service and Presentation of Public Service Integrity Award on Tuesday.
Themed, 'Corruption and the Cost of Governance: New Imperatives for Fiscal Transparency', the event was held at the State House Conference Hall, Presidential Villa, Abuja.
Many dignitaries including the Secretary to the Government of the Federation, Boss Mustapha, were in attendance.
In his address, Owasanoye said ICPC, through its projects tracking, found out that skyrocketing personnel in many MDAs was attributable to massive budgetary scam, including illegal recruitment, unilateral increase in wages, indiscriminate travels, among others.
"The high cost of governance and rising personnel budget in Nigeria is as a result of illegal recruitment, illegal and unilateral increase in wages and remuneration by some MDAs, indiscriminate local and international travels, unreasonable demands by some political appointee board members of MDAs without regard for extant circulars on cost management; procurement fraud, budget padding, etc," he said.
"This has continued to reflect in the huge wage bill on personnel and operational cost standing at about 70 per cent of annual budget".
According to Mr Owasanoye, the "malfeasance" the anti-graft agency uncovered in the recruitment process by some MDAs including the labour ministry is perpetrated with the connivance of some staff members of the Integrated Payroll and Personnel Information System (IPPIS). He noted the cases and officials involved were under investigation.
"At another level, a syndicate of corrupt individuals within the service corruptly employ unsuspecting Nigerians, issue them fake letters of employment, fraudulently enrolling them on IPPIS and post them to equally unsuspecting MDAs to commence work".